The gravel or substrate in your aquarium is there for a couple of reasons. To enhance the look of your aquarium and also to help trap dirt and grow helpful bacteria that will break down fish waste. In this article '5 Best Aquarium Gravel Cleaners', we look at a number of different models to choose from, all of which you can use to clean the gravel of the buildup of debris.
Often the dirt gets trapped within the gravel itself which can make your aquarium look dirty and also releases harmful ammonia into your aquarium which can harm your fish.
The best way to release trapped dirt from your gravel and substrate is to use an aquarium Gravel Cleaner. In this article ' 5 Best Aquarium Gravel Cleaners' we discuss the various types on the market. Some are manual siphon gravel cleaners and some are battery-operated ones.
Let's take a closer look at the 5 Best Aquarium Gravel Cleaners in more detail.
Spoiler alert!
After testing many aquarium gravel cleaners we found the best one was the Python No Spill aquarium gravel cleaner. It's no shock why, it is simple to use, comes with one of the longest hoses and as the name suggests it has no spills. The faucet connection was also one of the best we tested.
Quick peek at the Best 5 Aquarium gravel cleaners….
Python Pro-Cleaner
Python Maintenance Cleaner
Boxtech Vacuum Gravel Cleaner
Tera Pump
Eheim Automatic quick vac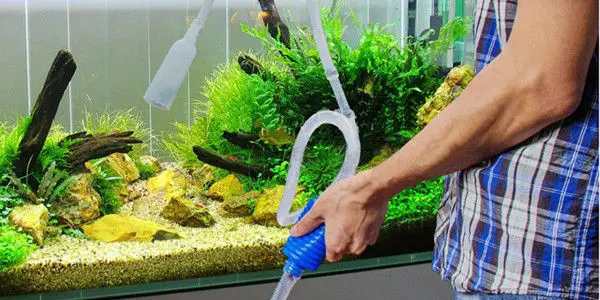 $39.99
$43.81
in stock
7 new from $39.99
as of September 28, 2023 11:29 pm
$17.99
$21.99
in stock
as of September 28, 2023 11:29 pm
out of stock
as of September 28, 2023 11:29 pm
$148.90
in stock
as of September 28, 2023 11:29 pm
$13.38
in stock
6 new from $10.99
4 used from $12.01
as of September 28, 2023 11:29 pm
Last updated on September 28, 2023 11:29 pm
What Is An Aquarium Gravel Cleaner?
An aquarium gravel cleaner is a tube that you place into the gravel of your aquarium. Approximately 2 inches to 3 inches deep. The water is then siphoned out of the aquarium which you replace with fresh water at the end of the cleaning process.
As the water is siphoned out of the aquarium the suction of the water being siphoned out will pull up all the trapped dirt and waste from the gravel up the gravel cleaner and out of the aquarium.
With a little bit of practice, the gravel will come up the larger tube at the end of the gravel cleaner, spin around which releases the dirt, then when it's clean you simply pull the gravel cleaner higher up towards the surface of the water and the clean gravel drops back into place. All clean and fresh.
There are two main types of aquarium gravel cleaners. The first is a simple siphon method that you start by either pumping a starter valve or the old fashioned way of sucking on the end of the pipe!
The second is the more advanced battery-operated versions that are simply like underwater vacuum cleaners. They don't take out any water and just recycle the existing water.
Both are suitable for cleaning your gravel but most people opt to do a partial water change at the same time and so use the siphon type.
Why Do You Need One?
Removing trapped fish waste can prevent harmful ammonia and Nitrates from building up in your aquarium. Left untreated this waste can reach harmful levels and kill your fish.
Dirty aquarium gravel is also unsightly and never looks good.
Without an aquarium gravel cleaner, it's practically impossible to remove the dirt trapped within the gravel. Your only other method would be to move the gravel around with your hand and release the dirt into the water where your aquarium filter would remove the dirt.
This is a bad idea for a number of reasons. Firstly, it is very stressful for your fish and secondly, your filter will become blocked and its effectiveness will be dramatically reduced.
Some fish will help keep your aquarium substrate clean and loose which will allow your filter to remove any uneaten food and debris but they can't do all the work alone which is where a gravel cleaner can help.
Top 5 Aquarium Gravel Cleaners
25 Foot - Python No Spill Clean and Fill Aquarium Maintenance System
7 new from $39.99
Free shipping
as of September 28, 2023 11:29 pm
Features
Will not disturb fish or decor during routine aquarium maintenance.
Adapts easily to most faucets.
Complete ready-to-use system.
No buckets, no siphons, no mess, no tank tear downs ever again.
1. The Python Gravel Cleaner
The Python gravel cleaner is one of the best on the market. It not only cleans the gravel but also takes the water directly from your aquarium and drains it away down the waste pipe.
Connect this gravel cleaner directly to the faucet, the force of the water creates the siphoning action. If your faucet is lower than the tank water level, you can switch off the flow of water, if the faucet is higher than the water level, siphoning may be slower if the flow of water is stopped. The debris and water from the tank flow directly back to the sink.
But the best part is the fact that you can then simply switch off a valve and the clean water can then be replaced directly into the aquarium with no mess or fuss.
The only difficult part was the connection to the faucet. Not all faucets have the same fitting so you may need to get the correct connection from the hardware store. But hopefully, the one supplied fits your faucet. They cost no more than $5 if not.
boxtech Aquarium Gravel Cleaner, Fish Tank Vacuum Siphon Water Changer Pump Sand Cleaner for Aquarium Water Filter
as of September 28, 2023 11:29 pm
Features
Boxtech Aquarium Cleaner: Water changer, washing sand, cleaning, it's a multifunctional cleaning tool. Compatible with additional nozzle can help clean gravels which will effectively separates excrement and food residue from your aquarium, keep the water crystal clean.
Compact Structure: Compatible with 1pcs soft water pipe(72.4in) and 2pcs hard water pipes(11in*2). It is easy to install and operate. fitting different-sized fish tank.
Anti-Back Flow Valve Design - Widened anti-reverse pipe makes drainage more effective. Kindly Note: Please put the QV letter end downward against the bucket when using because the pump is unidirectional.
Safe and Easy Use: Made of quality flexible PVC plastic which could ensure a long time use. It won't collapse to block the water flow, also, it is not too stiff, easy to bend it into any position to fit for your use.
Special Design: Extra long tubing & hard pipes allows you to reach any dirty spots immediately without getting your hands wet
---
2. The Boxtech Gravel Cleaner
The Boxtech gravel cleaner had a lot of features that some of the other ones didn't have. Super easy to put together and clean after use. The whole device comes apart which makes it easy to clean and comes with a siphon stop tap to make it easy if your bucket is full to stop the flow.
A clip that holds the flow pipe to your bucket may seem like a simple thing but it really works and was something the other makes forgot to include.
Like all manual gravel cleaners, there's a bit of skill involved in using these and the first time you use it you may be discouraged. Once you get the hang of it this model really worked well and was easier to use than some other models in this review.
The self-starting pump makes it easy to get the water flowing from the aquarium and only took a couple of attempts to get it working. Much better than sucking the end of the pipe and getting a mouth full of water.
TERA PUMP [2PK] Siphon Vacuum Aquarium Gravel Cleaner with Bulb
 out of stock
as of September 28, 2023 11:29 pm
Features
| | |
| --- | --- |
| Binding | Misc. |
| Brand | TERA PUMP |
| Color | 02 PK |
| Item Dimensions | Height: 3.5; Length: 17; Weight: 55; Width: 6.5 |
| Label | TERA PUMP |
| Manufacturer | TERA PUMP |
| MPN | A-TRFT01-P7-002 |
| Package Dimensions | Height: 320; Length: 1730; Weight: 55; Width: 540 |
| Package Quantity | 1 |
| Part Number | A-TRFT01-P7-002 |
| Product Group | Home |
| Product Type Name | HOME |
| Publisher | TERA PUMP |
| Size | 2PK |
| Studio | TERA PUMP |
| Title | TERA PUMP [2PK] Siphon Vacuum Aquarium Gravel Cleaner with Bulb |
---
3. The Tera Pump Siphon Gravel Cleaner
The Tera Pump is another vacuum gravel cleaner with a self-start pump, which saves you having to suck the end of the pipe to start the siphoning process.
At first glance, we weren't very impressed at the look and quality of the pipe and attachments. However, I couldn't believe how powerful it was and how well it cleaned the gravel substrate and emptied the tank. It's a very effective gravel cleaner, despite its poor looks and build quality.
It has two end nozzles that control the flow and a handy clip that holds the tube to your bucket for hands-off operation.
We were overall impressed with how well it works and read some other reviews on Amazon that backed up our findings. Read them by clicking the link below.
Eheim Quick Vac Pro Automatic Gravel Vacuum Cleaner 2pk
as of September 28, 2023 11:29 pm
Features
| | |
| --- | --- |
| Binding | Misc. |
| Brand | Eheim |
| Item Dimensions | Weight: 390 |
| Label | Eheim |
| Manufacturer | Eheim |
| MPN | unknown |
| Package Dimensions | Weight: 400 |
| Package Quantity | 1 |
| Part Number | unknown |
| Product Group | Pet Products |
| Product Type Name | PET_SUPPLIES |
| Publisher | Eheim |
| Studio | Eheim |
| Title | Eheim Quick Vac Pro Automatic Gravel Vacuum Cleaner 2pk |
---
4. The Eheim Quick Vacuum
The Eheim quick vac pro was by far the most expensive gravel cleaner we looked at. We have lots of love for Eheim products and have used them for over 30 years. But at over $140 for a gravel cleaner, this would have to be very special.
Let's start with the positives. This gravel cleaner does not require you to take water out of the aquarium and can be used daily without any fuss or mess.
Not every clean up of the aquarium requires doing a partial water change. It's like dropping something on the floor at home. Sometimes you just want to quickly clean it up without having to clean the whole house, right?
Well, this aquarium gravel vacuum cleaner is perfect for that.
It features a super-fine mesh cartridge designed to trap even the smallest waste particulates. You can easily remove the cartridge for quick cleaning. The item is around 23-24 inches in size and was easy to operate.
On the negative side, it's not as effective on removing dirt trapped deep within the gravel. Perfect for a quick clean up! However, for dirty gravel that hasn't been cleaned in a while, it's not as effective as a gravel cleaner that removes water and dirt at the same time.
These types of gravel cleaner apply a lot more force in the removal of the water which pulls more dirt from deep down in the gravel.
Safe for plants and fish
If you have a planted aquarium or saltwater sand then I think this will be perfect. Effective and delicate at the same time it would be easier to use in these aquariums where you need to be careful with the plants and inhabitants.
Overall, it's a good tool to have if you can afford one. If not, spend $20 on a manual siphon and it'll be just fine.
Python Pro-Clean Gravel Washer and Siphon Kit for Aquarium, Large
6 new from $10.99
4 used from $12.01
Free shipping
as of September 28, 2023 11:29 pm
Features
Effectively separates and removes debris from your aquarium
Constructed with flexible, high quality tubing
For aquariums from 20 to 55 gallons in size
---
5. The Python Pro-Clean Gravel Cleaner
The Python pro-cleaner was the most basic of the gravel cleaners tested. It has no self-start pump and you'll have to either fill the large suction tube with water to start it off or simply suck on the end pipe and try to avoid a mouth full of water.
The large gravel tube extracted water much faster than I was expecting and worked really well. In a smaller aquarium, it might work too fast.
The build quality on the one we tested was fine but we have heard stories of poor quality connectors.
The siphon tube that flows the water into your bucket could do with being another couple of feet longer.
I would not recommend this for aquariums of less than 20-30 gallons. The python gravel cleaner was one of the cheapest gravel cleaners under test and review at under $10. For the money, you can't go wrong, to be honest. Will it last you years? No, probably not but if you get a couple of years out of it, then it'll be money well spent.
---
How To Use One
There are many different models which all work on the same principle (apart from the Eheim) the only difference being the way they start flowing.
The way you use them is the same for all models, by extracting water from your aquarium which in turn removes trapped dirt from the substrate.
Aquariums with under-gravel filters will benefit the most from these tools. With under–gravel filters, water is pulled down through the gravel bringing dirt and fish waste with it. This is then trapped in the substrate and slowly broken down by friendly bacteria. Not all large dirt particles are broken down and will need to be physically removed with a tool like this.
FILTERS: If you're looking for a better filter for your aquarium take a look at our aquarium filter review here!
Take a look at the video below that demonstrates how to use an aquarium gravel cleaner better than we could explain it.
What To Look For When Buying
One that fits your needs in the main would be my first concern. Do you want to change the water as you perform a gravel clean? Do you need a gentle delicate gravel cleaner or something really powerful?
All these questions should be considered before purchasing one.
If you are buying one that connects to the faucet, is the pipe long enough and does it come with the correct fitting?
Then, of course, it all comes down to price. Like everything in this hobby, the price can vary from product to product and place to place.
We suggest either your local dedicated aquatic store or online like we use. Amazon and one of our favorite places Chewy.com are both competitively priced and offer fast and even FREE delivery sometimes.
Chewy.com is one of the most valued and recognized online aquatic supplier throughout the US and worldwide. We use them for all our aquatic needs and also for pet food and products for our other website www.hutchandcage.com.
Pros & Cons
Fast way to perform water changes
Cleans the gravel allowing trapped dirt to be removed
Helps control ammonia & Nitrates
Improves aquarium appearance
Easy to use
Simple design without many moving parts
Suitable for all size aquariums
Perfect for freshwater & saltwater
Some are expensive (Eheim $140+)
If you're not careful they can be messy
Intrusive to inhabitants
Can disturb plants and substrate
Have been known to suck up fish and plants
---
F.A.Q
Do they need power? Only the Eheim we tested needed battery operation all other use gravity and suction.
How long is the pipe? This varied from 3 feet to 25 feet depending on the model. Some are designed to pour the water into a nearby bucket and some directly back to your sink.
How easy are gravel cleaners to use? They do take some practice to use correctly, but once you learn how to use them they are very easy to use. It's a skill!
How often should you clean aquarium gravel? Once a month is a good time period. If you have under-gravel fiters this may need to be sooner.
Can I use one on sand? Yes, However it takes a little more skill to perform without sucking too much sand out of the aquarium along with the water.
Can I use one in a planted or aquascaped aquarium? I wouldn't suggest one for an aquascaped aquarium as there will be too much disruption to the water. In an aquarium with just a few plants, you'll be fine. Just regulate the water flow to be more gentle using a valve.
---
Conclusion: Best Aquarium Gravel Vacuum Cleaner
So which is the best aquarium gravel cleaner I hear you say.? Well, for us it has to be the 25 foot python no spill gravel cleaner.
The fact that it connects to the faucet and comes with a very long hose means there was no carrying and messing around with water. It goes directly down the drain and fills back up with ease.
No more carrying and spilling water all over your home and your partner going mad at you.
It's not the cheapest but certainly worth the few extra bucks. It's no wonder it came up as number one in many Youtube gravel cleaner review videos like the one below.
Latest Post

Latest posts by Carl Broadbent
(see all)