Over recent years the Betta fish has grown in popularity within the aquarium trade. A fact, that really when you think about it, is not all that surprising. They are stunning in appearance, have wonderful personalities, and are extremely easy to keep. That is, once you have the biggest dilemma solved, and have decided on the Best Betta fish tank!
Contrary to popular belief, as small and inactive as the Betta can be, they are not suitable to live a life condemned to a vase, gallon bowl, or oversized wine glass without filtration and possibly a heater. They need space to swim around, pristine water quality, and a water temperature of 76 to 78 degrees.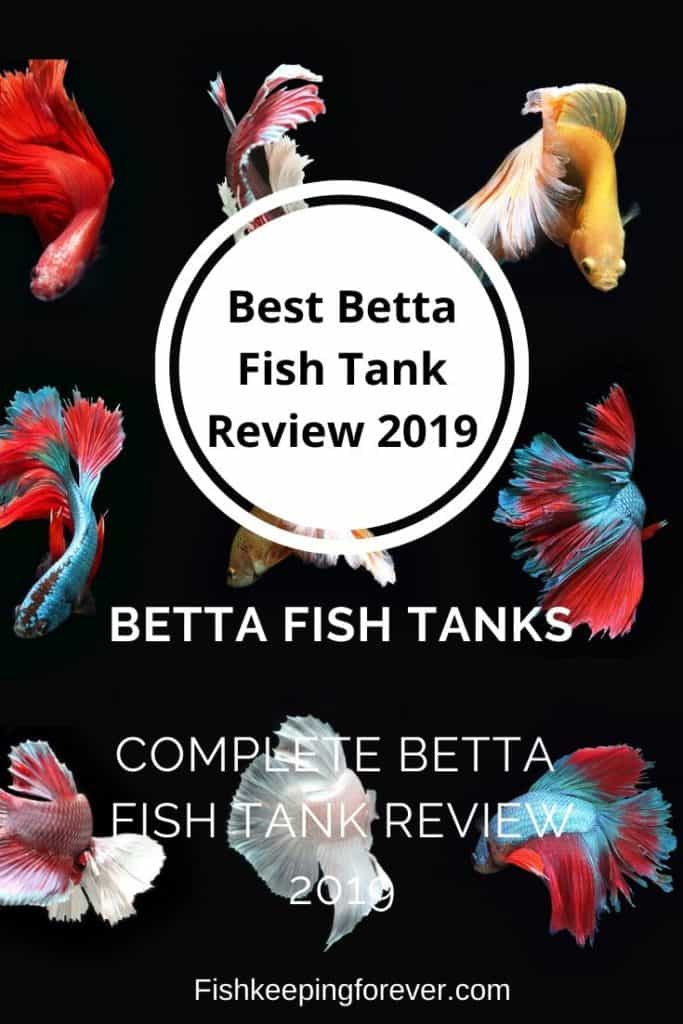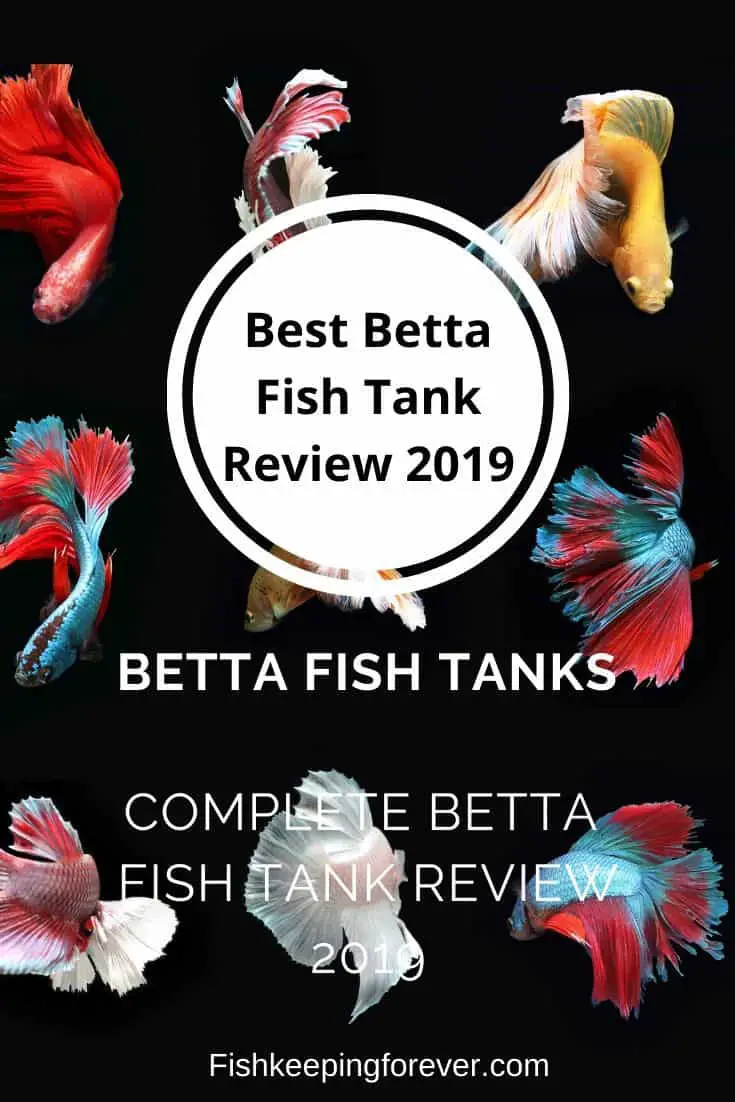 Quick peek at the TOP 10 BETTA FISH TANKS
Marineland 5 Gallon
Hygger Horizon 8 Gallon
Marina LED Aquarium 5 Gallon
Fluval Spec V 5 Gallon
MarineLand Contour Glass Aquarium
Hagen Fluval Flex 9 Gallon
EcoQubeC Aquarium
biOrb Life 15 Aquarium
Biorb Classic 16 Gallon
Lifeguard Aquatics 9 Gallon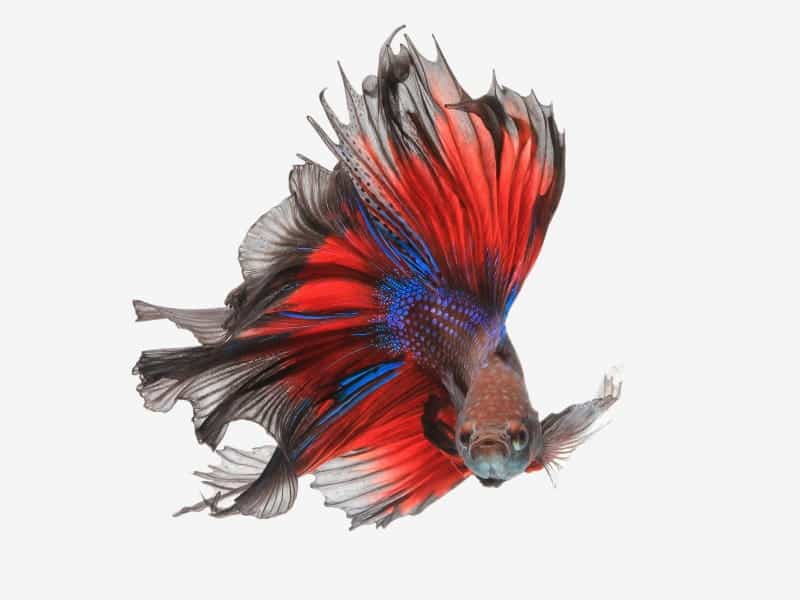 What's The Best Size Aquarium For Betta Fish?
Believe it or not, it's extremely difficult to be exact in regards to the best size aquarium for a Betta. However, they are always better kept in an aquarium of three gallons or more. This is, as mentioned above, to give your Betta room to swim and to ensure maintaining pristine water quality is as simple as can be.
Top 10 Betta Aquariums
Last updated on September 16, 2023 10:26 pm
What To Consider When Buying An Aquarium For Betta Fish
First and foremost you should consider whether the aquarium you are choosing is suitable for Your Betta's particular needs. For example, more active Bettas like the room to swim around in; whilst larger finned, less energetic, Bettas may prefer smaller.
This is particularly pertinent in the context that Bettas are territorial and will patrol their environment. Larger finned, less energetic Bettas, may find this more difficult and stressful in larger tanks.
You will also certainly need to take into account that Betta fish are a labyrinth species and therefore need a shallower tank to be able to access the surface of the water easily. You see, although they breathe with their gills, they also possess the ability and need to breathe oxygen from the air. They do this through the labyrinth, a chamber above the gills filled with blood vessels. These enable a Betta to use oxygen gulped through the mouth to breathe and hence survive in and (for periods) out of water.
TOP 10 BETTA FISH TANKS REVIEWED
(In no particular order)
10. Marineland 5 Gallon
Marineland ML90609 Portrait Aquarium Kit, 5-Gallon w/ Hidden Filter
15 new from $50.39
1 used from $44.15
Free shipping
as of September 16, 2023 10:26 pm
Features
SLEEK DESIGN: Rounded corners and clear glass canopy allow viewing from multiple angles.
DAYLIGHT/MOONLIGHT LIGHTING: Bright white LEDs create a shimmering sunlight effect; blue LEDs produce a moonlit glow.
EASY ACCESS: Hinged LED lighting and sliding glass canopy.
SIZE: 5-gallon aquarium fits Marineland Rite-Size Z Filter Cartridges.
HIDDEN FILTRATION: Advanced, 3-stage filtration is out of sight, enhancing aquarium viewing.
Our thoughts…
The least expensive of all the Betta aquariums we chose to test, the Marineland Portrait is certainly value for money. It comes with hidden three-stage filtration, sliding glass canopy, and an attractive LED lighting system.
Once set up the overall appearance was sleek and attractive and I liked the fact that the filter pump could be adjusted so as to not upset my Betta with too much water flow. The LEDs also enhanced the appearance with their ability to provide a daylight and moonlight ambiance. The slide back canopy was handy when it came to feeding and cleaning, as was the hinged light bar.
The only real downside when it came to the Marineland Portrait was the height of the aquarium itself. It stood at 17 inches and was perhaps a little too tall for the heavier finned Betta trying to reach the surface.
9. Hygger Horizon 8 Gallon
Hygger Horizon 8 Gallon LED Glass Aquarium Kit for Starters with 7W Power Filter Pump, 18W Colored led Light, Wide View Curved Shape Fish Tank with Undetachable 3D Rockery Background Decor
3 new from $119.00
Free shipping
as of September 16, 2023 10:26 pm
Features
【Hygger Aquarium Kit Includes】one 7W 110GPH internal power filter pump, one colored led aquarium light, one 8 gallon glass tank with a decorative 3D rockery mountain background. The 3D background makes the whole aquarium looks cool like a dream word underwater, is a great rest, play spot, shelters for little fish. Also you can plant some green grass on the rockery mountain.
【Mutil-modes LED Light】The aquarium led light is DC12V/18W, with extendable brackets, length can be adjusted from 0 to 19 inch. It has a external digital controller, you can use it to set the lighting time to 3, 6 or 12 hours, to adjust the light brightness from 100% to 10%, 5 levels of brightness in total, to shift the light modes: White LEDS, Blue+white+red LEDS, Red+ blue LEDS.
【Durable Power Filter】The aquarium power filter is 7W 110GPH, for 2-8 gallon tank use. It's a super quiet and durable filter, and can be use for low water, the upper part is the 2 stage filtration system, the bottom part is water pumping systerm to pump the water upward. Please NOTE this filter may be too strong for small fish that is not long than 2 inch, may suck small fish, if you keep small in the tank, please don't run the filter or don't run it all the time
【New View Curved Tank】Tank size: 19" L x 11.8" W x 9.6" H. This glass fish tank has a unique convex arc curve shape, can widen your view on the aquarium, and can hold more capacity of water. The total tank volume is 8 gallon, it can hold 6 gallon of water, because the tank has a undetachable 3D background decor. When it holds full water, the whole tank weighs about 68 pounds.
【Multi-protection Packing】We used 3 layers of packing to pack the aquarium kit and with light lifting label, the innermost layers is a super sturdy poly foam with excellent cushion. We have done the shipping test by sending 3 of the packs to 3 different distance places and find the glass tanks are still in good condition when received. So don't worry the tank will be broken during the shipping, if you find tank broken when open the package, please take a photo and send it to the seller.
Our thoughts…
Of all the aquariums we chose to test, I was most looking forward to receiving this one. On paper, it had everything, except heater and decor, that I could wish for, and all for a mid-range price. It seemed like the perfect Betta home.
On removing this aquarium from the box I was not disappointed, it looked great with its unusual shaped front and built-in 3D background. Once set up it also proved to have an excellent 7-watt filter with the added bonus of two rain shower tubes to reduce noise.
The lighting too was highly impressive with four different settings including white, blue, and red LEDs. The size was optimum at 19 inches wide by 9.6 inches high, great depth and width for the Labyrinth Betta.
8. Marina LED Aquarium 5 Gallon
Marina LED Aquarium Kit, 5 Gallon
2 new from $99.99

as of September 16, 2023 10:26 pm
Features
5 gallon glass aquarium starter kit
Comes with everything needed for your first fish tank
Use our Nutrafin Aqua Plus Water Conditioner to make tap water safe for fish
Marina's Slim S20 clip-on aquarium filter keeps your water clear and uses quick-change filter cartridges
Long-lasting, natural daylight effect LED aquarium lighting module is incorporated into the fish tank's canopy
Our thoughts…
Undoubtedly the Marina LED aquarium is the least attractive of all the tanks we tested. However, it is also the one that offers real and true value for money. For just a little over $60, you get everything you need, and I mean everything, other than the Betta itself.
With a 16-inch width, 10.5-inch height and 5 gallons capacity, the Marina is also a really good size for the Betta fish. It gives them plenty of room to swim around whilst allowing them to reach the surface to breathe easily. It also has a pretty good, but not the best, clip-on filter with quick-change cartridges, as well as a natural daylight incorporated LED light.
Overall, there was nothing I could quite put my finger on to deter me from buying this aquarium, but deterred I was. Perhaps, it was just as simple as the design was not swish enough for me after all the others I had tried.
7. Fluval Spec V 5 Gallon
Fluval Spec V Aquarium Kit, 5-Gallon, Black
4 new from $99.99
Free shipping
as of September 16, 2023 10:26 pm
Features
5 gallon Nano aquarium
Etched glass tank with aluminum trim
Powerful 37 LED lighting system
Includes foam block, activated carbon and BioMax bio rings
Size: 17.2 x 10.6 x 6.3 inch
Our thoughts…
The Fluval Spec V is an unusual aquarium in that is has been designed for the slimmest panel of acrylic to face you at the front. This makes it look a lot smaller than it really is which is not large, just 5 gallons to start. I couldn't make my mind up whether I liked this vantage point, so leave it to you to judge for yourselves whether it was a good or bad design choice.
Despite the appearance, the Fluval Spec V is a mightily impressive aquarium for its size. It comes with a 37 LED lighting system and an efficient three-stage filter. The pump itself has an adjustable nozzle making it easy to control the direction of flow. My Betta, overall, seemed very impressed with this tank and as a result, has stayed put.
6. MarineLand Contour Glass Aquarium
Marineland Contour Glass Aquarium Kit with Rail Light, 3-Gallon
2 new from $68.60
3 used from $63.11
Free shipping
as of September 16, 2023 10:26 pm
Features
SLEEK DESIGN: Rounded corners and clear glass canopy allow viewing from multiple angles.
DAYLIGHT/MOONLIGHT SETTINGS: Bright white LEDs create a shimmering sunlight effect; blue LEDs produce a moonlit glow.
EASY ACCESS: Hinged LED rail light and sliding glass canopy.
DIMENSIONS: The Marineland Contour 3 aquarium measures 9. 5 inches x 10 inches.
Our thoughts…
As one of the smallest aquariums we tested, the Marineland Contour aquarium would certainly be suited to even the smallest of homes. It was also stylish in a cutesy way with its sleek and contoured design.
On set up, this aquarium proved to be mightier than its size would imply. It came with a stylish LED rail light and adjustable flow filter pump. Access to this tank for cleaning was easy with a glass canopy that simply slid back. However, the filter proved to be a little on the strong side and tended to push my Betta about.
5. Hagen Fluval Flex 9 Gallon
Hagen HG Fluval Flex Aquarium 34L, 9gal
as of September 16, 2023 10:26 pm
Features
The 9 gallon Fluval Flex Freshwater Kit is one of very few freshwater aquarium kits to incorporate brilliant illumination and multistage filtration with convenient aquarium features and contemporary design. Your aquatic atmosphere will stand out amongst the competition with 36 white and 3 RGB fully adjustable 1900 LUX LEDs shimmering over your fish and plants, while the dimmable 7500K LED lamp promotes plant growth. Choose from 80+ different hues for an endless selection of color blends and special effects options such as cloud cover, storm and full color cycle, all controlled from your included FLEXPad remote control. This is a fully fledged glass tank, and the infrared remote sensor is neatly integrated and easily accessible on the canopy. To achieve superior water quality, a powerful 3-stage filtration is included with oversized mechanical (foam), chemical (carbon), and biological (Biomax) media. The Multi-directional 61 GPH dual outputs allow customized water flow, all hidden nicely in the rear compartment, allowing the focus to remain on your beautifully manicured aquascape. This aquarium features a unique curved front, creating the illusion of a larger aquatic environment and modern look to suit any room in your home or office. The water line of the rear compartment remains hidden with the stylish honeycomb wrap and ensures your entire aquarium looks sleek and clean at all times. For added functionality and user ease, enjoy the freedom of feeding your fish through the convenient feed top cover opening. Comes in a sleek black color.
Age Range Description: All Life Stages
Our thoughts…
There is no doubting that the Hagen HG Fluval Flex is one of the most interesting looking aquariums on the market right now. It has the traditional shaping of a rectangular tank but with an attractive bowed front. According to Fluval, this is a design meant to fool us into thinking the aquatic environment is larger.
Light wise, this Fluval comes with a rather impressive 36 LED system with a great selection of blends and special effects. It also, as a bonus, features a 7500k LED lamp to promote plant growth. You can pick and choose what lighting effect you'd like by using the flexipad remote control provided.
4. EcoQubeC Aquarium
EcoQubeC Aquarium - Desktop Betta Fish Tank For Living Office And Home Décor
 out of stock
as of September 16, 2023 10:26 pm
Features
Best aquarium on amazon ✅ handmade beautiful living decor for office desk, cubicle, or home
Low maintenance ✅ aquaponics techn makes your betta fish tank a clean self-sustained ecosystem
1 year warranty ✅ we've got your back, if anything breaks contact us & we'll replace it for free
Aquarium starter kit ✅ includes: Remote for led lights, plant medium, integrated aquaponics filter
Easy setup ✅ add seeds or green onion, add water, plug in & watch your shrimp or fish tank thrive


Our thoughts…
I love, love, love, the idea of the EcoQubec aquarium and the fact that it uses aquaponics to purify the water. However, I do not like the size, a tiny 1.5 gallons which in my opinion is just not acceptable even for one Betta.
On the plus side, the EcoQUbe is extremely attractive and works very well. However, you need to wait for at least three weeks before adding any fish to allow water to age and beneficial bacteria to grow. This is a feat which is not always easy since you need to get the basil plant provided to root and grow in order to do this.
3. BiOrb Life 15 Aquarium
biOrb Life 15 Aquarium with MCR - 4 Gallon, Black
as of September 16, 2023 10:26 pm
Features
Filter cartridge – a true "one size fits all" Filter for the biorb aquariums
Constructed out of Acrylic- 10 times stronger than glass, 50% lighter and 93% clearer
True 5 stage filtration - biological, mechanical, chemical, water stabilization and oxygenation
Item Package weight : 12.13 pounds
Our thoughts…
There is no doubting that the Biorb Life is one of the most attractive aquariums we chose to review. However, it is expensive for the features that it comes with and size. It has a simple LED light, 5 stage filtration, and holds just 4 gallons of water.
On the plus side, the Biorb Life is pretty much the perfect size for a Betta and displays them incredibly well. However, it is not easy to clean, especially if you need to take your Betta (to avoid stress) out to do so as the access is narrow and sharp.
2. Biorb Classic 16 Gallon
biOrb Classic 60 Aquarium with LED - 16 Gallon, White
2 new from $174.00
1 used from $128.14

as of September 16, 2023 10:26 pm
Features
Filter cartridge – a true "one size fits all" Filter for the biorb aquariums
Constructed out of Acrylic- 10 times stronger than glass, 50% lighter and 93% clearer
True 5 stage filtration - biological, mechanical, chemical, water stabilization and oxygenation
Item Package weight : 16.75 pounds
Our thoughts…
The largest of our tested aquariums, the Biorb Classic is a traditional bowl-shaped tank that holds 16 gallons of water. It looks great and can change the way you see your Betta due to distortion, making them seem larger than life. It comes with a built-in 5 stage filtration and an LED light.
Unfortunately, however, the Biorb Classic does have a few flaws. Firstly, it is difficult to clean due to its filtration being at the bottom and a heater that fits is difficult to find. You may also want to take into account that it is not only the view into the aquarium that is distorted. Your Betta's view out may also be the same and could cause stress.
1. Lifeguard Aquatics 9 Gallon
Lifegard Aquatics R800202 Full-View 5 Gallon Aquarium
 out of stock
as of September 16, 2023 10:26 pm
Features
Lifeguard full-view 5 gallon Aquarium (empty, no accessories)
Brand of lifeguard
Manufactured in China
Package Dimensions: 18.0" L x 16.0" W x 13.0" H
Our thoughts…
Another unusually shaped aquarium with its sloping front, the Lifeguard Full View is an attractive prospect. It comes with a filter but no light, although it does (unlike any of the others), have its own heating. This comes in the shape of a heater with a built-in thermostat which switches itself off should the heat rise higher than 78 degrees Fahrenheit.
On the downside, the pump included with this aquarium is rather weak. However, in the case of a Betta environment, this can be a good thing. Feeding is not always easy, as there is no feeding hole built into the aquarium lid.
Do Betta Fish Need A Separate Fish Tank?
Betta fish are certainly not known for their welcoming of other tankmates, however, some will certainly do so! Many Bettas have been known to accept other species such as Tetras, Cory Catfish, Minnows, Rasbora, Loaches, and Plecos. Snails, shrimp, frogs, and crabs are also usually relatively safe.
Read our complete guide to Betta Tank Mates here!
It is worth noting here that it is usually pretty impossible to tell whether tank mates will be accepted until you try it. We suggest you try to add companions only in small numbers and always monitor the introduction carefully. We also do not recommend adding anything as showy or colorful as your Betta, as they like to be the 'peacocks' of the aquarium and will likely not take kindly to being upstaged.
What Are Betta Fish?
Depending on where you come from Betta fish are; Betta Splenden (beautiful warrior), Siamese Fighters, and even Plakat (biting fish). You may hear them pronounced 'bay-tuh' or 'bet-tah' with both being the same thing. Interestingly, however, only one of these pronunciations are right, and I'm sorry to say it isn't the US 'bay-tuh' as many believe. Rather, it is 'bet-tah' after the Asian Bettah warrior tribe. When saying it, to get it right, think 'my fish is bettah than yours' and you'll be spot on.
Originating in Thailand, formerly Siam, the Betta came to the fish hobbyist's attention via the children who caught them to watch them spar. The King of Siam, you see, saw them as an asset and taxed them and regulated them to make money. From here, he began to breed his very own that grew in both color and beauty, until in 1890 they began to be exported to France and Germany, and 1910 when they reached the USA.
Despite popular belief, the Betta does not and has never lived in small puddles in the rice paddies as their natural habitats. Rather they dwell in tributaries and streams close by. They do, however, have periods in the dry season or during a drought when they live in very shallow waters.
Nonetheless, this does not really relate to the Bettas we keep today, as these are a far cry from the dull and small finned wild betta you'd find in Thailand. Rather, the attractive, large finned beauties that we place in our aquariums today have all been captive-bred. They have, however, kept the fiery temperament of their wild counterparts and will spar at the drop of a hat!
To ensure you Betta has a long and happy lifespan you'll need to ensure you provide the correct water conditions in a suitable aquarium.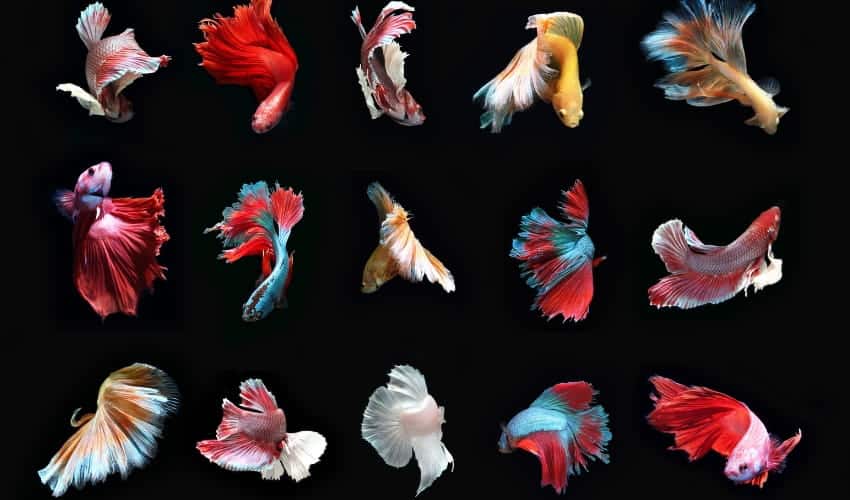 Fish Tank Construction: Glass VS Acrylic
At first glance, there is very little difference between a glass or acrylic aquarium. After all, they are both clear, can both hold large amounts of water, and will provide a good environment for your Betta to reside. However, this does not mean that they are both created equal, and in this matter, that is certainly not the case.
Glass Aquariums
Acrylic Aquariums
How Many Betta Fish Can Live In The Same Aquarium?
It is always recommended that male Betta fish are not kept together in an aquarium. This is due to them being extremely territorial and having a tendency to fight one another. However, some people, who have incredibly large aquariums with other tank mates and plenty of plants and ornaments to hide/retreat in have reported success in keeping two. This is not, however, something we would recommend trying.
Female Bettas, on the other hand, are a completely different entity and can be kept together in a large enough aquarium with plenty of foliage and hiding spots. A minimum of five females; known as a sorority; is recommended, although it is always better to keep more if you can, in a minimum aquarium of 10 to 20 gallons.
Please note, that females also fight and will certainly bicker on first being introduced to their new home.
This is so that they can form a hierarchy which they also would do in the wild. The monitoring of a sorority, especially a new one, is always essential.
Do Betta Fish Need A Filter?
Yes, absolutely! Betta fish are no different from other species in that they need to live in water of good quality. As with other aquariums, a filter will remove excess food, decaying organic matter, free-floating particulates, dangerous chemicals, and fish waste products.
Betta tank and small tank filters are readily available from aquatic stores or online at sites such as Amazon. Be careful, however, not to get a filter with too high a flow. Bettas do not like fast-moving water and may get stressed out or have difficulty swimming in water that moves fast.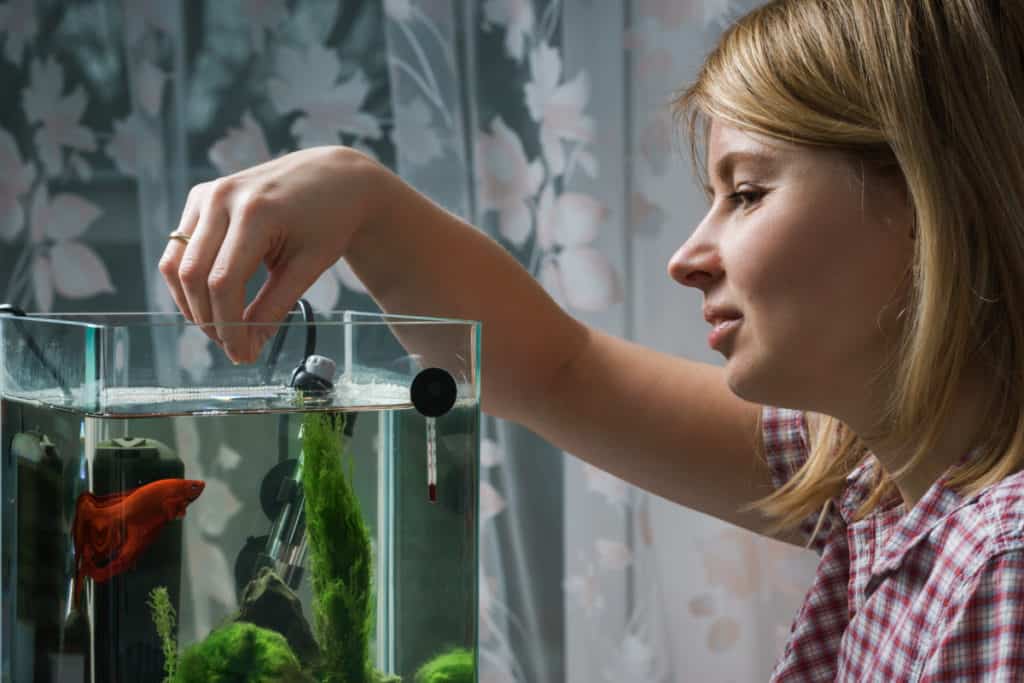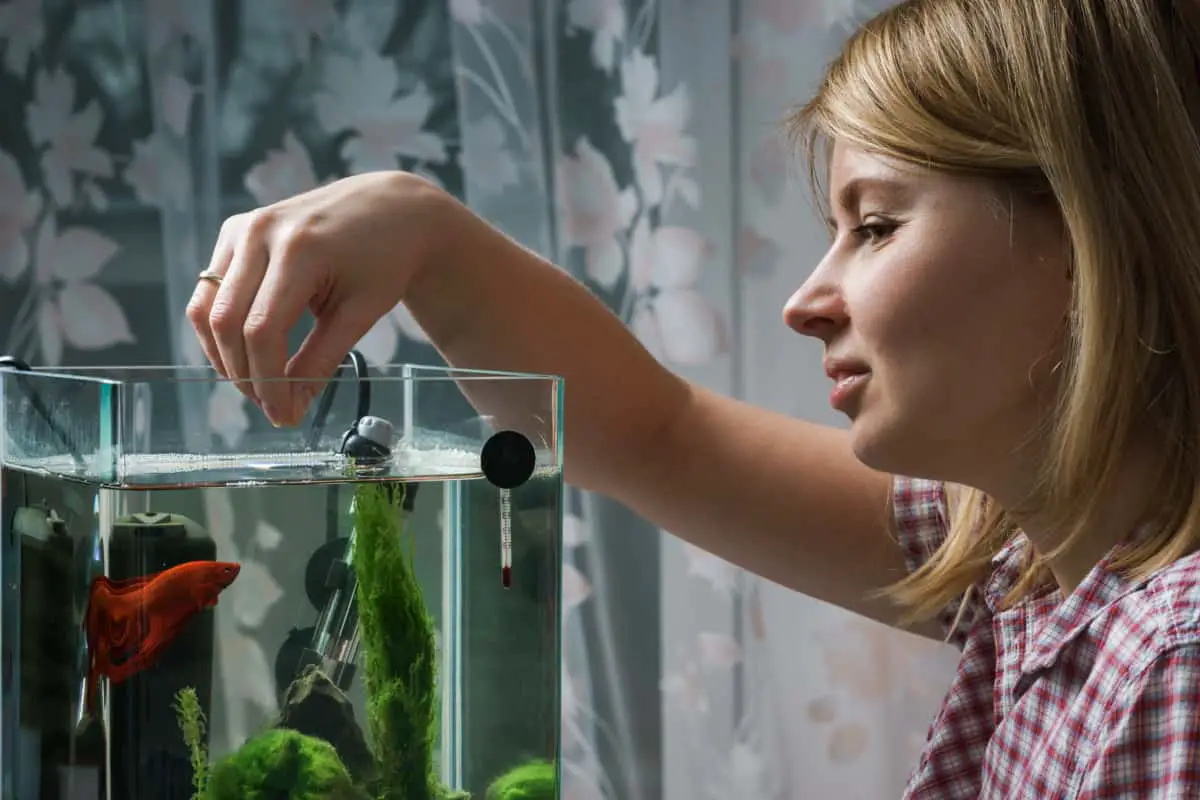 F.A.Q
Can a tank be too big for a Betta Fish? Yes. Bettas that are less energetic or have trouble swimming due to large fins, will not like having to swim large distances to protect their territory.
How big should a betta tank be? A Betta tank should be at least three gallons and also have a filter.
Do betta fish tanks need a heater? This will depend on the natural temperature of the water in your aquarium. If it is above 76 to 78 degrees due to the climate you live in then, no. However, if it is less, then, yes, as Bettas in water which is too cool for them, are prone to lethargy and diseases such as fin rot.
How often should you clean a betta fish tank? Weekly. However, due to tanks being smaller, you may find you need to top up the water 1 to 2 times a week.
How big a tank does a female betta fish need? A single female Betta would need three gallons just like a male. However, to keep a sorority (a group of 5 plus) you will need a tank of between 10 and 20 gallons.
Conclusion: Top 10 Betta Fish Tanks
Of all the aquariums I reviewed it would be fair to say that the Fluval Spec V was my favorite. This was more to do with appearance than features and so can only be recommended as my personal choice.
It is ultimately up to you to decide which one of the aquariums above, if any, is suitable and attractive to you. Just be sure to pick one that is 3 gallons or above to ensure your Betta thrives.
If you're like me and love to name your fish you might be interested in reading our 101 Betta Fish names article. It's got some great suggestions for Betta fish names for both males, females and pairs.

Latest posts by Carl Broadbent
(see all)