We all know that when it comes to setting up an aquarium, one of the most important – if not the most important pieces of equipment – is the filter. This is not only because using a filter saves us time on maintenance (meaning it's needed less often), but also to keep the water free of toxins, clean and maintain a suitable environment for our chosen fish.
Small and large aquariums alike need filters, but since we are discussing the best filters for large aquariums, we will concentrate on those needs. These are due to their larger water capacity, high-powered filters with three-stage filtration and the capability to turn over the aquarium's water volume – preferably four times an hour. There are of course, as always, some exceptions to this rule. Lower flow rates may be more suitable for:
Live planted aquariums

Fry aquariums

Aquariums with small fish

Betta aquariums
Higher flow rates may be more suitable for:
Aquariums with large fish

Reef aquariums

Goldfish aquariums
Although there are many types of filters available such as HOB, sponge and under gravel, the best filter for a large aquarium is undoubtedly the canister filter. These have usually been designed with the larger aquarium in mind and have all the features and capabilities that they need.
The Best 7 filters for larger aquariums we found and reviewed are:
If you have a smaller aquarium and are looking for a suitable filter, then you may be better reading our BEST FILTERS FOR SMALL AQUARIUM guide.
Last updated on July 14, 2020 4:31 am
| Make | Fluval |
| --- | --- |
| Model | 06 Series |
| Type | External canister |
| Tank Size | From 50-260 US Gallons |
| Filter Size | 7.6 x 14.5 x 16.2 inches |
| Weight | 9 pounds |
| Power | 120V/60Hz: 5W & 230-240V/50Hz: 5W |
| Customer Reviews | 1600 |
| Star rating | 3.9 out of 5 |
The Fluval external is suitable for tanks of up to 70 gallons and has a powerful motor, capable of maintaining a strong flow in between aquarium cleans. It is quiet and has a precisely engineered bearing that minimizes impeller vibration.
The filtration that the Fluval External provides is three-stage; chemical, mechanical and biological. There is also no need for siphoning as this filter has instant prime. Due to the aqua-stop valves of the Fluval External, there are no leaks or mess during maintenance either!
There has been a previous version of this filter and, unlike in some cases where the new version really doesn't better the old, this one really does. With a 10% increase of the flow in this newer version, it has also been modified to be easier to use and clean. Overall the new Fluval External filter is just all around better.
On a less positive note, the tube length could be longer and the initial set up could be simpler. However, these are only slight niggles and should not deter you from buying one of these.
Main pros
Value for money

Easy to use

Very quiet
Main cons
Tall (will not fit under all aquariums)

Can produce annoying microbubbles

Suction stronger that output
For more information or to purchase click here.
| Make | Polar |
| --- | --- |
| Model | Aurora 4-stage |
| Type | External Canister Filter |
| Flow Rate | 525 GPH (2000L/hr). |
| Tank Size | 100-200 Gallons Max |
| Dimensions | 5"x11.5"19" |
| Power Rating | 10-120V 50-60Hz |
| Customer Reviews | 181 |
| Star Rating | 4.0 out of 5 |
This canister filter is equipped with a built-in 9 watt UV sterilizer that controls algae spores and bacteria, helping to keep your water cleaner and healthier. It is suitable for aquariums up to 200 gallons and can turn over 525 gallons of water per hour.
Standing at 19 inches, the Polar Aurora is suitable for fitting under most aquariums and comes with an incredible four media trays, adjustable spray bar, and self-priming pump. This eliminates the need for siphoning during maintenance and reduces the difficulty of getting the filter back up and running afterward.
The overall performance of this canister filter is great, especially considering the low price that it is available at. There are, however, some slight niggles including the pipes not being particularly flexible and it not being designed for easy movement during maintenance.
Main Pros
Quiet

Replacement parts easily available

Great value for money
Main Cons
Pipes not particularly flexible

Over tightening the pipes can break the hose connectors

Not the easiest filter to move during maintenance
For more information or to purchase click here.
Fluval Advanced Filtration System
| Make | Fluval |
| --- | --- |
| Model | Fluval Advanced |
| Type | External Canister |
| Tank Size | 80 to 160 Gallons |
| Flow Rate | 265 gallons per hour |
| Voltage | 110 V 60Hz |
| Dimensions | 10 x 9 x 13 inches |
| Weight | 22.4 pounds |
| Customer Review | 240 |
| Star Rating | 3.4 out of 5 |
The Fluval Advanced Filtration System offers all the benefits you expect from a Fluval canister filter and more. It has power, long-term reliability, emits no noise and provides high performance for tanks up to 160 gallons. The water volume it turns over is 265 gallons per hour.
Unlike other canister filters however, the Fluval Advanced has the added benefit of Hydrotech; an intelligent monitoring system unique to Fluval. This can store and communicate to the user real-time filter performance, water parameters and cleaning schedules along with aquarium temperatures and conductivity. All this information is displayed on a screen located on the filter's casing.
On the downside, the pipes are opaque on this canister filter, which makes it difficult to clean them thoroughly as you can't see inside. The outer casing is also easily marked and scratched meaning it won't look pristine for long. These however, are very minor setbacks with this filter and not something that should prevent you from purchasing it.
Main Pros
Hydrotech system

15 PSI pressure

Compact design
Main Cons
High price range

Closed system (repairs not possible)

High tech reliability
For more information or to purchase click here.
| Make | Fluval |
| --- | --- |
| Model | FX6 Filter |
| Type | External Canister Filter |
| Flow Rate | 563 GPH |
| Tank Size | 400 US Gallons Ma |
| Wattage | 120V/60Hz: 43W |
| Dimensions | 16 x 16 x 21 inches |
| Media Capacity | 11.5 Liters |
| Customer Reviews | 238 |
| Star Rating | 4.3 out of 5 |
Fluval has to be one of the most recognizable and respected names in the world of aquatics and with good reason. Put simply they make high quality and high-performance products that you can rely on, with the Fluval FX6 being no exception.
A multi storage filter that can be used with both marine and freshwater tanks, the Fluval FX6 uses smart pump technology for ultimate filter performance. It is self-starting – just add water, plug in and go – it also has a monthly maintenance reminder built in. This is handy for those out there like me, who have multiple aquariums and cannot always keep track of exactly when each was last cleaned.
Fluval state that this filter can pump at 563 gallons per hour making it suitable for tanks up to 400 gallons. Remembering the guideline of turning your aquarium's water over four times an hour, however, it may need additional help or be more suited to smaller aquariums.
Function wise the Fluval FX6 has a multi-directional output nozzle, aqua-stop valves for easy maintenance and an electronic circuit board that monitors the impeller's speed and pump power. It is also exceedingly quiet and at 21 inch high, fits underneath most aquariums.
On a less positive note, the Fluval FX6 does not come with all the media needed to fill this canister filter so there will be an extra expense purchasing the extras needed.
Main Pros
Incredibly reliable

Easy to clean

Excellent media products
Main Cons
Heavy

High price range

Replacement parts (can be difficult to source)
For more information or to purchase click here.
| Make | Hydo |
| --- | --- |
| Model | Professional 450 |
| Tank Size | 100-150 US Gallons |
| Flow Rate | 320 GPH |
| Type | External Canister Filter |
| Dimensions | 10.5 x 8.5 x 22 inches |
| Weight | 16 pounds |
| Customer Reviews | 299 |
| Star Rating | 3.9 out of 5 |
Described as a complete ECO-system in a box, the Hydor Professional 450 not only delivers high performance, it is also designed to make the most of the space under your aquarium. Depending on how high the flow rate is set, this filter can move 75-125 gallons per hour of water through your aquarium.
A solid and well-constructed filter, the Hydor Professional 450 is easy to set up, maintain and use. It comes with everything you could need and more – including a unique 'no bypass' design which ensures that water always passes through the filtration media.
To ensure powerful filtration, the Hydor Professional 450 comes with extra wide tubing that allows increased water flow, and ball valves to control the level of flow. An expandable spray bar is another great feature of this filter which helps you to adjust water flow to the perfect level.
On the downside, as this filter is fairly new, replacement parts can be difficult if not impossible to source. It is also not the easiest canister filter to perform water maintenance with as there tend to be leaks and spills.
Main Pros
Silent

Expandable spray bar

Flow rate adjustment
Main cons
Maintenance (possible water spills)

Replacement parts

Priming pump (temperamental)
For more information or to purchase click here.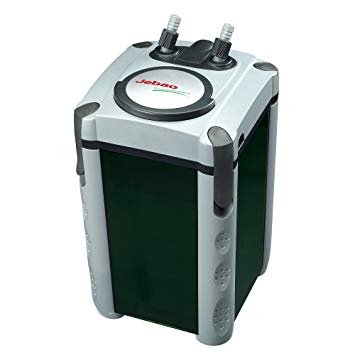 Suitable for tanks up to 60 gallons and with the capability to pump approximately 200 gallons per hour around your aquarium the Jebao 503 has to come close to, if not top, in this list of best filters for large aquariums. Don't get me wrong it is not entirely perfect but for the money you pay, it is pretty close.
Easy to set up and with multistage filtration over three baskets, the Jebao 503 is easy to prime, has 360° hose connection turning, and a really good flow rate. It also has rubber stands underneath to heighten optimal vibration damping. It is suitable for both marine and freshwater aquariums.
On a less positive note the Jebao 503 does not include the charcoal, bio balls or ceramic rings that are needed to run this filter, they will need to be purchased separately. It also is not as quiet as it claims to be.
Main Pros
Easy to prime

Good value for money

Compact size
Main cons
Loud

Hard to understand instructions

Filter media not included
For more information or to purchase click here.
| Make | Eheim |
| --- | --- |
| Model | Eheim Pro 4+ |
| Type | External Canister filter |
| Tank Size | 100 Gallons |
| Dimensions | 10" x 10" x 14" |
| Weight | 12 pounds |
| Customer Reviews | 13 |
| Star Rating | 3.6 out of 5 |
The Eheim Pro 4+ replaces the Pro 3 range and is suitable for aquariums up to 65 gallons. It has a flow rate which is adjustable, a self-priming button, three-stage filtration and an additional control function, the Xtender. This clever little design counteracts blocked filter media and extends the time between maintenance.
From a positive point of view, the Eheim Pro 4+ is incredibly quiet, which is always a plus as no one likes to hear the 'humming' vibrations of a filter at work. It also involves no work when it comes to filling and restarting as it has a self-priming button. It is also easy to clean and comes with all the media, filter pads and installation products you need.
On the downside, the Eheim Pro 4+s adjustable flow rate is not exactly precise. Turning the flow up a notch and then back down one, does not seem to result in the original flow rate. This, however, isn't the hugest of problems as playing around with it a little will ensure you get it right. Be aware also that when draining this canister filter, not all water will be removed from the media baskets and some may remain leading to splashes and spillages.
Main Pros
Quiet operation

Easy to clean

Xtender function
Main Cons
Initial set up (instructions not clear)

Stiff tubing

Flow rate difficult to control
For more information or to purchase click here.
Eheim Pro 4+ 250 Filter up to 65g
3 new from $149.99
Free shipping
as of July 14, 2020 4:31 am
Features
Pro4+ filter replaces the EHEIM Pro 3 range
This new filter doesnt just boast a new sleek black color but it also has a Range Xtender Function
As with most EHEIM filters, the Pro4+ comes complete with filter pads and media and all installation equipment
Country Of Origin: Germany
Hydor Professional 450 External Canister Filter, 75-125 GAL, 320 GPH
as of July 14, 2020 4:31 am
Features
COMPLETE ECOSYSTEM IN A BOX: This external filter for generation aquariums offers maximum performance and high filtration standards, not to mention an entire eco-system in a box
PREMIUM VERSATILITY: This professional external canister filter for aquariums features a priming pump that offers the versatility you need. The unit is ideal for both freshwater and saltwater aquariums
SIMPLE TO USE: The long-life ceramic shaft, large filter volume and safety locks make this professional external canister filter easy to use as a beginner or a long-term hobbyist. The space-saving unit is perfect for small and large aquariums
FILTER OPTIONS: Choose from professional external canister filters that operate with gallon ranges from 20 to 150. The filter circulation stems from 160 to 290 gallons, depending upon the model you choose
SPECIALIZED SERVICE: With more than 30 years of experience offering high-quality products for the passionate marine aquarist, Hydor is dedicated to manufacturing unique and innovative items in the field of aquarium technology
Fluval Canister Filter, FX6 Filter (400 Gal)
12 new from $339.99
6 used from $284.05
as of July 14, 2020 4:31 am
Features
Multi-Stage Filter that produces healthy aquarium water, freshwater or marine aquariums
Features Smart Pump Technology for optimal filter performance, efficiency and management
Self-starting filter-just add water and plug in. Head height (maximum): 3.3 m (10.8 feet)
For aquariums up to 400 gallons
Fluval G6 Advanced Filtration System
1 new from $379.99
Free shipping
as of July 14, 2020 4:31 am
Features
Powerful filtration system for use in both freshwater and marine environments
Easy to use; One button self-priming technology. Mechanical Area (foam)- 386 Sq.in (980 Sq.cm)
Easy access and ability to view water temperature, flow rate and conductivity
Equipped with silicon gasket providing superior sealing and long-term reliability
Suitable for aquariums up to 160 gallons; Filters 265 gallons per hour; Voltage - 110 V 60Hz
Polar Aurora Free Media 4-stage External Canister Filter with 9-watt Uv Sterilizer, 525 GPH with Builtin Pump Kit Canister
as of July 14, 2020 4:31 am
Features
Good for up to 200 gallon fish tanks.Maximum flow rate of 525GPH from built in pump
4 media trays capable of handling your choice of filtration media; Comes with an adjustable spray bar. This is a helpful feature if you want to adjust the output flow from the filter
Convenient self-priming pump that eliminates the need for manual siphoning; Single valve disconnect & priming pump ease routine maintenance
Built in 9 Watt UV sterilizer for controlling algae spores/bacteria and promoting clear water
The four flexible media trays allow you to add other filtration media such as SunSun's activated carbons, ceramic rings or bio-balls to achieve excellent mechanical, chemical, and biological filtration.
Fluval 306 External Filter
8 new from $149.99
Free shipping
as of July 14, 2020 4:31 am
Features
Multi-stage filtration for healthy fresh & saltwater aquariums
Suitable for aquariums up to 70 gallons
Sound dampening impeller design for a quieter operation and head height (max.) is 5.8 feet
Equipped with a clog-proof intake strainer and a dual layer foam screen
Built with a patented Aquastop Valve, multiple filtration baskets, and rim connector assemblies; 3 year warranty
Penn Plax Cascade 1500 - 350GPH Canister Filter
as of July 14, 2020 4:31 am
Features
CASCADE CANISTER FILTER FOR FRESHWATER OR MARINE ENVIRONMENTS: the Cascade 1500 (CCF5UL) has 5 media baskets, works at 350 GPH, and is recommended for Aquariums up to 200 gallons. It measures 11.5 x 20.5 x 12 inches.
STATE OF THE ART FEATURES OF THE CASCADE 1500: ♦ flow valves that rotate 360 degrees for easy maneuvering in even the tightest aquarium cabinets ♦ large capacity media baskets allow aquarists to customize to their media needs ♦ push button primer allows for a quick and easy prime of the filter ♦ includes a spray bar, tubing, directional spout for customization, and filter medium.
USE ANY COMBINATION OF MEDIA: floss pad for removing particulate matter and a course sponge that provides abundant surface for promoting bacterial growth (to remove ammonia and nitrites) included free with purchase
SEE BELOW FOR DIAGRAM, THE CASCADE 1500 INCLUDES: ♦ Flow rate control cut-off valves ♦ two independent directional 360 degree rotating valve taps ♦ swimming pool – style hose clamps ♦ quick, easy, push button self-primer ♦ extra-large capacity stackable filter medium containers with lift-up handles ♦ floss pad and coarse sponge included, free with each canister filter ♦ easy lift alignment clamps that release vacuum suction ♦ sturdy tip-proof base
FILTER MEDIA OPTIONS BY CASCADE AVAILABLE ON AMAZON, SOLD SEPARATELY: see below for details, sold separately is media such as: bio-floss, bio-sponge, bio-rings, filt-a-pack pro-z, and filt-a-pack pro-carb-z.
Correctly cleaning your filter is vital
All filters contain good bacteria which helps to keep your aquarium clean. If you wash or clean your filter or filter media incorrectly you could be killing helpful bacteria.
This bacteria can take weeks to grow again and in that time your fish and water quality will suffer. Learn how to correctly clean your fish tank filter here!
Conclusion: Best filters for larger aquariums
There are many factors you should consider when buying a filter for a large tank. The obvious ones are price, capability, and size. Often brand awareness also comes into play. If you were given the choice of choosing a free filter would you choose a Fluval or a Jebao?
Many new manufacturers are now coming into play and competing with the bigger more well-known brands, and to be fair they are starting to bridge the quality gap.
Whichever filter you choose, ensure it will fit your needs. The Gallons Per Hour rating (GPH) is one of the most important things you should consider. It doesn't matter what the filter looks like, or the price, if it can't cope with the water volume within your tank then it's worthless.
If you're thinking of buying your first fish tank you might want to read our complete guide to starting an aquarium- Starting a fish tank for beginners.
We hope we've helped you to make the right choice when purchasing a filter for larger aquariums.
If you have a smaller aquarium, let's say 75 Gallons or less then have a look at our review of the Best filters for small fish tanks. 
[author title="About the Author"]

Latest posts by Carl Broadbent
(see all)