In nature, bodies of water are naturally aerated, through the wind, aquatic plants, splashing streams and waterfalls, rain, and so on. 
Your Koi pond must mimic this environment, to remain fresh, and to support marine life. A well-aerated pond is a healthy, beautiful pond… and one where your Koi Fish will live long and feel at home!
One way to provide essential oxygen to your Koi is by using a large pond aerator. These come in many shapes, sizes, and Prices and can be a little confusing and overwhelming when trying to decide which one is best for your Koi pond.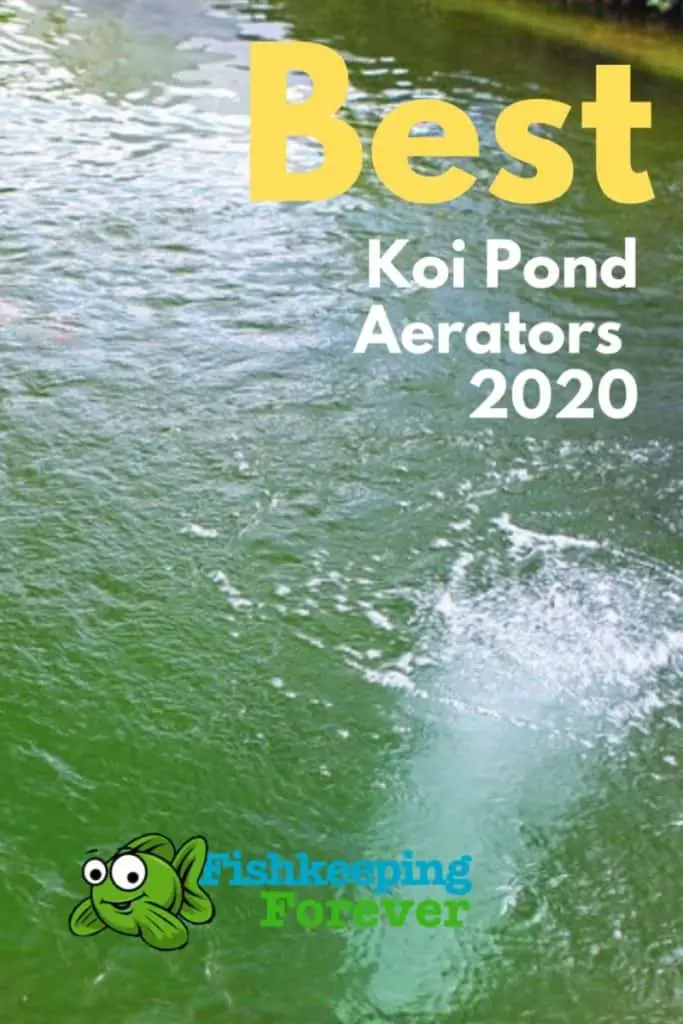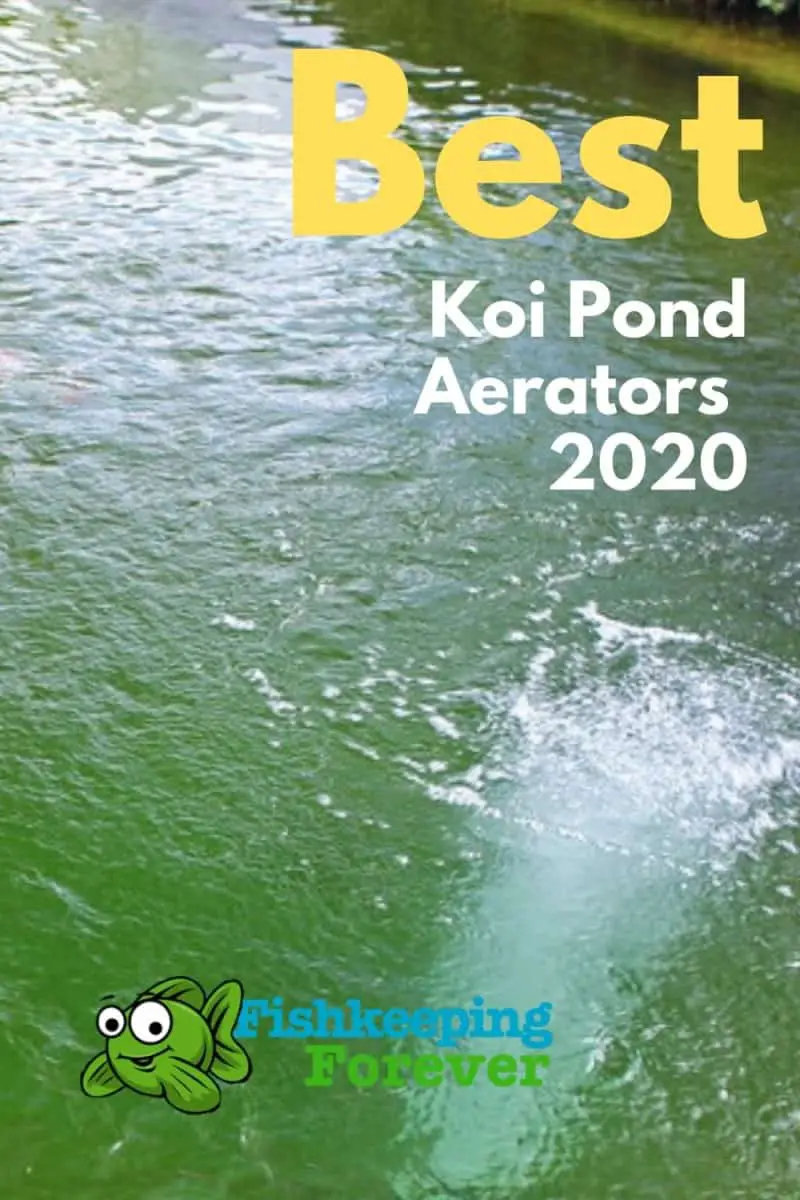 In a hurry? Here are 3 suitable sized Koi Pond Aerators from Amazon
That's where we come in, We have reviewed some of the best Koi pond aerators on the market and narrowed the search down for you. This will help you make the right choice and save you time and money.
But first, let us see if and why you should use a pond aerator and what to look out for when purchasing one.
Why Should You Aerate Your Koi Pond?
Did you know that every pond needs healthy bacteria in it? These use oxygen to break down waste, including nitrates, ammonia, and more. This is a process called the nitrogen cycle. Bacteria are a necessity when it comes to keeping a clean Koi pond at home.
Of course, if you have any plants in your pond, they will require continual oxygen as well. Many opt to create a garden in their Koi Pond, and an aerator is the key to their success in this endeavor.
Water lilies, hyacinths, and other lovely water plants need plenty of oxygen in order to really thrive.
Should you opt to have Koi fish in your pond, they will need even more oxygen in order to survive. In a Koi Pond, a quality Aerator is truly imperative. Without it, your fish will experience oxygen starvation and can suffocate. 
Along with their breathing needs, Koi fish also rely on good bacteria to break down the rather large amounts of waste that they produce. Otherwise, the pond will quickly become dirty, and make your Koi sick. 
Some consider their water feature enough aeration for their Koi Pond (like a waterfall). This will aerate only the surface. Your fish and lower-level plants (not to mention the bacteria) will still not have enough oxygen. To provide oxygen to your entire Koi Pond, a quality aerator is essential.
An aerator will also provide many other benefits. For one, a clean pond will not have that muggy, swampy smell. Instead, you can enjoy the fragrance of your hyacinths, water lilies, and the summer breeze. 
Stagnant ponds are a breeding ground for mosquitoes! Aerating the water properly will help discourage them from laying eggs, and sticking around in general. 
Last but not least, an aerated pond is paramount to helping create the ideal habitat for your Koi.
What To Look For To Find The Best Pond Aerator
Highly rated online. The best Koi pond aerators will have 4.3 stars or more! Pay attention to ratings, reviews, and the like. These are usually quite accurate and helpful.
Power. The deeper and bigger your pond, the more powerful of an aerator you will require. The most powerful are ¼ HP or more.
Warranty. The best Koi pond aerators will have a generous warranty to match. See what each has to offer before you make your pick.
Wintertime Protection. If you have Koi or other fish in your pond, you will definitely want an aerator that is capable of creating a hole in the ice. This will allow them to release gas, and to breathe. A good aerator will maintain an unmelted area in your pond, year-round. This will significantly help your Koi fish survive.
Weighted Airline. Many have expressed their desire for a weighted airline. This is more aesthetic, as it keeps the airline more hidden from view.
Weatherproof. If you live somewhere like Florida, with torrents of rain, you will probably want an aerator that is weather-proof. These can withstand not only rain but also wind and snow. You can also weatherproof your unit yourself with a fake rock (or something similar).
Easy install. Who wants a hassle? The best Koi pond aerators make installation simple. All that these call for are a few hookups and a moment of your time.
Quiet function. The best Koi pond aerators will not disturb your peaceful yard atmosphere. Of course, the biggest aerators are bound to make some noise. Quality small-medium sized aerators are the quietest out there.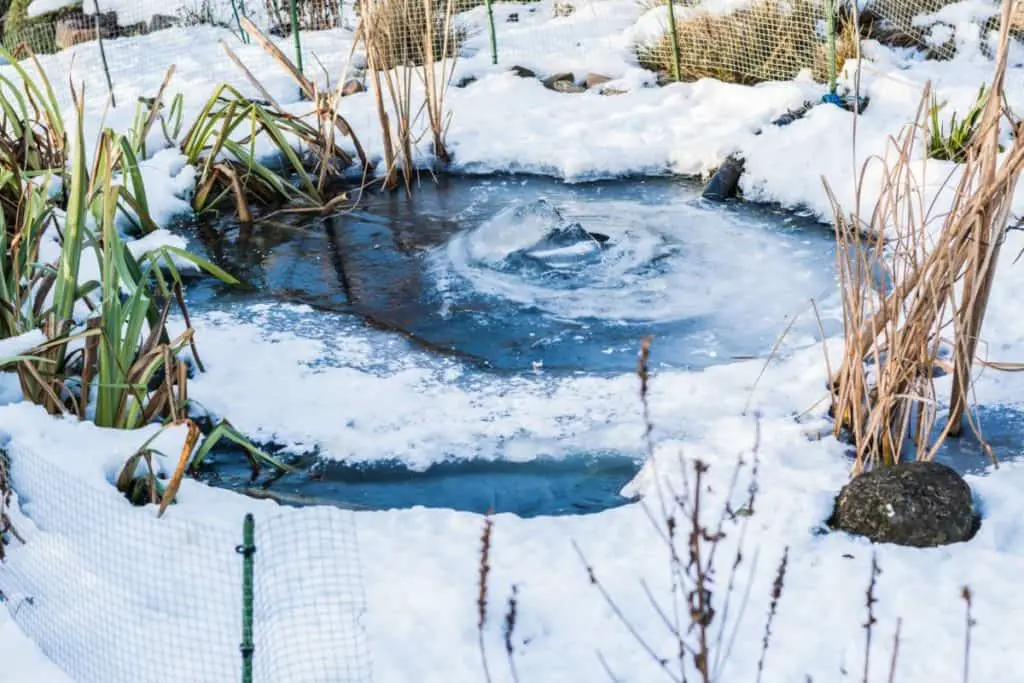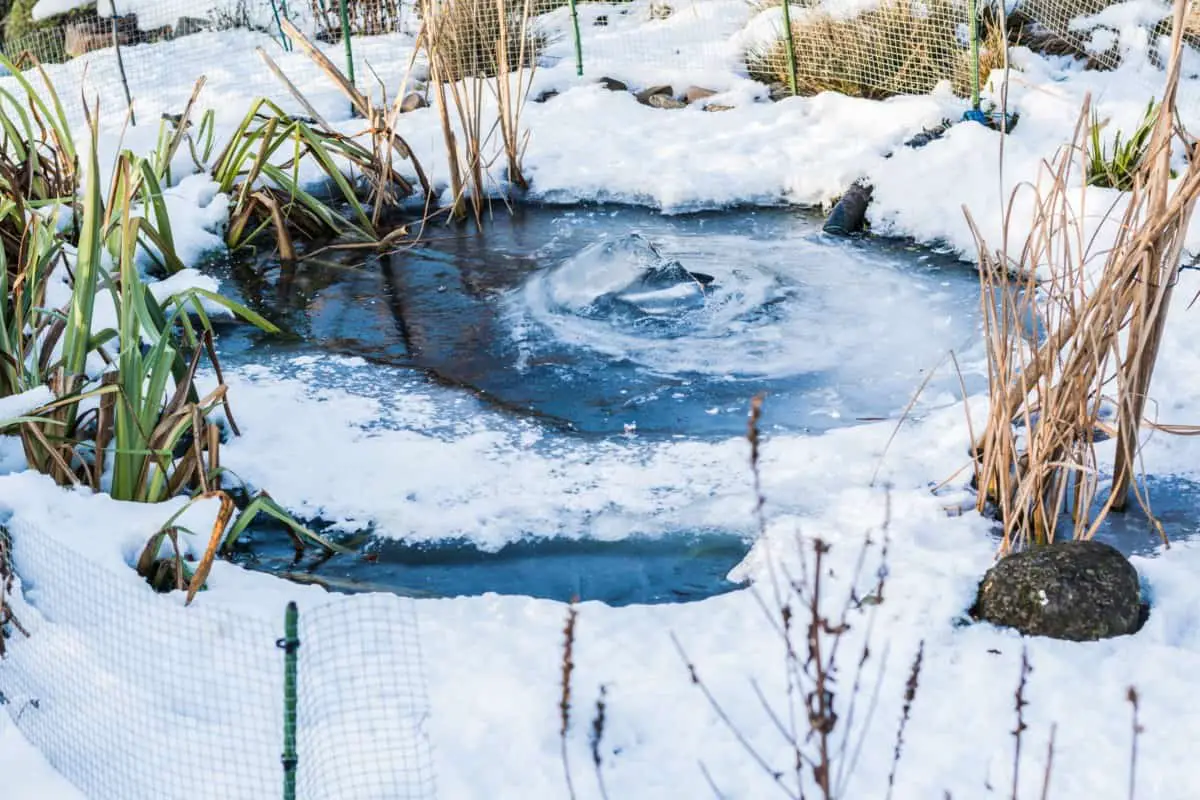 Koi Ponds In The Wintertime
Without an aerator in the wintertime, your Koi fish will surely die. Inadequate oxygenation is enough danger on its own; in winter, the top of your Koi pond will freeze.
This will cut your Koi fish off from oxygen altogether; unless you have an aerator. A quality aerator will not only keep oxygen moving through the water but can maintain a hole in the ice as well. This makes the season survivable, and all-around more comfortable for the Koi. 
To most effectively create a hole in the ice, place your aerator closer to the surface than usual.
Read our complete Guide on Pond De-Icers for winter here
Koi Pond Size
When it comes to choosing the best aerator for you, the size of your Koi Pond is the primary factor you will want to consider (second only to quality). 
For example, the bigger your Koi Pond, the more powerful the aerator you will need. Small ponds will not require quite as much filtration.
A too-small aerator will not oxygenate your entire pond. One that is too large is simply excessive and can stir up the bottom muck. So, choose the size of your aerator with care.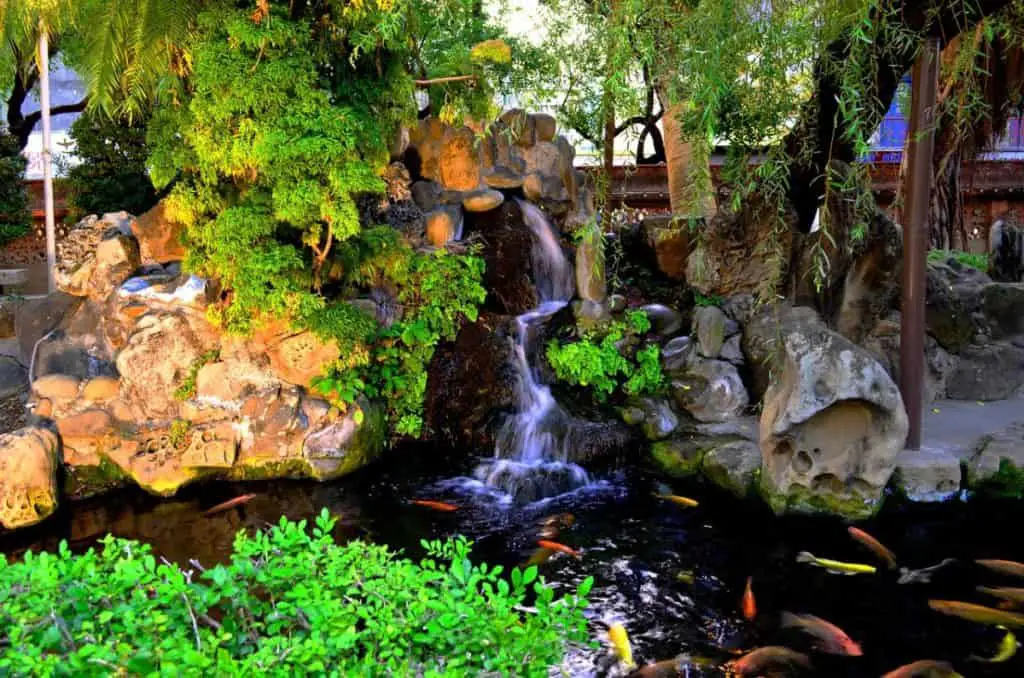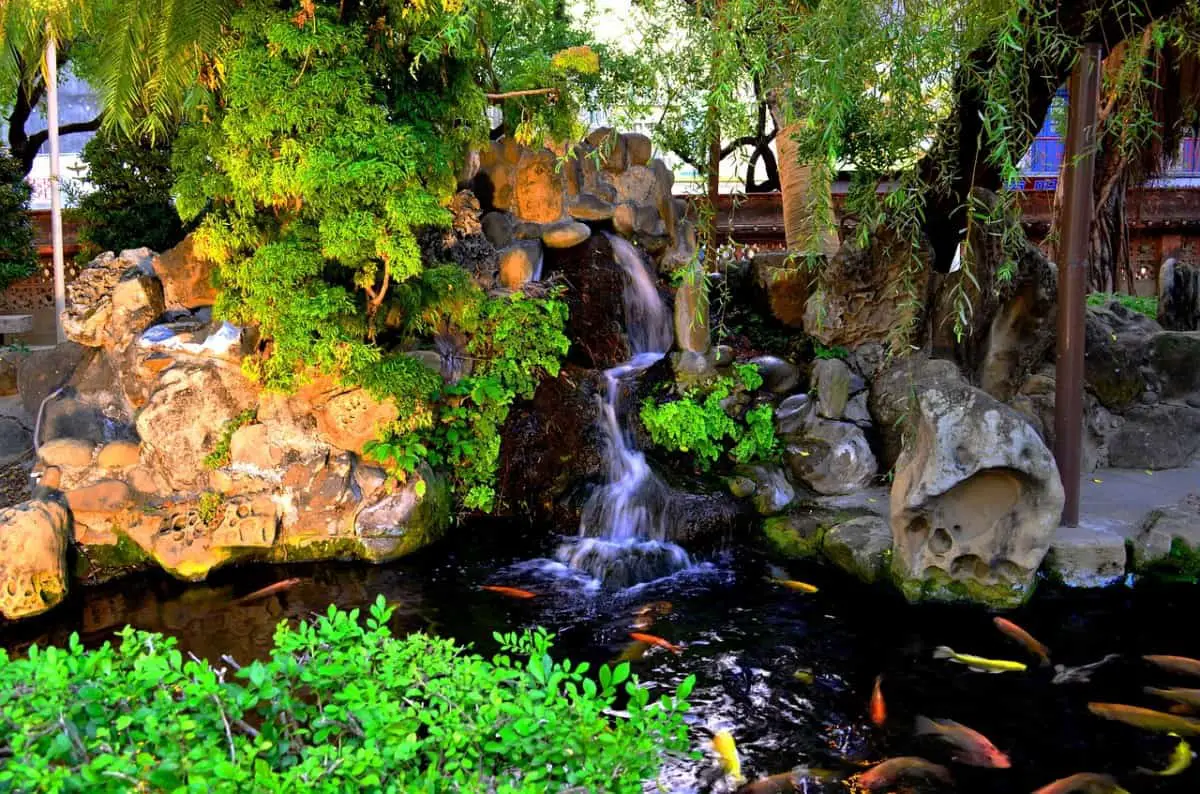 ---
Small Ponds 2000-5000 Gallons
For small ponds, this Koi Pond aerator is truly ideal. The unit is a great entry-level. Its whisper-quiet operation is unparalleled, and its low wattage will allow you to save! 
Specs:
Oxygenates ponds and water features up to 5,000 gallons
Maximum pond size: 6.5-feet deep
Maximum airflow rate:  0.71 CFM
6-inch x 5.5-inch x 4.25-inch
25-foot ⅜" airline 
Simple install
3-year limited warranty
Features: 
Will create a hole in the ice to sustain pond fish in the wintertime. Any truly good aerator should create a hole in ice, so that your Koi can breathe. The unit should be able to maintain this 24/7.
Whisper-quiet function. This aerator is one of the quietest available. It makes a low, subtle hum, and it will not disturb your peaceful yard atmosphere. 
Outdoor-rated. This hardy unit is outdoor-rated, and built to withstand wind, rain, and snow! This is an aerator you can depend on.
Weighted diffuser. This helps parts of the unit stay under the surface (not including the airline).
Check valve. This is a handy feature that makes for easier maintenance.
Energy-efficient 15-watt compressor. With this 15-watt compressor, you will not have to worry about breaking the bank. You can maintain a beautiful, healthy little pond, affordably, at home.
Braided vinyl airline tube. The braided vinyl airline tube is specially made to be resistant to tears, snags, kinks, and the like.
Aeration diffuser: 10" clog-resistant rubber membrane. This diffuser is nice and low-maintenance, with a specially clog-resistant rubber membrane.
What our Customers Say:
Customers have praised this Koi pond aerator for truly being whisper-quiet. The outdoor rating also means business; one customer said that their unit even survived a flood!
With this Koi pond and water feature, customers claim to rapidly notice the water becoming cleaner, as well as healthier fish and an improved smell. 
For its size, this unit is said to create lots of bubbles and is super powerful.
There are only a couple of common complaints: the 6-foot power cord is said to be a bit short, and many wished that the airline had weights, so it would not float to the surface.
A couple of folks commented that they wished that the blue airline was less noticeable, perhaps in the color black.
All in all, customers have found this aerator to be quiet, powerful, weather-proof, and it does what it says it will do: creates a pond that is clean and fresh. And, of course, happy, healthy Koi! Of a good Koi pond aerator, what more can you ask?
Read more customer reviews on Amazon here
---
Medium Sized Koi Pond 5-8000 Gals
Have a medium-sized pond? This is one of the best, top-rated aerators for medium Koi ponds (and water features) out there! The unit is powerful, whisper-quiet, and virtually maintenance-free. 
Specs:
Oxygenates ponds and water gardens up to 2,000 – 8,000 gallon
Maximum pond depth: 4 feet deep
0.80 CFM airflow
15-foot, ⅜" airline tube
6-foot power cord
3/8" barbed inlet, which hooks up to the included EasySet airline
1 dual-stick plate
PTFE Non-Stick 6″ Membrane Diffuser Stick
Features: 
Energy-efficient. This Koi pond aerator is capable of great energy-efficiency, running on as low as 17 watts! Choose your power level.
Aeration diffuser: 10" clog-resistant rubber membrane. This is a special membrane that you will have to maintain very little. The diffuser is made to resist clogs, and to clean itself.
Braided EasySet vinyl airline tube. This airline tube is flexible, as well as tear, snag, and kink resistant, to stand the test of time.
Will create a hole in the ice to sustain pond fish in the wintertime. When set up properly, this unit will easily keep your pond surface from freezing over completely. The aerator bubbles will help to create a breathing hole.
Weighted airline. This is an aerator feature that is highly sought-after! Weighted airlines will stay at the proper spot in your pond, unseen. 
Dual diaphragm SilentAir Aeration Pump. This unit features a dual diaphragm SilentAir Aeration Pump, which is ultra-powerful yet creates very little noise.
Check valve. This makes aerator maintenance simpler, for your convenience.
Whisper-quiet function. For its size, this unit is incredibly noise-free. You can expect virtually whisper-quiet function, and preserve your peaceful yard atmosphere.
What our Customers Say:
This state-of-the-art aerator has been a hit among pond owners! This is thanks to its exceptional quality and energy-efficiency, and more.  Customers appreciate that the pump is heavy-duty, with 4 rubber feet on the base for balance, as well as a handy rubber handle. 
The focus of this unit appears to be on convenience. Of course, it is also very effective! One customer said that their fish really seem to enjoy the bubbles this aerator creates. They were said to become healthier and happier in no time. 
The primary complaint about this unit is that it is not weather-proof. Customers suggest covering it with a fake rock (or something similar).
Read more customer reviews on Amazon
---
Large Pond Aerators 10,000+ Gals
This is the heavy-duty unit that those with large ponds have been looking for! The unit will aerate bodies of water up to 1 acre in size. This is no small feat! The ultra-powerful Koi pond aerator uses a ¼ HP piston compressor to accomplish the task. 
The unit will also help get rid of mosquitos and invasive duckweed, algae, and the like.
Despite its strength, the aerator functions without running electricity through the water, to keep your family and pets safe.
What's more, this unit is weather-proof!
Specs:
Aerates ponds up to 1 acre in size
Airflow: 2.3 CFM 
Maximum pond depth: 50' deep
100′, 3/8" airline tube
GFI protection on all circuits
1/4 HP compressor
2 year compressor warranty
5 year tubing and diffuser warranty
Features:
1/4 HP piston compressor. A large pond calls for an ultra-powerful aerator. This calls for an excellent compressor. The unit does not stint, with a full ¼ HP, piston compressor designed to effectively aerate your pond, from top to bottom.  
Aerates ponds up to 1 acre in size. There is unlikely to be a pond that this aerator cannot clean! The unit can tackle bodies of water a whole 1 acre in size.
Nice and safe. Power near water can be a real risk. This in mind, this unity does not run electricity through the water to function, to keep you and your Koi (and ducks, etc.) safe.
Weather-resistant and durable. This heavy-duty aerator is, of course, weather-resistant and super durable. Set it up, and you can trust it to withstand the elements, including rain, wind, and snow.
Weighted airline tube. This airline will remain hidden, with a weighted tube. This will help maintain the natural pond look.
Will create a hole in the ice to sustain pond fish in the wintertime. A pond this big is sure to have some wildlife. You probably even have your very own, beautiful Koi. In the wintertime, you will want to make sure that a breathing hole in the ice is available. This aerator will absolutely do the trick!
What our Customers say:
Many customers had old fish that were becoming sick; they even had some of them die. One customer checked the pH of the water, among other things, to no avail. Finally, they realized that perhaps oxygen starvation was the issue. 
Once they got this Koi Pond Aerator installed, they instantly noticed the water become clearer, and the fish more active. Soon, their pond was clean and their fish in good health. This is the classic story here!
Read more customer reviews on Amazon ↗️
---
Koi Pond Aerator F.A.Q
Q: Do pond aerators really work? 
A: Yes, as long as they are the right kind for your pond size, and high quality. They will decrease invasive algae, clear waste from the water, and provide oxygen for your plants and Koi (and other fish). We use API Algaefix to help controls the algae in our pond.
Q: What size pond aerator do I need? 
A: That depends on the size of your pond! Small pond aerators require about 5,000 gallons. Medium ones, 2,000-8,000. Obviously, large ponds will require more. You should also take into account the depth of your pond, and the max depth of the aerator (you can find this info on each individual aerator).
Q: How long should I run my aerator at a time?
A: You can run most aerators 24/7. This is recommended, as your Koi will need oxygen constantly -especially in the wintertime!
A Bit About The Koi Fish
Did you know that Koi are actually Amur carp? These have been selectively bred for their gorgeous colors, patterns, and general appearance. 
As a matter of fact, if they were left alone for a few generations, their colors would normalize and become much more plain. This gives Koi a fleeting, precious beauty which makes them highly sought-after by fish enthusiasts and pond owners alike. 
The Amur carp were domesticated in the 1820s, in Japan. The Koi quickly became a popular pet, as well as yard decor. There are few things as beautiful as a serene pond full of colorful, graceful Koi.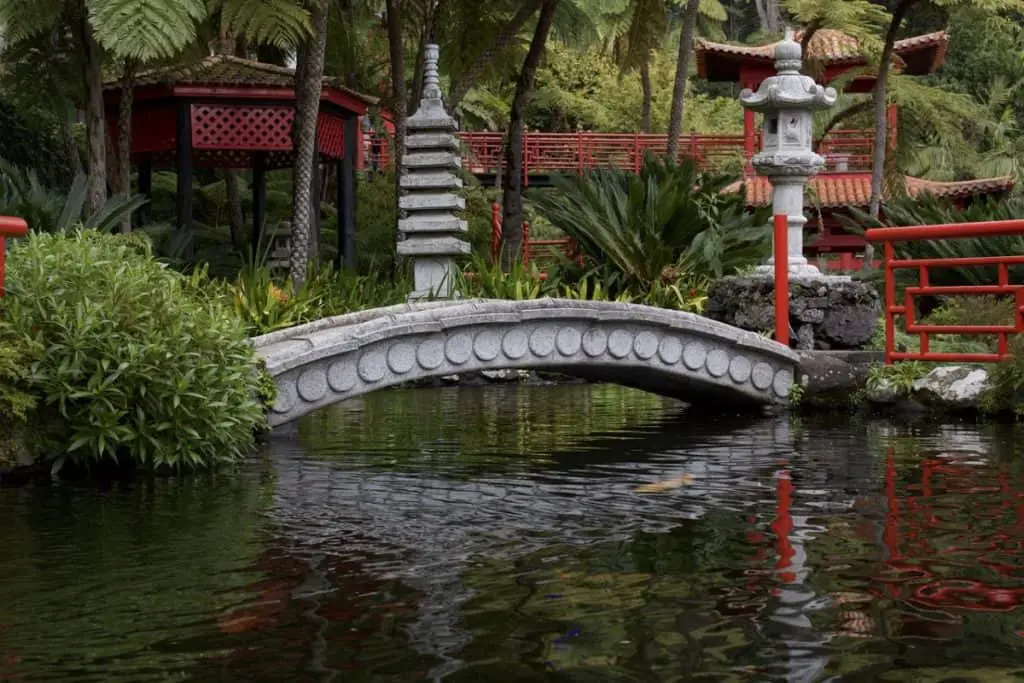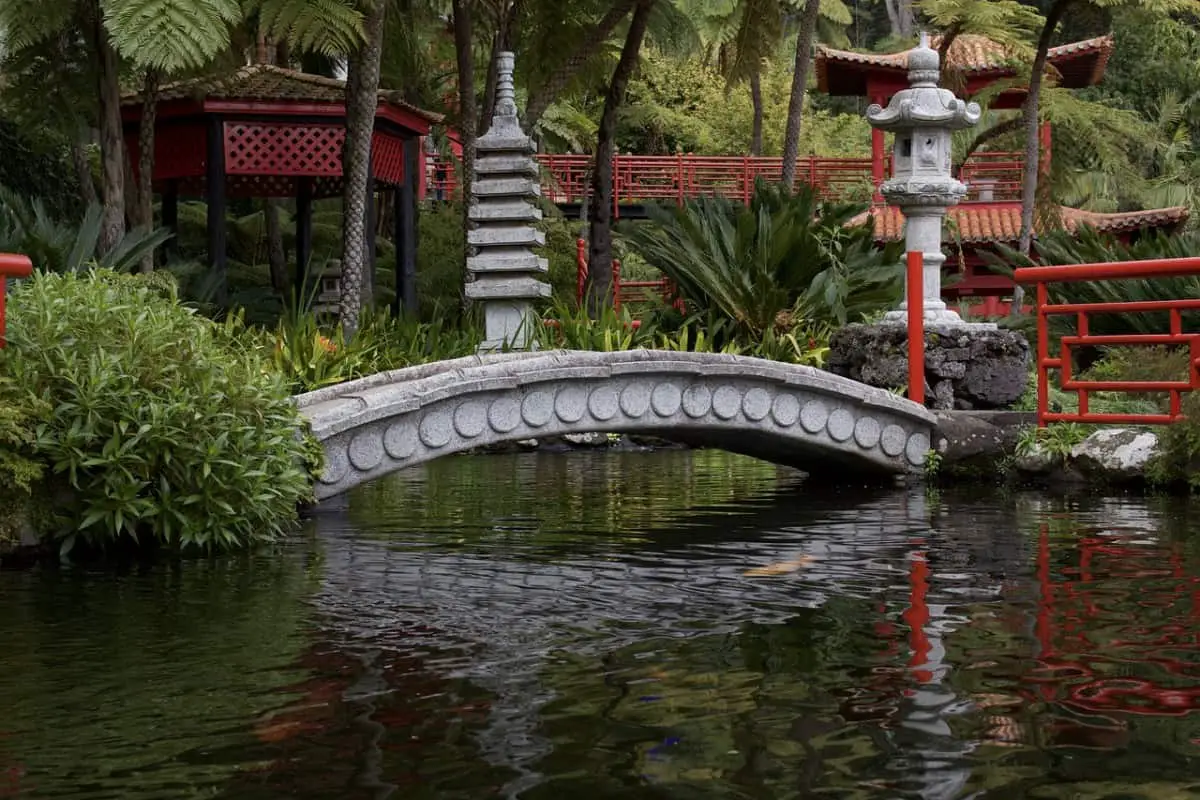 For fish, Koi have great memories, and they are quite intelligent and loyal. They are generally calm, but get adorably excited around feeding time! They will come right to the surface to say hi.
These fish are hungry fellows and will happily gobble up basically whatever you offer, including bugs, algae, store-bought fish food, and more.
Editors Choice
If I had to pick a winner out of the three listed it would be the Air Pro Deluxe kit. Not because it's the biggest and most expensive. But for the fact that it will provide enough air for any size pond you ever have.
You can always reduce the amount of air you need from this pond but with the other models, you can't increase the amount of air.
You're limited to the capacity output of the pond pump.
With the Air Pro Deluxe there are not limitations.
Wrapping up… Koi Pond Aerator Review
As you can likely see, when it comes to maintaining a beautiful, healthy Koi pond, a quality aerator is truly a necessity. Without one, you will have to deal with waste, dirty water, an unpleasant smell, and sickly Koi.
Your Koi pond aerator will eliminate all of these issues, plus some. And, last but not least, it will keep your Koi happy, healthy, and active.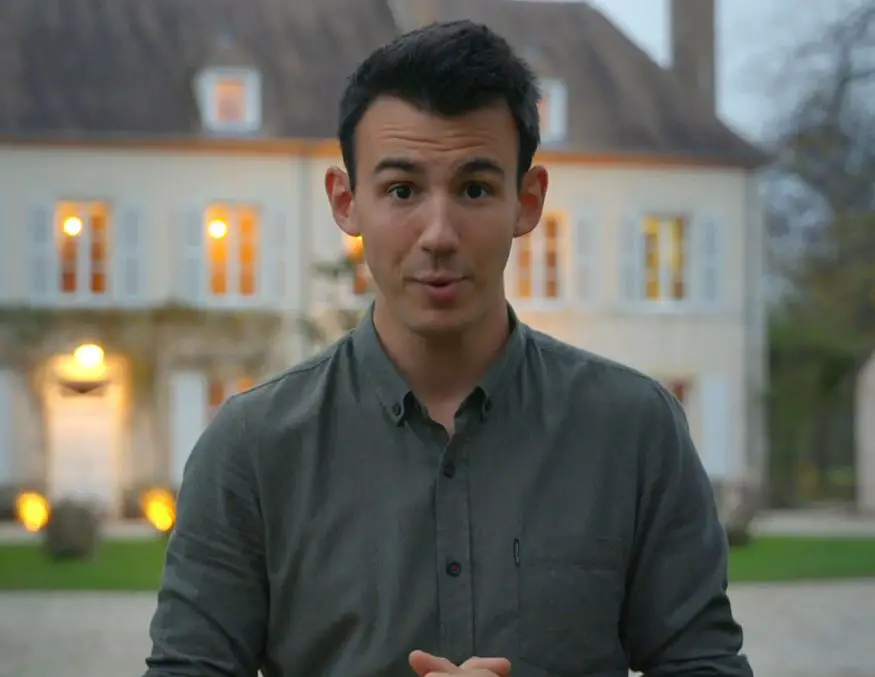 I have been working in the tropical fish industry for over 30 years now and I'm still learning. Everyday is a school day in this hobby. In my spare time I play golf very badly!