The word Nano – (symbol n) is a unit prefix meaning "one billionth" but in fish keeping it simply means a small fish tank. In this Best Nano Aquariums review, we'll show you some of the most popular small fish tanks.
Ones that most people would class as a…… Nano Fishtank
There are many arguments in the fish keeping hobby as to what a nano aquarium really is. People who keep saltwater or reef aquariums class under 25 Gallons as a nano aquarium. However, freshwater aquariums are even smaller. Usually, 5-10 Gallons are classed as 'nano aquarium'.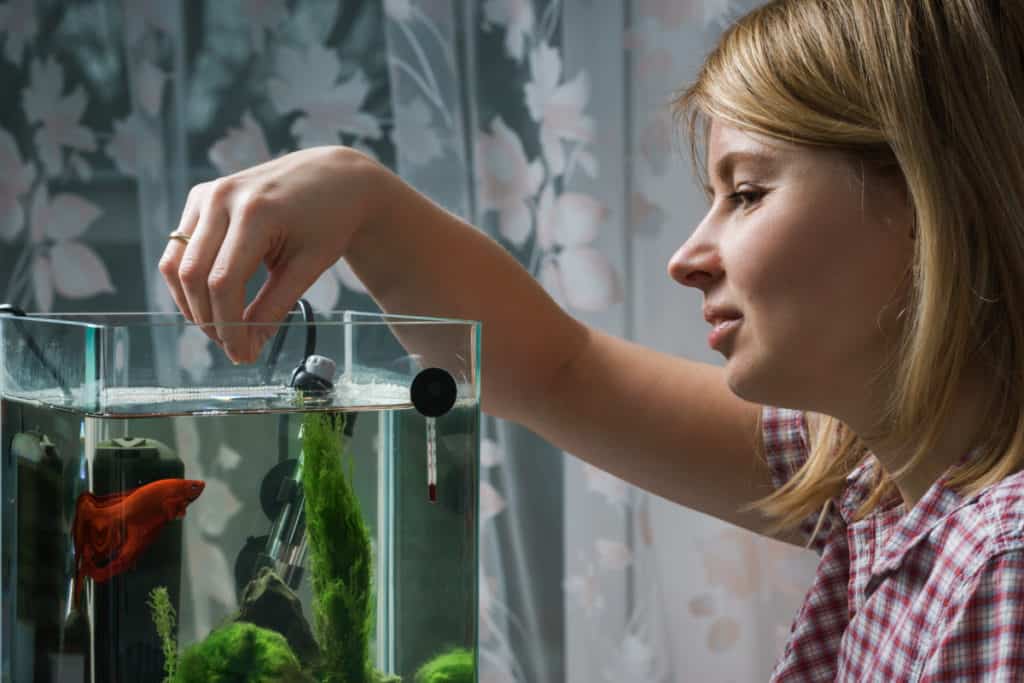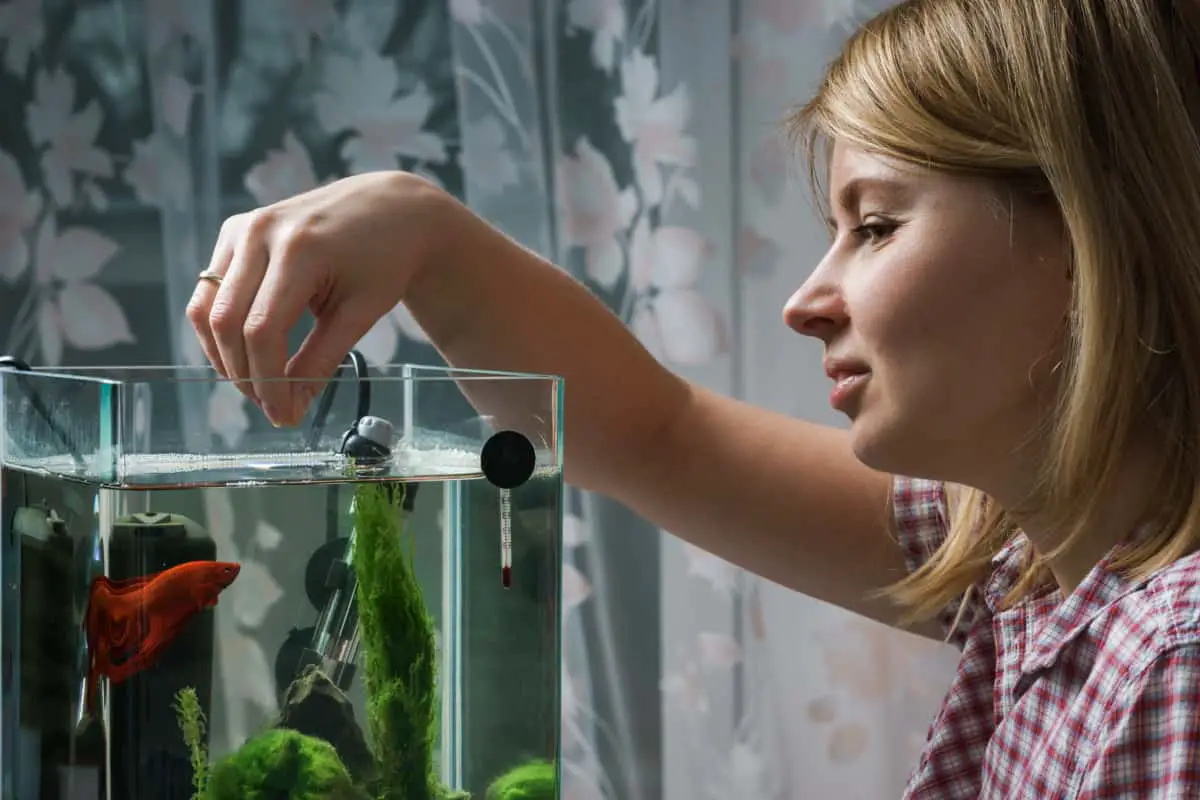 Quick peek at the Top 10 Nano Aquariums 2019
Marineland 5 Gallon
MarineLand Contour
Coralife Fish Tank LED BioCube Aquarium
MarineLand Silhouette 3 Gallon
Hygger Horizon 8 Gallon LED Glass Aquarium
Fluval Spec V Aquarium Kit, 5-Gallon
biOrb Flow 30 Aquarium with LED – 8 Gallon
Fluval Edge 6-Gallon Aquarium
Fluval Spec III Aquarium Kit, 2.6-Gallon
Penn Plax Vertex Desktop Aquarium Kit
What Is A Nano Aquarium?
Simply put a nano aquarium is a fish tank smaller than the normal community or reef aquariums found in most people homes.
They are often found in the workplace and bedrooms thanks to their space-saving size.
The inhabitants of a nano aquarium are chosen with size in mind. Smaller species and fish more suited to less water volumes like Betta Fish in freshwater nano aquariums and Shrimps and Gobies in Saltwater aquariums are the most popular and best nano aquarium fish.
There are pros and cons for keeping a nano aquarium and some misconceptions.
You'd think that a small aquarium would be much easier to keep than a large one, right? Well… That's not the case.
Read on and we'll explain why. Here's some quick Pros & Cons of buying and maintaining a nano aquarium.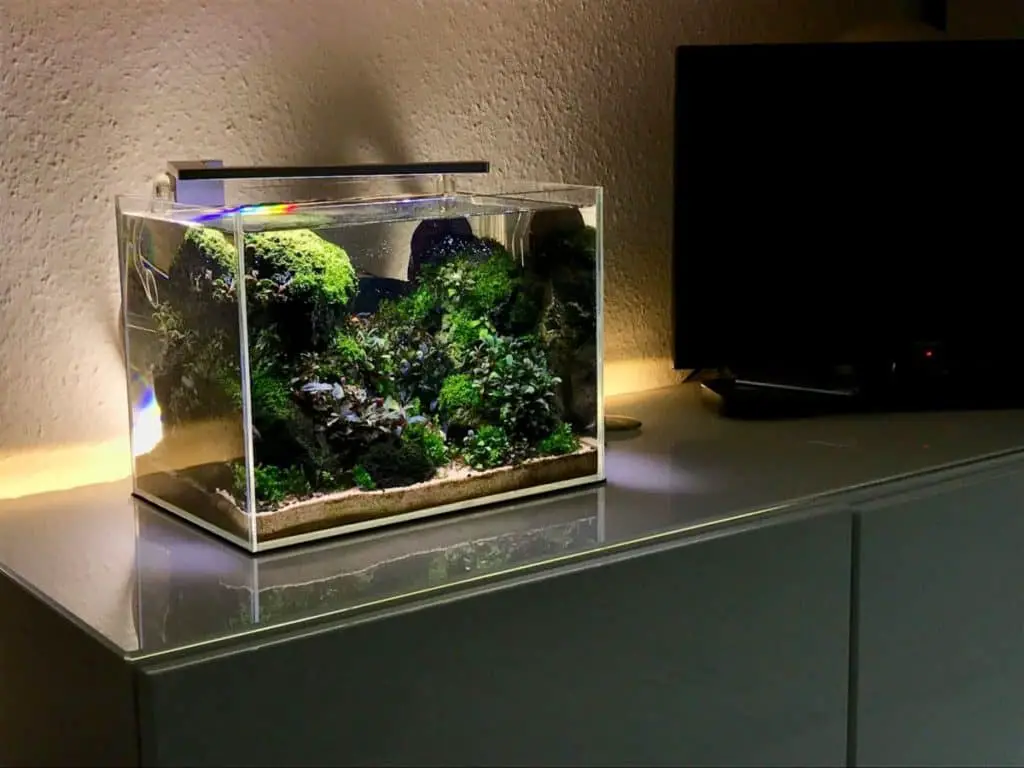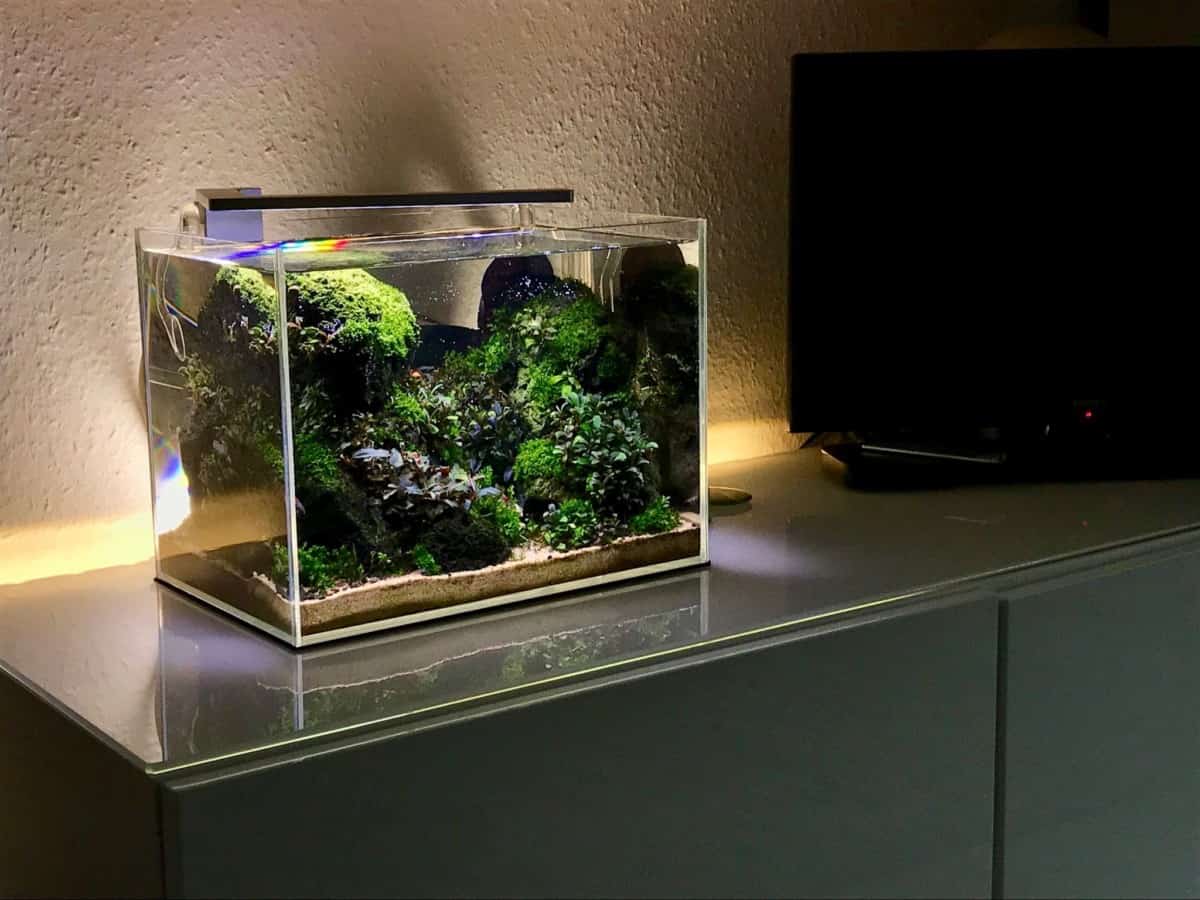 What Size Aquarium Is Classed As Nano?
In the USA and UK there are no set and hard-and-fast rules when it comes to the size of a nano aquarium. However, there are some known sizes that most people consider as nano in these countries.
Freshwater: Under 10 Gallons
Saltwater or Reef aquariums: Under 25 Gallons
There are no German laws for keeping pet fish in small aquariums, but there has been a report published called "Minimum requirements for the keeping of ornamental fish", which was compiled by the "Working group fishkeeping in the BNA" (Federal Association for nature, animal and species protection) in cooperation with various associations.
These experts recommend aquariums starting at 54 liters (11.84 gallons ) upwards for keeping pet fish permanently, with some exceptions.
In other countries, such as Austria, this size is even set by law as an absolute minimum for fishkeeping. There are no such rules and guidelines for shrimp, for example.
What To Consider When Purchasing A Nano Aquarium
Now you have read all about the pros and cons of keeping a nano aquarium you may be clearer on the type of aquarium you are best buying.
Nano aquariums are perfect for people on a budget or don't want to spend too much on possibly their first aquarium.
Contrary to what you may think, they're not perfectly suited to newbies.
Why?
Keeping a stable and healthy aquarium, you need to ensure that all the water parameters are stable and constant. Small mistakes in a nano aquarium can lead to big consequences.
Inexperienced aquarists often struggle to monitor and maintain perfect water conditions in lower volume aquariums. More experienced aquarists will know what the tell-tail signs are to watch out for and how to avoid some fishkeeping mistakes.
Should a new fish keeper stay away from nano aquariums? Yes, if you want a saltwater aquarium. However, freshwater nano aquariums are fine for newbies and inexperienced aquarists.
Take a look at some of the more suitable one below:
TOP 10 NANO AQUARIUMS 2019
( In no particular order)
10. Marineland 5 Gallon
Our thoughts…
One of the most stylish aquarium we tested and easiest to set up straight from the box – this aquarium from Marineland fitted the bill straight away.
With a 3 stage filter fitted in the back it was simple to set up and looked clutter-free inside the visible area of the aquarium. The light has two settings one for the daytime and one for late evening simulating moonlight which we thought was a nice touch.
The aquarium light also hinged backward to make cleaning and feeding easier. The aquarium comes with a glass lid to stop water evaporating. However, the glass cover leaves tiny gaps in the front corners and the length of the back wall, which may allow small, crafty critters to escape, so be aware.
In conclusion we found this aquarium very good value and easy to set up and one of the best looking ones we tested.
9. MarineLand Contour
Our thoughts…
This aquarium is very similar to #10 however it has a more classic looking shape and holds 3 Gallons compared to #10 which holds slightly more at 5 Gallons.
It comes with the same 3 stage filter and lighting system but simply has less water volume. We loved the contoured edge to the aquarium and the black plastic base which it sits upon. At first, we thought this may not be enough to hold the weight without cracking but it was fine. Well-made and easily held and supported the aquarium filled with water, gravel and rocks.
We tested this one with one of my Betta Fish for which 3 gallons is the minimum I would ever use for one betta.
The filter is good as well. It was a little loud on the max setting, however, on the lowest setting, which is best for Bettas, it is very quiet. The water intake area is not too strong, my Betta can sit right by it and his fins do not get sucked in.
The water output made too strong of a current for my Betta even on the lowest setting, and he had trouble swimming, however the fix is easy.
Take the shoot off the end of it (where the water comes out) and the water trickles back into the tank instead of being shot under pressure. My Betta can now swim perfectly fine.
Again, in conclusion, a very good beginner's nano aquarium. Inexpensive, easy to set up and looks amazing. What more do you want from a nano aquarium? PS: Far too small though for saltwater!
8. Coralife Fish Tank LED BioCube Aquarium
Our thoughts…
This is the only nano aquarium we tested that I think is suitable for a nano saltwater aquarium, thanks to the size and layout of the tank. It comes in 16 or 32 gallon sizes. I would go for the 32 if you're considering saltwater.
One of the best features of this aquarium, making it more suitable for saltwater, is the lighting system. Which comes with an integrated 24-hour timer with three independent light settings making it suitable for corals and invertebrates to thrive. It has an automatic 30-minute sunrise/sunset and 60-minute moonrise/moonset functions to replicate the natural day/evening cycles.
Our aquarium was delivered in perfect condition, however, it was very dirty inside with dust and packaging debris. So, ensure you clean it well before filling and setting up.
This was one of the most expensive aquariums tested but worth the money in my opinion, especially for saltwater aquarium fans.
7. Marineland Silhouette Square Glass Aquarium
Our thoughts…
Definitely the most stylish aquarium we tested. It looked very futuristic and would look amazing in a child's bedroom at night. Although this 3-gallon aquarium is small, it's fine for one or two fish (maximum), thanks to the hidden filtration, which includes one RITE-SIZE Z Filter Cartridge. This is easy to clean but will, at some point, need replacing which will be an added cost around $5-7.
The rimless cube glass is very nice quality. The black plastic the cube it sits in is a bit flimsy but encloses the tank perfectly making it look incredible. Nothing like many other aquariums on sale.
It comes with an adjustable powerhead, sponge and carbon filtration, 12 LED (6 Blue + White). The LEDs can be turned onto the blue/white combo or only blue (moon).
A heater is NOT included with the system and adding one will take up some room inside the aquarium. You'll need a very small and compact heater that fits the aquarium to work well.
At this price, this is a great first nano aquarium for a child and will introduce them to the world of fish keeping without being too complicated and hard to maintain.
6. Hygger Horizon 8 Gallon LED Glass Aquarium
Our thoughts…
Not the cheapest aquarium we tested but for sure, it's the strangest. It even comes with its own backdrop and scene to make your aquarium look more complete and realistic.
We liked this idea but did find it strange that the backdrop didn't come all the way down to the bottom? We think this is to give the aquarium more water volume and not take up too much space inside the aquarium. This will leave you more room for fish and a heater.
The lighting provided was one of the best tested. The aquarium LED light is DC12V/18W, with extendable brackets, length can be adjusted from 0 to 19 inches. It has a external digital controller – you can use it to set the lighting time to 3, 6 or 12 hours or to adjust the light brightness from 100% to 10%.
The filter has great flow and comes with an extended spray bar. Easy to clean and maintain and worked well. It states the tank is 8 gallon. But the tank definitely is under 8 gallons when you add all the substrate and take into consideration the 3D Background provided. Just remember this when you come to stock your aquarium.
In conclusion, this aquarium will not be for everyone but some people will love the looks and style that the company has created. I personally would like to style my own backdrop and underwater scene but for those of you who just want to add water and go… This is perfect!
5. Fluval Spec V Aquarium Kit 5-Gallon
Our thoughts…
This aquarium won our test (Spoiler Alert). The etched glass tank with aluminum trim looked classic but still modern and was packed with amazing features.
Features include a powerful 37 LED Lighting System and an impressive high-output 7000 K LED, which generates 20% brighter lighting performance for noticeably bolder fish colors and plant growth. Perfect for Betta Fish and small community fish like neon tetra and guppy.
The filter included was a 3-stage mechanical, chemical and biological filtration unit, fitted on the end of the aquarium. Plug-and-play style unit involved little know-how set up. The only fault we found was the filter pump fits very tight in the chamber. There is just enough room for the pump and the cord to fit but the cord itself ends up with a very hard bend where it connects with the pump. No issues so far but it is a concern. 
Cleaning this unit will be tight but shouldn't cause too many problems.
The lightbar is attached to the tank but is easily removed. It cannot be lifted away and has to be removed for any tank maintenance. The light is bright, I've preferred the LED lights ever since they came out, with a nice touch sensor On-Off switch rather than an actual switch. I like the streamlined look.
In conclusion, this aquarium fits the bill perfectly for freshwater. It's too small for saltwater in my opinion unless you are a very experienced aquarist but for a child's bedroom or an office, it would be perfect.
Our top recommendation from the 10 Nano Aquariums reviewed.
4. biOrb Flow 30 Aquarium 8 Gallon
Our thoughts…
If you're looking for an inexpensive easy to keep nano aquarium then this one is NOT for you. It's really expensive for such a small aquarium compared to some of the others tested.
Constructed out of Acrylic (which is much safer than glass especially for a child's aquarium), the Biorb looks great.
Our main concern was the so-called 'Bio-Media', which was nothing like the media shown in the image on the box and on Amazon. It appears to be coarse ground scrap or by-product, nothing like the ceramic media made specifically for aquariums that you may have seen elsewhere. It has a rough, sharp texture that you wouldn't want your fish to contact; it has none of the evenly blended appearance one expects of a material called "ceramic". Most of the pieces are an inch in diameter or larger; not suitable for use with a gravel cleaner.
If you'd like to learn more about Bio-Media for aquariums then read our article which covers this topic in full.
This aquarium is beautiful, but it's overpriced and the hole in the top makes feeding and cleaning messy.
In conclusion, it looks great but is far too expensive and poorly designed.
3. Fluval Edge 6-Gallon Aquarium
Our thoughts…
This aquarium is another expensive nano aquarium but this time it's worth the money; compared to the last one we reviewed above (Biorb Flow).
Fluval is one of the most well-known aquarium product manufacturers and has a proven track record for making great aquarium products; this nano tank is no exception.
This 6-gallon aquarium features a powerful and easy to use edge filter with cycleguard. A unique cube-shaped aquarium that looks like no other we tested.
The filter is fine for this size of aquarium and was easy to set up and clean.
The lighting is very unique in its placing. The lights are very bright which is great but they focus only on the middle of the tank, leaving 25% on each side in the dark. This gets worse if you place the top cover on. It wouldn't be an issue if you don't plan on having any live plants. I would consider a mixture of real plants in the middle of the aquarium and realistic–looking plastic plants on the sides where the light is less.
In conclusion, this aquarium is very unique and style-wise, cannot be beaten. Maintenance is a little bit tricky with the light being where it is and it's not the cheapest aquarium we tested by far. But all-in-all a really good looking aquarium – perfect for beginners.
2. Fluval Spec III Aquarium Kit, 2.6-Gallon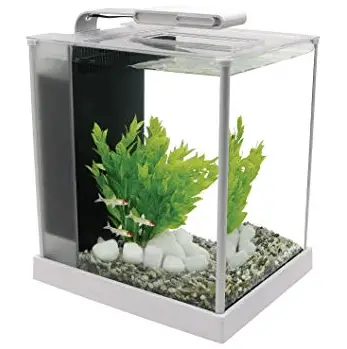 Our thoughts…
At 2.6 gallons this is one of the smallest aquariums we tested and would only be suitable for one fish or 3-4 neon or guppies – maximum.
The filter is acceptable for an aquarium of this size. It has a 3-stage oversized mechanical, chemical and biological filtration which includes foam block, activated carbon and BioMax bio rings.
We did find it difficult to get a heater into the small filter compartment but eventually found the Freesea heater worked fine and fitted inside the compartment.
The 31 LED Lighting System included looks nice but I'm not convinced it will support good live-plant growth; only time will tell.
In conclusion, this aquarium is made by a top manufacture so you can rest assured quality will not be an issue. My only concern is the size, 2.6 gallons is bordering on unacceptable for any number of fish, even 2-3 neons.
1. Penn Plax Vertex Desktop Aquarium Kit
Our thoughts…
This was the only aquarium that came with everything you'll need straight out of the box including: Glass tank, hang on water filter, thermometer, and even a fish net. However, there's still no heater included. This is a common feature with all of these nano aquarium kits.
Again the only issue is 2.6 gallons is far too small. However, the filter on this model is a HOB style that does not take up any room or lower the water volume inside the aquarium. HOB filters are also very easy to clean.
If you'd like more information on HOB filters you can check out our review of the Best Hang On The Back Aquarium Filters (HOB's).
The aquarium measures 10 inches high by 8 inches wide and 9 inches long. Glass is 1/8 inch thick. A very basic style and look to the aquarium will suit some people but not all of us. I preferred some of the more modern looking aquariums featured above. But each to their own…
One more drawback with this aquarium was no lighting system supplied? A bit strange for a nano aquarium kit but we found a simple clip-on light that did the trick. The overall appearance with the HOB filter and a clip-on light was messy.
In conclusion, we found this aquarium too small, messy and untidy. It would make a good quarantine aquarium for one fish whilst you apply medication and keep them separated from your main aquarium. But as a first nano aquarium you can do much better. Just look at the Fluval Spec V.
How Often Should You Clean A Nano Aquarium?
The same rules apply to water changes and maintenance in nano aquariums as it does in larger size ones.
Change 20% of the water every two weekS and monitor the water parameters weekly. In nano aquariums, this is even more important than in larger fish tanks as the water levels and parameters can change in the blink of an eye.
Overfeeding your fish can result in a rapid change in water conditions which can quickly become dangerous for your fish and inhabitants.
Which Fish Can Live In A Nano Aquarium?
There are over 32,000 species of freshwater fish known to man. Unfortunately, only a few of them are suitable for a nano aquarium. If you consider snails and other inhabitants then your choice is increased dramatically.
Here's some perfect freshwater fish for your nano aquarium:
Betta Fish
Dwarf Puffer Fish
Bumblebee Gobie
Killifish
Corydoras Catfish
Green Neon Rasboras
Cardinak Tetra
Neon Tetra
Guppy Fish
Zebra Danios
Salt & Pepper Cory
White Cloud Minnows
Ember Tetras
Pea Puffer Fish
Scarlet Badis
Harlequin Rasbora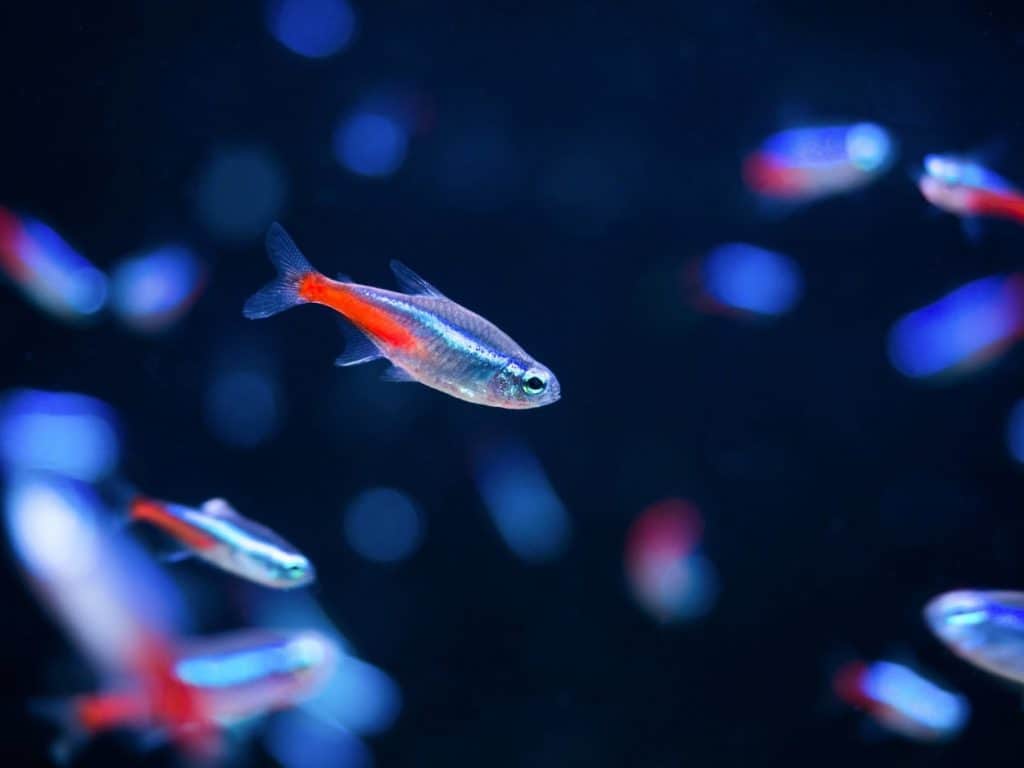 There are many more species of fish which are well suited to nano aquariums. We have listed the most popular and ones that can be found in most aquarium and pet stores.
Can A Nano Aquarium Be Saltwater Or Freshwater?
Nano aquariums relate to the size of the aquarium and not the type of aquarium. Nano aquariums can be freshwater or saltwater.
Most nano freshwater aquariums are between 5-10 gallons and saltwater nano aquariums are a little bigger at around 10-20 gallons.
Small water volume aquariums (Nano aquariums) command special attention because changes in temperature, water quality and fish stress levels become more pronounced in aquariums less than 25 gallons.
You can create a beautiful, healthy nano-system with a little bit extra research and extra planning before you start setting up your new tank.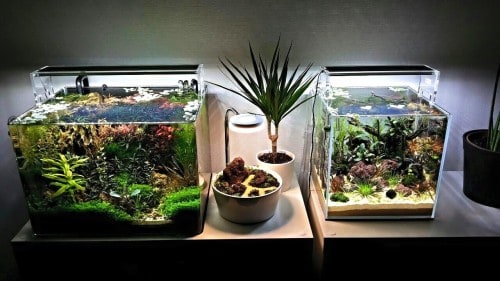 What Equipment Does A Nano Aquarium Need?
Freshwater nano aquarium require the same equipment that a regular size aquarium will use. The difference is the size and water volume they need to heat or clean. Smaller filters and smaller sized heaters will be needed as regular sized heaters and filters are physically too big.
Saltwater nano aquariums need more specialist equipment like skimmers, filters & lighting. Because these nano aquariums are very susceptible to rapid water condition changes, your equipment will need to be more precise and specific to your needs.
How To Set Up A Nano Aquarium For Freshwater
Step One: Find the best location for your new nano aquarium (not in direct sunlight). Remember, your tank will be much heavier once filled with water, substrate and equipment, so you'll need a suitable stand or strong surface to hold the weight.
Step Two: Prepare your new tank ready for setting up. Even new aquariums contain dust and dirt from being stored in the warehouse or stores. Ensure you clean it before adding substrate, water and equipment (do not use chemicals); just clean water and a lint-free cloth. If you're cleaning a used tank, you can use vinegar and warm water.
Step Three: If you're using an undergravel filter, you will need to install this before the gravel. Time to add your gravel or substrate and decorations. We recommend at least two inches of substrate, depending on the type of fish you're keeping. Some earth-moving fish like Cichlids need deeper substrate. Also if you're using an under gravel filter you'll need deeper substrate for it to work correctly.
Step Four: Let's now install your equipment. Place your heater and filter in the desired places. If you're setting up a saltwater tank you should also consider adding a protein skimmer and a waver maker.
Step Five: Add water! This will depend on whether you are keeping a freshwater or saltwater tank. Make sure you use either RODI or remove the chlorine from the tap water by using a de-dechlorinator. This will make your tap water safe for fish. If you're setting up a saltwater aquarium then it's time to add your salt.
Step Six: Filling the aquarium. Place a small plate on top of the substrate and pour the water onto it directly, this is so it does not displace the substrate in your tank.
Step Seven: Time to cycle and leave your aquarium to mature. The tank needs to complete what is called 'the nitrogen cycle'. This process allows beneficial bacteria to build within your aquarium and filter, which converts ammonia and nitrites that are deadly to fish, into harmless gases. This process normally takes around 4-6 weeks. If you're setting up a saltwater aquarium you can avoid this process by using 'live sand' and 'live bacteria culture' which when added to the aquarium speeds up this process. You can even add fish within days rather than weeks. Please test the water conditions before doing so to ensure they are stable and correct for your inhabitants.
Step Eight: Now you can add your fish (the fun part). Acclimatize your new fish, don't just put them straight in. Open the top of the bag and roll the edges around, which will help the bag float on the surface with an open top, for 10 minutes. Every five minutes, add a cup of tank water until the bag is full. Do this until the bag is full or 30 minutes have elapsed. Then net the fish from the bag and release it into the aquarium. Don't tip the water from the bag into the aquarium. Dispose of this as it's come from an unknown source and may not be safe.
Step Nine: Enjoy your new aquarium!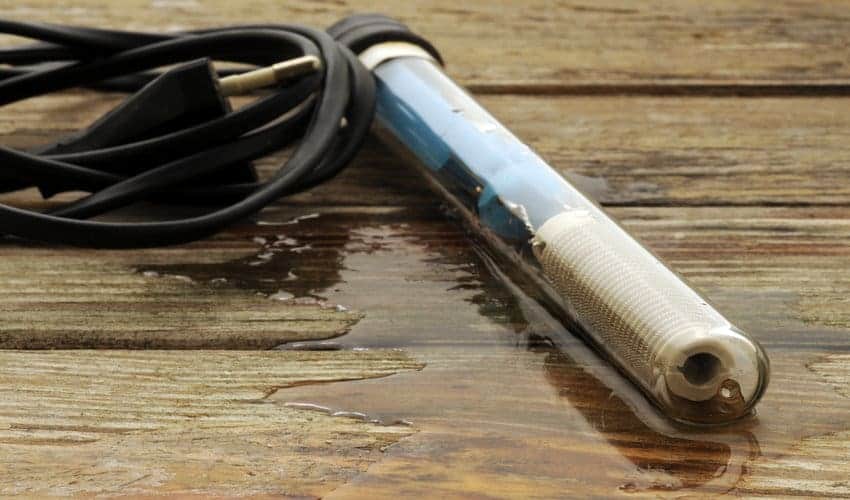 What Size Heater
An aquarium heater is classed and selected by the wattage of the heater. Obviously smaller aquariums will contain less water and need a smaller wattage heater.
The second thing to consider is the actual physical length of the heater. Some nano aquariums are very small in size; a full-length regular aquarium heater may not fit or attach to the side of the aquarium.
Here's a wattage chart to help you choose the correct wattage for your nano aquarium.
Aquarium Size
Heat
5 Degrees C
9 Degrees F
Heat
10 Degrees C
18 Degrees F
Heat
15 Degrees C
27 Degrees F
3-5 Gallons / 10-20 Liters
10 watt
10 watt
25 Watt
5 Gallon/20 Liter
25 watt
50 watt
75 watt
10 Gallon/40 Liter
50 watt
75 watt
75 watt
20 Gallon/75 Liter
50 watt
75 watt
150 watt
25 Gallon/100 Liter
75 watt
100 watt
200 watt
40 Gallon/150 Liter
100 watt
150 watt
300 watt
50 Gallon/200 Liter
150 watt
200 watt
2 x 200 watt
65 Gallon/250 Liter
200 watt
250 watt
2 x 250 watt
75 Gallon/300 Liter
250 watt
300 watt
2 x 300 watt
F.A.Q
Are nano aquariums easy to keep compared to large aquariums? Freshwater ones yes, saltwater no.
How big is a nano aquarium? 20 gallons and under is classed as nano however, some nano aquariums are very small. Some are as small as 3 gallons.
Who are nano aquariums for? Freshwater nano aquariums are for all levels of aquarist but nano saltwater aquariums are for expert fish keepers only.
What are the drawbacks of a nano aquarium? The water conditions can change rapidly and it's difficult to react quickly enough to issues often resulting in a quick wipe out of your aquarium.
Can a nano aquarium be freshwater or saltwater? Yes. Nano is the size, not type of aquarium.
Winner Of Our Best Nano Aquariums Review
After all the testing and deliberation, we found the Fluval Spec V Aquarium Kit, 5-Gallon to be the best nano aquarium, especially for freshwater. For saltwater, we would have chosen a larger model as 5 gallons is very difficult to maintain as a healthy saltwater aquarium, even for an expert.
If you're looking for a freshwater small nano aquarium you can't go too far wrong with the Fluval Spec V Aquarium Kit, 5-Gallon.
Conclusion: Best Nano Aquariums
In conclusion, the best nano aquarium will depend on the type of fish you would like to keep. We love freshwater nano aquariums because they are so much easier to keep than saltwater.
If you've never kept a small nano aquarium, I would highly recommend starting out with a 5-10 gallon freshwater nano aquarium.
Let us know how you get on. We would love your hear your nano aquarium story.

Latest posts by Carl Broadbent
(see all)