Pond care and fish keeping are all about the satisfaction and enjoyment of creating an authentic ecosystem. When planning and establishing your pond, you want to ensure that you do your utmost to facilitate the ideal balance of nutrients, water chemistry, plants, fish and other aquatic life.
Having a pond pump to create water movement is so important in creating that perfect environment for your fish and plants. In this Best pond pumps for small pond review, we'll help you decide which pond pump is best for you.
In a hurry? Here are a few pond pumps perfect for small ponds under 500 Gallons.
Why do you need a pump in a small pond?
Adequate oxygenation is critical to keeping your pond alive, and even with smaller sizes of pond, you will be shocked at how quickly conditions deteriorate and fish health suffers if you have not provided adequate oxygen supply.
A pond pump is, therefore, an essential piece of kit for a healthy and happy pond as it will work to circulate your pond water and bring it into contact with air so it can be oxygenated.
A pond pump for your small pond also helps to add beneficial movement to the water which prevents stratification of your pond and cooler deoxygenated water and muck sinking to the bottom.
A third key benefit comes from the integrated filters in many pumps that strain particulates and debris to really improve water clarity.
Consistency is key 
A pond pump is a long-term addition to your pond set up and will have to run continuously to maintain optimal conditions for your fish. This should guide your investment in a pond pump that will perform reliably with minimal or no need for troubleshooting. 
Find your ideal pond pump for your smaller pond with our helpful guide!
Along with a team of enthusiasts, I have searched high and low for 2020's best pond pumps for smaller ponds, looking for efficient, cost-effective designs that will install quickly so your pond can be up and running in no time.
These pumps should reflect what's available on the market and help you pinpoint the model that will be the perfect fit for your smaller pond.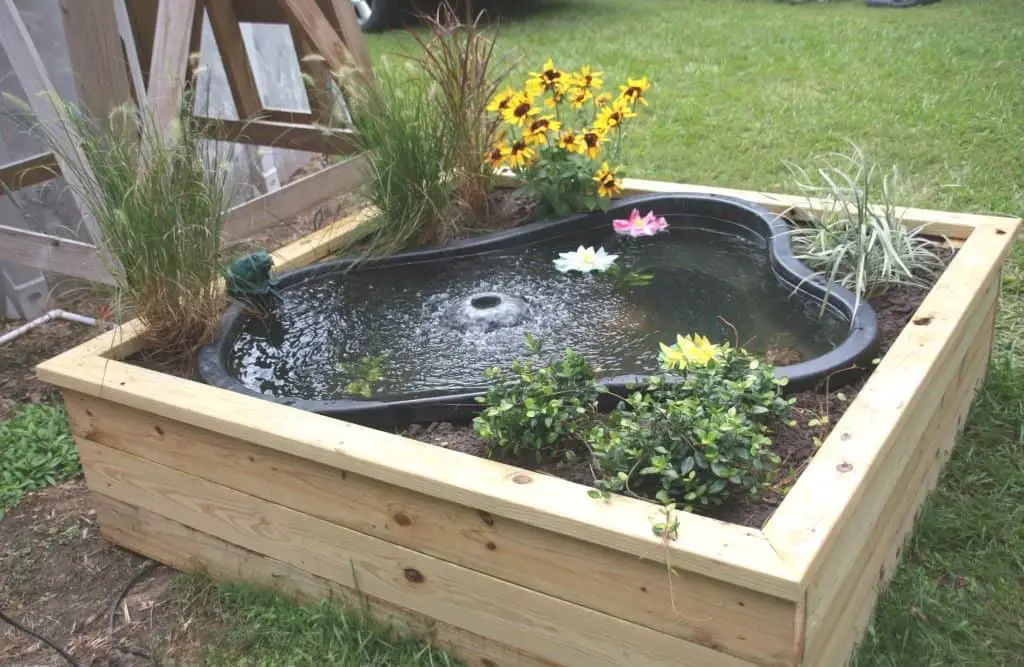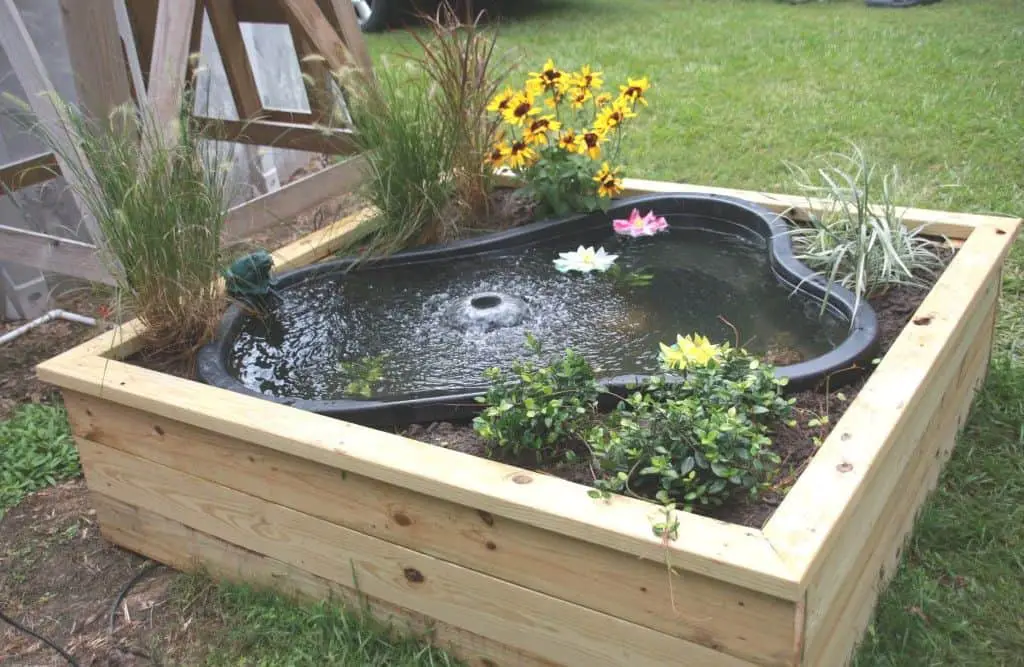 How to select the best pond pump for your small pond
The first thing you need to look for is the size rating of your pump. You will need a pump that can reliably handle the volume of water in your pond and, once started, keeps it continually circulating. 
Ideally, your pump should turn over the entire volume of your pond every 2 hours. 
Small pond pumps are usually rated by their flow rate in gallons per hour (GPH).
Calculate the volume of your pond and simple divide by 2 for the pump GPH rating you need.
Think you're dealing with 1000+ gallons? 
Head over to our comprehensive guide on the best big pond pumps featuring some great products for large volume ponds.
Our careful evaluation of features of the market-leading pond large volume and heavy caliber pumps and handy buying guide will help you walk away with the best pump to keep your large pond well aerated.
Key options for your small pond pump 
If you are ready to buy a new pond pump, the great thing is that there are so many options for a good quality pond pump. 
Do you want to immerse your pump?
Pond pumps are broadly divided into submersible and external pumps. As the name suggests, submersible pumps are fully immersed in your pond water for operation, whereas external pumps sit on dry land with pipes and tubing that enter the water. 
With smaller ponds, the difference in performance between the two types is unlikely to be significant, but many pond owners find submersible pumps more convenient.
This is because once the pump is full underwater it fills itself and is ready to work. External pumps require an additional step called priming, where water has to be drawn into the pump before it can be started up.
Some external pond pumps also require specific positioning for optimal performance.
Do you want a multipurpose pump?
Depending on your type of pond and budget you may want the added value of a pond pump that can perform multiple functions. Many pond pumps can be used as:
Biological, mechanical and UV filters
Fountain
Waterfalls
Look for an all in one filter pump system and save on the costs of many units. By combining functions, you can achieve outstanding water quality and clarity and save on running costs too!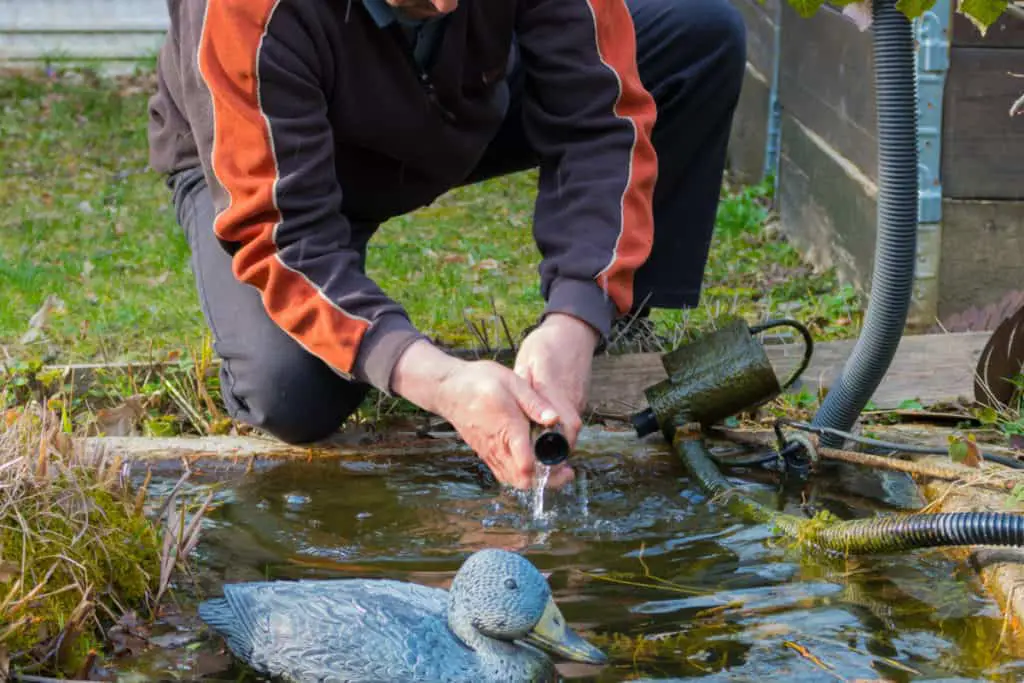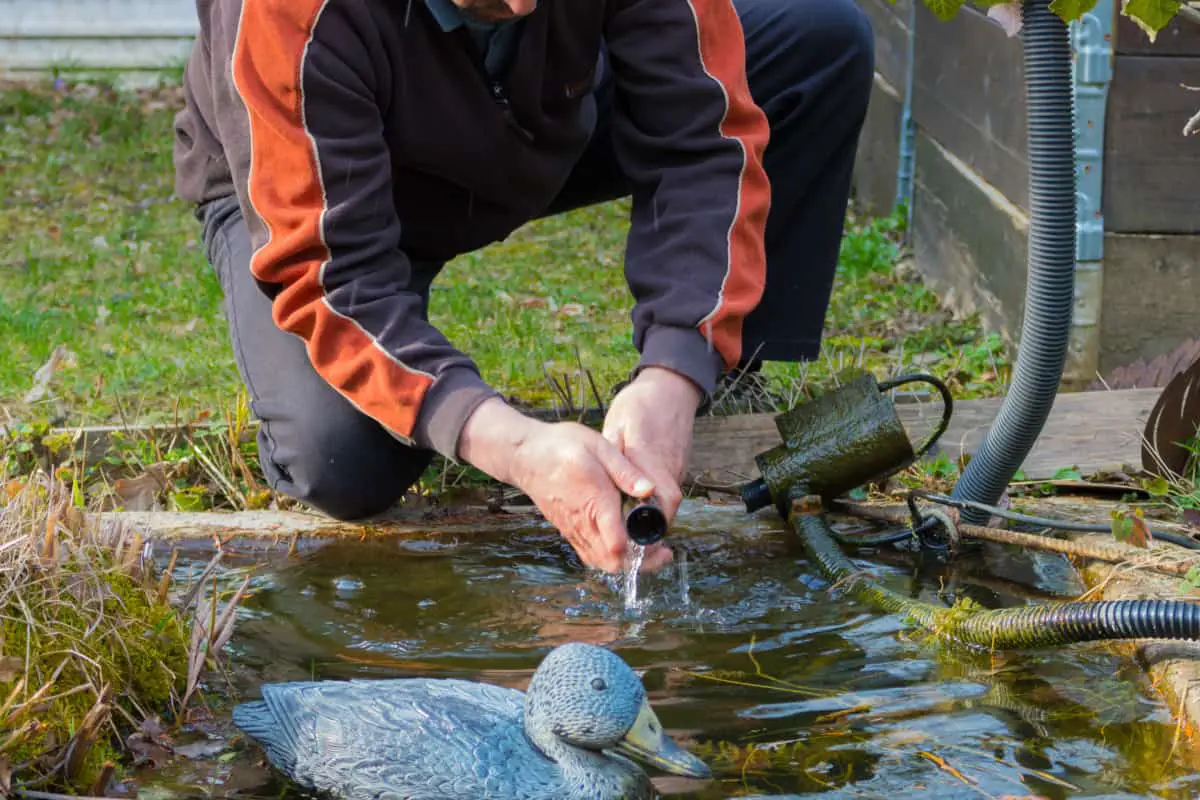 Lots of solids? Get a heavy-duty pond pump
If you are keeping larger fish like koi or have a lot of vegetation in your pond, you will be surprised how waste, sludge, and rotting material builds up.
A basic pond pump may not be able to cope and can become clogged and fail. Heavy-duty solid handling pumps operate at higher pressure, allowing solids to pass through and diverting them to your filter.
Many pond owners even invest in a Pond Vacuum cleaner to remove hard to reach dirt and algae.
Do you want a water feature in your pond?
Water feature pumps allow you to enjoy fountains and waterfalls, while keeping your water well aerated. Purchasing and installing these pumps can become technical and they need careful sizing to achieve the desired effect. 
Here are our top picks for 2020 best small pond pumps
Key product specifications
Submersible pump
800 GPH
57 Watt
Product weight of 1.95 pounds
Dimensions of 5.9 x 4.9 x 3.5 inches
Up to 10-foot lift
5-foot power cord
3 nozzles included
Read more reviews on Amazon here!
This is a great little pump that works just as well in a large aquarium as it does in a small pond. I always find adjustable pond gear beneficial for getting conditions just right, so it's great that this pump can be manually adjusted up to 800 GPH.
It's fully submersible and you can position it any way you want using suction feet to hold it in place.
PROS
Shh! It's pretty quiet so you may want to check it is working!
Smart compact design won't take up space if you are running other pond accessories simultaneously.
CONS
Why oh why was the cord so short? This really limits the pump to aquarium use.
---
Read reviews on Amazon here ↗️
Key product specifications
Submersible pump
192 GPH
12.5  Watt
Product weight of 2.2 pounds
Up to 4-foot lift
16-foot cable
5 Watt LED light
2-year warranty
A pond makeover in a box! I'm amazed that this cost-effective little unit can do so much. Its 5 in 1 function provides everything you need for a healthy and happy pond. With this smart pump you get:
UV filter
Fountain pump with three nozzles
Beautiful LED spotlight
Efficient mechanical and biological filtration
192 GPH pond pump
This is a great caretaker for your pond with fish-friendly fabrication and creates an attractive centerpiece for your small pond.
PROS
So many great functions in one unit always gets my vote. 
When this pump works well the water clarity is amazing!
CONS
Some owners have found that the seal on the pond light can fail and allow water to enter the unit.
Replacement parts can be difficult to find.
---
Key product specifications
Submersible pump
880 GPH
Product weight of 3.81 pounds
Dimensions of 5.1 x 3.9 x 5.1 inches
Up to 6-foot lift
5.9-foot power cord
3 nozzles included
Read customer reviews on Amazon here ↗️
This smart little pump runs reliably and efficiently in your small pond. Despite its small size it has a high GPH and can even power a fountain.
It boasts high-quality well-sealed fabrication from non-toxic components and I love that you can dismantle it completely for thorough cleaning.
Suction pump feet aid in robust attachment to pond surfaces and it offers reliable 24/7 service.
PROS
This is a great value pump that performs well for a range of aquatics purposes so you can use it in your pond with confidence. 
The connectors really help in getting the right tubing setup
6 Foot water lift
CONS
This pump can run a little loud with prolonged use.
---
Key product specifications
Submersible pump
1375 GPH
40 Watt
Product weight of 3.57 pounds
Up to 15.7-foot lift
8.2-foot power cord
Adapters and nozzles included
Read customer reviews on Amazon here ↗️
This amphibious pump is variable frequency, making it easy to get the right setting for your pond's aeration as well as calibrating it for fountains and waterfalls.
It is made from non-toxic materials and hard-wearing parts like it's ceramic shaft provide consistent service. I really appreciate being able to readily dismantle this pump for cleaning or troubleshooting.
If the pump does run into any problems it has an auto shut-off to keep your pond safe.
PROS
The handy multi-stage outlet can accommodate a range of piping diameters. 
Submersible
Low power consumption 40 watts
Small and compact
CONS
Again, the power cable is quite short for a pond pump. Length is very important for setting up your pond correctly.
---
Key product specifications
Submersible pump
2000 GPH
Product weight of 8.36 pounds
Product dimensions 9.5 x 7.9 x 5.3 inches
Up to 15-foot lift
16-foot power cord
Adapters and nozzles included
Read customer reviews on Amazon ↗️
Trupow's second design features a distinctive mesh housing that keeps debris and matter from gaining access to the motor. This design is a much better fit for a pond, with its lengthy power cord and spiral propeller that lets 6mm solids pass with ease.
As always I appreciate being able to take the pump apart and the housing and components come apart easily. Despite being quiet, this unit is surprisingly powerful and can comfortably aerate your pond as well as power a fountain or waterfall. 
PROS
All parts are well-sealed, 
There is an automatic shut-off if the impeller becomes jammed
15-foot lift
Long power cord
CONS
Some purchasers were disappointed by the pump failing on them, but these have been a minority of reviews.
---
Key product specifications
Submersible pump
500 GPH
Product weight of 2.7 pounds
Product dimensions 9 x 7.3 x 8  inches
Up to 6'6″ foot lift
15-foot power cord
Adapters and extension tubes included
2 year limited warranty
Read customer reviews on Amazon ↗️
Beckett's compact submersible pump is a low maintenance choice for aerating smaller ponds. Simply choose your adapter, immerse and switch on for spray and bubbling fountain effects.
This small and simple unit has a pre-filter attached to keep algae and muck at bay. Multiple attachments enable your tubing or pipes of choice to be securely attached.
PROS
The oil and copper-free design of this unit is fish friendly.
The 2-way control valve is helpful in getting the ideal orientation of this pump.
Installation in your pond is quick and simple.
500 GPH
2 Year warranty
CONS
Early pump failure has been the only significant problem encountered with this pump.
---
Key product specifications
Submersible pump
840 GPH
60 Watts
Product weight of 2.45 pounds
Up to 9-foot lift
5.9-foot power cord
12-month warranty
Read customer reviews on Amazon ↗️
Bright green makes a statement finish for this smart little pump. Despite its compact packaging, it boasts a GPH of 840 with a good amount of lift, meaning it's a great choice for a variety of pond projects. The pump is fully waterproof and has an auto shut-off to prevent dry running. 
PROS
This is a simple pump that will run well in a small pond. 
Pond owners also report that this pump drains efficiently too
9 Foot water lift
Only 60 Watts low power consumption
840 GPH
CONS
Some units have been delivered with cracking of the outer casing or unable to work. 
Read customer reviews on Amazon ↗️
---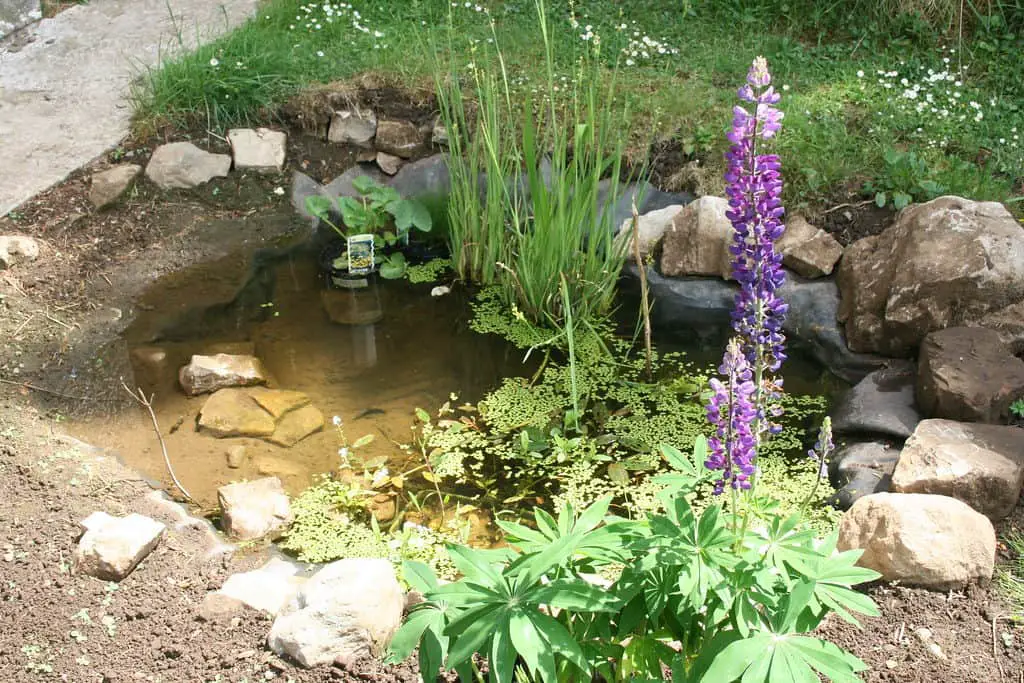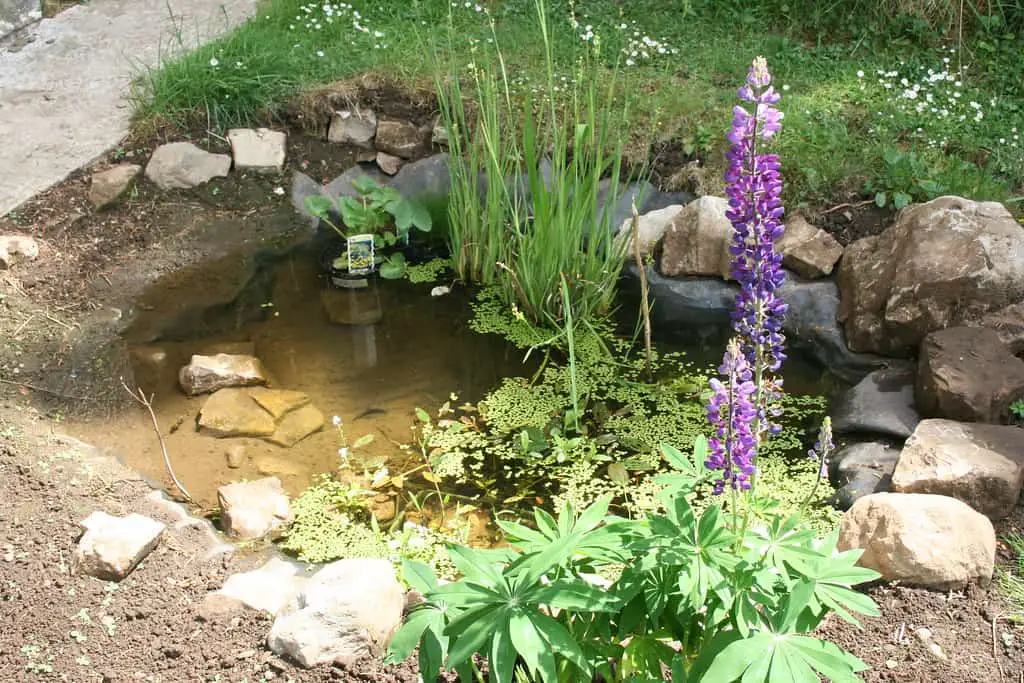 F.A.Q – Pond Pumps
Q.Is it safe to place my electrical pump underwater?
A. Yes, but only if you have a submersible pump. In these pond pumps that are specifically designed to be underwater, all electrical parts are fully sealed and isolated so that there is no contact with water.
Such pumps have waterproofed cabling which directly supplies the spindle motor that turns the pump. If you are still concerned about safety ensure your pond pump power supply is properly isolated and connected to an RCD breaker so it will cut out of there are any problems.
Q.Are there solar powered pond pumps?
A. Solar pond pumps are available and will save you money on the running costs of a basic pond pump. They are usually designed for smaller ponds and have limited lift of the water for water displays and fountains.
You can get some floating designs that patrol your pond and even light up.  If you are keeping fish you may also need a backup pump.
Q.Why is my pond pump not working?
A.If you notice that your pond pump has failed, it is important you act quickly as your pond's oxygen levels will have started to fall (it is well worth having a backup pump for this reason). The most common troubleshooting issues for pond pumps are:
Power supply
Overheating
Airlocks
Blockage by solid matter
Before taking a look at your pump, ensure that it is switched off and out of the water. Models that easily dismantle are a great choice for quick pond pump troubleshooting. 
Our overall top pick for the best small pond pump
Utility is always advantageous to a pond keeper and I am always on the lookout for multifunctional pond equipment that makes maintaining a pond as simple as possible.
This is why for me, the Aquagarden Submersible Water Pump is the pond pump of choice. This well thought out multifunctional pump provides a tasteful water feature with a beautiful evening glow.
The combination of UV, mechanical and biological filtration provides outstanding value and both you and your fish will enjoy great water clarity! 

Latest posts by Carl Broadbent
(see all)