A beautiful and natural garden pond can look stunning in the right setting if kept clean and clear. Our Best Pond Vacuum Cleaners guide will help you choose the right equipment to make cleaning your garden pond that much easier.
Even natural wildlife ponds can become full of debris and leaves which if neglected will rot and start to smell and look terrible.
Let's make the choice simple for you and find you the most suitable pond cleaner that will make your life easier.
Quick peek at the 3 we reviewed….
$259.99
in stock
12 new from $258.71
as of December 1, 2023 8:26 am
$199.00
in stock
3 new from $199.00
as of December 1, 2023 8:26 am
$378.55
in stock
16 new from $378.55
as of December 1, 2023 8:26 am
Last updated on December 1, 2023 8:26 am
Why Do You Need A Pond Vacuum?
Fish ponds can enhance any garden with or without fish. However, they do need maintenance and regular cleaning. It's natural for ponds to get a build-up of dead leaves and fish waste which the pond filters just simply cannot handle.
Fish pond filters can easily get blocked with leaves and dirt if not removed. If they become blocked their performance is reduced and harmful bacteria and ammonia can start to build up with can and will harm your fish. Often resulting in death.
You need a pond vacuum cleaner to remove all the slim, debris and fish waste that the pond filter cannot handle.
By simply removing excess debris you will ensure your pond is clean and healthy all year round.
Decomposing dead leaves, debris and sludge also releases algae-promoting nutrients like phosphate along with hydrogen sulfide which smells terrible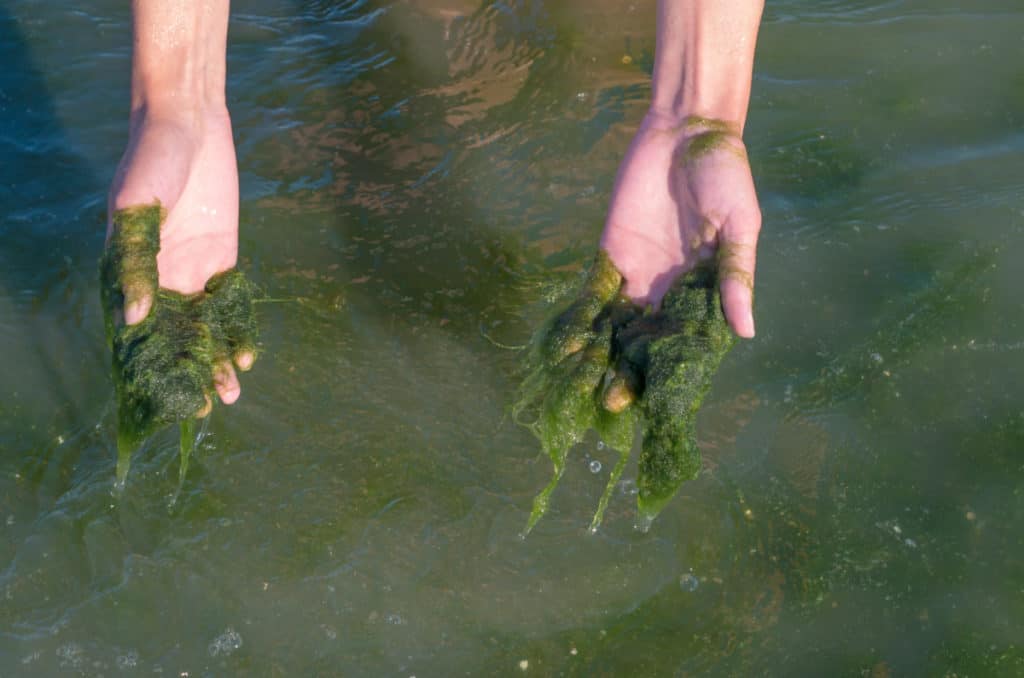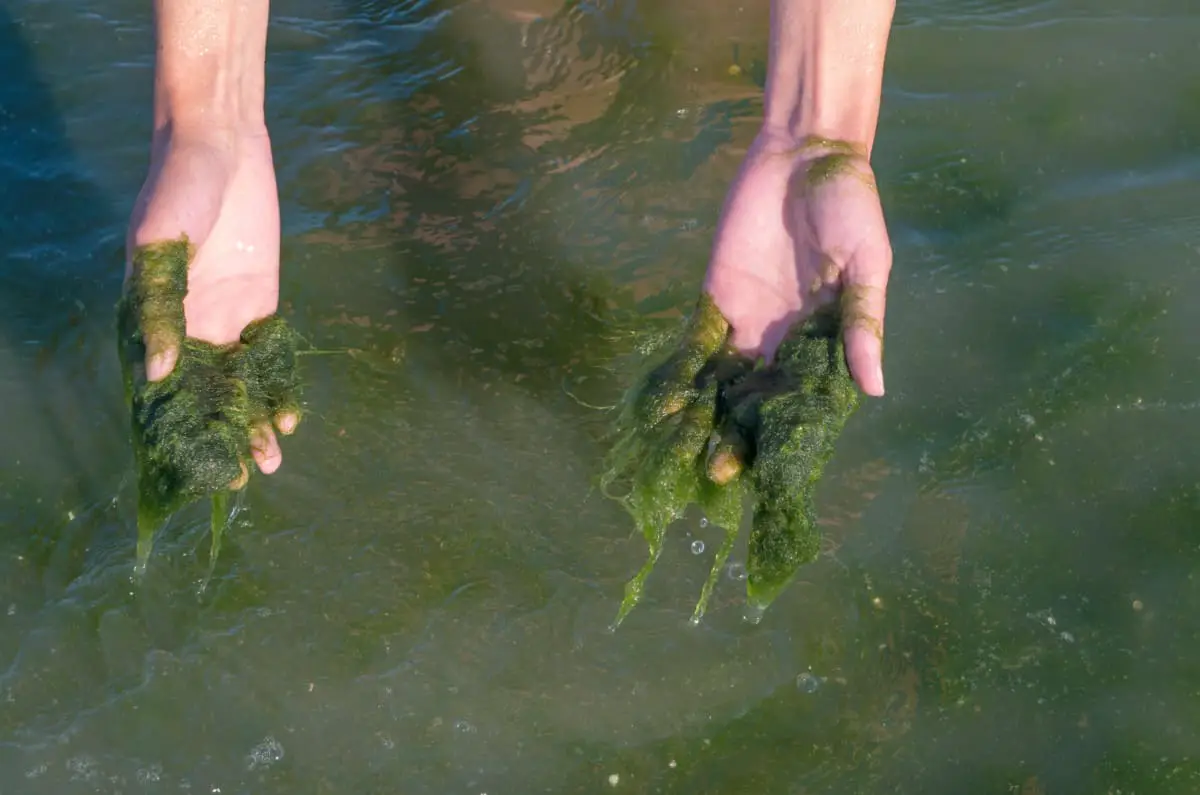 How To Choose A Pond Vacuum
If you're going to invest in a pond vacuum cleaner (which are not cheap), you'll need to make sure you buy one that is perfectly suited to your needs.
There are dozens to choose from and the choice can be overwhelming and confusing.
We have taken the stress out of and confusion out of the picture and narrowed it down to the Top 3 Pond Vacuums we could find within a sensible price range.
There is no question that there are better models on the market. However, they cost thousands of dollars, which is beyond most pond lovers budget.
What To Look Out For When Buying A Pond Vacuum Cleaner
Types of pond cleaners
There are two main types of pond vacuum cleaners – manual hand-pumped and motorized vacuums. Both have their advantages and need to be considered. For smaller garden ponds you could choose a hand pump model. These are fine for removing small amounts of debris and dirt and are inexpensive. On the downside, they are hard work and not as effective and electric operated pond vacuums which can remove more debris and dirt in a quicker timeframe.
Hose and accessories
All pond vacuum cleaners come with a suitable hose and accessories but how suitable they are for your pond will depend on the size and depth of your pond. Accessories help you to get the dirt out of hard to reach areas like waterfalls, rock features and around filters and pumps. The wand is the part that enters the water, this needs to be a suitable length for your pond to reach all areas of the pond with ease.
Power and Cable
All the pond vacuum cleaners reviewed and tested have suitable power cables. The length of the cable/lead can vary from model to model and you'll need to see which length suits you best. These pond vacuum cleaners can be very heavy especially after using one on your pond. Be sure to check if it has wheels which may seem a simple thing but it'll save your back from hurting. Why make life hard? Right!
Safety Tip: Always us a circuit-power breaker with any outdoor electrical device. Read and follow the makers instructions to the letter.
Cleaning and storage
You'll be shocked how much muck and dirt will be removed from your garden pond. Cleaning your pond vacuum, therefore, needs to be simple and a quick job. Some pond vacuums filter the debris into a bag/net that can simply be removed and emptied. Some drop the dirt into a container (like a domestic vacuum cylinder), which has the added benefit of being simple to empty and wash out. This will make storing your pond vacuum a better and less smelly experience.
Top 3 Pond Vacs Reviewed
PondoVac Classic
OASE 602401853010 Pondovac Classic Pond Vacuum Cleaner
12 new from $258.71
Free shipping
as of December 1, 2023 8:26 am
Features
Max. Suction depth: 6 ft.High-power suction to a depth of 59 inch.Maximum suction depth of 78 inch
Suction hose length: 13 ft
Operating voltage: 110-120 Volt / 60Hz. Power consumption: 1200-1400w
Power cable length: 13 ft
Limited Warranty: 2 years
The Oase Pondovac came with a 13-feet long power cable and also a 13-feet long suction hose which was fine for most uses.
We liked the automatic stop system that sensed when the vacuum was full. It automatically switched off the motor to make us aware that it needed emptying. Once the container was emptied it resumed again.
The debris collection bag also attaches to the discharge hose of the vacuum so you can recycle the vacuumed water and capture the debris which can then be used as a natural fertilizer.
The vacuum also included a clear extension tube (1.6 feet long), which allows for easy visual inspection to monitor operation and see how much dirt is being removed.
It has a 1200 watt motor which was able to suck up dirt up to 6 feet deep which is powerful enough for most ponds.
Matala Pond Vac II
Matala Pond Vac ll
3 new from $199.00

as of December 1, 2023 8:26 am
Features
| | |
| --- | --- |
| Brand | Matala |
| Label | MATALA |
| Manufacturer | MATALA |
| Model | mat37 |
| MPN | Mat37 |
| Package Dimensions | Height: 1600; Length: 2200; Weight: 2700; Width: 1600 |
| Part Number | Mat37 |
| Product Group | Lawn & Patio |
| Product Type Name | OUTDOOR_LIVING |
| Publisher | MATALA |
| Studio | MATALA |
| Title | Matala Pond Vac ll |
On operation, this pond vacuum cleaner works for a few minutes and then shuts off to drain the water back into the pond. Leaving the debris in the vacuum collector and when filled it switched off and allowed us to empty it.
We tried it on a garden pond that was 4000 Gallons which took about 55 minutes to complete. The result was very good and we could visibly see the difference.
It's not the quickest we tested but certainly had a similar suction power and was equally effective at removing dead leaves and slime.
The vacuum is not a continuous vacuum and will stop as the unit is filled and automatically discharges the dirty water and then automatically starts up again. Discharged water is terrific for garden beds etc as an organic fertilizer.
We found the suction effective up to 5 feet deep. Any deeper, and the suction power was dramatically reduced.
Easy to use and easy to clean we found the Matala Pond Vac 2 great value for money. Less than an hour a month and your pond will stay clean and clear for longer.
PondoVac 3
OASE 706759372305 Pondovac 3 Pond Vacuum Cleaner, Black
16 new from $378.55
Free shipping
as of December 1, 2023 8:26 am
Features
The PondoVac 3's patented dual-chambers fill and empty in alternating cycles allowing for non-stop vacuuming and effective pond maintenance.
It features a strong 1600W motor, with a maximum suction depth of 7 ft.
Simple and fast way to remove debris and decaying organic matter without having to drain the pond or pool.
Sturdy wheels and an adjustable handle allow for fast and convenient transportation.
Quick release clamps allow for easy removal of the motor unit and access for maintenance.
The Oase Pondovac 3 was by far the most powerful and the best garden pond vacuum we tested. With a 1600 watt motor, it was capable of sucking water up from over 7 feet deep.
Unlike other pond vacuums on the market, the OASE PondoVac 3 will continuously operate because of its patented dual chamber design, which cuts your vacuuming time in half. No stopping and waiting for it to drain. Compared to the other vacuum cleaners tested this saved 30 minutes on our test time.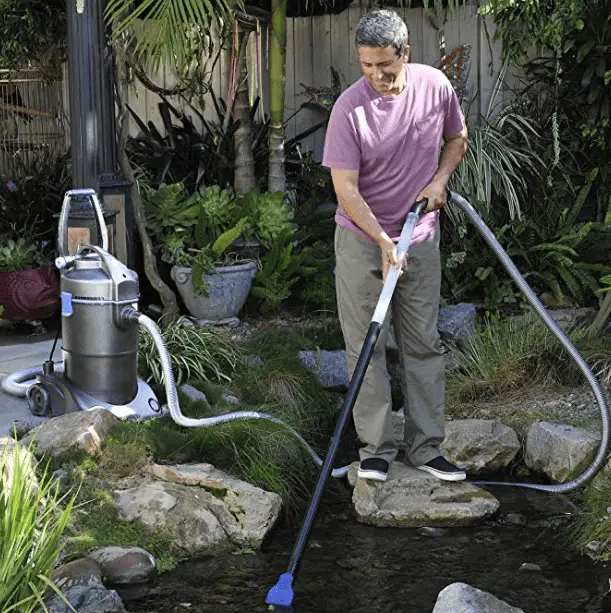 It has strong built-in wheels and an adjustable handle allows for easy movement and transportation. The PondoVac 3 includes four nozzles to cover all applications. Also included is a clear extension tube (1.6 feet long), which allows for easy visual inspection to monitor operation.
How Do Pond Vacuums Work?
Electric pond pumps all use a motor to suck dirty water from your pond. There are different sized motors to choose from which will regulate the water intake. If you purchase a large wattage motor it will have the capacity to take more water out of your pond at a faster rate and from deeper depths.
The dirty water is passed through a container where the debris is trapped within a bag or a filter.
The clean water is then pumped back out of the vacuum cleaner and back into your pond. Many pond vacuums cleaners will fill the container with water then switch of the suction hose to allow the vacuum to empty the clean water back into the pond. Once this has been done the vacuum will automatically start again. On average they take 2-3 minutes to empty the container back into your pond before starting up again.
This can slow the cleaning process down and takes around 20-30 minutes longer to clean the average-sized pond. However, the price difference is over $100 for the continuous cleaning models. So, you'll have to weigh up what matters most to you. A longer cleaning process or spending a little bit more money.
The better models will run continuously, only stopping when the filter or bag is full. This can take anywhere from 15-45 minutes on the best models.
Are Pond Vacuums Easy To Clean?
Each pond vacuum cleaner works in a very similar way when it comes to cleaning them. All have a container or compartment where the dirt and debris is collected.
The only difference is how the dirt is captured. Some have a bag that captures all the dirt which can be removed, emptied and washed. The other has a filter that removes the large particles then the container itself is emptied and washed out.
Both methods work fine. Remember to rinse out the hose and connectors before storing them. You can otherwise get a build-up of dirt inside the pipes which once dried is hard to remove.
It can also start to smell very unpleasant. Take the time to clean your pond vacuum cleaner before storing it away. You'll be glad you did next time you come to use it.
Below is a video showing you 'How to clean a pond vacuum cleaner'
Which Is The Best Pond Vacuum?
After reviewing all the pond vacuums in this review and testing all their features we found that on balance the OASE Pondovac Classic was one of the best pond vacs on the market today within a certain budget.
We judged this on performance and price. Take a look at all the customer reviews on Amazon and you'll see some great comments and reviews of this product. Click the link above.


F.A.Q
Are pond vacuums expensive? Most pond vacuum cleaners are under $250 with models to suit all budgets.
Can you rent pond vacuums? Yes, we researched the cost to rent versus buying. Overall buying worked out cheaper in the long run. The average cost to rent one was $48 plus you have to go pick it up and drop it off when you're finished. You'll also need to leave a deposit of around $200
How often should you clean and vacuum your pond? This will depend on the location of your pond and how established it is. We recommend once every 2 months.
How much dirt can a pond vacuum remove? This will depend on the size and capacity of the pond vac you purchase. The ones featured above all have large capacity containers which will be perfect for the average-sized pond.
How deep can a pond vac clean? We found the average depth that a pond vacuum will work is 4-5 feet.
Should you clean your vacuum after ever session? We advice you clean the cylinder after every use. This will prolong the life of your pond vacuum.
Do these vacuum cleaners need to be primed? No, Most of these vacuums are self priming and will start from the instant you switch them on.
Whats the cost of a pond vacuum cleaner? They start for a budget model around $100 and can go as high as $700. We recommend for an average size pond to spend no more than $300
Conclusion & Results: Best Pond Vacuum Cleaner For Garden Ponds
It has to be said that these cleaners are not cheap. However, they will save you lots of time and make your pond look cleaner without too much hard work.
If you can afford one, should you buy one? I would say so, yes.
Your pond will look cleaner and your fish will be healthier. All fish deserve fresh and clean water and pond fish are no different. You'll be amazed how much dirt and debris a pond vac will remove.
Latest Posts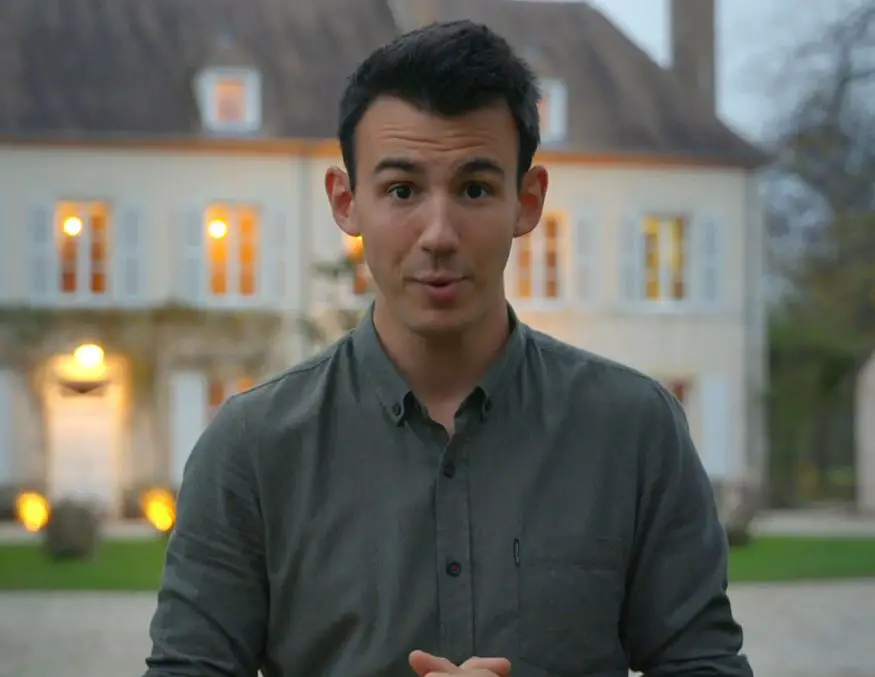 I have been working in the tropical fish industry for over 30 years now and I'm still learning. Everyday is a school day in this hobby. In my spare time I play golf very badly!