Whilst not a necessity in many saltwater aquariums, a protein skimmer is an excellent piece of equipment for your aquarium to keep it spick and span. They provide essential biological filtration and protein skimming that will keep your aquarium healthy. For this reason, we have undertaken a search for you, for the very best skimmer that the aquarium world has to offer. Our results are as follows, and contain the very best five protein skimmers.
A quick look at the Best Protein Skimmers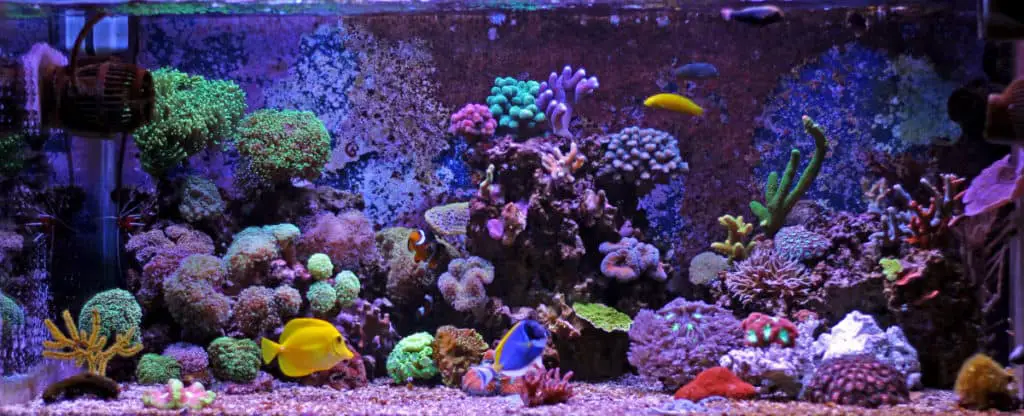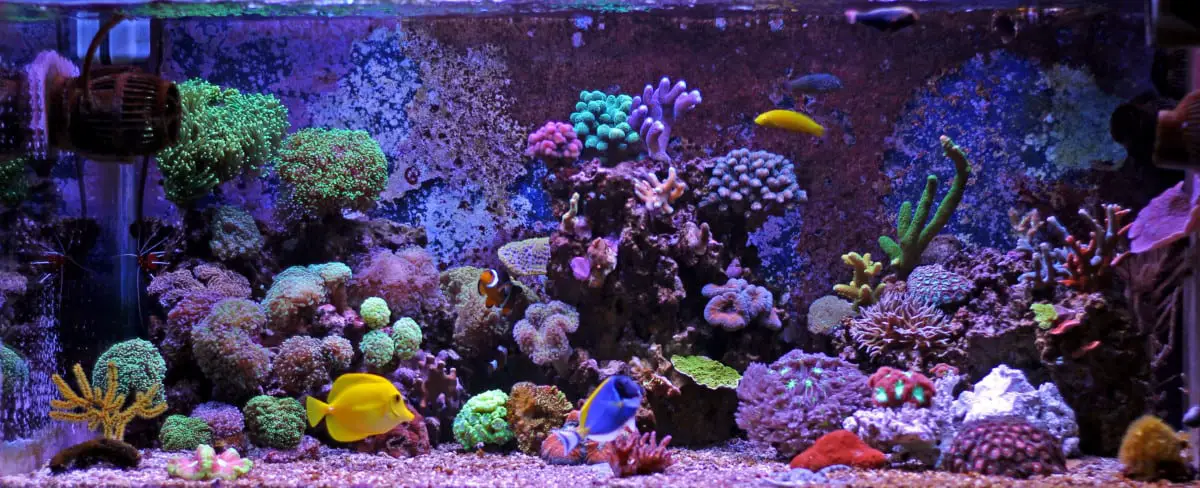 What Is A Protein Skimmer Used For?
A protein skimmer, sometimes known as a foam fractionator, is a mechanical device used to remove waste materials (organic) from seawater. They are of high benefit to maintaining water quality in marine aquariums ensuring clear water, more efficient biological filtration, and improved oxygen levels.
$180.00
$189.12
in stock
8 new from $179.00
as of December 7, 2023 10:27 am
$299.99
in stock
as of December 7, 2023 10:27 am
$204.99
in stock
8 new from $199.99
as of December 7, 2023 10:27 am
$126.54
in stock
8 new from $126.54
3 used from $116.42
as of December 7, 2023 10:27 am
$242.99
in stock
8 new from $242.99
as of December 7, 2023 10:27 am
Last updated on December 7, 2023 10:27 am
How Do Protein Skimmers Work?
A protein skimmer works by pushing high volumes of air into your aquariums water column causing bubbles to form. These bubbles then attract gunk and waste material to stick to them before rising to the surface.
Once at the surface the bubbles become foam (skimmate) which is pushed up the neck of the protein skimmer. There the bubbles/foam burst and the waste material is trapped in a collection cup or waste line to be discarded.
Best 5 Protein Skimmers
5. Bubble Magus BM-Curve 5 Protein Skimmer
Bubble Magus BM-Curve 5 Protein Skimmer
8 new from $179.00
Free shipping
as of December 7, 2023 10:27 am
Features
High performance pump included
Tanks up to 140 gallons
SP1000 internal pump
This internal protein skimmer is practical and highly efficient. Its features include a needle wheel pump that ensures just the right amount and size of the air bubbles. It also works quietly thanks to its air silencer and smooth operation design, whilst its quick-release collection cup provides ease of cleaning.
Despite loving this protein skimmer, in general, I did have one or two teething problems. I found it difficult, for example, to adjust it to my water levels, and for this reason, had it going bananas for a week or two. However, once broken in, it performed to a very high standard and I realized I just needed patience.
Cleaning the Bubble Magus proved to be a breeze. I took it apart, cleaned it, and put it back together in no time at all. Just be aware, however, that after cleaning this unit, it will need time to stabilize again.
4. Aqua Maxx HOB-1.5 Protein Skimmer
AquaMaxx HOB-1.5 Hang-On-Back Protein Skimmer
as of December 7, 2023 10:27 am
Features
Dimensions: L 7.5 x W 3.5 x H 17 Inch
Minimum tank height 10-7/8"
Requires approximately 4" of clearance to remove collection cup.
Fits aquarium rims up to 3/4" thick.
This HOB protein skimmer was incredibly easy to install and to get running smoothly. It worked hard just hours after being put into my aquarium and has continued to do so ever since. Surprisingly, it is also very quiet for a protein skimmer that works so well, only giving off a faint rumbling – easy to ignore.
On the downside, the air intake does need regular cleaning to rid it of mineral deposits. I found that soaking it in white vinegar every couple of months sufficed. The hanging bracket is also not adjustable so I did have some inconvenience of having to cut the rim in order to hang it.
3. Reef Octopus Classic 110-INT
Reef Octopus Classic 110-INT Needle Wheel Protein Skimmer for Aquarium
8 new from $199.99
Free shipping
as of December 7, 2023 10:27 am
Features
Coral vue octopus 4-inch needle wheel skimmer 100gal
Reef octopus pinwheel/needle wheel skimmers provide you with a high performance features in an easy to use package
New pinwheel impellers provide up to 100% improved performance
Taking less than 24 hours to start skimming efficiently and being 'plug and go', this protein skimmer has a lot going for it. It is easy to clean, has pinwheel impellers improving performance, and gate valves to allow easier water level adjustment.
Over the time I tested this product, I found it to be highly effective in cleaning all the gunk out of my aquarium. It did, however, need its collection cup and neck cleaned once a week. This, nonetheless, really was a non-issue as Reef Octopus could not have made cleaning this unit simpler.
2. Coralife Super Protein Skimmer With Pump
Coralife Super Skimmer with Pump 65 gallon
8 new from $126.54
3 used from $116.42
Free shipping
as of December 7, 2023 10:27 am
Features
Patented needle wheel aspiration system
Wide neck collection cup with easy twist feature for effortless cleaning
Dual injection inlets increase bubble/water contact time
Bubble production diffuser to prevent the flow of micro-bubbles into main aquarium
Can be used in sump or with hang on mounting bracket
The first thing I have to say is that not only does this skimmer look like something from an alien spacecraft, but so does its instructions. They were not clear at all, though that could just be me being a little dumb, and it took me quite a while to figure it all out.
Once I had it up and running, however, this skimmer worked like a dream. I tried it both ways that you can, in the sump or on a mounting bracket, and it performed both ways just fine. It doesn't leak, there's no mess, and I never had to fight with it. Cleaning was also simple and quick to perform, but as with the others, needs doing regularly.
1. CoralVue Technology BH-100 Octopus With External 1000 Pump
CoralVue Technology BH-1000 Octopus with External 1000 Pump for Aquarium Filter, 100-Gallon
8 new from $242.99

as of December 7, 2023 10:27 am
Features
Coral vue octopus with external 1000 pump 100gal
This design also allows for easy removal of the pump for cleaning and maintenance
They are built with high quality acrylic
With very easy instruction and arriving partly assembled I found this skimmer a breeze to install. It even, if you choose to make use of it, has a great instructional video available online.
Once installed, I found this unit quite attractive and space-saving with its pump being located on the outside of the aquarium. It did, however, take quite a while to become efficient. Once working fully, nonetheless, it did exactly what it says on the tin. It cleaned the gunk from my aquarium and it did it very quietly.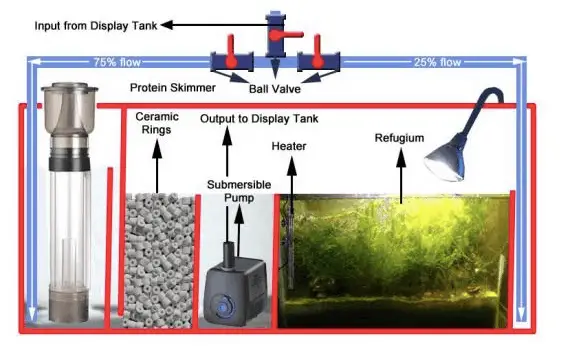 Types Of Protein Skimmer
There are four types of protein skimmers to choose from as listed below. Which one you choose should be based upon what works for you, and suits your needs best.
In Sump Protein Skimmer
Sumps work by acting as a reservoir to circulate and clean water. They are an excellent place to hide a protein skimmer if you don't like your equipment on display. Most modern reef aquariums have a sump tank and protein skimmers built inside the refugium.
External Protein Skimmer
Designed to be housed in the aquarium, the external protein skimmer works in the same as the 'in sump'. They feed clean water back to the sump before it is returned to the tank.
Hang On Protein Skimmer
Commonly referred to as a HOB skimmer, this type can be hung on the back of your aquarium making it compact and easy to fit. They are usually purchased with brackets to help you attach it.
This type of protein skimmer is often used in nano reef aquariums where the tank size is limited.
In-Tank Protein Skimmers
Mounted inside the aquarium, this type of skimmer ends worries about wet floors. However, they do take up a lot of space in your tank making them difficult to disguise.
Protein Skimmer F.A.Q
What is the purpose of a protein skimmer? Protein skimmers are used to help maintain low nitrate levels by holding back nitrate buildup.
Do I need a protein skimmer? Though protein skimmers aid enormously in helping to keep an aquarium clean, they are not an actual necessity. However, if you plan to keep complex corals and fish, they are a very good idea.
Is a protein skimmer the same as a filter? No, a protein skimmer removes waste before it breaks down, a filter does not.
Can you use a protein skimmer in a freshwater aquarium? Yes, but they are not as effective.
Does a protein skimmer oxygenate the water? Yes, although they are nowhere near as efficient as powerheads or water pumps, at creating water movement in the aquarium.
What's the best protein skimmer and the winner from our review?
Overall, I found the AquaMaxx HOB skimmer to be the pick of the bunch. This is not only due to its efficient performance and ease of use but also due to it being a HOB unit. After all, not all saltwater aquariums have a sump to place their protein skimmer in meaning only a HOB skimmer is suitable for all.
Conclusion: Top 5 Protein Skimmers Perfect For Beginners
It has to be said that whilst the protein skimmer may not be essential, in all cases, it is certainly of the highest benefit having one and a good idea to at least seriously consider them.
After all, they boost the cleaning of your aquarium far beyond what a filter alone is capable of and do so easily and efficiently.
My nano reef aquarium would not be the same if I didn't have a protein skimmer attached. Read our TOP NANO REEF FISH LIST for details of what fish are best for smaller saltwater aquarium.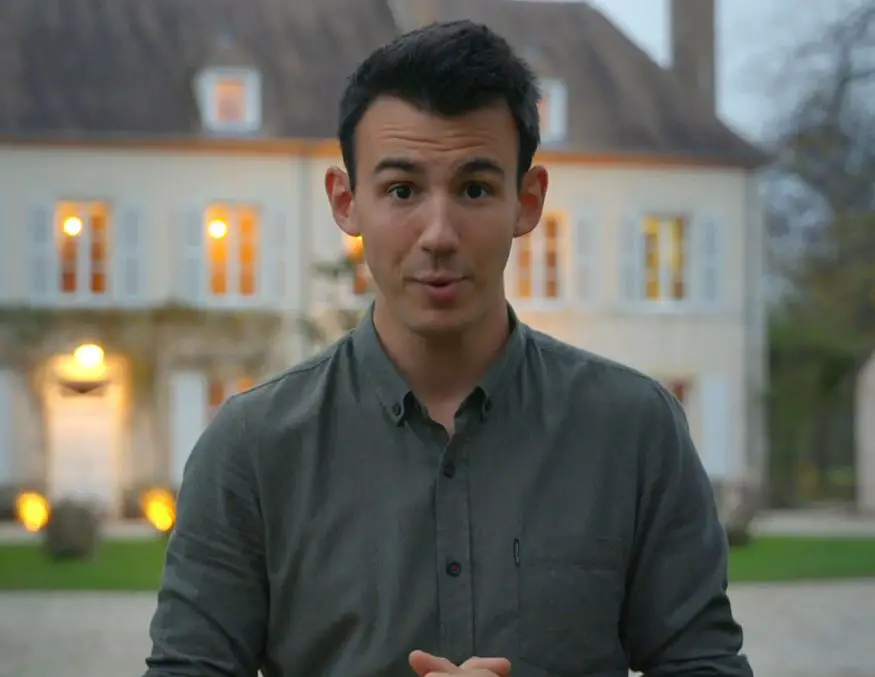 I have been working in the tropical fish industry for over 30 years now and I'm still learning. Everyday is a school day in this hobby. In my spare time I play golf very badly!