A garden pond is a lovely addition to any garden and adding a fountain or waterfall just takes a standard garden pond to the next level. If your garden pond is far from your home how do you get power to it? Sometimes it's not practical to run power all the way down your garden or yard.
That's where a solar-powered pond pump can come in very handy. But which one should you choose? It can be very confusing figuring out which one is best for your needs. Let us guide you through the process and suggest the Best Solar Powered Pond Pumps for your pond.
Listening to the sound of water from the fountain or waterfall is very relaxing especially if you're sat with a glass of wine or cool drink in summer. A solar-powered pond pump can enhance your relaxing experience.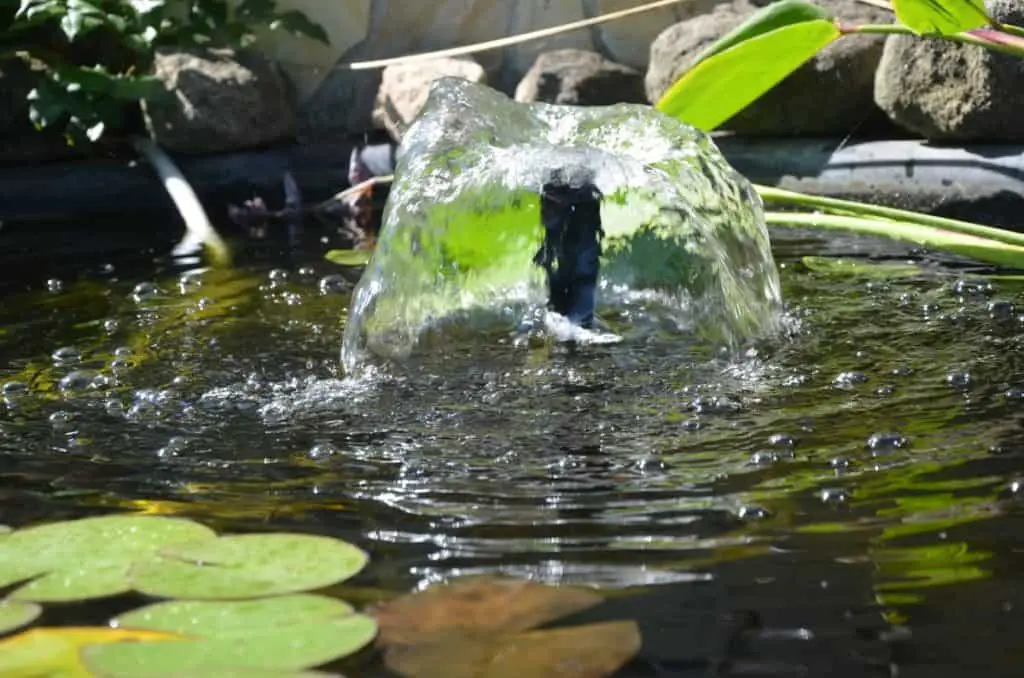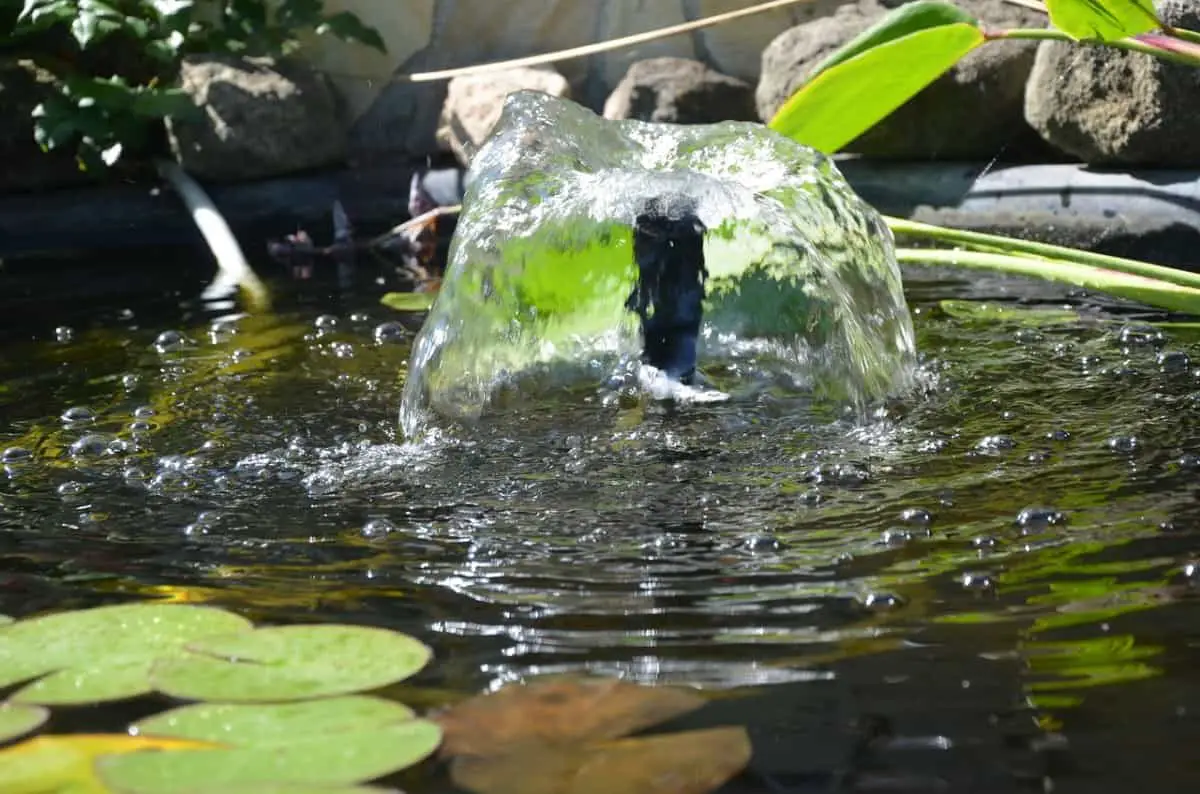 Quick peek: Top 5 Solar Powered Pond Pumps
Sunnytech Solar Power Water Pump
ECO-WORTHY Solar Fountain Water Pump Kit
AEO Solar Water Pump KIT
Solariver Solar Water Pump Kit – 360+GPH
MNP SP50 50W Twin Panel Solar Powered Pump
Do Solar Powered Pumps Really Work?
Like everything solar-powered, there are limitations and solar-powered pond pumps are no different. Solar-powered pond pumps should not be compared and tested against mains operated pond pumps.
These pumps are budget garden solar powered pond pumps with much smaller GPH outputs due to the power generated by the small and discreet solar panels.
The average solar powered pond pump produces around 100-250 GPH water flow. This is adequate for powering a small water feature ie: Fountain or Waterfall but will not be sufficient to power a pond filter system.
They are typically used to add a feature and a small amount of water movement in hard to reach garden ponds and patio ponds.
Below are some of the Pros & Cons of solar powered pond pumps:
Last updated on December 2, 2023 7:26 pm
Does A Wildlife Pond Need A Pump?
Wildlife ponds are natural ponds that are often located in hard to reach parts of the garden. This style of pond does not usually have filters or pumps, however, you may need to add some water movement if you add fish.
Wildlife ponds don't tend to have fish in them and support lots of interesting wildlife like insects, frogs, and other interesting creatures. None of these need pure clean water which is obtained by adding a filter so a pump isn't called for.
However, you may decide to add a water feature like a stream or waterfall. This will require a solar-powered pump like the ones we have featured and tested.
How Do Solar Powered Pond Pumps Work?
Like all solar panels, you will need to place the panel directly in the sun's rays. As the rays hit the solar panel it generates electricity instantly which powers the pumps.
If the sun goes down the power will decrease and the pump will slow or even stop working. Some pumps have built-in battery backups to continue working even in dark light.
Solar-powered pumps are suitable for water features but are not suitable for filters as they will stop running when it becomes dark which could result in poor or even harmful water conditions for your fish.
Pumps without battery backup will stop working the minute the sun's rays stop hitting and charging the pump.
Top 5 Solar Powered Pond Pumps
1. Sunnytech Solar Power Water Pump
Sunlitec Solar Fountain with Panel Water Pump for Bird Bath Solar Panel Kit Outdoor Fountain for Outdoor Small Pond, Patio Garden and Fish Tank
15 used from $9.41
Free shipping
as of December 2, 2023 7:26 pm
Features
⛲ PREMIUM QUALITY SOLAR POWERED BIRDBATH KIT - Crafted to perfection made of a highly efficient solar panel (1.8W) that is functional and provides 20,000 hours of lifespan. Plus, belt in brush-less motor with lower power consumption and will last longer compared to the ordinary solar fountain birdbath. In addition, it has no electric outlet or external battery, so it's not only easy to use but also safe for your feathered friends.
⛲ ENERGY SAVING FISH AND BIRD BATH FOUNTAIN - Help keep up a safe, fresh and healthy bathing environment for fish and birds and using sunlight energy on the panel. Enable birders to be ready to offer a cool drink or quick dip to their backyard birds without accidental harm. Great for bird bath, fish tank, small pond, pool and garden decoration, water circulation for oxygen which makes your yard looks cozy and inviting.
⛲ CONVENIENT & FUNCTIONAL WITH 4 KINDS OF SPRAY HEADS - Pump will start working in 3 seconds once exposed to sufficient sunlight. It comes with fitting accessories and 4 types of sprinkler heads for different water flows and water heights to prevent water splashing. Max water height: 70cm (27.6inch), Cord Length: 9.5Ft. Max water area: 150cm (59 inch). The height of water depends on the strength of the sunlight.
⛲ ECO-FRIENDLY & POWERED BY SUNLIGHT ENERGY - Nothing is more reassuring when you know that you're using a garden fountain pump without running cost for electricity. This not only benefits you in a financial sense but also safe and less impact on the environment. These solar fountain pumps can be used almost anywhere at home (backyard, garden, patio, pool and much more), as long as there is enough sun.
⛲ AWESOME VALUE WIRELESS WATER FOUNTAIN FOR OUTDOOR - Our birdbath kit comes with 1.8 W solar panel, pump, 9.5ft cord and sprinkler heads. We are so confident in the quality of our Bird Bath Solar Panel Kit and we are always ready to discuss your concerns. In case you're unhappy with your purchase of our fountain accessories, just email us!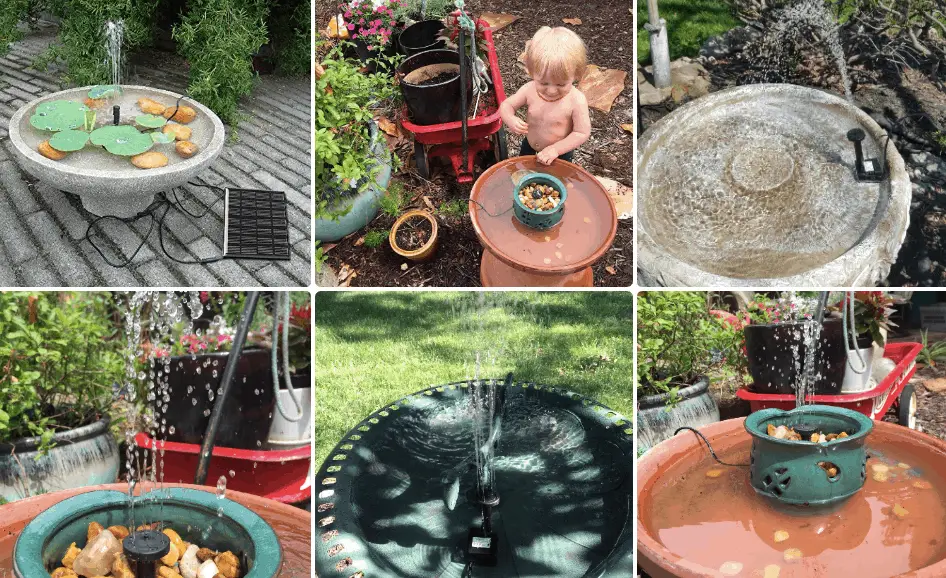 Our thoughts…
Out of the box, we thought this very small pump costing very little would not produce the goods. It's true it has its limitations but for running a small water feature it was fine.
It had clear instructions and connecting the very small solar panel was easy.
Within seconds of connecting the panel and placing the pump in our shallow container pond, it started to work. It came with 4 different attachments for the fountain which gave us some nice options.
We found when the fountain was running it kept falling over which if left unnoticed could empty a small pond within minutes. So ensuring it's steady and firmly in place is very important.
If you're on a budget the Sunnytech Water pump is perfect for container ponds and birdbaths. Not suitable for larger ponds or deep ponds.
2. ECO-WORTHY Solar Fountain Water Pump
ECO-WORTHY Solar Fountain Water Pump Kit 10W Solar Panel and 160 GPH Brushless Submersible Powered Pump for Garden Decoration Solar Aerator Pump, Waterfall, Pond Aeration, Aquarium,(NO Battery Backup)
2 new from $79.99
6 used from $47.03
Free shipping
as of December 2, 2023 7:26 pm
Features
【 20,000+Lifespan Pump 】 - Max flow Rate: 160 GPH (610 L/H); Max Lift Height: 5.6 FT ( 1.7 m); Long life : 20,000+ hours, Cord length: 16FT (5m); Detachable, safer.
【 12 W solar panel 】 - 12 volt; Durable aluminum frame and 4 protection angles; Adjustable solar panel angle and you can plant the solar panel in the ground.
【 Our Guarantee 】 - 1 Year Warranty - 100% Money Back Guarantee if our pump kit doesn't meet your water pumping needs! PLEASE READ prior to purchasing: This water pump is powered by a solar panel therefore requires sunlight to operate. The flow of water is determined by the amount of light that hits the solar panel. There is NO BATTERY in this system. DOES NOT run at night!
【 Multi-application 】 - This solar powered pond pump is for outdoor landscape, powered by solar energy, free maintenance, no wire, no electrical shock. Perfect Suitable for outdoor large fountains, water features, ponds, streams, waterfalls, hydroponics, aquaponics, greenhouses, rainwater. Make your garden more interesting and beautiful. Attract your neighbors and cute little animals.
【 Easy to Use 】 - out of the box. plug and play in the sun. Choose your like fountain heads.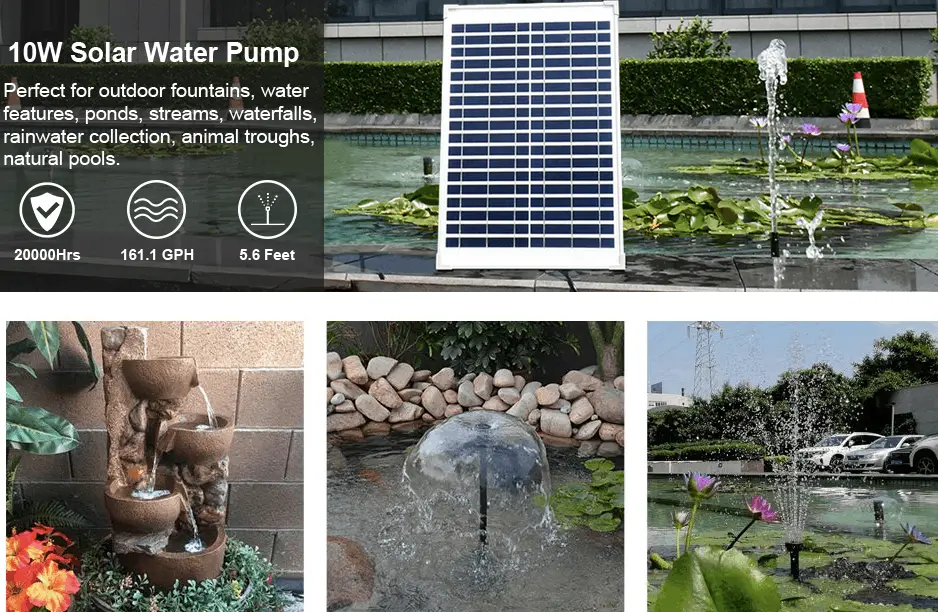 Our thoughts…
Another 10w solar powered pond pump and again we were surprised how small this pump and panel was. Could something this small produce enough water to power a strong fountain or waterfall?
Well, yes, to be honest, it was fine for our needs. We tested it on a 5-feet waterfall and it performed perfectly. It did, however, need plenty of light to run. But once we pointed the small solar panel directly at the sun which we held in place with the spike, it burst into life.
The box and manufacture claim it runs at 161 GPH (gallons per hour) but we found that it was slightly under that at around 140 GPH. This was still adequate enough to run the small waterfall.
For the price we paid the ECO-WORTHY Solar Fountain Water Pump Kit was fine but was it much better than the previous one which was far cheaper? That's questionable!
3. AEO Solar Water Pump KIT
AEO Solar Water Pump KIT: 12V-24V DC Brushless Submersible 196GpH Water Pump with 10W Solar Panel for Solar Fountain, Fish Pond, and Aquarium (No Backup Battery)
2 new from $89.00
2 used from $78.83
Free shipping
as of December 2, 2023 7:26 pm
Features
Complete set for Solar Powered Water Pump Solution. Set and Connect to turn it on. No Wiring required
10-watt Polycrystalline Solar panel protected with durable aluminum frame
Water Pump Oil-free design prevents water contamination
Brushless Motor is designed for 24/7 operation for more than 20000 hours
1 Year Limited Manufacturer Warranty
Our thoughts…
We heard reports that this unit was unreliable however the one we purchased worked straight out of the box with no issues.
The unit is tiny and so too is the solar panel but it worked as predicted. It instantly produced a small trickle which after 20-30 seconds of the sun hitting the solar panel quickly turned into a full and powerful fountain.
We then tested the water flow GPH and found it adequate but not the 196 GPH as the box said. It was around 160-170 GPH. That's fine for a small waterfall or fountain.
The solar panel is very small and as with most units, so small it's difficult to ensure they receive enough sun to run continually. So the unit did stop 2-3 times for a few seconds whilst testing.
You'll find this common amongst many solar powered pond pumps. You can increase the size of your solar panel just ensure the voltage is the same or you'll damage the pump. This pump runs on 12-24V.
The AEO WATER PUMP KIT is very similar to the previous ones tested with 4 fountain head attachments but in our test produced a better water flow of around 170 GPH.
4. Solariver Solar Water Pump Kit
Solariver Solar Water Pump Kit - 360+GPH - Submersible Pump and 20 Watt Solar Panel for Sun Powered Fountain, Waterfall, Pond Aeration, Aquarium, Aquaculture (NO Battery Backup)
as of December 2, 2023 7:26 pm
Features
The Solariver Solar Water Pump Kit moves large volumes of water without ever plugging into the grid! Perfect for large fountains, water features, ponds, streams, waterfalls, hydroponics, aquaponics, greenhouses, rainwater collection, animal troughs, natural pools or anywhere you need to pump water and don't want to run power to or just want to save on expensive energy bills!
The durable and efficient submersible brushless magnetic pump has a long life (20,000+ hours), adjustable flow control, dry-run protection, removable pre-filter to prevent debris clogging impeller and is non-toxic to fish, frogs and other aquatic life. Maximum lift 6.5 feet (Under optimal conditions).
The 20 watt solar panel is framed with aluminum, comes with a stake and can be placed up to 16 feet away from the pump with included power cord. Optional 16' extension cord sold separately allows for placement even further away from the pump.
1 Year Warranty - 100% Money Back Guarantee if our pump kit doesn't meet your water pumping needs!
PLEASE READ prior to purchasing: This water pump is powered by a solar panel therefore requires sunlight to operate. The flow of water is determined by the amount of light that hits the solar panel. There is NO BATTERY in this system. DOES NOT run at night!
Our thoughts…
For such a small and compact pump it really delivered. We tested it at over 300 GPH and it shot a fountain 3 feet in the air.
It really was an out of the box 'plugin and play' solar-powered pump. No instruction was needed although it did come with some clear instructions.
On inspection of the solar panel, the back didn't look well built but in most countries, it will hold up. My fear would be in harsh weather condition would it hold up for years to come? I'm not sure.
The pump has a filter on the intake that stops baby fish and keeps the impeller from clogging with dirt.
This solar-powered pump is too strong for a birdbath or very small container pond. This is a strong pump perfect for a larger pond if you'd like a big fountain over 3 feet high or a large waterfall.
We found the Solariver Solar Water Pump Kit one of the most powerful solar powered pond pumps we tested to date.
5. MNP SP50 Submersible Pond Pump Kit
Our thoughts…
We knew as soon as we took this pump out of the box that it was a substantial piece of kit. To start with, there are twin solar panels producing 50W output, so we knew from that level of power that the pump would be a big one.
We weren't disappointed as the pump produced over 800 GPH constantly.
This pump was really put to the test and it never failed us. We tried it on our waterfall and the amount of water was perfect and strong. Even when we lifted the outlet pipe as high as we could it still produced over 800 GPH none-stop.
If this pump had a backup battery which at this price point I thought it would have had, then it would have been probably the best solar powered pond pump we have ever tested.
The MNP SP50 Twin Panel Solar Powered Submersible Pond Pump Kit was, without a doubt, the best pump we tested on the day. The twin solar panels gave us the reassurance and the power output most people will need.
Unless you have a small birdbath then this pump is far too powerful.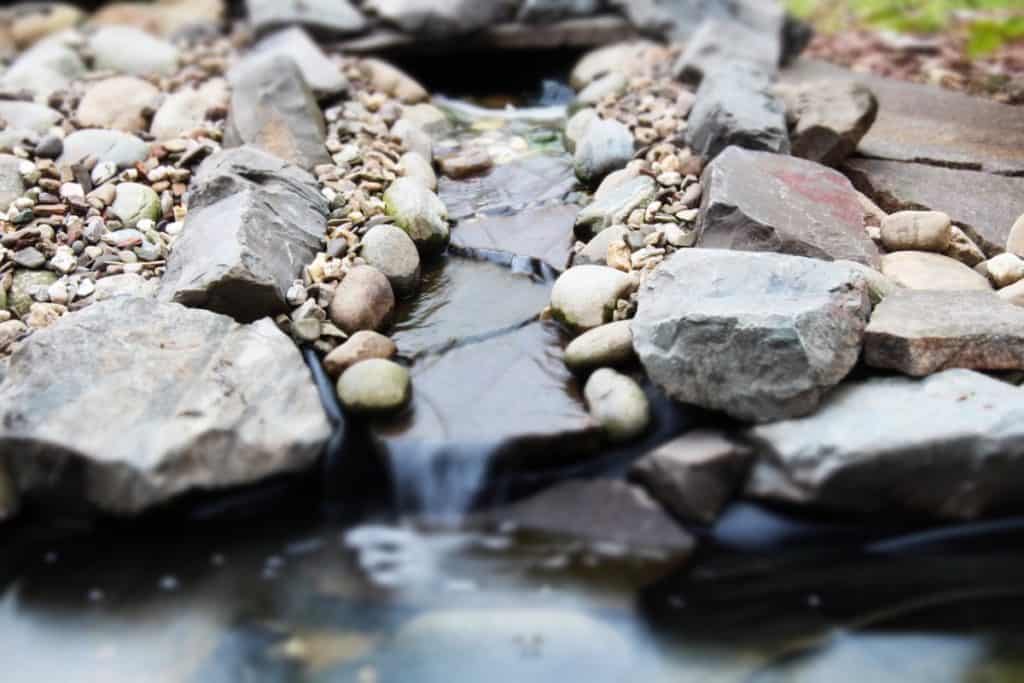 How Much Light Do They Need?
Like many solar panels, they need direct sunlight to work. Too little light and the pumps will slow down. No light and the pumps will stop altogether.
In times of no light, your pump – if fitted with a battery back up – will automatically switch to battery power and continue to run. Depending on the model this can range from 1-10 hours running on battery power only.
Really good models (which are expensive), charge the batteries through the day when the light is good. So, you get continual running both day and night.
As most solar panel pond pumps are used to run a water feature only and are not relied on to sustain life, it's not vital that they run through the night or in low light. They are mainly used for decoration and fun.
What Size Pump Will You Need?
Most of the solar pond pumps we see and have featured here are not intended to run important pond filters so the GPH (gallons per hour) is not as important.
Generally, any pond over 1000 Gallons will need an electric pump plugged directly into the mains to make an impact.
The bigger the GPH output, the better the pond pump will perform and the more water you'll be able to pump.
Our suggestion would be to choose one between 150-300 GPH as this will be enough for most waterfalls and fountains.
Using Pond Pumps For Aeration
All wildlife no matter how small will need oxygen in the water to survive. Even wildlife ponds get oxygenation from plants and water movement.
The best way to add extra aeration (oxygenation) to a pond is to add water movement via a pond pump, air pump or adding a water feature.
Solar panel pond pumps are perfect for this. Add a lovely looking fountain and you're not only adding a lovely feature but you're adding essential oxygen to the water.
If you have fish in your pond no matter how big or small, it is vital that you add aeration to your pond.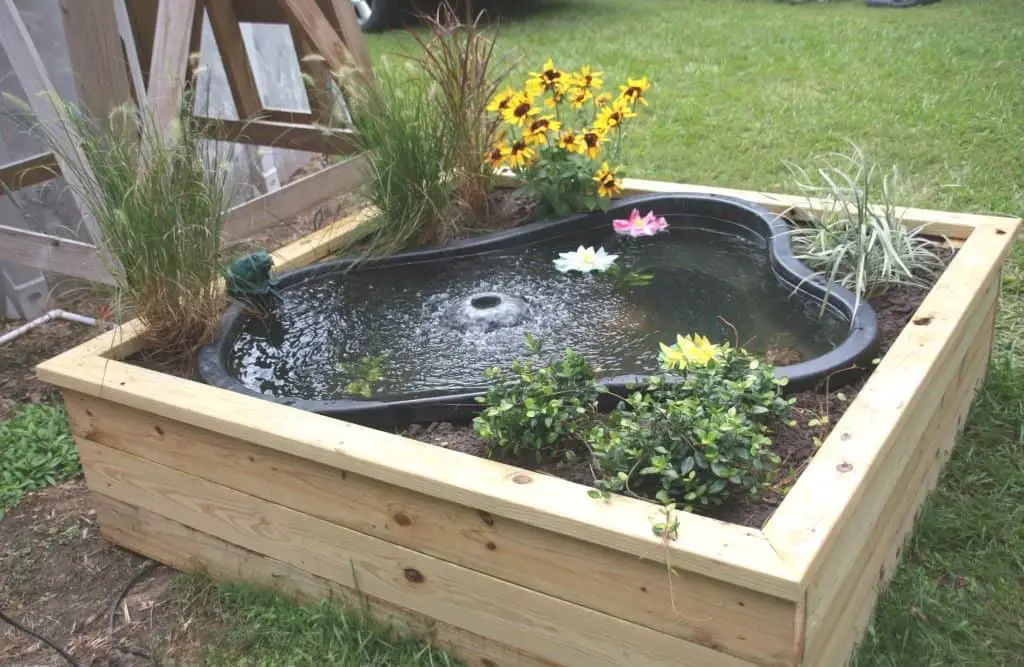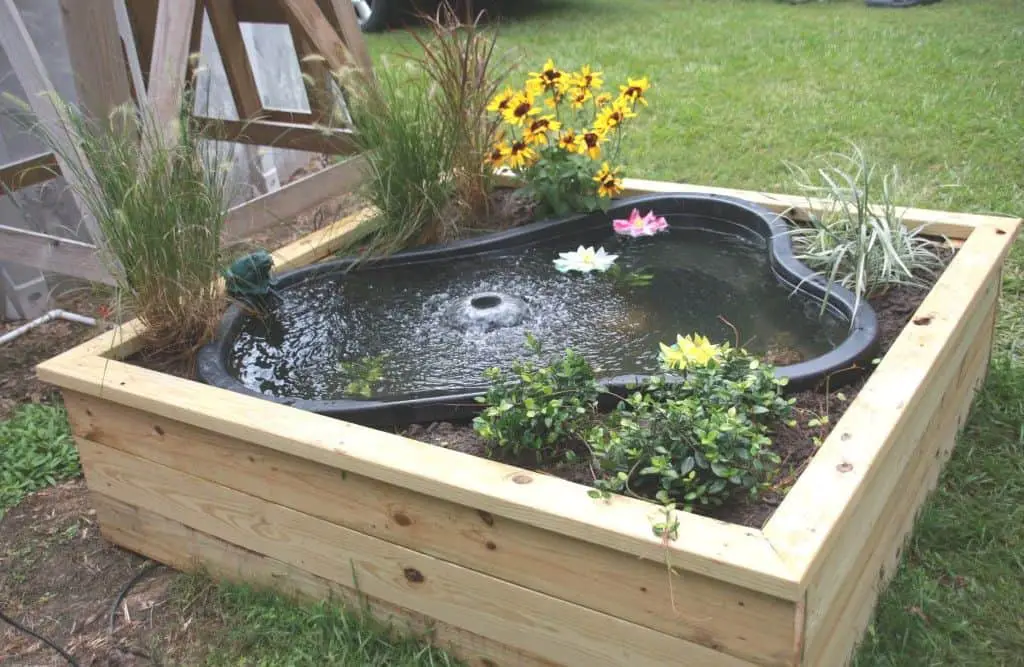 What's The Best Solar Pump?
We have tested many solar pond pumps over the years and out of the Top 5 Solar Pond Pumps we tested in this article we had a clear winner.
For us, the MNP SP50 Twin Panel Solar Powered Submersible Pond Pump Kit that stood out to use.
It had a long hose (16 Feet) and a powerful pond pump capable of producing nearly 900 GPH which is bigger than a lot of main powered pond pumps.
Yes, It's the most expensive but you get what you pay for. This pump can run any water feature and even a filter with its powerful pump. It's the only pump that we tested capable of doing this. All the others are only suitable for water features.
One of the best features was a dry cut-out function which prevented the pump from burning out if the water level dropped. The pump automatically stops when the water level dropped to a dangerous level.
F.A.Q
Are they easy to set up? All the pumps we tested were easy to set up and we had them running within minutes. Within 30 seconds of the sun hitting the panels, they started to run.
Do they run when there's no sun? No, only pumps with battery backup (expensive) do this. No sun equals no power!
Will they work in winter? If the sun is out they will run. You will need to protect the solar panels from frost and snow in very low temperatures.
How deep can solar powered pond pumps work? The best pump we tested ran as deep as 4 feet. However, most only worked at a maximum depth of 2 feet. They are designed to run water features in small and shallow ponds.
Do they have backup batteries? Not the ones we tested. Battery backup solar powered pond pumps are very expensive and out of most people's budget hence we didn't feature any in this review.
Conclusion: Best Solar Powered Pond Pump
We have a winner…. MNP SP50 Twin Panel Solar Powered Submersible Pond Pump Kit
If you're looking to add an interesting water feature to your pond then solar panel pond pumps work just fine.
No access to the mains electricity isn't an issue with these pumps. As soon as you connect the pump to the solar panel you'll see them work.
Things to consider when buying one of these pumps are cost, size and what you want from your pump. If it's to power a pond filter then don't bother because they will not run continuously day and night.
If it's to add an attractive water feature to your garden pond then buy one today. You won't regret it.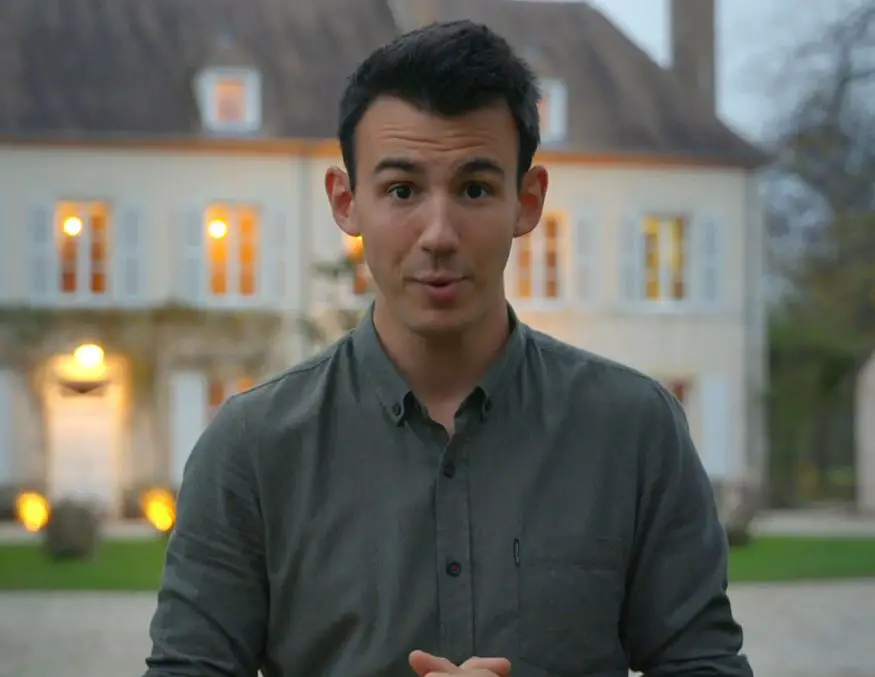 I have been working in the tropical fish industry for over 30 years now and I'm still learning. Everyday is a school day in this hobby. In my spare time I play golf very badly!