No matter what size garden or backyard you own there is nothing better than having a beautiful and stunning water feature. From the simplest sound of running water to the most elaborate fully illuminated fountains, a water feature can turn a dull and boring area into something interesting and wonderful.
With limited budgets and space, the decision on what to spend your hard-earned money on can be tricky. Hence, we have put together this 7 Best Water Fountains and Gardens Water Feature guide to help you make the right decision.
The decision at the end of the day will always be yours and personal choice and style will play a big part in purchasing one.
However, if we can pick out some of the best products from a variety of suppliers and collate all the feedback from customers it will save you a lot of time. Giving you 7 Best Water Fountains and Garden Water features to choose from is easier for you than wading through hundreds of products.
In you're in a real hurry you can see 3 of our favorite ones below:
Wilson Rock Fountain with LED lights – Amazon ↗️
5-Tier Tree Trunk Fountain with LED Lights
John Timberland Modern Sphere – Amazon ↗️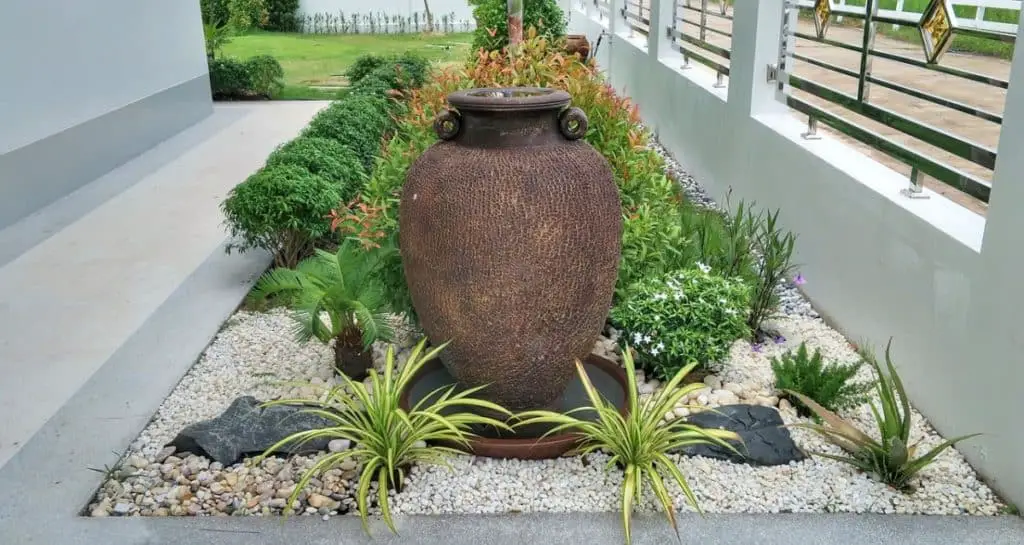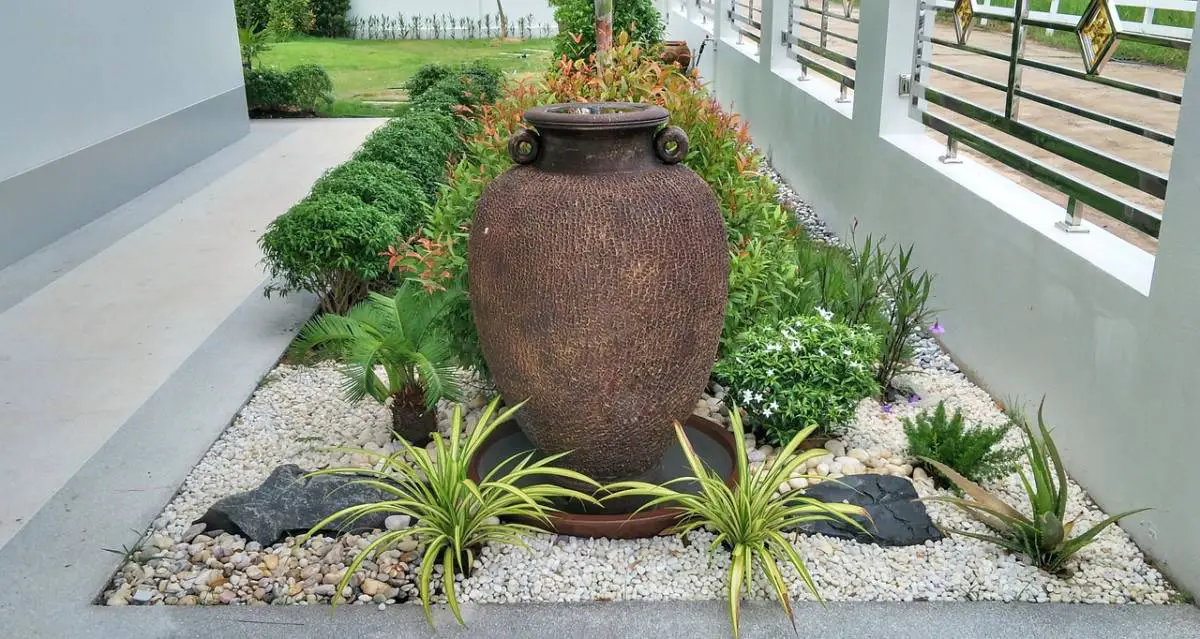 Which Type of Garden Water Feature Should You Buy?
It's safe to say that the choice of garden water features is endless and it would be impossible for us to say which is the BEST GARDEN WATER FEATURE. However, what we can do is select some of the best ones we have tried and tested.
The 7 garden water features below have been selected mainly due to the number of great reviews these products have received from online shoppers like yourself.
There is no better feedback you can get is that from someone who has purchased, used and tried the water feature or fountains you're thinking of buying.
Not many of us these days have the time to go through hundreds of catalogs and online stores or even search on Amazon to find the most suitable one to buy.
That's where we come in handy.
We have taken a lot of the hard work out of buying the perfect water feature for your garden or backyard.
So, take a look at the ones below and hopefully, fingers crossed, we have selected one that suits your needs and also that tickles your fancy.
Where to Place a Water Feature
Finding the perfect location for your new water feature is often the most important thing to consider.
Many people often have the perfect spot in mind but that may not work well.
Uneven surfaces and ground that cannot take the weight are often the first things you need to check. But you'll also need to consider direct sun light and if there's a power outlet nearby.
A correctly placed water fountain can also generate powerful positive energy and an incorrectly placed one can have the opposite effect.
Creating a positive and attractive water feature will help you relax more than you realize. If you believe in Feng Shui then there are a few do's and don'ts related to where you should place your new water feature.
Here are a few Do's and Don'ts
Do
Place in the Eastern part of the house, it is said to be good for your health
Water should flow freely without obstacles
Water features at the entrance of your house are good Karma
Locating your water feature South-East is good for your wealth
Located in the North of your garden or house is good for careers
Don't
Never have a water feature in the bedroom
Do not have a water feature either side of your entrance
Never under a stairway
Water should never appear to flow away from you
No dead plants in or around your water feature
---
7 Best Garden Water Features
John Timberland Pineapple Italian Outdoor Floor Water Fountain 44" High 3 Tiered Bowls for Yard Garden Patio Home Deck
as of December 3, 2023 9:26 am
Features
44" high x 23" wide and deep. Weighs 29.75 lbs.
Classic 3-tier outdoor fountain based on vintage Italian designs. By the John Timberland brand.
Three levels of basins, with water flowing from the pineapple spout accent on top.
Old stone finish. Fine cast lightweight resin construction.
Includes water pump. Plug-in fountain with a 9-foot cord. Easy to set-up.
This classic looking 44-inch height garden fountain by John Timberland will complement any country garden. This resin made fountain offers a solid looking classic feel without the weight that an original concrete one would bring.
It really does have a REAL aged concrete classic look and even we were shocked how good the pump was. In fact, that actually maybe a little downside. The pump was in fact too powerful and we had to adjust the flow rate. But once we had it set correctly the fountain ran perfectly without splashing over the top.
PROS
Only weighs 33 lbs
Looks quality even though it's Resin-based
Plug-in fountain. Easy to set-up
No plumbing needed to mains water supply
9 Foot power cord
CONS
Pump is a little too powerful. May need adjusting or restrict the flow with a clamp
See the Latest Price on Amazon here↗️
---
Peaktop PF001 Outdoor, 20" Height, Gradient Red Water Fountain
2 new from $86.68
1 used from $82.35
Free shipping
as of December 3, 2023 9:26 am
Features
RELAXING WATER FLOW - Water trickles from each tier to mimic the sounds of a real waterfall, adding peaceful atmosphere to your outdoor setting.
CALMING PRESENCE - Delicate glazed pots fountain brings a touch of Zen feel to your space.
SOFT LIGHTING - Tinged orange led lights wrap your ourdoor space with ambience.
DURABLE - Polyresin and fiberglass with rusty construction and weather-resistant to keep your fountain looking new over time
POWERFUL PUMP - Perform with optimal strength consistently. YH-LV70T (1. 83M cord) DIMENSIONS: (W) 15. 94" x (L) 16. 14" x (H) 20. 00" CAPACITY: 2. 64 gallon
These delicate glazed pot fountains bring a touch of Zen feel to your space. It looks exactly like real pottery and in fact, when we lifted it out of the box it shocked us that in fact, it's not.
It's made from a lightweight material which means although it looks fragile it's actually very strong and can withstand a few knocks in the garden here and there.
We loved the lights which are supplied with this water feature. You have one single light in the middle of each bowl. These are pre-fitted and ready to simply plug in and go.
This is a small water feature in height which only measures 20 inch which is perfect for a patio or backyard paved area.
PROS
Set up is simple
Made from strong resin material with a pottery look and feel
Candle lights look awesome
Different options available
Holds plenty of water so you don't have to re-fill it constantly
Lightweight
CONS
No on or off switch. So, you'll need to unplug the power cord to switch off
Short power cord (extension cord may be needed)
See the latest prices on Amazon here ↗️
---
5. 3-Tiered Budding Fruition Outdoor Water Fountain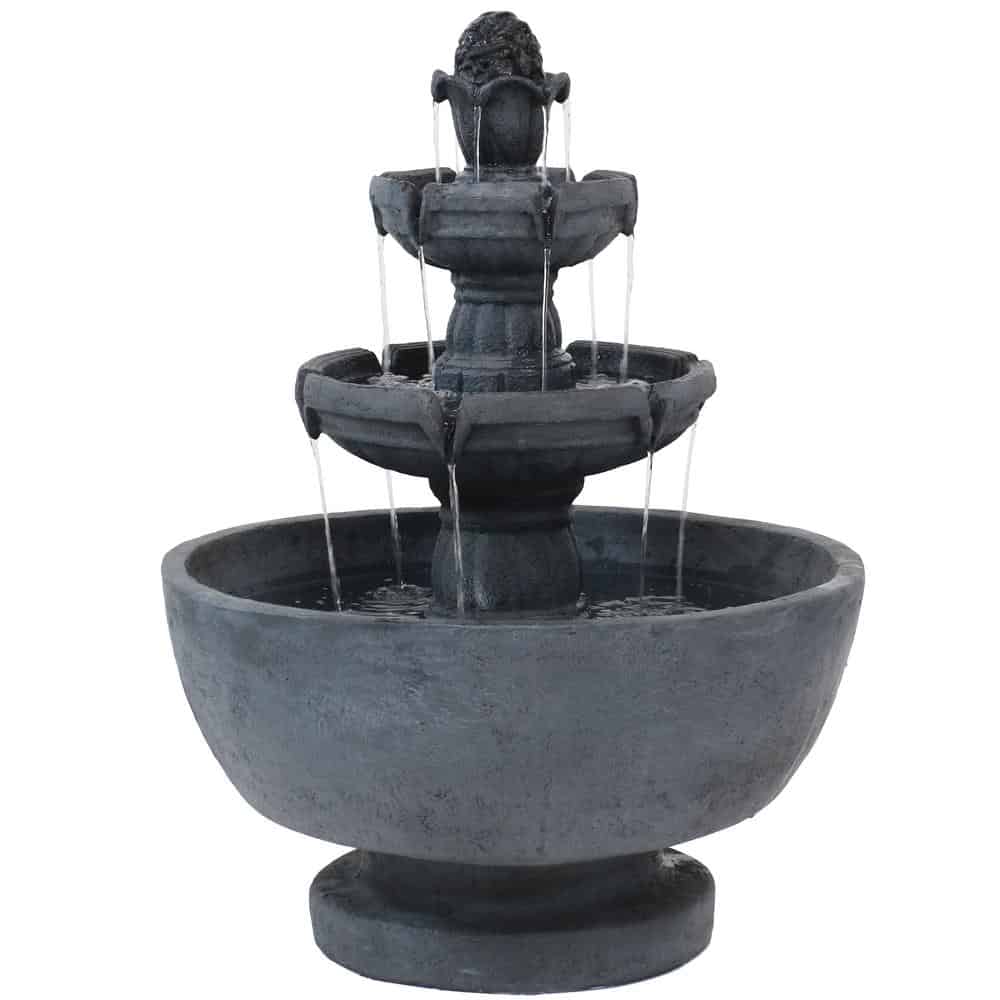 This water feature from Home Depot provides a decorative Old World touch and feel to any backyard or summer garden. Constructed of durable and lightweight polyresin, this fountain has the look of stone but is easy to clean and maintain.
Again another water feature that looks really heavy and built from stone or concrete when in reality it's lightweight resin.
This timeless fountain is topped with ornamental finial accent for added appeal, old-world look gives gardens or patios a more polished, refined look but only weighing 24 lbs.
PROS
Setup was easy
Strong JR-450 120-Volt 0.082 Amp 60 Hz pump
Classic looks but lightweight
Plugin and go
1-year manufacturer's warranty
CONS
No drain plug, so water has to been emptied by hand
Not as big as it looks in the image
See the latest price on Amazon ↗️
---
John Timberland Modern Outdoor Floor Water Fountain with LED Light 57" Dancing Couple for Floor Yard Garden Lawn
2 new from $299.99

as of December 3, 2023 9:26 am
Features
57" high x 18" wide x 10" deep. Weighs 28.5 lbs.
Modern fountain from the John Timberland brand.
Water cascades and ripples down inner element. Two built-in LEDs.
Black and gray stone finish. Lightweight resin construction. Easy to move and position.
Plug-in fountian. Includes water pump and 6-foot long cord.
At 57″ high x 18″ wide x 10″ deep and only 28.5 lbs this stunning piece of art you could call it, will add a touch of class to any patio or backyard.
A contemporary and sleek fountain will add a chic touch to your indoor or outdoor living space. The contrasting textures and colors of two people dancing brings a romantic air with an interesting Zen fountain dynamic. The fountain is well lit for a dramatic nighttime effect.
John Timberland offers a wide rank of quality products and this water fountain is one of their most popular. We can see why!
Lightweight resin construction makes it easy to move and position. I can see this in a modern restaurant or Hotel lobby.
PROS
Only 1 power cord to hide
Clean and simple style
Lightweight
Easy to install and setup
LED lights are bright
CONS
Water noise can be a little loud
LED lights sometimes need replacing
See the latest prices on Amazon here↗️
---
John Timberland Mason Outdoor Floor Water Fountain Three Bowl Floor Cascade 35" for Yard Garden Lawn
1 used from $388.00

as of December 3, 2023 9:26 am
Features
35" high x 15" wide x 16 1/2" deep. Weighs 26 lbs.
Stone finish fountain with light. From the John Timberland brand.
Three tiers of water bowls creates a soothing, relaxing sound. Can be used indoors or outside.
Faux rustic stone finish. Cast resin construction. Lightweight and easy to move.
Plug-in fountain. Comes with water pump and 6-foot cord.
This faux stone floor fountain is a wonderful way to bring nature into your home or backyard. The rustic design has two tiers where the water cascades through three small spouts in each bowl ending in the basin below, creating a lovely, peaceful sound.
Two halogen bulbs dramatically light the fountain at night. Crafted from polyresin, the design is extremely lightweight and easy to position before filling it.
Bright halogen lights illuminate three streams of water flowing from each of the bowl-shaped basins on this faux stone floor fountain.
PROS
Easy to assemble
Strong water flow
Lightweight
Stylish and Zen looking
Top brand, John Timberland
CONS
Water is a little loud but soothing
See the latest prices on Amazon here ↗️
---
Alpine Corporation DIG100XS Water Jar Fountain w/LED Light, 32 Inch Tall, Turquoise
8 new from $150.82
4 used from $138.75
Free shipping
as of December 3, 2023 9:26 am
Features
JAR FOUNTAIN: Garden water fountain is the perfect addition to your outdoor decor, and features an interior pump that keeps the water flowing - just plug it in!
RELAXING WATER FLOW: Water trickles from the top of the jar to mimic the sounds of a trickling stream, adding peaceful ambiance to your outdoor setting
ANTIQUE LOOK: Turquoise cracked jar design adds a vintage yet modern look to your outdoor space
DURABLE: Fiberglass and concrete construction is rust and weather-resistant to keep your outdoor fountain looking new overtime
STANDING FOUNTAIN AND ONE-YEAR WARRANTY: Measures 15"L x 15"W x 33"H to fit almost any outdoor area and includes a one year manufacturer's warranty from date of purchase
This has to be one of my favorite water features of all time. Standing at an impressive 32 inch and with its beautiful turquoise color, this contemporary piece of art looks stunning.
Water trickles from the top of the jar to mimic the sounds of a trickling stream, adding a peaceful ambiance to your outdoor setting.
This outdoor fountain will look great in any garden, patio, deck, porch, or backyard. The fiberglass and concrete construction is weatherproof, rust-resistant, and durable for years of quality use.
The weight of the fountain and sturdy base allows it to stay upright in the strongest wind giving you peace of mind.
It holds a good enough amount of water to last for days without top-up. It's a simple plugin and play design. Simply place the fountain in position, add water and connect to the power outlet and sit back and relax.
PROS
Light weight
Easy to install
Plug in and play
Holds 2 gallons of water
Long power cord
Easy to clean
CONS
See the latest prices on Amazon here ↗️
---
John Timberland Graceful Form Modern Zen Outdoor Floor Water Fountain with Light LED 43" High for Yard Garden Patio Deck Home
as of December 3, 2023 9:26 am
Features
43" high x 22" wide x 14" deep. Base footprint is 15 1/2" deep x 13 1/2" wide. Weighs 33 lbs.
Floor standing Zen fountain with six built-in LED accent lights. By John Timberland.
An elegant plug-in fountain design can be used indoors or outside.
Noir black and gray stone finish. Lightweight cast resin construction.
Comes with water pump, 9-foot long cord, and LED lights. Easy to set up.
This water fountain or water feature which I think it should really be called wouldn't look out of place in a modern art gallery.
Its simple yet modern look has a real class about it. When I first saw it, I thought it looked like it should have cost thousands but was pleasantly shocked when I saw the price.
A popular choice on Amazon and I can see why going by the customer reviews.
Standing at 43 inches high with 6 LED lights built-in, the fountain looks incredible at night and the gentle sound of the water is very relaxing.
The wet glossy finish of her back and legs is contrasted with the rough, matte interior for a carved stone look. A small splash of water originates at the center for a peaceful sound.
PROS
Very stylish
Easy to set up
LED lights look amazing
Inexpensive compared to some equivalent ones
Long power cord
Easy to clean
CONS
Takes a little more time to clean
No auto cut off if the water runs low
See the latest prices on Amazon here ↗️
---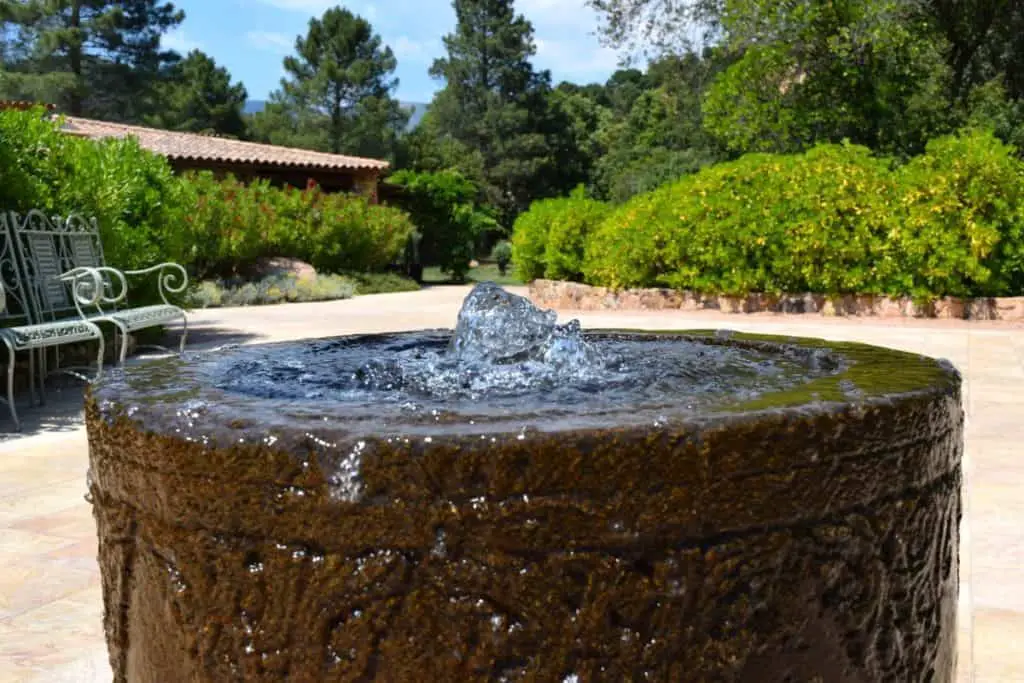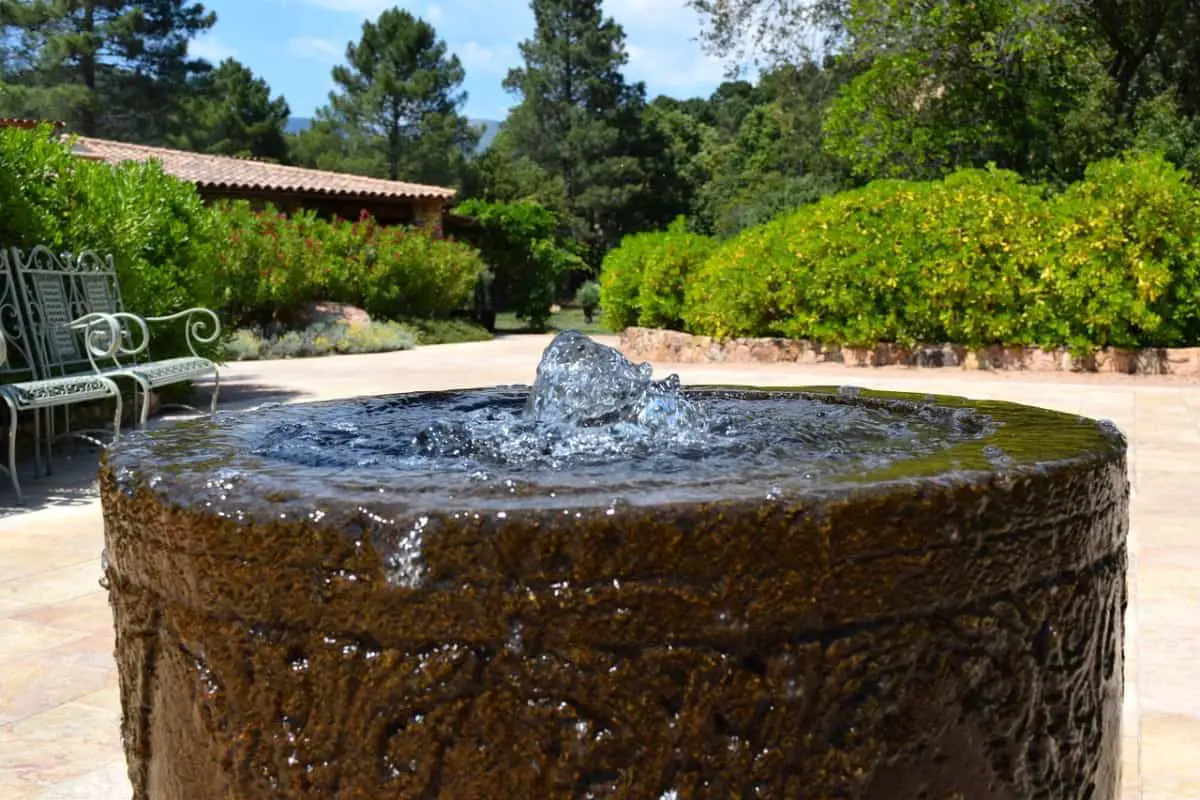 Installing
All of the water features in this Best Water Feature review are simple, fill up, plug in and off you go type models.
The majority hold around 2 gallons of water and need nothing more than simply filling up with clean water and that's it. There are some points to consider before switching one on and we have listed a few things below to consider.
Don't place it under trees
Ensure the ground is level and can hold the weight
You'll need to be near a power outlet
Direct sunlight will encourage algae growth
There's really not much to tell you about installing these water features. They are designed to be easy to install and I can honestly say they are.
Cleaning tips
There are two factors when it comes to cleaning water features and fountains. The first is to ensure the water is clean and does not smell. And the second is to ensure the water is safe and not hazardous.
Children may come into contact with the water and you'll need to make sure the water is clean and fresh.
We all know how tempting it is to put your hand under a waterfall or fountain!
Cleaning again is not a big job and it's not very technical. Below is a simple guide on how and when to clean your new water feature.
Switch off the mains electric supply
Empty the water
remove the pump or filter and clean with a small brush (toothbrush)
Scrub and clean with warm soapy water
Dry with a cloth to remove any excess soap to protect any wildlife from poisoning
Fill with clean cold water
Connect back to the mains supply
As you can see it's not very difficult to clean and maintain a garden water feature. There are some products that can help you keep the water clean and clear.
Algae growth is the number one issue and is usually caused if your water fountain or water feature is in direct sun light. This will encourage algae growth.
So, you can add an Algae Killer directly to the water which is harmless to birds, fish, and insects. This will help keep the water clear and stop it turning an unpleasant green color. Excessive algae growth can also block and damage the filter which some water features have.
We use Envil Pond Klear liquid algae cure from Amazon
Never use any chemicals if you have wildlife or fish in a container pond or pond bowl. Chemicals will harm and often kill fish and wildlife.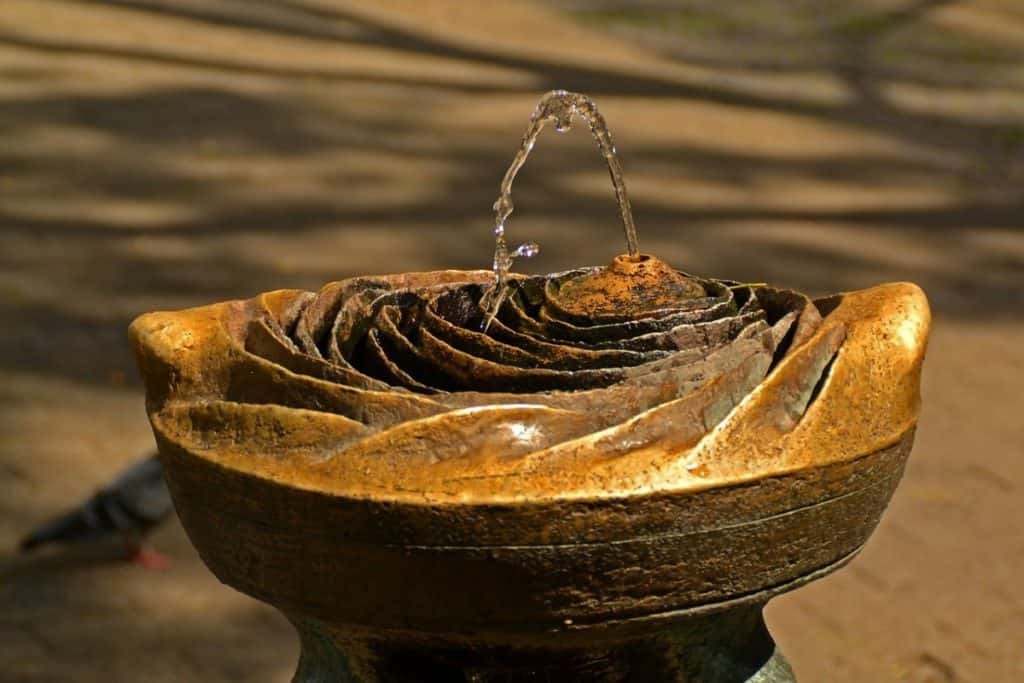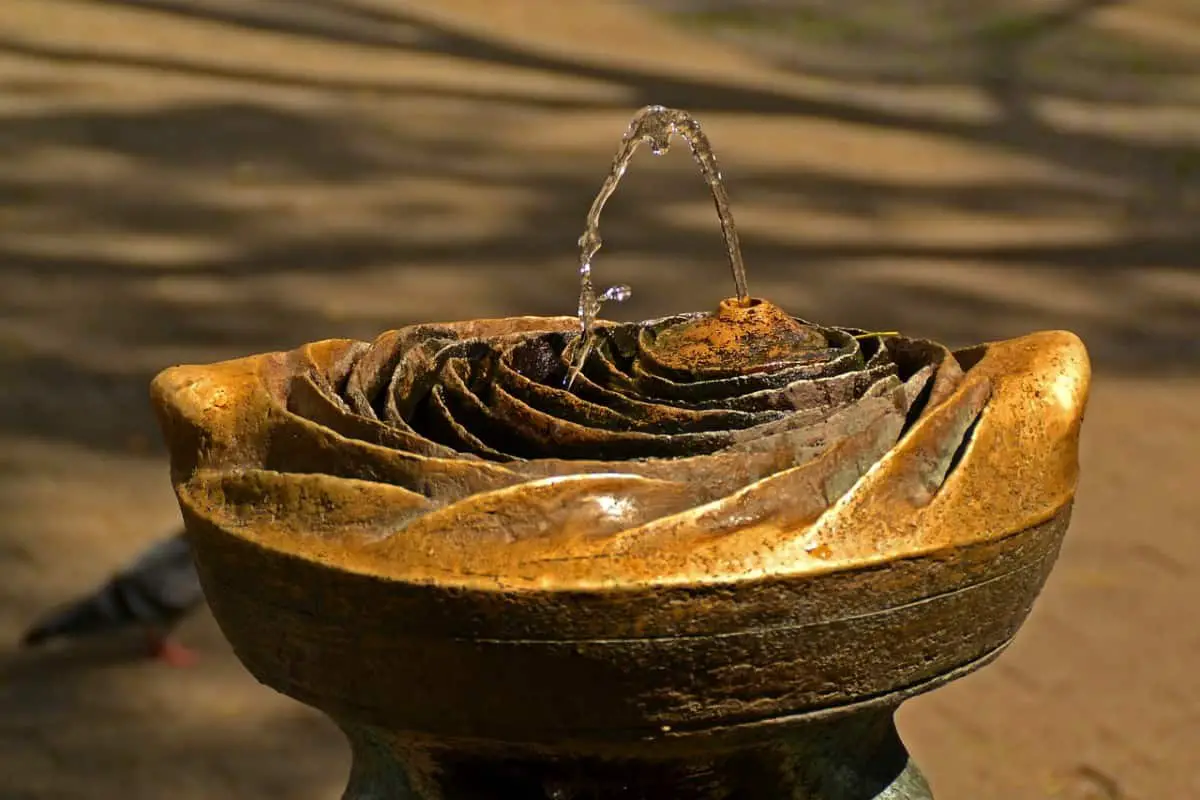 Avoiding Mosquitoes
Most backyard ponds contain fish and invertebrates which feed off insects and mosquito larvae. However, in water bowls and other water features, there's no fish to do this and they often containing still water, especially if you turn off the display overnight.
Mosquito larvae take around 8-10 days to become adults, so changing the water every 10-14 days or so, will avoid any problems.
It's fair to say these water features only hold a couple of gallons of water so it's not a big job to do and normally takes 10 minutes every two weeks to keep the water clean and fresh.
Some water fountains and water features have built-in filters which also help to keep the water running clean.
Accessories
There are a couple of things you may need to buy in order to install and run your new water feature.
An extension lead is often needed. Most water features have a power cord 6-9 feet long which is often not enough to reach an outlet if you want to place it down the bottom of the garden.
Before installing any electrical product, we would always advise seeking help or advice from an Electrician or qualified person. We always tell everyone who buys one of these to have it connected to a power or circuit breaker.
Safety is paramount and wherever you have water and mains power we would always use a circuit breaker.
Better safe than sorry!
Below are a few options for accessories that you may find helpful.
$9.97
in stock
15 new from $9.97
1 used from $31.18
as of December 3, 2023 9:26 am
$59.95
in stock
as of December 3, 2023 9:26 am
$26.62
in stock
8 new from $22.13
as of December 3, 2023 9:26 am
Last updated on December 3, 2023 9:26 am
Our Winner – Editors Top Pick
Out of all the water features and fountains we reviewed it's very difficult to choose a winner. As we mentioned before it's a very personal thing to like or dislike something.
However, my favorite water feature is the Alpine Corporation Turquoise Jar Water Fountain. I just found it so elegant and simple and it looked amazing straight out of the box.
Conclusion: Best Garden water Feature and Fountains
I'm sure that one of these amazing water features will look right at home in any garden or backyard.
Many of these water features have been seen in businesses and stores to enhance the look and environment. Along with creating a healing and tranquil place to shop or eat.
No matter what your intentions are for adding a water feature I'm sure you'll get hours of fun and relaxation from one.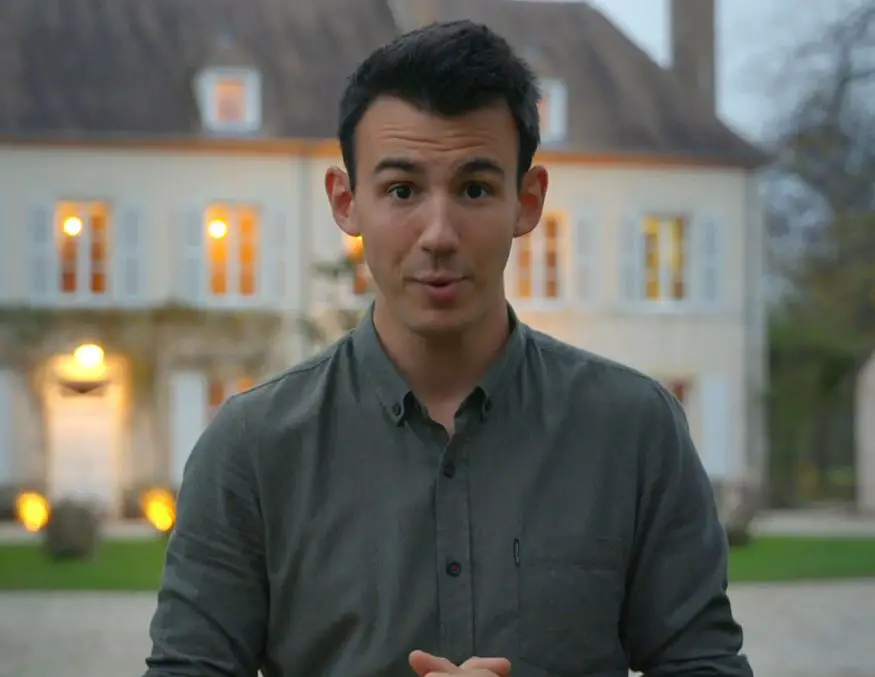 I have been working in the tropical fish industry for over 30 years now and I'm still learning. Everyday is a school day in this hobby. In my spare time I play golf very badly!