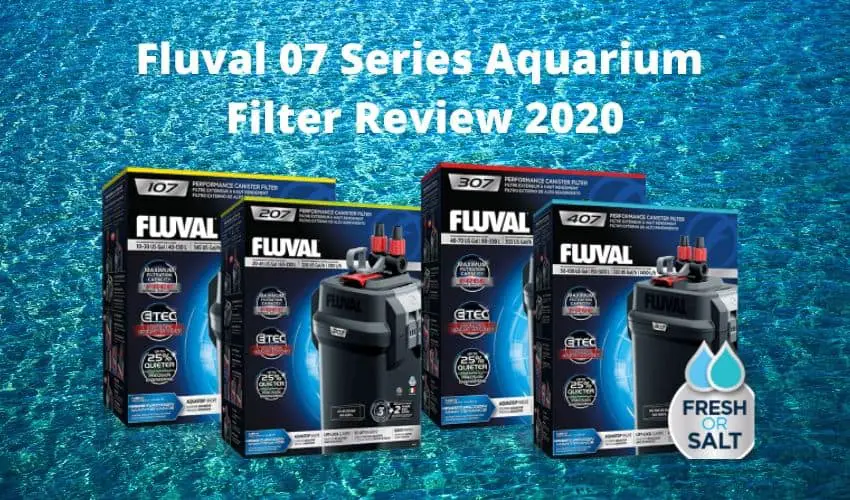 The Fluval 07 Series of aquarium filters is one of the most successful series of filters ever made scanning decades worth of small but mighty canister filters from Fluval. Like their predecessors, they incorporate power and reliability, but with an added ease of use and flexibility.
As previously there are four different sizes available in the Fluval 07 series which come under the names 107, 207, 307, and 407. They range from being suitable for aquariums of the smallest size 10 to 30 gallons right up to 50 to 100 gallons. The specifications for these filters are as follows.
Model
107
207
307
407
Aquarium
40-130 L
(10-30 US Gal)
60-220 L
(20-45 US Gal)
90-330 L
(40-70 US Gal)
150-500 L
(50-100 US Gal)
Performance
550 L/h
(145 US Gal/h)

780 L/h
(206 US Gal/h)
1150 L/h
(303 US Gal/h)
1450 L/h
(383 US Gal/h)
Basket vol
1.2 L
1.8 L
3.1 L
4.2 L
Chamber vol
2.0 L
3.1 L
4.5 L
6.0 L
Wattage
(120V/60 Hz)
10 W
10 W
16 W
23 W
Wattage
(230-240V/50Hz)
10 W
10 W
15 W
20 W
Filter Dimensions
(L x W x H)
19 x 18 x 35 cm
(7.5 x 7 x 13.7")
19 x 18 x 42 cm
(7.5 x 7 x 16.5")
24 x 18 x 42 cm
(9.5 x 7 x 16.5")
24 x 18 x 49 cm
(9.5 x 7 x 19.3")
Price
LATEST PRICE ON AMAZON
LATEST PRICE ON AMAZON
LATEST PRICE ON AMAZON
LATEST PRICE ON AMAZON
Fluval 07 Series Specifications
Fluval 107
Capacity – 10 to 30 gallon (40 to 130 liters)
Circulation – 95 gallons per hour (360 liters)
Pump Output – 145 gallons per hour (550 liters)
Fluval 207
Capacity – 20 to 45 gallons (60 to 220 liters)
Circulation – 121 gallons per hour (460 liters)
Pump Output – 206 gallons per hour (780 liters)
Fluval 307
Capacity – 40 to 70 gallons (90 to 330 liters)
Circulation – 260 gallons per hour (780 liters)
Pump Output – 303 gallons per hour (780 liters)
Fluval 407
Capacity – 50 to 100 gallons (150 to 500 liters)
Circulation – 245 gallons per hour (930 liters)
Pump Output – 383 gallons per hour (1450 liters)
What's In The Fluval 07 Series Box
Whether you purchase the 1, 2, 3, or 4 in the 07 series you will get the same parts, bits, and pieces in the box. Of course, the filter canister will vary in size depending on what capacity you buy.
Filter canister
Aquastop valve
Ribbed hosing
Rim connectors
Intake tube
Intake strainer
Intake stem/intake strainer
Pre-filter basket
Media basket
Media basket cover
Media basket handle
Suction cup
Output nozzle
2 rubber hose connectors
Instruction manual
Filter media
As with all Fluval products the 07 series canister filters are built from tough and durable plastic and are presented in an attractive red and black coloration. All attachments and accessories are also of high quality as you would expect from Fluval.
Features And Benefits Of The Fluval 07 Series
Powerful motor
Quiet operation
Fluval eTEC
Energy efficient
Rubber feet stabilizers
Redesigned primer
Aquastop valves
EZ-lift media baskets
Vertical pre-filter cartridge
eTech
Standing for efficient technology, eTech is as Fluval says 'a synergistic process that utilizes cutting-edge design materials and manufacturing methods to generate a great end result.' But what exactly does this mean?
Well, it means that the pump in the 07 series has greater power after being re-engineered, and can now move from 145 to 383 gallons per hour. This makes it far more powerful than most other canister filters. It also means that the 07 series is more energy-efficient, drawing as little as 10 watts of energy making it cheap to run.
Aquastop Valves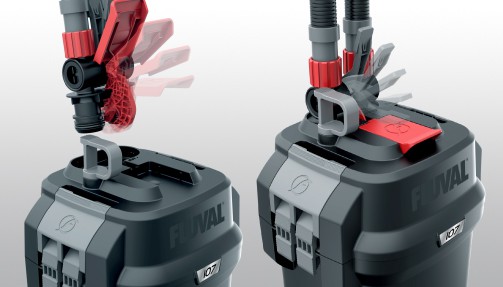 An ingenious invention, the aquastop valve is an ergonomic design that stops the water from flowing and allows for spill-free maintenance. An absolute godsend, as any fishkeeper will tell you that has cleaned up after maintenance performed on canister filters without them.
Priming Device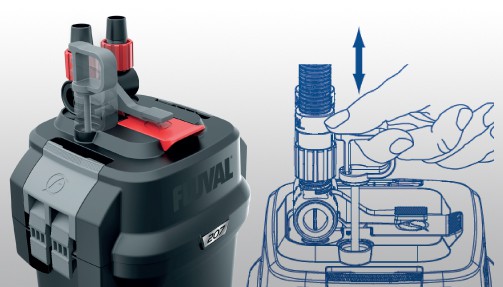 Though the 07 series is not self-priming, it now has a newly designed and stronger priming device. This can be operated easily just using two fingers compared to other canister filters where you need two hands. The suction has also been improved on the 07 design meaning priming now only takes 3 to 4 pumps.
Pre-filter and Media Baskets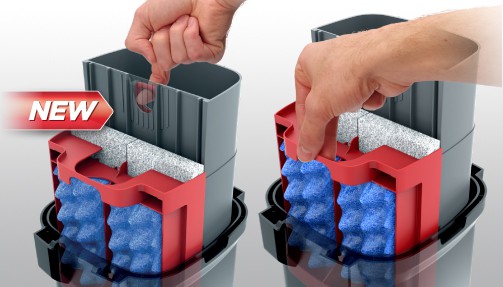 A unique design to the Fluval 07 series, the pre-filter is a vertical unit saving space within the canister. The pads inside this, which are included, are of a new design known as Bio-foam Max. These are made of a rippled material with 30% greater surface area. The media baskets are easy to lift out, in fact, it can be done with one finger.
Rubber Feet Stabilizers
Offering a more solid base, canister protection, and a definite reduction in noise, the rubber feet stabilizers have been redesigned especially for the 07 series. They stop vibrations, often the root cause of a noisy canister filter and teamed with the re-engineered impeller assembly make it virtually silent.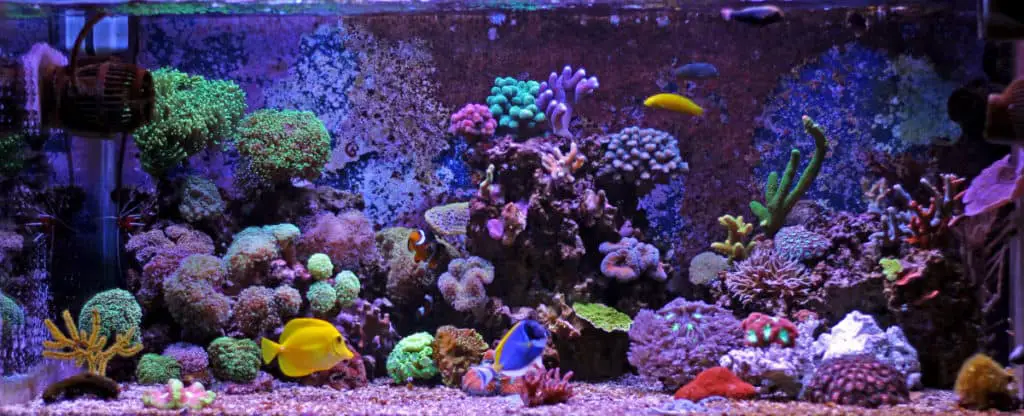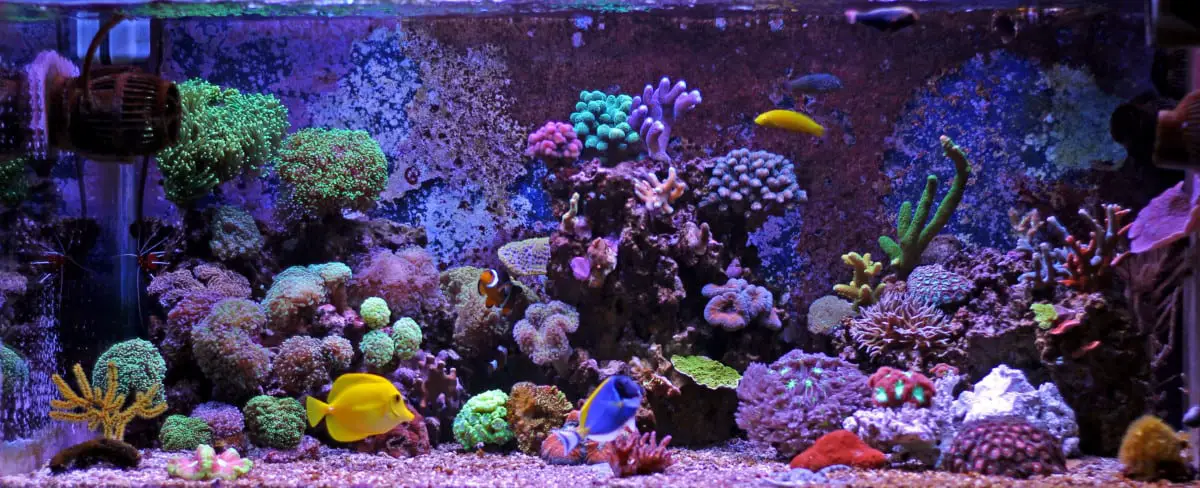 Fluval 07 Series Maintenance
The 07 series has also undergone several design refinements that reduce the effort and time that is involved in maintenance. These include:
Aquastop valves – these quickly shut off water and help avoid spills and mess.
Lift lock motorhead clamps – single action dual locking clamps for quick release and attachment.
EZ-lift media baskets – a central handle allows the media stack to be removed simultaneously for quick access. There is no need to empty the canister of water in order to remove the baskets.
Quick primer – requires fewer pumps to get it started, is 7 times stronger and comes with large easy-grip handles making it simple to operate even if it is in a cabinet.
Fluval 07 Series Cost
As with all the Fluval canister filters, the 07 series is not exactly inexpensive. However, as with anything you could say that you get exactly what you pay for and with the Fluval 07 series you are getting class.
Fluval 107 – $110*
Fluval 207 – $120*
Fluval 307 – $170*
Fluval 407 – $205*
*Prices are approximate and not taken from Amazon
The Fluval 07 Series Verdict
Undoubtedly, eTech is at the heart of the Fluval 07 series and the introduction of this has made them big on power, small on energy, and highly efficient. They are also flexible, robust, and reliable making them well worth the heftier (than most other canister filters) price tag.
If you have a very large aquarium you may want to consider going for the FX range. Check out our reviews on the FX4 and FX6.

Latest posts by Carl Broadbent
(see all)