The chances are that whether you are an old hand in the aquarium hobby or a newbie you will have heard talk of the mighty Fluval FX6 filter. After all, it has a reputation for being the best on the market, and a following that makes it one of the most popular purchased.
But, and this question needs to be asked, is the high praise of this aquarium filter really deserved? Does the Fluval FX6 filter have features that set it apart from all others? Or is the talk nothing but hype, and this filter nothing to really write home about?
First Things First, What Do You Get?
In the Fluval FX6, you certainly get a filter with a huge volume rating and an impressive amount of flexibility of use. It can be used on aquariums of up to 400 gallons (1500 liters) capacity and has a pump output of 926 gallons (2130 liters) per hour. The Fluval FX6 filter also comes with three methods of filtration; mechanical, biological, and chemical making it a highly efficient filter.
Further Specs
Capacity – 400 gallons (1500 liters)
Circulation – 563 gallons per hour (2130 liters)
Pump Output – 926 gallons per hour (3500 liters)
Wattage – 43 watts
Media Baskets – 3
Mechanical Area – 325.5 inches square
Biological Volume – 1.5 gallons (5.9 liters)
Filtration Volume – 5.28 gallons (20 liters)
Head Height – 10.8 feet (3.3 meters)
Warranty – 3 years
What is most impressive about the Fluval FX6 filter, however, is not its huge volume rating, three-stage filtration, or the fact that all this comes housed in a unit just 21 inches high! It is rather the key features that make it so easy to achieve high-performance filtration with this rather mighty filter.
MODEL
FLUVAL FX4
FLUVAL FX5
Aquarium Capacity
250 US Gal
(1,000 L)
400 US Gal
(1,500 L)
Pump Output
700 US Gal/h
(2,650 L/h)
925 US Gal/h
(3,500 l/h)
Mechanical Area
(foam)
217 in2
(1,400 cm2)
325.5 in2
(2,100 cm2)
Biological Volume
1 US Gal
(3.91 L)
1.5 US Gal
(5.9 L)
Filtration Volume
3.7 US Gal
(14 L)
5.28 US Gal
(20 L)
Filter Circulation
450 US Gal/h
(1,700 L/h)
563 US Gal/h
(2,130 L/h)
Head height
(max.)
6.9ft
(2.1 m)
10.8ft
(3.3 m)
Wattage
(120V/60Hz)
30 W
43 W
Wattage
(230-240V/50Hz)
30 W
41 W
Dimensions
(L x W x H)
15.75 x 15.75 x 16.5"
(40 x 40 x 42 cm)
15.75 x 15.75 x 20.8"
(40 x 40 x 53 cm)
Key Features Of The Fluval FX6 Filter
What makes the Fluval FX6 Filter so appealing, at least on paper, is its multitude of features that aid in its smooth running, offer choices, and provide ease of maintenance. It really could be said that this filter has it all!
Self-Priming System
The majority of canister filters available on the market today require that you siphon water into them on startup. This can be a messy process especially if you are performing it by mouth and tube; aquarium water doesn't taste good!
The Fluval FX6 filter, however, has made this a thing of the past by creating their self-priming system. You simply plug your canister in and wait. Within seconds it will fill itself with water, pause for two minutes to evacuate any trapped air, and hey presto, start to filter.
Quiet Operation
Due to precise engineering of the Fluval FX6 filter's motor this canister filter has to be one of the quietest available. In fact, unless you are in very close proximity to it you should not hear a thing. This is due to Fluval not only working on the noise levels but also the vibration that most canister filters seem to suffer from. When up close you may hear a gentle hum.
Aqua Stop Valves
No matter how good a filter performs it is still going to require some maintenance, such as a monthly clean. This can be the bane of a fishkeeper's life when it comes to canister filters as many of you probably already know. It leads to water puddles all over the floor – mess everywhere!
To deal with this the clever chaps at Fluval have put aqua stop valves on the FX6. These valves enable you to stop the water flow by turning the lever 90 degrees. You can then separate the hose and do maintenance work without any messy spills.
Adjustable Water Flow
Staying with the Aqua Stop Valves, not only can they be used to stop the water altogether, but they can be used to control the flow. Simply turn them to a lesser degree than the full 90 and change the flow rate. This is an especially great feature if you are running the Fluval FX6 filter on an aquarium smaller than 400 gallons.
Multiple-Directional Output
The Fluval FX6 filter also comes with twin output nozzles which can be adjusted to various modes depending on the needs of your aquarium and fish. This means not only can you can direct the current to where your aquarium needs it most to keep it clean, but also ensure filtered water is released in all areas.
Adjustable Intake Stem
Whilst the maximum head height of the Fluval FX6 filter is 10.8 feet, it is highly adjustable. Simply extend the stem until it reaches down into the water level of your aquarium. This flexibility makes the Fluval FX6 filter suitable for a wide variety of tanks and is another feature that makes this filter great.
Stacked Lift Out Media Baskets
The Fluval FX6 filter comes with three high-capacity media baskets which are undoubtedly one of these canister filters most important components. These need to be easily removable for maintenance and Fluval has made this so with their simple T-handle release.
The baskets can then be separated and maintenance performed including changing the media. It's quick and it's simple. And even better still is the way the baskets can be stacked allows for customization. You decide the type of media that you want to use and also in which order your aquarium water encounters it.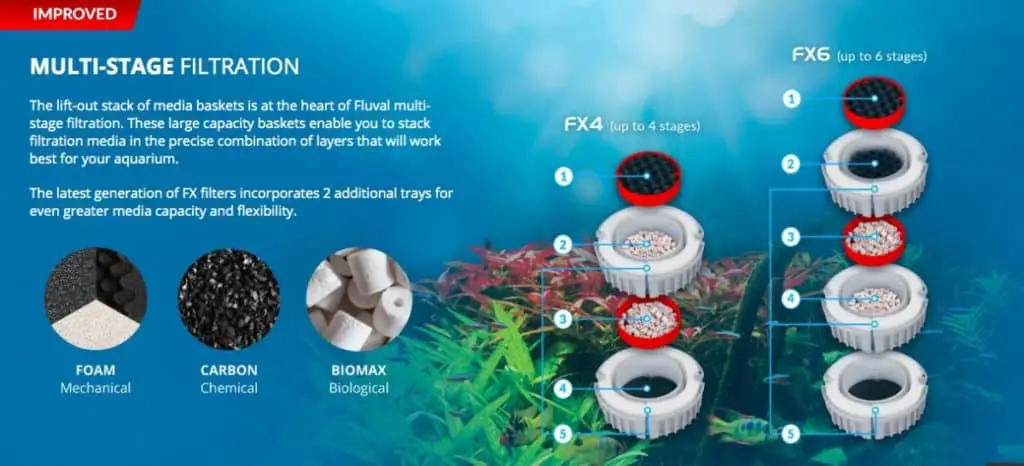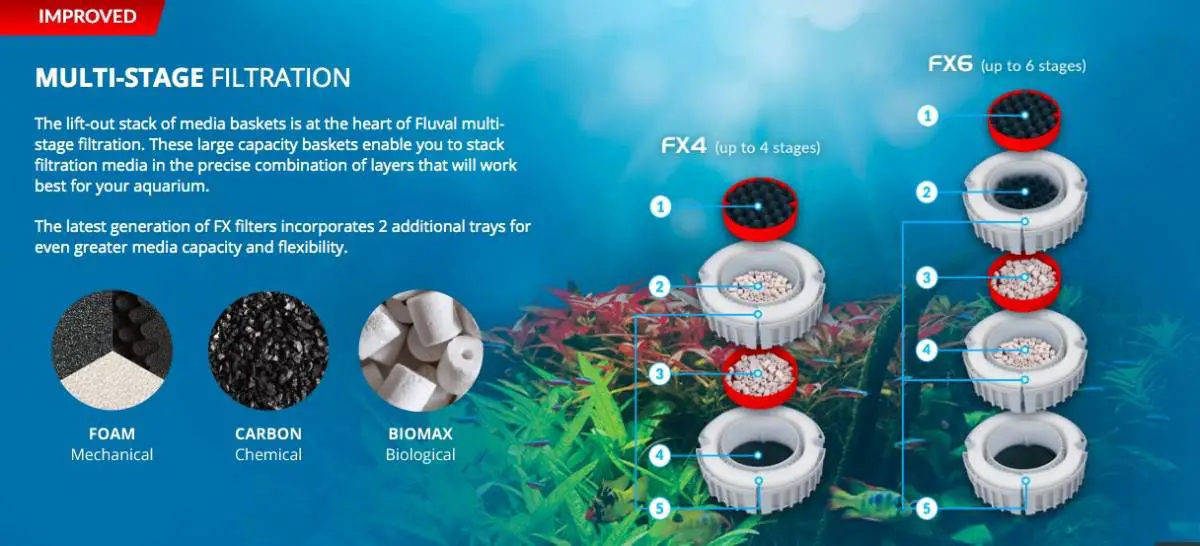 Smart Pump Technology
To ensure that the FX6 runs without a hitch, Fluval has installed an electronic circuit board that monitors its performance. This measures impeller speed and force of output to guarantee maximum working conditions. The Fluval FX6 filter will also pause every twelve hours to expel any trapped air, and even give you a monthly reminder that it's time for filter maintenance!
Have we sparked your interest in the Fluval FX6 filter? Then click this link for the latest prices on Amazon
So What Do We Think?
Well, we thought, as we mentioned earlier, that the Fluval FX6 filter looked exceptional on paper. However, as we all know, looks can be deceiving. So, to be sure that the Fluval FX6 filter is as good as it sounds…….yes that's right, we got one!
A Peek In The Box
Before we take a peek at what you physically get with the Fluval FX6 filter it is only right that we discuss the cost. They are not, by a long shot, the cheapest of canister filters at around $340. Are they worth the price tag? Well, only time would tell. So without further ado, let's get down to the nitty-gritty!
What We Got
Fluval FX6 canister filter
Power cord and pump unit
Intake stem and output nozzle
Purge valve hosing
Suction cups and rubber feet
Clips, lid fasteners, and rim connectors
Drain cap and utility valve
Three media baskets
Two bio-foam inserts
Carbon filter pad
Two media packs
Putting it all together!
I don't know about you, but we despise anything that is complicated to set up and does not come with legible and understandable instruction. Luckily, the Fluval FX6 filter did not suffer from either of these pet hates and we had it set up in no time.


The How-To
Place the canister filter in the desired place. This could be under your aquarium, at the side of your aquarium, or even behind it.
Connect the intake and output assemblies using the click-fit connectors. Locking clamps are also included if you wish to lock down these connectors.
Place the intake and output hosing so that they reach from your aquarium to the canister. Cut the intake tubing extending six inches below the top of the tank.
Adjust the height of the intake stem so that it extends around one inch below the surface of the water.
Cut the output tubing so that it extends about one inch below the water level of the tank. Using a locking clamp, connect the multi-directional output nozzle to the end of the tubing.
Using the red T-handle release system, remove the media baskets from the canister and fill them with either the provided or your desired filter media. Leave at least a half-inch space at the top of the media basket to prevent leaks.
Re-stack the filter baskets in your preferred order and place them inside the canister. Lockdown the lid of the filter by hand-tightening the eight lid fasteners.
Finally, step number eight is to plug the Fluval FX6 filter into your electric outlet and voila your job is done; your new canister filter will now self-prime. You may, however, just want to check it is running smoothly after a few minutes just in case of any leaks.
Cleaning Your Fluval FX6 Filter
You may be thinking that now would be the right time to talk about how the Fluval FX6 performed. However, we are going to save that for our verdict and skip to maintenance. After all, this plays a huge part in how much we will like a filter and it needs to be as easy and quick as possible.
The Six Simple Steps
First, close the aqua stop valves on the intake and output tubing by turning the levers 90 degrees. Then unplug the unit from the electrical outlet.
Place a bucket under the purge valve and open it to release any water left in the canister. Once empty move the canister to a more suitable place for cleaning.
Release the media baskets by using the red T-handle and remove them from the canister. Change the media as desired.
Access the pump to clean it and remove the impeller and rinse in clean water.
Put the canister back together and replace the media baskets in the order you want them to connect with the water.
Fasten the lid, reconnect the hoses and re-open the aqua stop valves.
Plug the unit back into the electrical outlet and wait for it to self-prime. As with the original set-up, check after a few minutes that there are no leaks.

Spare parts
Like all mechanical things, they can go faulty. This filter over time may have some issues but you rest assured that Fluval has you covered. We checked out the spare parts available on Amazon and they have everything you need from New Motors, Ring Seal Kits, and replacement media.
So, there's no need to worry that if your filter goes faulty that you'll need to replace it. Just order a new part from Amazon and with next day delivery, you'll be up and running in no time.
That's one of the biggest differences between buying a quality well-known brand over Japanese products. The spare parts that are available mean that you can keep your filter running for years.
Fluval Canister Filter, FX6 Filter (400 Gal)
12 new from $339.99
4 used from $306.77
Free shipping
as of December 5, 2023 8:30 am
Features
Multi-Stage Filter that produces healthy aquarium water, freshwater or marine aquariums
Features Smart Pump Technology for optimal filter performance, efficiency and management
Self-starting filter-just add water and plug in. Head height (maximum): 3. 3 m (10. 8 feet)
For aquariums up to 400 gallons
3 YEAR LIMITED WARRANTY
The Fluval FX6 Canister Filter is guaranteed against defects in material and workmanship under normal aquarium usage and service for 3 years from date of purchase.
This is what Fluval says in their warranty details and small print.
" Non-replaceable and non-serviceable parts will be repaired or replaced at Hagen's discretion, free of charge when the complete filter is returned with all components along with a valid proof of purchase and postage paid. This warranty does not apply to any filter that has been subject to misuse, negligence or tampering. It does not apply to filters that have been incorrectly assembled or unsuitably maintained or where installation and maintenance instructions have not been followed correctly.
The warranty does not apply to wear and tear parts such as the impeller, impeller cover or motor seal. No liability is assumed with respect to loss or damage to livestock or personal property irrespective of the cause thereof. Before returning the filter under warranty terms, please ensure that all set up and maintenance instructions have been followed"
From our experience, over the years Fluval products are built to a high standard and usually only fail after lots of constant use. As mentioned above they offer an extensive range of spare parts to keep your filter running for many years.
Wants something a little smaller? Then check out its little brother the FX4 here!
Over To…..The Verdict
It was always clear before we even tried it, that the Fluval FX6 filter was going to be far too powerful, even with its flow rate slowed, for aquariums of a smaller size. It is, however, a flexible piece of equipment that manages to remain viable for most aquariums of a larger size.
Setup, maintenance, and the general every day running of the Fluval FX6 really is as it suggests, effortless. Simply plug it in, let it do the work, and give it monthly TLC to keep it happy. It kept our aquarium spotless, and it did so virtually silently, although I did hear the gentle hum sometimes even at a distance.
Expense wise, it's hard to get away from the fact that the Fluval FX6 filter does cost more than your average canister filter. However, we have to say that in this case you really do get what you pay for. The Fluval FX6 is innovative and highly effective. It is something that, as far as we know, no other filter manufacturer has come close to equalling, never mind beating!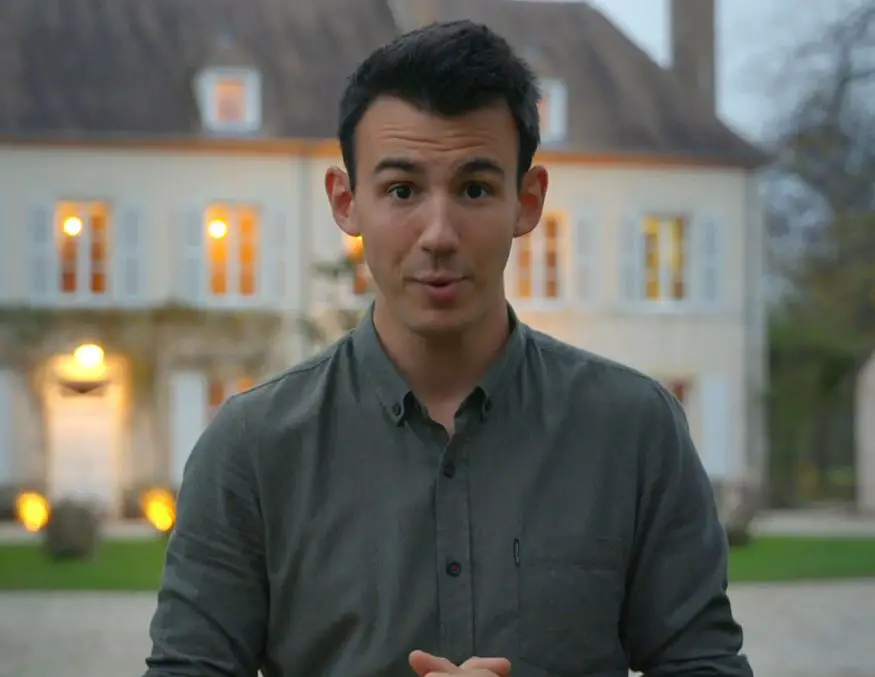 I have been working in the tropical fish industry for over 30 years now and I'm still learning. Everyday is a school day in this hobby. In my spare time I play golf very badly!