When water levels appear to have dropped, it may be tempting to top up your pond with water straight out of the faucet, but you need to ensure that you take care of the water you use for pond water changes and top-ups. Though it is easy to add untreated water to your pond, the effects can be devastating.
Today, we address the problem of how to dechlorinate tap water for ponds. According to the UK organization, The Freshwater Habitats Trust, tap water is one of the biggest pollutants to garden ponds. When added unwittingly, tap water will harm your fish, plants and other pond-life that make up a thriving pond ecosystem.
This is because fish and other aquatic organisms are incredibly sensitive to the effects of the chemicals that are routinely added to treat tap water. In particular, chlorine and its related compounds stand out as particularly noxious to aquatic life and will need to be removed from any water you add to your pond.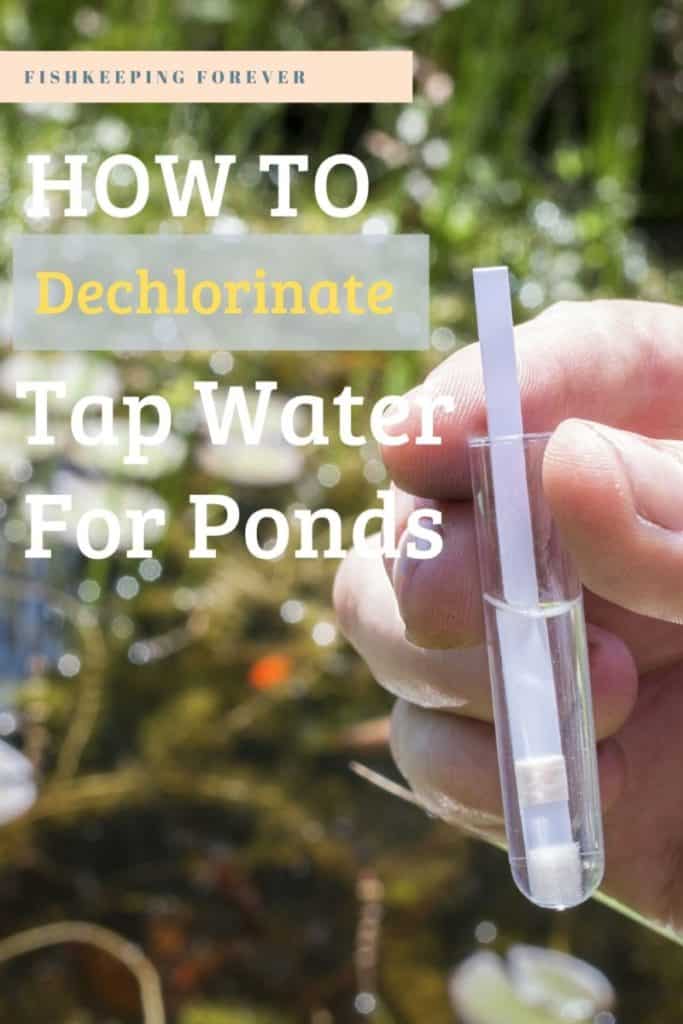 In this article, we share everything a pond owner needs to know about the dangers and effects of chlorine and how to dechlorinate tap water for pond-life that is healthy and safe.
The Problem with Chlorine
Chlorine is routinely added to municipal water supplies across the world to disinfect them and make the water potable. Chlorine and its related compounds are strong, highly reactive oxidants and will actively bind to bacteria and viruses and destroy their cellular structure.
This is beneficial for our water supply as it prevents the spread of waterborne disease, but chlorine can produce catastrophic damage when it acts in a similar manner on the cells and tissues of fish and other aquatic organisms.
There are two main forms of chlorine that typically found in tap water:
Chlorine is commonly found in tap water in the following forms:

elemental chlorine gas (Cl2)

Chloramines are a group of compounds of chlorine and ammonia, known as combined chlorine and are increasingly used for water purification as a secondary disinfectant. It is light-stable and long-lasting. An example is monochloramine (NH2Cl),
It is likely that one, or both of these types of chlorine is present in your tap water so they will need to be removed by dechlorination if you want to add tap water to your pond.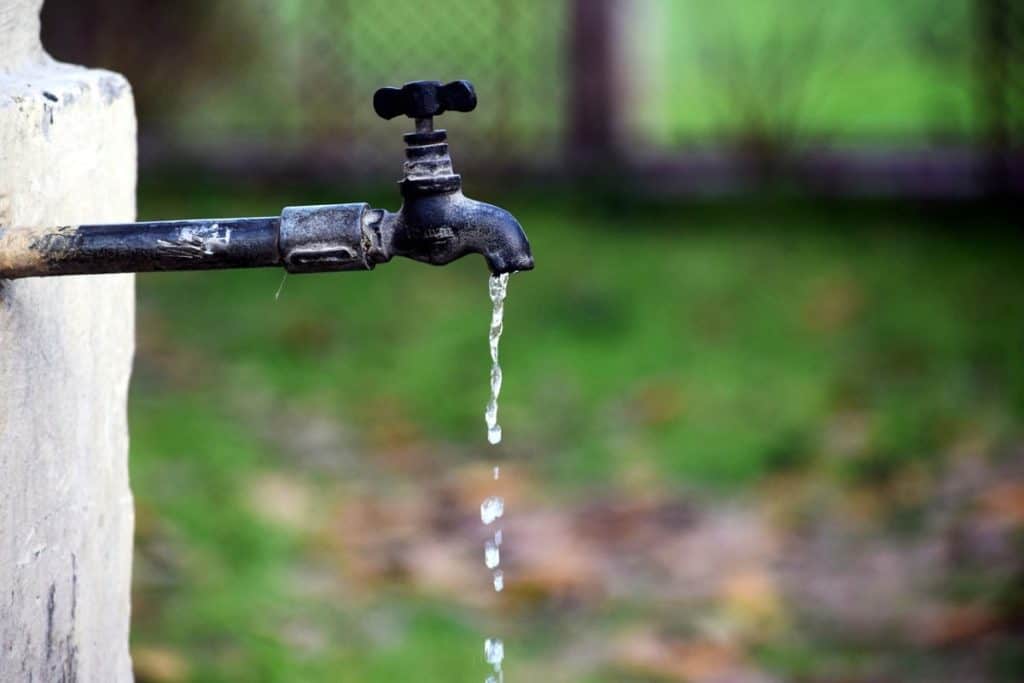 The Effects of Chlorine on Your Fish
As mentioned above, the aggressive reactivity of chlorine compounds means that it can affect your fish at even the minutest of concentrations. It acts in the same way it destroys germs to damage the delicate tissues of your fish and other pond organisms. There are 4 key effects:
Stress: Even low concentrations of chlorine will irritate and stress koi carp and goldfish. The presence of raw tap water may be mistaken for the effects of disease or parasites.
Burns: Chlorine targets the slimy coatings of fish and amphibians, oxidizing and removing it with an effect similar to that of a chemical burn. De-coloration of fish can also occur.
Pain: Caustic chlorine enters the fish via its delicate gill structures and causes painful internal burns and organ damage.
Death: Fish succumb to asphyxia due to degradation of the gill structure, making it difficult to breathe.
In addition, chlorine will harm or even destroy your biological filter and do untold damage to:
Dragonflies
Damselfly larvae
Water Boatmen
Water snails
The corrosive effects of chlorine are apparent even at the lowest concentrations with behavioral problems like lethargy and air gulping. It also damages reproductive processes in aquatic organisms.
The myriad of adverse effects of chlorine makes its removal from tap water, or the avoidance of raw tap water altogether, a priority for the pond owner who is concerned for the welfare of their fish stock.
Just how much Chlorine is in Tap Water?
According to the US Centers for Disease Control, the limit of chlorine in tap water is 4mg per liter or 4 parts per million.
Can I measure chlorine in my tap water or pond water?
You can establish how much chlorine is in your tap water in two ways:
Test Kits
Chlorine test strips can be used to look for the presence of chlorine and its concentration. If you want to be absolutely sure that your water is chloramine free, it may be worth checking ammonia levels of your water as raised levels can indicate the presence of chloramine.
Digital testers may seem like an expensive way to test your pond water compared to test strips. But, think about how many times you can use the digital tester and for how long. If you use it for 4-5 years then I'm confident in saying it will be a cheaper option in the long run.
API POND MASTER TEST KIT Pond Water Test Kit 500-Test
15 new from $23.22
Free shipping
as of December 4, 2023 10:26 am
Features
Contains one (1) API POND MASTER TEST KIT Pond Water Test Kit 500-Test, including 6 bottles of testing solution, 3 color cards and 4 glass test tubes with cap
Helps monitor water quality and prevent invisible water problems that can be harmful to fish
Measures ornamental pond pH balance, Ammonia content, Nitrite levels and Phosphate content
Contains six test bottles, instructions, glass test tubes and color charts for 500+ tests
Use weekly for monitoring and when water or fish problems appear
HM Digital TDS-EZ Water Quality TDS Tester, 0-9990 ppm Measurement Range, 1 ppm Resolution, 3% Readout Accuracy
11 new from $13.95
6 used from $9.46

as of December 4, 2023 10:26 am
Features
Economy model that is ideal for end-users. Highly efficient and accurate due to its advanced microprocessor technology.
Hold Function: saves measurements for convenient reading and recording and battery life is approx. 1000 hours of usage and power source is 2 x 1.5V button cell batteries (included) (LR44 or equivalent)
Auto-off function: the meter shuts off automatically after 10 minutes of non-use to conserve batteries. Display: large and easy-to-read LCD screen.
Measurement Range: 0-9990 ppm. From 0-999 ppm, the resolution is in increments of 1ppm. From 1000 to 9990 ppm, the resolution is in increments of 10ppm, indicated by a blinking 'x10' image. Fun, translucent blue housing that's very strong and durable.
TDS-EZ meters are calibrated with a 342 ppm NaCl solution. Meters can be recalibrated with a mini-screwdriver. Includes a TDS chart sticker on the back of the meter that explains TDS values.
There is actually a third option and that's to contact your water company. They will be able to provide information on the types of chlorine compounds present in the water and their levels as well as general information on local water purity.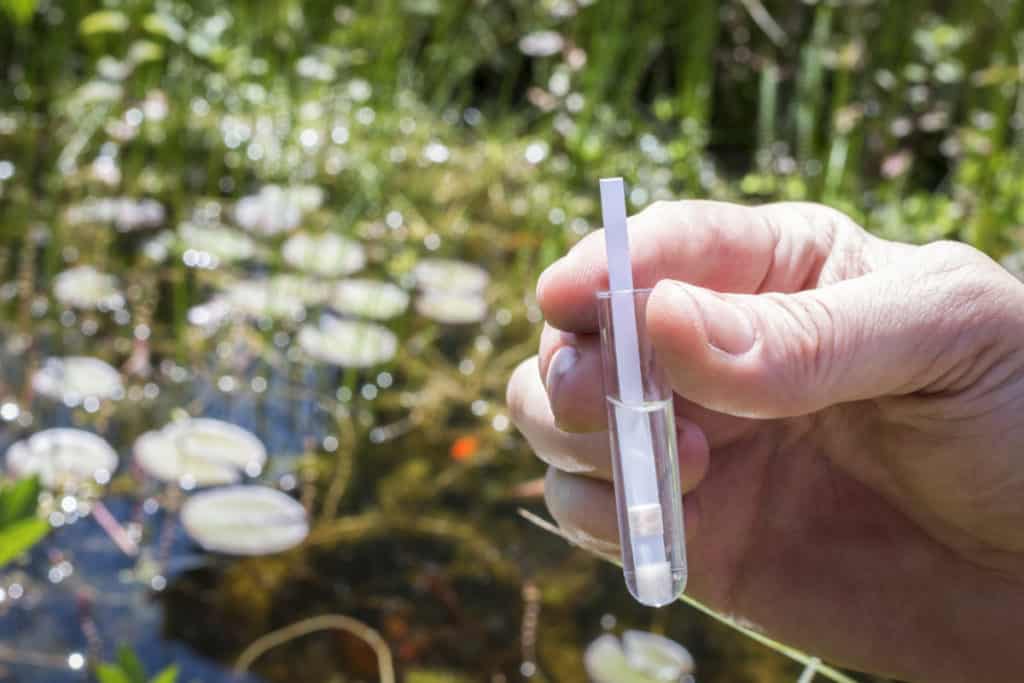 What are the ideal chlorine levels for my pond?
There is no ideal or safe level for chlorine in your pond water. You want to completely remove this noxious substance. Chlorine concentrations of 0.37mg per liter (3.7 parts per million) will kill all pond fish.
Your Strategies for Eliminating Chlorine and Chloramine for a Healthy Pond
It is clear that dechlorination, the removal of chlorine from water is essential if you want to use tap water for your pond. The chlorine present can be removed and chloramine chemicals can be neutralized and rendered inactive.
It's vital that you deal with both chlorine and chloramine to ensure that no chlorine remains in your water, as chloramine is more persistent by design.
Once you have treated tap water, check chlorine levels again with test strips to ensure that it is truly chlorine-free and ready to go.
Leave the tap water to stand
A simple and cheap method of rendering tap water safe for ponds is simply to leave the volume of tap water required exposed to air for 48 hours. This method allows the chlorine present in raw tap water to dissipate as the water stands.
However, if heavier molecules of chloramine are present, they will persist in the water and cause damage, so you must ensure sure that your tap water is chloramine-free to do this.
Aerated water
Aerated water does reduce the amount of chlorine present in tap water, so you may want to do this as well as leaving the water to stand. Aeration will not remove chloramine. See this amazing Air Pro Pond Aerator on Amazon
Water conditioners
Water conditioners are liquid or powdered additives that deal effectively with both chlorine and chloramine and provide pond and aquarium owners with the reassurance that all chlorine will be effectively neutralized. Here is a suitable liquid pond dechlorinator on Amazon.
As chlorine is an oxidant, water dechlorinators contain powerful reducing agents that strip the water of chlorine and other heavy substances, making it safe to use in your pond.
Water dechlorinators contain chemicals such as:
Amine salts
Sodium thiosulphate
Hydrosulfite salts
Sodium hydroxymethane sulfinic acid
CrystalClear Vanish Dechlorinating Granules is a popular pond water dechlorinator that contains sodium thiosulphate. It is fast-acting and immediately removes all chlorine when added in the appropriate dosage to the raw tap water you intend to use.
Simply fill a bucket with the tap water you need and dissolve the granules according to the directions. The large quantities available should last for multiple pond water treatments.
Activated carbon is an effective solution for the removal of chlorine, chloramine, other heavy substances and pollutants which are separated from the tap water by adsorption to the carbon surface. The granular preparations provide a high surface area for filtration. It greatly increases the clarity of pond water and can even be added to your filter box.
Inline water filters that contain carbon can be attached to hoses or faucet pipes to filter chlorine from water as and when you need it. The carbon filter cartridges will eventually be used up and will require regular replacement.
Water filtration systems are probably the most sophisticated and long-term option for fish keepers and pond owners who need to filter large volumes of tap water and undertake regular or extensive water changes. These proprietary systems are plumbed into your mains water supply and not only dechlorinate water, but also remove: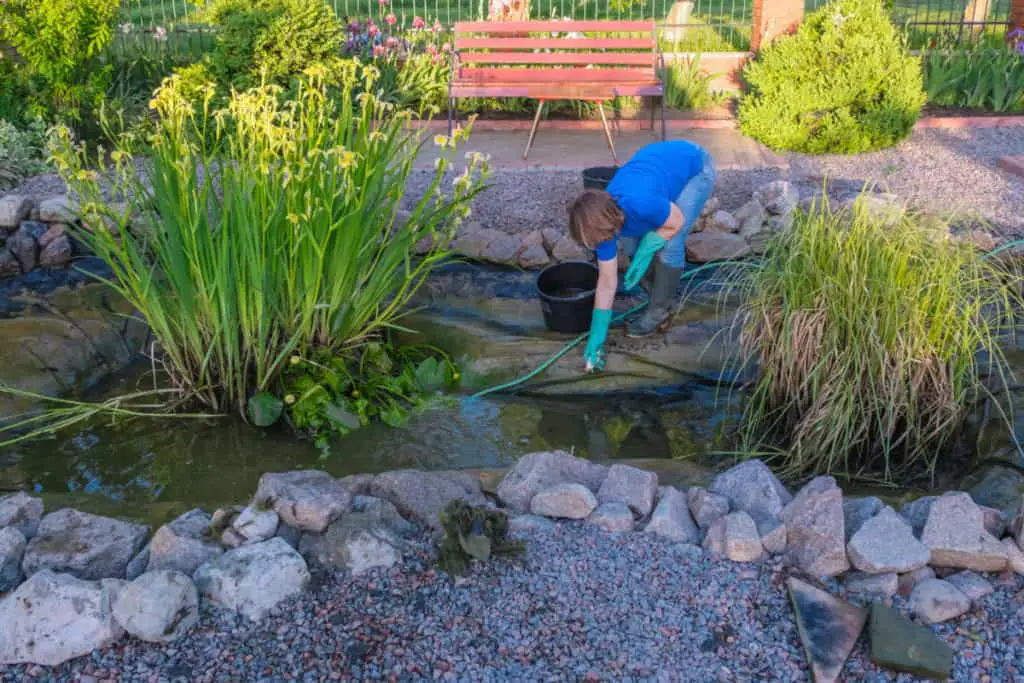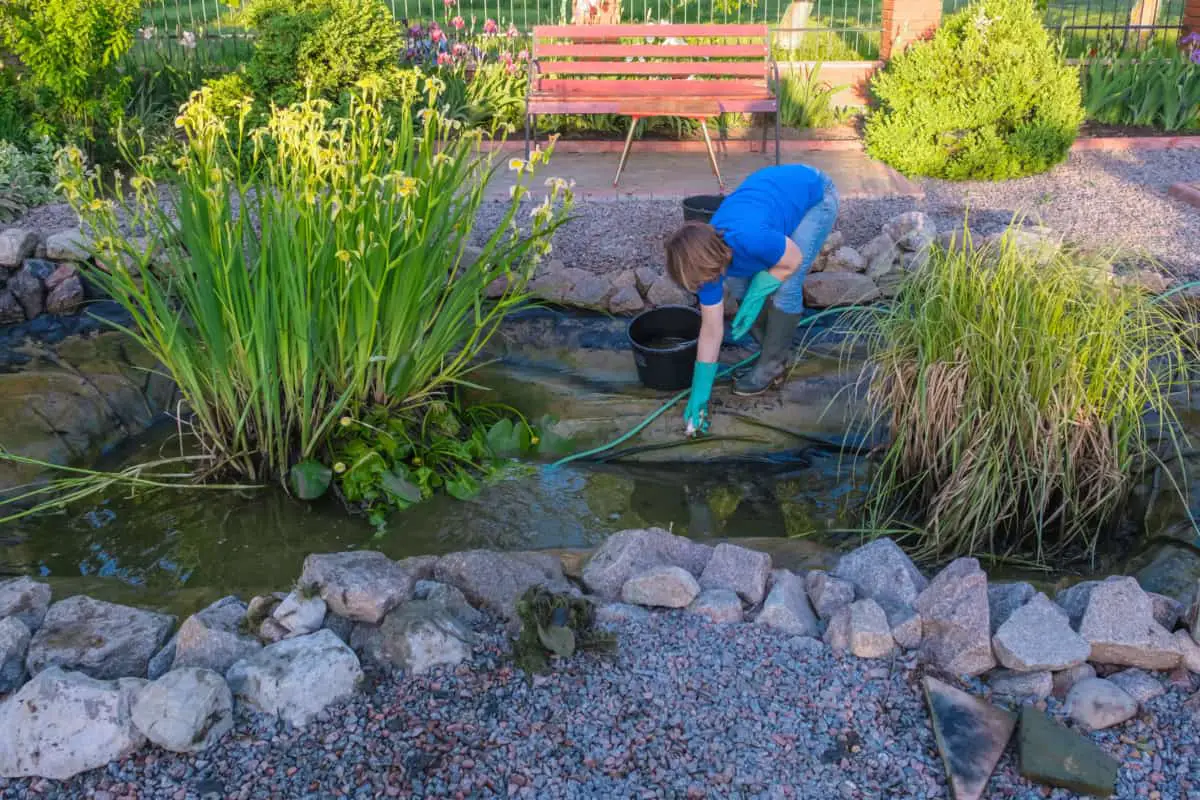 Have you Considered using Rainwater?
If you need a ready alternative to tap water for your fishpond, collecting rainwater is simple and a free water source that has no chlorine or chloramine present and can be used confidently.
Don't Forget Other Contaminants
When tackling water purity for ponds, don't forget that other pollutants, trace metals and additives in water can affect your pond's delicate ecosystem.  Nitrates in tap water are another substance that pond owners will need to tackle to keep the pond environment healthy.
Rounding up: How to Dechlorinate Tap Water for Pond
Chlorine and its related compounds will harm your fish if even the slightest trace is present in your pond. Though convenient, the chlorine in raw tap water will kill koi, goldfish and destroy the unique habitat you have worked hard to tend and cultivate. Don't be tempted to top up from the tap, as this is a common reason for a sudden onset in the condition of pond fish.
Dechlorination is a must and thankfully there are many options for safely removing chlorine and its compounds from tap water so you can use it with confidence. Alternatively, avoid tap water altogether and opt for collecting and using rainwater.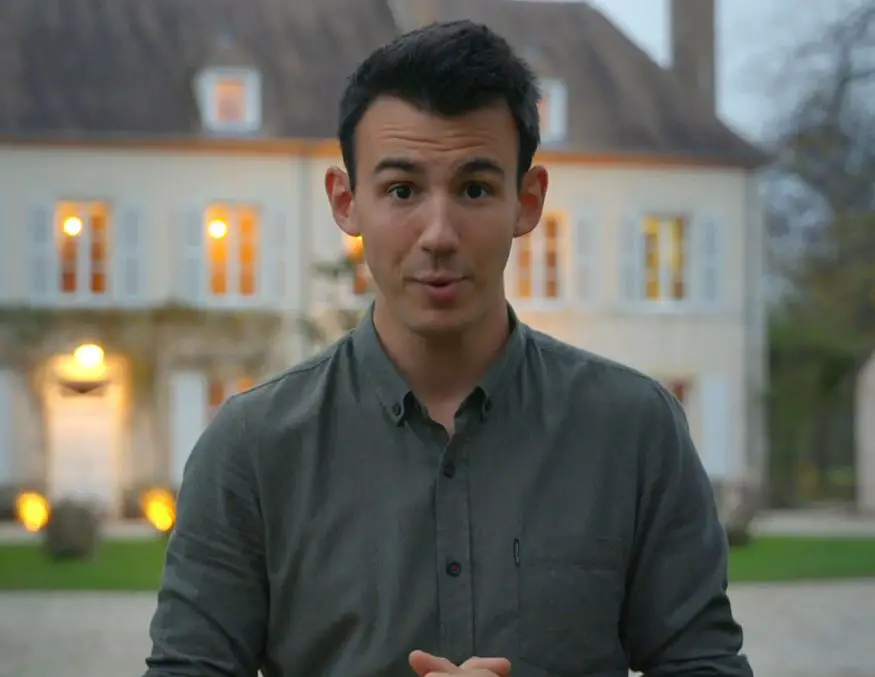 I have been working in the tropical fish industry for over 30 years now and I'm still learning. Everyday is a school day in this hobby. In my spare time I play golf very badly!