When it comes to hot or warmer weather, we all know to keep ourselves and our pets, such as dogs and cats, as cool as possible. After all, excessive heat can be incredibly damaging to ours and their health. But what about our fish? Do we need to be concerned about them in the heat, or are they ok because they live in water?
The answer to this question is that just because a fish lives in water it does not mean that they do not feel the heat. Water temperature, after all, increases when it is subjected to warmth, such as that of a heatwave, and can become unbearable for your aquarium inhabitants. 
Why is warm weather a problem?
Heat becomes a problem for fish when it is substantially elevated for long periods of time. However, as long as the heat does not remain over 86 °F (30 °C) for days on end, you should not need to be too concerned. However, if it does then you need to take action and quickly.
Read on to find out what measures you can take to lower the temperature to a suitable level.
You should note, however, that as the temperature of the water rises, the oxygen saturation will fall. This means that if you don't have filtration good enough to deal with this, you may run into problems sooner than you would think. 
How To Recognise Your Fish Are Struggling In the Heat
Whilst all fish thrive at different temperatures ranging from the cold to the tropical, there are very few that will be 'happy' with readings of over 86 °F (30 °C) for very long. Species like Discus, Clown Loach, and Ram, however, may thrive better, as they tend to enjoy temperatures in the mid-80's. 
Regardless of preferred temperature, all fish will become more active as the heat rises in their aquarium. This is because there is a speeding up of their metabolism which, and herein lies a problem, means they require more oxygen. 
Why is it a problem? Well, because the ability of water to hold dissolved oxygen drops rapidly with increasing temperatures. This means there is less oxygen for your fish to breathe and you will begin to see them struggle to do so. This will manifest itself as more rapid gill movement from them, and also gasping at the surface for air. 
Further Problems From Excessive Heat
As well as struggling to breathe you may see your fish become sick and even die. This will be partially due to the lack of oxygen, but also because of the poor water conditions that can ensue from excessive heat.
Algae growth will increase causing the water to turn cloudy with a heterotrophic bloom, plus ammonia and nitrite levels are sure to rise. 
Tips For Keeping An Aquarium Cool During Hot Weather
Should a heatwave strike and last for an extended period sending your aquarium temperature soaring, there are some steps you can take to cool it down. These are:
Install an extra aerator to improve upon the gas exchange at the surface of your aquarium, and ensure maximum dissolved oxygen content in the water. 
Remove your aquarium lid and position a fan to blow across the surface of the water. You may want to lower the level of water in the aquarium by a few inches, if you do this, to prevent any fish from jumping out.
Float bags of ice or cold water within the aquarium to gently lower the water temperature. Take care, however, not to lower the temperature more than 2 to 3 degrees within a 4 hour period.
Perform regular small water changes with slightly cooler water making sure not to drop the aquarium temperature too quickly. 
Turn off your aquarium lights or in the case of planted and reef tanks, limit the number of hours the light is switched on.
Close the curtains if your aquarium is in direct sunlight. This will not only prevent the temperature of the water in your tank rising but also control algae growth.
Install a chiller on your aquarium in a well-ventilated place. This will help keep the temperature of the aquarium constant no matter how hot the weather gets. 
What Not To Do With Your Aquarium In Hot Weather
As well as things you can and should do with your aquarium during a heatwave there are things you certainly shouldn't. The following is a small list of these and aimed at saving you from making any costly mistakes. 
Don't forget to use water de-chlorinator with every water change no matter how small or how often you perform a change. 
Don't guess the temperature of your aquarium, always use a good quality thermometer. Read our buyers guide here!
Don't switch off your aquarium heater. Your heater will only heat the aquarium when the temperature falls below the one you have set and therefore has no effect during a heatwave. Also, should the temperature fall drastically during the night you may need the heater to kick in? Read our buyers guide to aquarium heaters.
Don't drop ice directly into your aquarium unless it has been made with reverse osmosis or dechlorinated water. 
Don't place ice into your canister filter. This method may be more effective at cooling the water evenly but will also almost certainly traumatize the bacterial colonies growing on the filter media. 
F.A.Q
Can fish die if the water gets too hot? Unfortunately yes. All fish will die if oxygen levels fall too low. Your aquarium water will lose its oxygen saturation level if it gets too hot.
Can i put ice cubes into the aquarium? Yes, But not directly. Place them into a freezer bag and float them on top of the water.
Can i use a fan to cool my fish tank down? Yes, using a fan to move the surface of the water around can help reduce temperature in the aquarium. Read the test carried out below.
Using a fan to cool your aquarium down
We have used fans in our fish house for many years to reduce the overall temperature in the room which will overall drop the temperature of the aquarium water.
However, many people use fans to cool individual aquariums down by moving the water surface around. A controlled test was carried out by Spec-Tanks.com which you can read by visiting their website ( Link provided )
Here's what they has to say and some of their results:
The key to how an aquarium cooling fan can lower your tank temperature is by the phase change (from liquid to gas) that occurs when water is evaporated from the surface.  By blowing a fan across the surface, evaporation is increased.

Quote from spec-tanks.com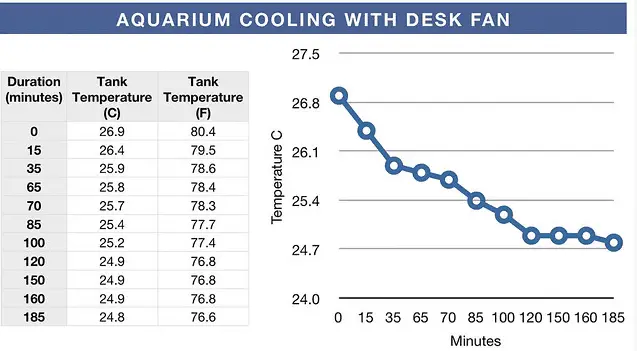 Think about when you get out of the sea and the wind passes over your body you start to feel much cooler instantly. Right? It's the same with using a fan to cool your aquarium water.
Fish tank cooling fans
You could simply buy a purpose made aquarium cooling fan which can be purchased from Amazon. They come in all different sizes and power outputs. Make sure you choose one that is suitable for your aquarium size.
We have listed some below that range in size and suitable for various size aquariums.
LONDAFISH Aquarium Chillers Aquarium Fan Fish Tank Cooling Fan Marine 2 Fan
6 used from $16.35
Free shipping
as of September 22, 2023 10:27 pm
Features
Two-speed wind control,according to the indoor temperature,reduce water temperature and drop up to 2 ~ 3℃
Adjustable jaws can clamp the the cylinder wall that the thickness within 1.2cm,meet the daily use of fish tanks
Great cooling fans 12V safe voltage,with high security standards and ensure the safety of the fan
Angle adjustable:Adjustable width of fan and bracket up to 100°,practical and easy to install and move
Safety Packing With Wonderful After Sale Service: The powerful jet lighter is packaged in an attractive gift box which is a great gift for yourself, friends and families. We provide with 90 days return and refund service and all the emails will be replied within 24 hour. We provide lifetime technique support, if you have any question, please feel free to contact us.
Petzilla Aquarium Chiller, Fish Tank Cooling Fan System for Salt Fresh Water (4-Fan)
2 new from $31.99
Free shipping
as of September 22, 2023 10:27 pm
Features
For aquarium wall (or width of the lip around the top edge) LESS THAN 1/2"
Reduce water temperature and drop up to 2 ~ 4℃
Offer a couple degrees cooling to offset lights and UV filter
2 variable speed, wide angle adjustment, stable and strong clamp
Easy installation & No assembly required (AC adapter included)
Zoo Med Aqua Cool Aquarium Cooling Fan, Black
2 new from $41.67
Free shipping
as of September 22, 2023 10:27 pm
Features
Low profile unit suction cups to tank
Duckbill control vent for perfect adjustment
Perfect size for nano tanks
Aquarium COOLING FAN ColdWind 4 fan 51.5CFM - Chiller
3 new from $80.04
Free shipping
as of September 22, 2023 10:27 pm
Features
Made of Aluminum alloy, with firm structure, non Corrosion.
Air Flow (CFM):51.5
Dimensions:15.3" x 5" (39X12.8cm)
Recommended up to 40 gallons 70-120cm.
Power:AC100~240V , 50-60Hz
Aquarium chillers
In many countries like Australia that have very high temperatures during the summer heatwaves. Installing an inline aquarium chiller unit is the only way to keep their aquarium cool.
This is the most expensive option but it certainly is the most efficient and effective method of cooling your aquarium down. The initial cost is the hard part, installing and running one won't break the bank.
Hamilton Technology Aqua Euro Max Aquarium Chiller, 1/13HP
3 new from $449.95

as of September 22, 2023 10:27 pm
Features
Maintain optimum water temperature by lowering the water temperature of your tank
Digital led temperature display control accurately maintains desired temperature
Anti-Freezing system will not allow the heat exchanger to freeze
Active Aqua AACH25HP Hydroponic Water Chiller Cooling System, 1/4 HP, Rated BTU per hour: 3,010, User-Friendly
4 new from $528.37

as of September 22, 2023 10:27 pm
Features
Large refrigeration capacity (recommended volume: 40 gal to 92 gal )
Anti-corrosive pure titanium evaporator for both fresh and salt water
Rate of flow: 1/4 HP (396‒925 gal/h -1500‒3500 L/h)
Rated BTU per hour: 3, 010
Conclusion: How to keep your aquarium cool in a heatwave.
How To Keep Your Aquarium Cool In Hot Weather is vitally important if your live in hot climates. As you know not all fish are suited to very hot waters.
Undoubtedly, excessive heat can be a problem for our aquariums and the fish that live within them. This is especially true if you live in a place that is not accustomed to warm weather and so you are unprepared. However, as shown above, there are a variety of ways you can not only cope with but breeze through this problem easily.
Related Posts

Latest posts by Carl Broadbent
(see all)