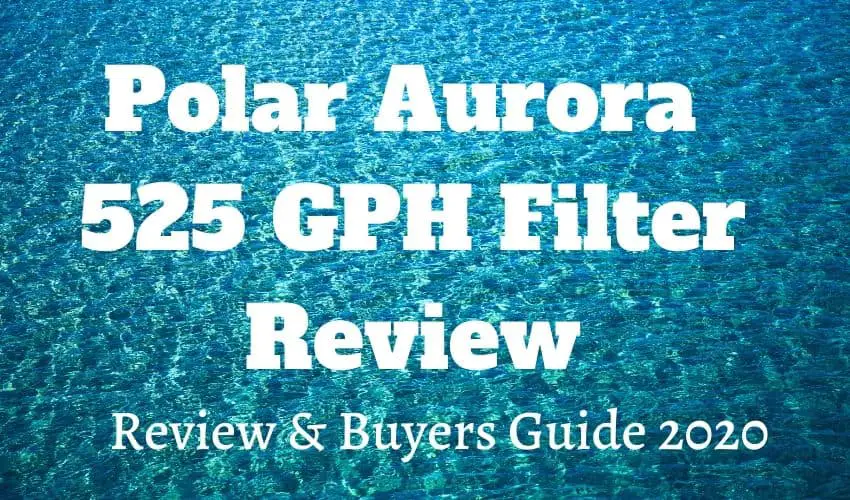 If you are looking for a canister filter to suit a larger aquarium that works, but won't break the bank, then the Polar Aurora may just be the one for you. It comes with an impressive range of features, is easy to maintain, and works like a dream!
I know what you're thinking. You've never heard of Polar Aurora, Right?
Wait! Just take a few minutes to see how good this Polar Aurora aquarium canister filter really is. Especially when you compare it to the price of a Fluval or other well-known brand.
But can it stand up to the big boys?
Let's take a look!
Here is the full range from Polar Aurora to compare!
Model & GPH
3-Stage 265GPH 75Gal
External Aquarium
Filter
3-Stage 265GPH 75Gal
External Canister
Filter with FREE MEDIA
3-Stage 370 GPH 100 Gallon
Aquarium Canister
Filter 9W UV Sterilizer
3-Stage 370 GPH 100 Gallon
Aquarium Canister
Filter 9W UV Sterilizer
Free Media
Max Flow Rate
265 GPH
265 GPH
370 GPH
370 GPH
Max tank size
75 GALLONS
75 GALLONS
100 GALLONS
100 GALONS
No of filter stage
3 STAGE
3 STAGE
3 STAGE
3 STAGE
UV Light
NO
NO
YES
YES
FREE Media
YES
YES
Freshwater & Saltwater
BOTH
BOTH
BOTH
BOTH
Cost
LATEST PRICE ON AMAZON
LATEST AMAZON PRICE
LATEST AMAZON PRICE
LATEST AMAZON PRICE
The Polar Aurora At A Glance
For this review, we have chosen to concentrate on the Polar Aurora 4 stage 525GPH canister filter. However, this is not the only size available. The Polar Aurora also comes in a 3 stage version with capabilities of 265 or 370GPH.
Polar Aurora 525GPH Specifications
Filter Capacity – 200 gallons (750 liters)
Flow Rate – 525 gallons per hour (1980 liters per hour)
Media Stages – 4, including mechanical, biological, chemical
Priming – Self-priming
Weight – 17lbs
Dimensions – 11 x 17 x 11 inches
Warranty – 1 year
Polar Aurora Features
4 media stages
9 watt UV sterilizer
Self-priming pump
O-ring
Quiet operation
Inexpensive
Easily available spare parts
Integrated UV kill switch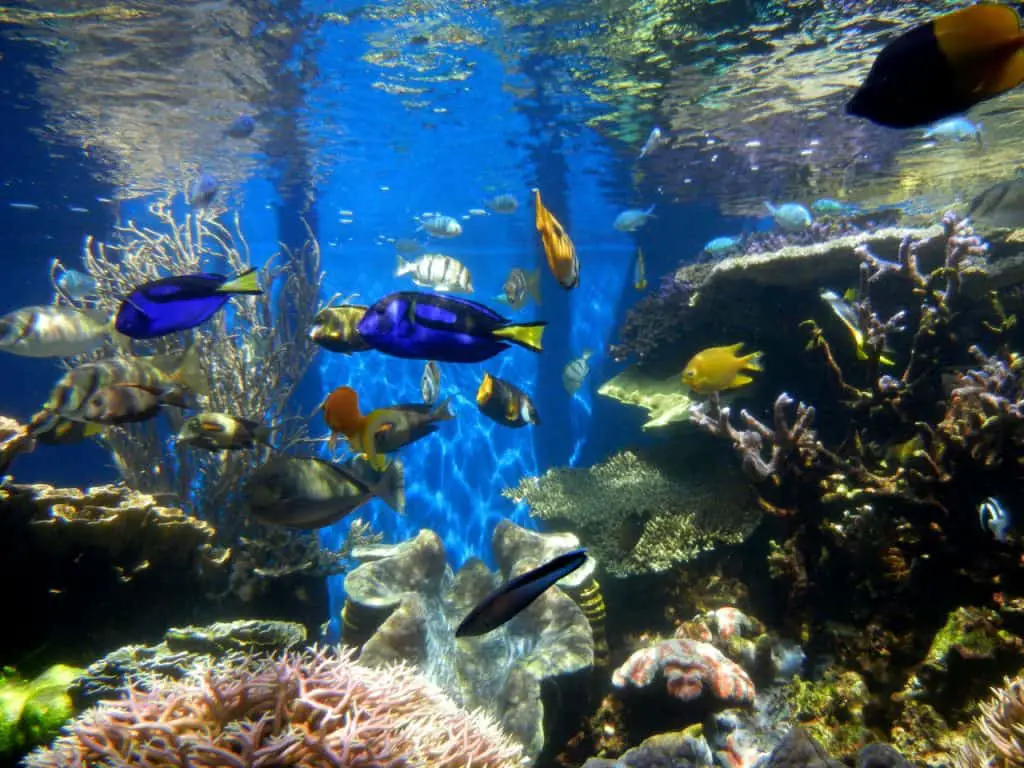 What's In The Box
Filter canister
Barrelhead
Input and output
9W light bulb
2 x 5ft flexible tubing
Draining cover
4 x draining trays
Output and input curvy bars
2 x connector bars
2 x spray bars
Spray bar cover
3 x input bars
Input cover
3 x cotton pads
Blue coarse filter sponge
1lb activated carbon
1lb ceramic rings
50 bio-balls
Why Choose The Polar Aurora?
It will probably come as no surprise after our opening to this review that we think the Polar Aurora canister filter has a lot to recommend it such as….
Being Inexpensive – At under $100 the Polar Aurora with all its features and power may seem too good an offer to be true. After all, it is far cheaper than many of its competitors in the same capacity range and even comes with the added bonus of a UV sterilizer. It can, however, live up to its claims of being powerful and full of features as you will see. It is a hidden gem well worth discovering and for a bargain price.
Easy To Set-Up – Despite the long list of 'what's in the box' the Polar Aurora takes very little effort to get it up and running. Simply place media in the baskets, connect the tubing to the correct outlets, make sure the o-ring is in place, attach tubing to the aquarium, press the self-priming button and hey presto!
Algae Problem Reduction – This, algae reduction thanks to the UV light, is probably one of the Polar Aurora's main selling points. Plus, not only will this light help with keeping unwanted algae at bay in your tank, but also other unwanted bacteria too. It is an incredible feature that requires little maintenance; just a bulb change once a year.
Easily Available And Affordable Parts – Whether you need full kits, part kits, or just pieces, Polar Aurora parts are easy to obtain and inexpensive. This, of course, may not seem to be much a selling point due to this filter coming with a one year warranty but it's always nice to know for quick fixes or for after your warranty expires.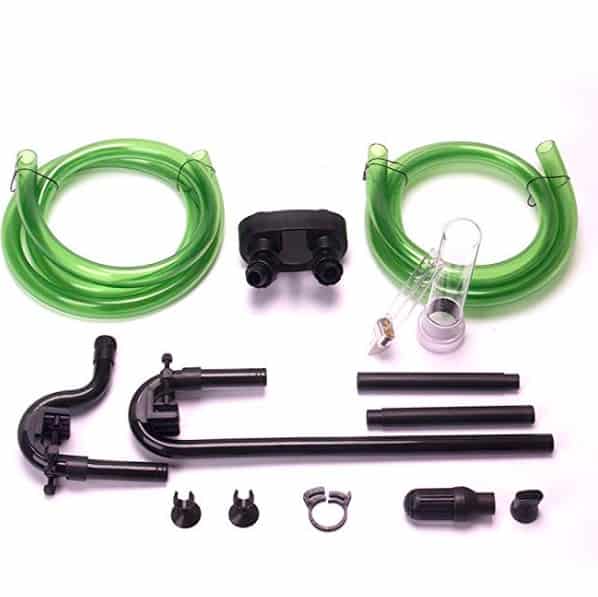 Great Choice For Beginners – Given that the Polar Aurora is inexpensive, easy to set up, and use, it makes an excellent choice of filter canister for those new to the fishkeeping hobby. After all, it can be daunting to spend a ton of money on aquarium necessities that may be difficult to run.

See more customer reviews and feedback on Amazon here!
Top Five Polar Aurora Features
At Five…
Quiet Operation – Having an aquarium should be enjoyable and relaxing and not disturbed by a noisy and irritating canister filter running 24 hours a day. Fortunately, with the Polar Aurora, annoyance will never be the case, as it is fabulously quiet. This means you have a lot of options when it comes to the placement of your tanks. Living room, dining room, office, and yes even the bedroom and still get a good night's sleep.
At Four…
Four Media Stages – Including mechanical, chemical, and biological, the Polar Aurora has four-stage filtration to ensure that your aquarium water is as clean as possible. It even includes activated carbon, ceramic rings, bio balls, and a coarse filter sponge for your convenience.

At Three…
Self-Priming Pump – There is no doubt that those with the experience of siphoning water through a tube manually will not recommend it at all. After all, mouthfuls of yucky fish water is never going to taste nice! This, however, is all a thing of the past if you invest in the self-priming Polar Aurora as it will siphon for you. Simply press the self-priming button and away you go.
At Two…
The O-Ring – Though this may seem like an incredibly simple feature it is also a highly important one that will ensure your filter doesn't leak. It is simply fitted around the circular opening and creates a secure and leak-proof seal when the lid of the canister is on.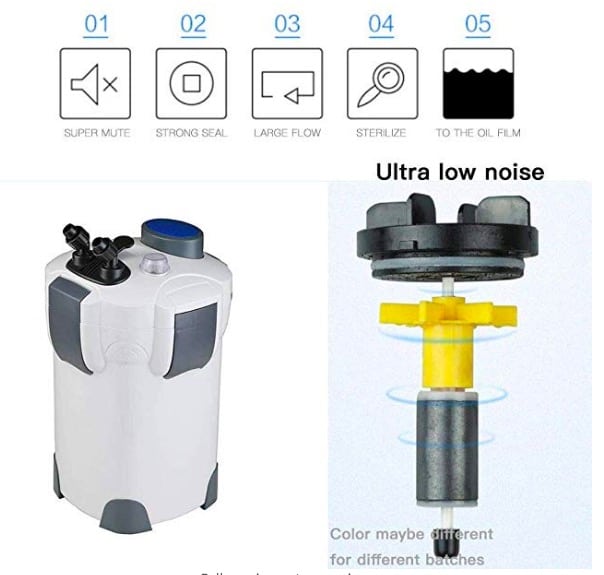 At One…
9 Watt UV Steriliser – Along with the four-stages of filtration the UV sterilizer will ensure that your aquarium has the cleanest possible water. It will help eliminate algae spores, as well as any other bacteria. As an added bonus it will also provide a little light that comes in handy when you are performing maintenance on your filter or aquarium.
What size aquarium?
This filter is available in different size models to suit most aquariums but this one 4-Stage 525 GPH filter will be perfect for aquariums ranging from 100-120 Gallons.
4 Feet or bigger and you may need extra filters to move water around the full length of the aquarium. The filter can cope with this size aquarium but it may struggle to move water from one side to the other on aquariums 4 feet or bigger.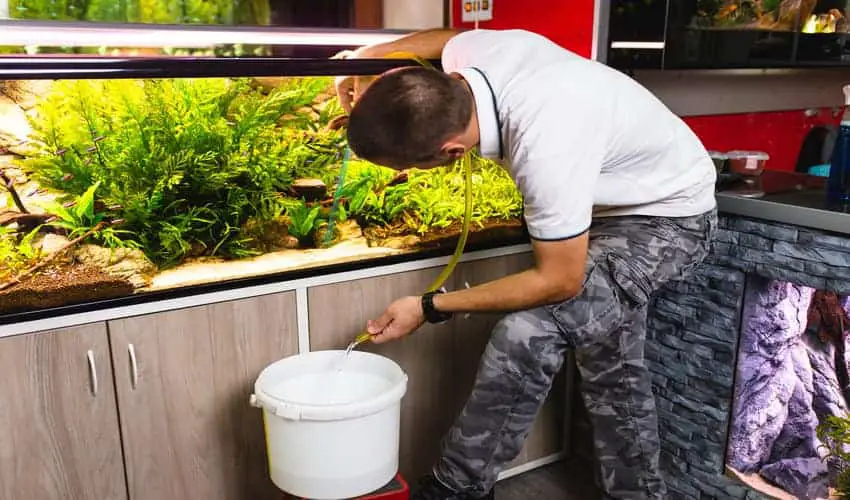 Our Verdict On The Polar Aurora
It's incredibly difficult to find fault with this popular and inexpensive canister filter that is packed with features to highly recommend it. However, if we had to we would say that it, perhaps, lacks slightly in the power department compared to other filter canisters with the same or similar specifications.
This, however, we felt was, in reality, a small price to pay when you weighed it against what you DO get with this small and yes mighty canister filter. And when you consider they are almost 3 times more expensive!

Latest posts by Carl Broadbent
(see all)