Not all of us are blessed with a big backyard or lawn area to build a classic country style garden pond. We, less fortunate people, have to think outside the box to still be able to enjoy the benefits of a garden water feature or small pond.
Thankfully, there are some very clever and ingenious people out there who have designed and come up with some great ways to enjoy Pond fish and Wildlife using a limited amount of space.
Patio ponds or Pond Bowls as they are also know come in a variety so shapes and sizes and can be used in the smallest most confined spaces.
In this article we take a look at the TOP 10 POND IN A POT that you can buy and transform from a plain boring pond bowl to a miniature wildlife wonderland like the image below.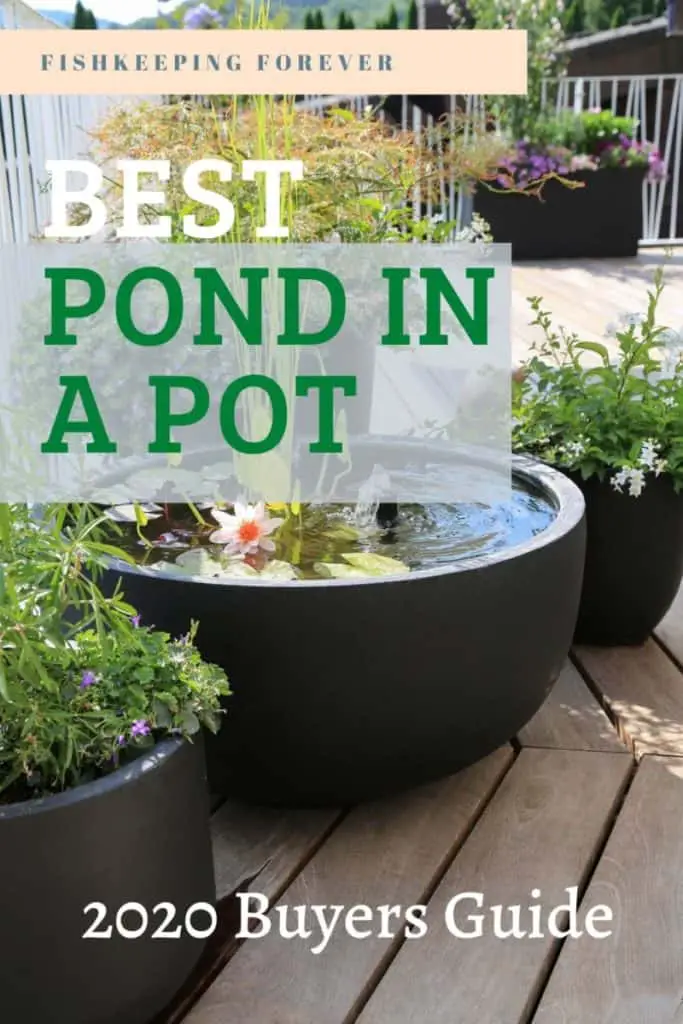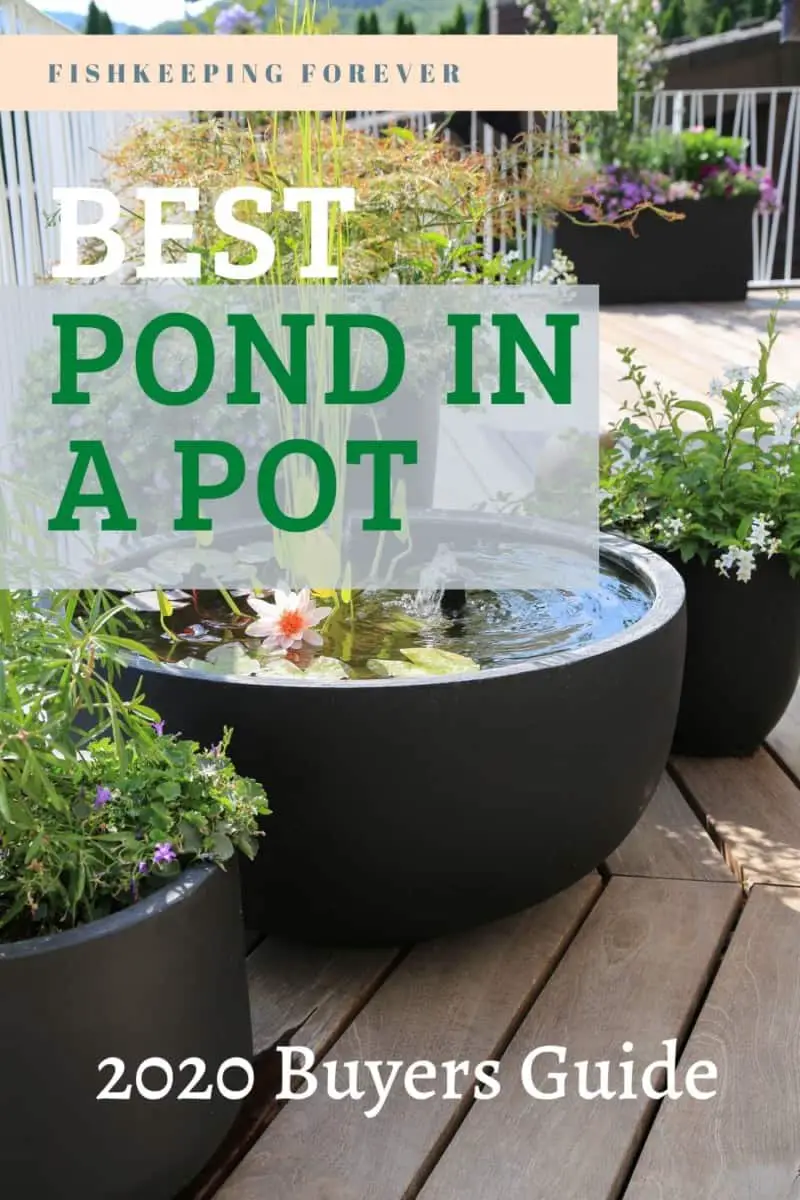 Picture this…..
How lovely would it be to sit out on a summer's day on your patio or small paved area and listen to the sound of gently trickling water and then being able to feed your 2 or 3 small goldfish?
Sounds good, Right!
Then continue to read on and see which POND BOWLS we recommend for you to create an amazing pond in a pot. We compare Price, Size, and Quality and have taken the hard work out of narrowing down your choice.
In A hurry? Then skip this article and head straight over to Amazon and see our #1 choice now! Click here
Quick Peek at the TOP 10 PONDS IN A POT
Last updated on September 15, 2023 3:28 pm
What is a Pond in a Pot?
A pond in a pot is a miniature version of the classic garden pond, just replicated in a smaller size. The bigger the pot the more variety of plants and fish you can keep and grow but even the smallest pond in a pot (no smaller than 5 gallons) can create a tranquil and relaxing container pond that will give you hours of pleasure.
The smaller the pot the more creative you'll need to be but the possibilities are there for you to explore. Just take a look at the video below to see what you can achieve when you put your mind to it.
Why Choose a Pond in a Pot
The main reason people choose a pond in a pot is the lack of space or even a backyard. Many people only have a paved area or patio where they can add an interesting pond in a pot or a water feature.
With so little space you have to think about the best bang for your buck, so to speak, and what item will give you the most pleasure improve the look of your patio.
There's no doubt after keeping fish for over 30 years that the look and sound of a fish pond, no matter what size, is one on the best feelings ever!
No to mention, actually feeding your fish. It is one of the most relaxing and pleasurable things you can do.
Can you Keep Fish in a Pond Bowl?
To provide the best possible environment for your fish, you will need to give them as much water volume as possible. Some of the containers listed and reviewed below are NOT suitable due to the small water volume.
I would never recommend keeping fish in a container less than 10 Gallons and that will also depend on the fish you want to keep.
It's tempting to go to your local pet store and choose a lovely looking small Koi carp about 2 inches in size for less than $10. But remember this cute little fish can grow to almost 3 feet in length and will need a pond with a minimum water volume of 1000 Gallons.
Definitely not suitable for a small pond in a pot. That said, there are suitable fish for a small pond that will only grow to 2-3 inches in length and will be fine in a small container pond as long as you provide fresh, clean and filtered water which you partially change every two weeks.
We recommend 25% of the water be changed every two weeks. Also remember to dechlorinate the tap water you use. Read our guide on how to do that here.
We go into more detail about suitable fish and plant further in this review.
Things to Consider Before Buying
There are a number of points to consider before buying and setting up a pond in a pot. Let us take a look in more detail.
Location
One of the most important points to consider before purchasing a pond in a pot: If the position is not correct you can end up with a murky, green smelly pond and nobody wants that.
Direct sunlight looks lovely, but can cause issues with algae. Some sunlight throughout the day is fine but long periods of sunlight will increase the algae growth and turn your water green
Also, never place a pond in a pot under a tree. The debris that will fall from the tree can enter the water and not only harm your fish and plants but also damage the container itself and even cause it to leak (worst case scenario).
Size & Weight
Remember that a fully planted pond in a pot with 15-20 gallons can weigh over 200LBS.
Ensure that your patio or wooden decking can hold the weight of your patio pond. Seek professional advice if you're unsure. Stronger footings or support may be needed.
The average weight per gallon of water including plants and gravel is 12LBS. See the guide below:
| Pond Size | Water Only | Including plants and Fish | Gravel, fish, Filters, complete |
| --- | --- | --- | --- |
| 5 Gallon | 42 Lbs | 53 Lbs | 60 Lbs |
| 10 Gallon | 84 Lbs | 95 Lbs | 102 Lbs |
| 15 Gallon | 126 Lbs | 137 Lbs | 144 Lbs |
| 20 Gallon | 167 Lbs | 178 Lbs | 185 Lbs |
| 25 Gallon | 209 Lbs | 220 Lbs | 227 Lbs |
Plant only
If your space is really restricted and you cannot find the room for a 10 gallon+ pond in a pot to keep fish and plants, then a plant only option is still available.
These ponds will still attract a plethora of wildlife for you to admire like dragon fly and water beetles.
Plants alone can still create an amazing look and feel and combine this with a small fountain or waterfall and you'll be able to relax and sit back and marvel at what a stunning pond in a pot you've created.
Suitable plants for a small patio pond include:
Nymphaea 'Walter Pagels' is a dwarf water lily that is perfect, so slightly larger pots around 10 gallons plus. It will also cover some of the water's surface which provides shade for wildlife and adding a splash of color on the surface. Remember to remove any dying foliage or flowers regularly so as not to spoil the water quality. Waterlilies are hungry plants, so feed with aquatic feed tabs. We use API Pond plant tablets from Amazon.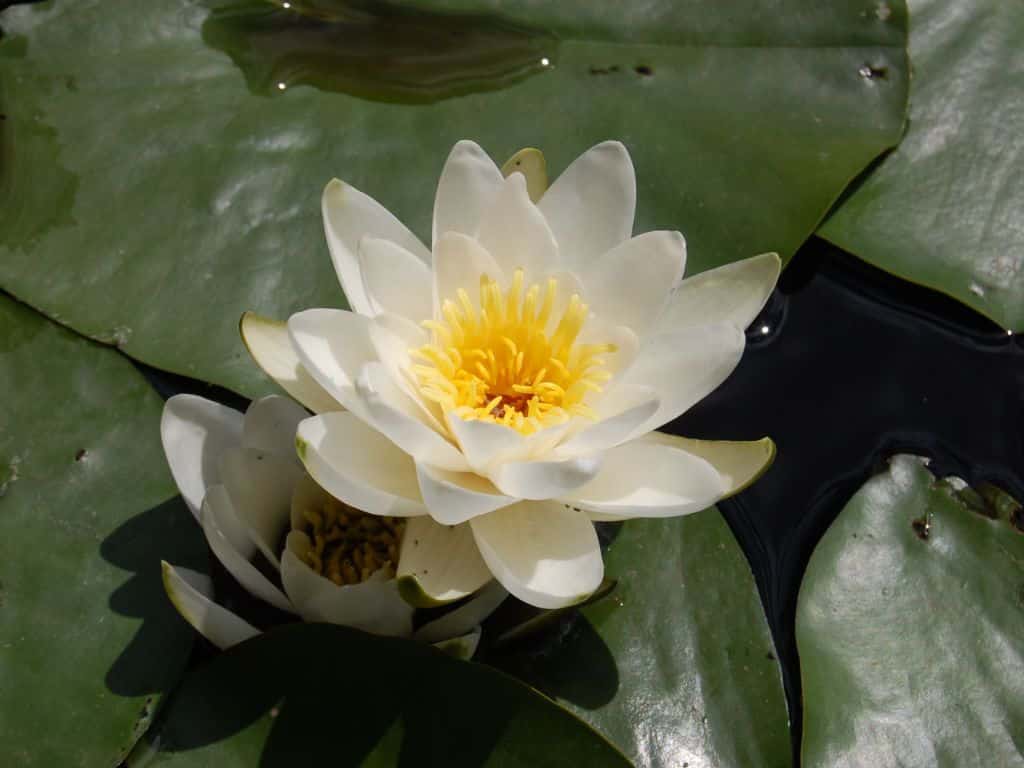 Iris are tall upright plants that will add another dimension to your display. Flowering from May to June, they will inject a splash of color. Again, another hungry plant that will need some feeding.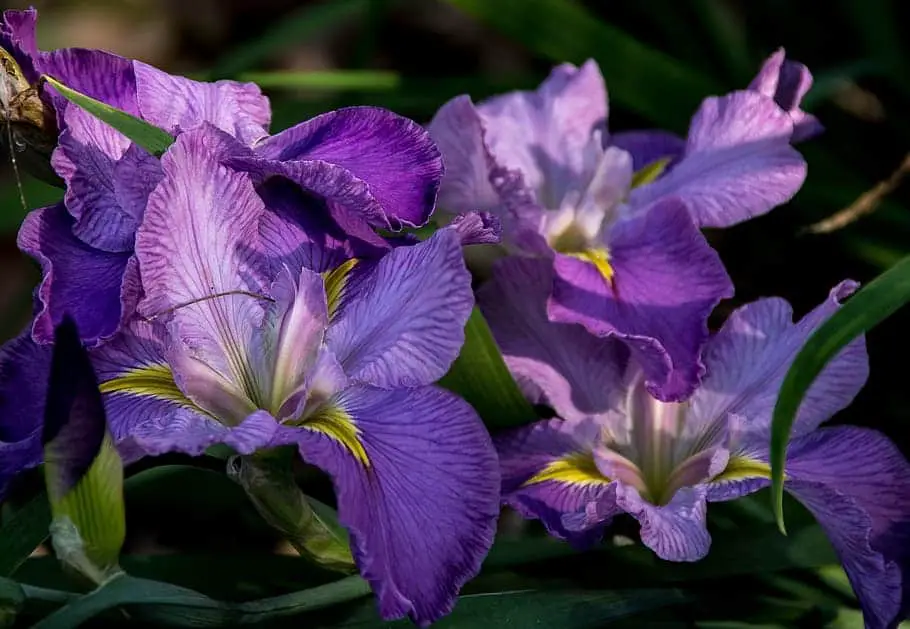 Water Hyacinth is one of the most popular plants for small container ponds. Floating surface plants that look incredible and also flower from time to time, again adding a splash of color. Their long roots also provide shade for fish in the height of summer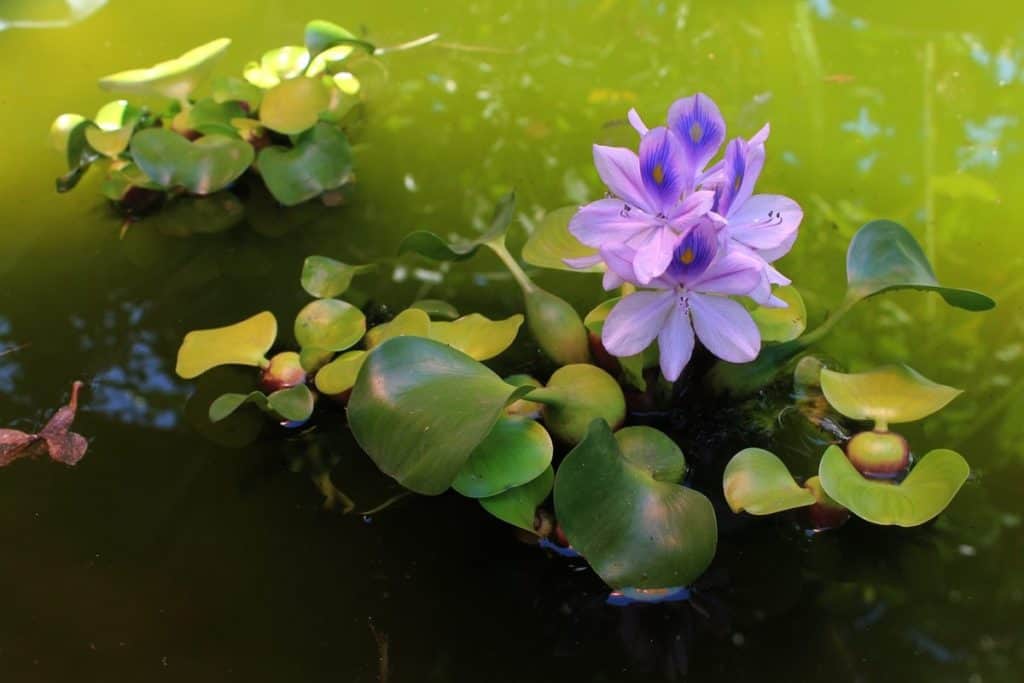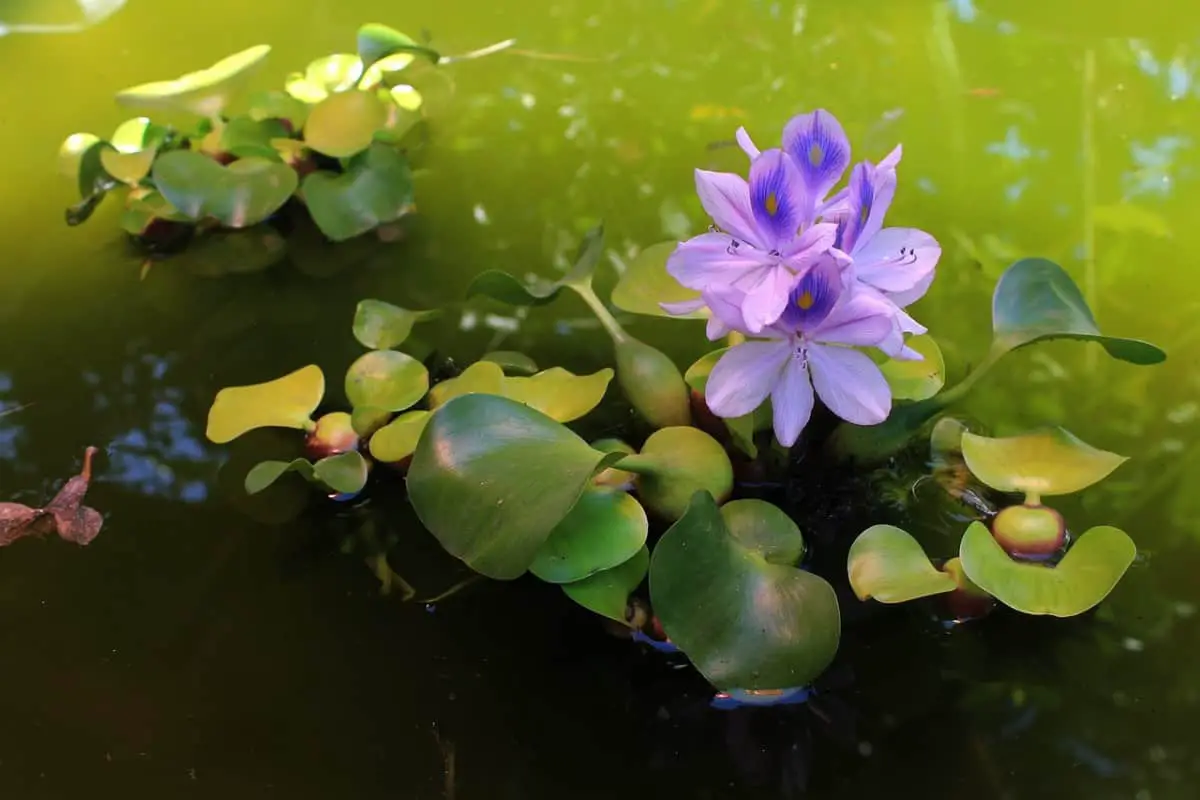 Elodea Densa is known as one of the best Oxygenating pond plants, which not only looks good but also provides essential oxygen for your fish. Water movement is the number one way to add oxygen to a fish pond but plants can help.
Wildlife & Fish
Fish and pond wildlife come in all shapes, sizes, and colors and just because you have a small pond in a pot doesn't mean you can't have an abundance of wildlife.
Once your pond in a pot is set up you will attract wildlife like:
Dragon fly
Frogs
Birds
Pond snails
Pond skaters
Water Beetles
Newts
And many more insects and invertebrates into and on top of the water. Giving you plenty to watch and fascinate you.
As for fish, there are a number of species that can survive in very small amounts of water (5 gallons+).
Here is a list of a few species that will live just fine in a small filtered pond in a pot:
Common Minnow
Mosquito fish
Sticklebacks
Shubunkins
---
Top 10 Pond Bowls 2020 Reviewed
This really simple design and style really adds a touch of class to any backyard or patio. We really like the color which is very neutral and fits in well with most gardens and patios.
Filling and setting up the pump only took 15 minutes and to be honest, proved no problem at all.
With a built-in filter, it will ensure that the water in the container will stay cleaner for longer. However, you'll still need to do a partial water change of 25% every two weeks: to replace essential minerals that can be lost through natural processes.
At only 5-7 gallons we don't recommend this pond in a pot for any fish bigger than 1-2″ therefore, Goldfish are ruled out and I would only suggest turning this pond in a pot into a wildlife container.
Or if you really want to have some fish, I would suggest Common minnows.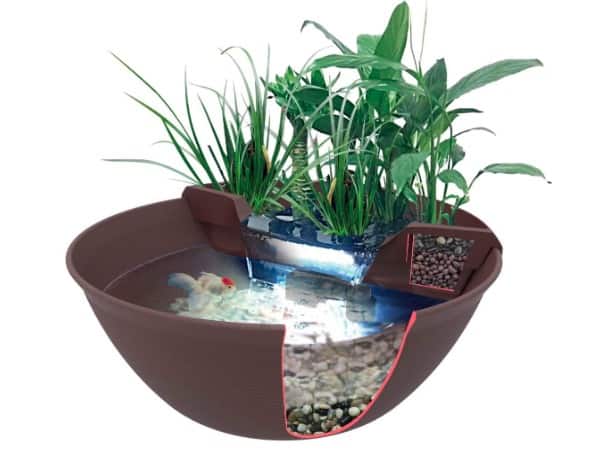 Tech Spec
5-7 Gallons
23. 5-inch L x 23. 5-inch W x 10-inch H
Weight 19-pounds
Holds 5 to 7 gallons of water
LED waterfall light and transformer
Includes plant and waterfall filter
PROS
LED Lights
Build-in filter
Easy to set-up
Nice neutral colors
Not too expensive
CONS
Too small for fish
Only comes in one color choice
---
With this 17″ bowl you have the opportunity to create your own pond in a pot. It is just a plain bowl, so you will have to install a pump or filter if you wish to have some water movement.
Otherwise, it's perfect for planting and creating a small oasis for wildlife without much fuss, mess or technical equipment.
It comes in three colors, Aged terracotta, Antique Copper and Frosted Merlot. Holding only 4 gallons, it's not suitable for fish of any size.
However, adding plants and a small floating fountain will create a wonderful pond in a pot.
Technical Specification
17″ Deep
UV Coated Finish
Ribbed Design
Three colors available
Lightweight
PROS
Plain design allows you to be creative
Lightweight
Three colors to choose from
Inexpensive
UV Coated-Colors won't fade
CONS
Only 4 Gallons – Not suitable for fish
No holder or place for a filter
Read more customer Review here on Amazon
---
Not one of the most inexpensive pots we looked at but certainly one of the most adjustably beautiful. The quality of this container pond/water feature stood out from all the rest.
It has a classic timeless look and feel to it and was one of the most stunning water features we tested out of this top 10 list.
With two sizes available, 32 inches and 40 inches, you can create a stunning water feature with either size pot. The bigger 40″ pot is fine for smaller fish and plants.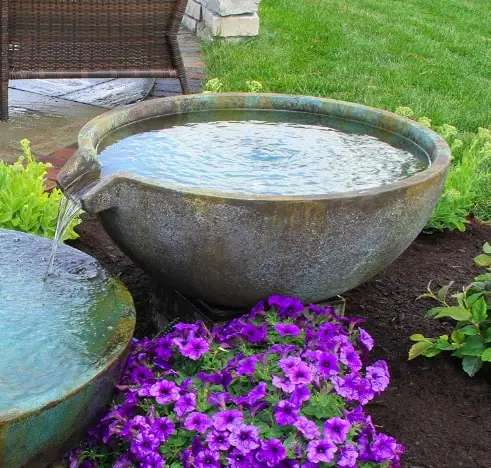 You have the option with these pots to purchase on their own or as a pair with all the attachments and kit you'll need to recreate this stunning display above.
Made from durable glass fiber reinforced concrete (GFRC) they come with a 1-year warranty but in my opinion, they will last a long, long time looking at the quality of the product.
Technical Specification
32″ or 40″ Available
Reinforced Concrete
1 Year Warranty
16.5 x 34.5 x 34.5 inches (32″ model)
40 x 40 x 16 inches
Unique and beautiful patina finish
PROS
Unique style
Quality product and materials
Large enough for plants or fish
Expandable number of pots
Complete kit comes with pump, filter and everything you need
CONS
Read more customer reviews on Amazon here!
---
Available in three neutral colors that will suit most backyards, these Aquascape pots are the perfect container to build a pond in a pot.
Simple to build and easy to setup. these containers offer endless options for you to let your mind run wild. Also, available in three sizes making it suitable for a plant only or fish and plants with the 40 inch one being the perfect solution for plants and fish, holding 30 gallons.
30 gallons is a good size for 1-2 small goldfish or a small shoal of common Minnow or sticklebacks with a good selection of plants.
The whole concept of a pond in a pot is for you to build and design your very own little water garden and these pots are the perfect base for you to do that. They offer flexibility and style at a very reasonable price.
Technical Specification
Three colors
Three sizes
10, 20 and 30 gallons
Lightweight
Durable fiberglass-resin composite
PROS
Good size to hold fish
Easy to design and build
No restrictions for pumps, filters
Lightweight
Strong construction
Good price point
CONS
Hard to hide wires and pipe for pumps and fountains
Read more customer reviews on Amazon here!
---
This 'garden' pot brings a little bit of elegance to your backyard or patio with Algreen's manhattan contemporary water feature with a 500 gph pump and fountain.
This is pretty much a plugin-and-go setup. One of the simplest ones we tested. Just find a suitable place where you have access to a power outlet and fill with water.
The rotomolded construction means it won't crack or fade and looks a reasonable quality compared to some of the others we have seen and tested today. Not as good at the Spillway above but that's over $1000 more. So, for the money, you get a good quality of finish and product.
If you're looking for a simple plugin and fill up pond in a pot, this could be the one for you.
Technical Specifications
500 GPH Pump and Fountain
2 Year warranty
40″x20″x18″-inch
Weighs 21 pounds empty
Weight 170 Pounds approx when filled
Hold 50 gallons
PROS
Big enough for fish
Easy Set up
Plugin and play
Simple fountain
No wires showing
CONS
Only comes in one shape
Only 1 color
Read more customer reviews on Amazon here!
---
This easy-to-install pond kit can be tucked away in a small space, such as a patio, deck or balcony. The kit includes a 26 x 24 x 20-inch preformed pond, a SuperFlo 1300 pump, fountain heads, and an optional underwater light.
Again, another really easy to install container-pond. Although, with the size and shape, it does have its limitations and will not be suitable for many plants due to the water surface area around the fountain.
It only weighs around 14 pounds empty and we found it easy to handle and install. It's pretty much a plugin-and-play water feature rather than a pond in a pot.
Construction was okay, not garbage and not excellent but for the money, you couldn't complain and it comes with a 2-year warranty which will be handy in case of any issues with the pump.
Technical Specification
26 x 24 x 20-inch
Superflo Pond Pump
2-year warranty
Weighs around 14 pounds empty
Weights 150 pounds approx. full
Corner display
PROS
Simple to fill
Easy to install
Comes with everything you need
500 GPH Pump and Fountain
Inexpensive
CONS
Only 1 color available
Pump needs a little priming to start
Not big enough for plants or fish
Read more customer reviews on Amazon here!
---
This very basic pot is exactly how many wonderful container ponds start. A simple 9-gallon pot which can be sunk into the ground or left above, where you can decorate the surrounding to make it blend in with your patio or backyard.
It measures 9-1/2 inches in height by 19-1/2 inches in diameter and holds 9 gallons which is perfect for a wildlife pond and with no holes for filters and pumps we think this would be the best solution for a wildlife only (no fish) pot.
The best part about this pot is the depth which makes it suitable for planting Dwarf water Lillies and other aquatic plants.
Technical Secification
19.5 x 19.5 x 9.5 inches
Strong preformed plastic
Deep pot
Holds 9 gallons
Weighs 2 pounds empty
Weights 110 Pounds full (no soil, just water)
PROS
Nice and deep, perfect for water lillies
Strong construction
Inexpensive
Plain pot to create something wonderful
CONS
Too small for fish
Hard to hide wires if you did want a fountain
Ugly, needs decorating
Read more customer reviews on Amazon here!
---
This 15-gallon oval pot is made from 100-Percent recycled LDPE flexible plastic which gives a rubber-like quality. I would suggest with this product that you wrap it in some form of surround or semi-submerge it in the ground to add strength to it.
It is very tough and in fact impact resistant due to the material which means you have no fear of it being damaged and leaking.
This oval pot is perfect for a small pond in a pot without all the bells and whistles.
Just a clean simple plain canvas for you to start building and creating a wonderful container pond for your patio or backyard.
Technical Specification
15 gallons
28 x 22 x 8 inches
Weighs 5 pounds empty
Weighs 95 Pounds approx. full (no gravel or soil)
100-Percent recycled LDPE
Fully impact resistant
PROS
Simple clean design
Green product – 100% recycled
Nice oval shape
Tear and rip-proof
Green color blends in well
CONS
Only available in one size
Only one color
May need semi-submerging
Read more customer reviews on Amazon here!
---
Okay, so this is a little different but we tested and reviewed it due to the larger barrel at the bottom which to be fair can be nicely planted out and made to look really good.
It's a 2-tier wooden barrel water fountain with a built-in pump that sends the water down through the fake hand pump at the top to give a lovely waterfall running tap effect.
This wooden barrel is more of a decorative piece than a pond in a pot but still has a place in many backyards or patios and would look lovely in a restaurant courtyard.
Technical Specification
Weight: 13.5 pounds empty
Weight approx. 160 pounds working
17.5"X23.0"(D x H)
120V certified UL pump
Material: Fir wood
PROS
Looks really nice
Was easy to set up
Low running costs
Inexpensive
Rustic look
Good construction
CONS
Not big enough for fish
Limited planting options
Read more customer views on Amazon here!
---
When I think about ponds in a pot, I picture the one below is at least something similar and this is where a pot like this fits in.
The slim oval design gives you a larger surface area which is good for oxygen levels for your fish and plants but also looks classic in design.
This is the type of pond in a pot that will not go out of fashion.
Technical Specification
Concrete design
30 inches diameter
Weight 21 pounds empty
Weight 190 pounds full
PROS
Classic look
Will suit fish and plants
Flexible design
Solid construction
CONS
Can't hide wires for pumps
Heavy
Limited colors
Only big enough for 1 Goldfish
Read more customer reviews on Amazon here!
---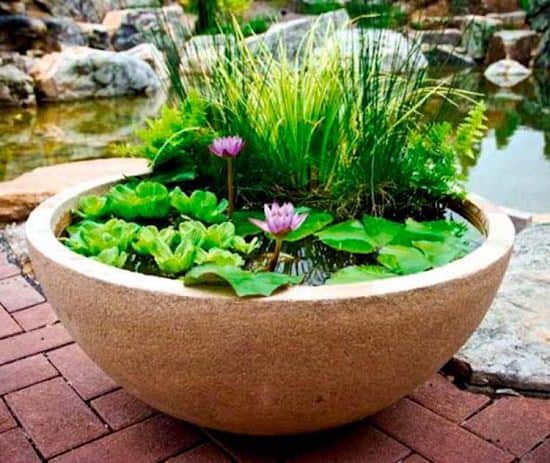 How to Set Up a Pond in a Pot
When you first receive your pot remember to wash it out with plain water (no soap), just to get rid of any debris or packaging left inside the pot.
Then ensure the foundations or ground you are placing the pot on is prepared, clear and can hold the weight.
Once these pots are in place and established, they are very difficult to move. Then fill the pot 75% full to test for leaks, before adding any equipment like pumps or filters.
Once you're happy there are no leaks, continue to fill the pot until you reach the desired level.
Then install any equipment you have and again test before adding any wildlife, plants or fish.
Once you're happy there are no leaks and the equipment runs fine. You'll need to dechlorinate the tap water to ensure it's safe for your fish.
Read our guide on treating tap water for ponds before use here!
Once you have treated the water so it's safe to use, leave the pond in a pot set up and running for at least one week, two if possible before you introduce plants or fish.
This will allow the pond to mature and any filters to build up good bacteria that will help your fish stay healthy and the water clear.
Maintenance
Like all things aquatic there's a certain amount of maintenance that will need to be carried out every two weeks.
Apart from feeding your fish twice a day and removing dead plant leaves which can be another daily task, you'll need to change 25% of the water every two weeks, to ensure that there's the correct balance of minerals in the water needed by the fish to survive.
Some very large wildlife ponds can establish a natural eco-system that will reduce the amount of maintenance needed. However, in such a small space as a container pond, you'll need to give it a helping hand.
Our Choice
It's always going to be tricky to pick a winner because everyone's backyard or patio is different. However, if you're looking for a good all-round, classic looking pond in a pot that will stand the test of time then the Aquascape Aquatic Patio Pond 24-Inch Round Container would be my choice.
It's plain and simple design will make it very easy to create any style or type of pond you want.
If you're on a budget then I would suggest the Laguna Lily 19-1/2-Inch, 9-gallon planting tub. Again, plain and simple, this container will be perfect for your little backyard project.
Conclusion: Best Pond in a Pot
No matter which container or style of pond in a pot you choose, I'm sure it will enhance your backyard and provide you with hours of relaxing time spent watching and feeding your fish.
Remember in wintertime you'll need to pay attention to frost and freezing over, which can be deadly to your fish.

Latest posts by Carl Broadbent
(see all)