If you're new to keeping fish or even an experienced aquarist then you'll have seen the overwhelming array of aquarium filters all claiming to be the best. Many will claim to have ' Advanced Technology' and 'new features'. But let me tell you many of these are the same old Hang on the back filters that's been around for years.
However, the Seachem Tidal 35 is probably one of the only aquarium filters that I can honestly say has some new features that I have not seen before.
Now, to be clear some of these features will not blow your mind and won't suddenly clean algae from your aquarium or make a poorly maintained aquarium sparkling.
There's no cure for that other than learning to care for your aquarium better.
But the Seachem Tidal 35 has some simple features that makes me wonder why we have never seen these before.
Light bulb moment!
So, let's take a closer look that the Seachem Tidal 35 Aquarium Filter in more detail.
The Tidal Range
Tidal Power Filters are designed from the ground up to provide your aquarium with high-quality, comprehensive filtration. They are easy to use and adaptable to a variety of aquarium conditions.
They come in 4 different sizes which ensure there's a perfect size filter for most popular sized aquariums.
The range of filters and model titles represent the size aquarium they are suitable for ie: Tidal 55 = 55 US gallons (200 Liters) aquarium
Packed with a host of features including a self-priming pump, dual water intake with a surface skimmer, adjustable flow, maintenance monitor, self-cleaning impeller, and a filter basket that holds any kind of filtration media.
Seachem Tidal Power Aquarium Filter – 35 Gallon Large Fish Tank Filter$40.62in stock5 new from $39.65Buy Now

Amazon.comFree shippingLast updated on May 13, 2020 3:27 pm 
Seachem Tidal 35 Features
As mentioned at the start of this Seachem Tidal 35 Review this filter is packed with features, some of which we can honestly say we haven't seen before. Available from Marine Depot and many other stores.
It's all well and good saying an aquarium filter is packed with new feature but the main feature I look for in a HOB filter is how easy it is to clean and maintain and how well does it clean my aquarium water.
So, let's look at some of the key features!
Ventilation slots
Ventilation slots in the lid of the filter and aeration grooves in the outflow ensure that water returned to the tank is fully oxygenated and maximizes gas exchange during filtration.
No filter cartridges
The filter basket has a huge capacity to hold filtration media of your choice in the configuration of your choice. All Tidal Filters come with Seachem's Matrix bio-media to get you started.
Bottom-to-top flow
The pump pushes water up into the basket of the filter, entering through the bottom of the basket and being pushed out the top. A bottom-to-top flow ensures that water comes into contact will all filter media, and cannot go around or over filter media as with hang on back filters with a back-to-front flow.
Maintenance alert
Over time, filtration media can become clogged with detritus reducing or obstructing the flow of water through it. When this happens in Tidal filters, water is redirected around the filter and back into the aquarium through an outlet on the side. The redirected water pushes up the blue maintenance alert on the top of the filter, signaling that the filter needs to be cleaned.
Surface skimmer
The surface skimmer will capture the water from just below the surface, where excreted fish oils accumulate, as well as deeper in the tank removing floating debris
Flow regulation
A dial on the side of the filter adjusts how much flow comes from the underwater intake versus the surface skimmer
Self-priming pump
Self-priming pump means there is no need to fill the filter basket with water, start a siphon, monitor the filter, or any of the other headaches of starting a new filter
Self-cleaning impeller
The self-cleaning, corrosion-resistant impeller is suited for both saltwater and freshwater environments. This cuts down on maintenance and makes the filter suitable for a wide range of environments.
Heater holder
A heater can be attached to the side with an optional heater clip, allowing for better dispersal of heated water through the aquarium.
What warranty do you get?
All Tidal Filters are guaranteed against defects of materials and workmanship for a period of 3 years from the date of purchase, except for the pump's impeller. This can be extended to 5 years by registering your filter. The warranty covers the replacement of the defective parts.
If you purchase your filter online from Amazon or Marine Depot then you have the guarantee that your filter will arrive through the mail quickly and safely.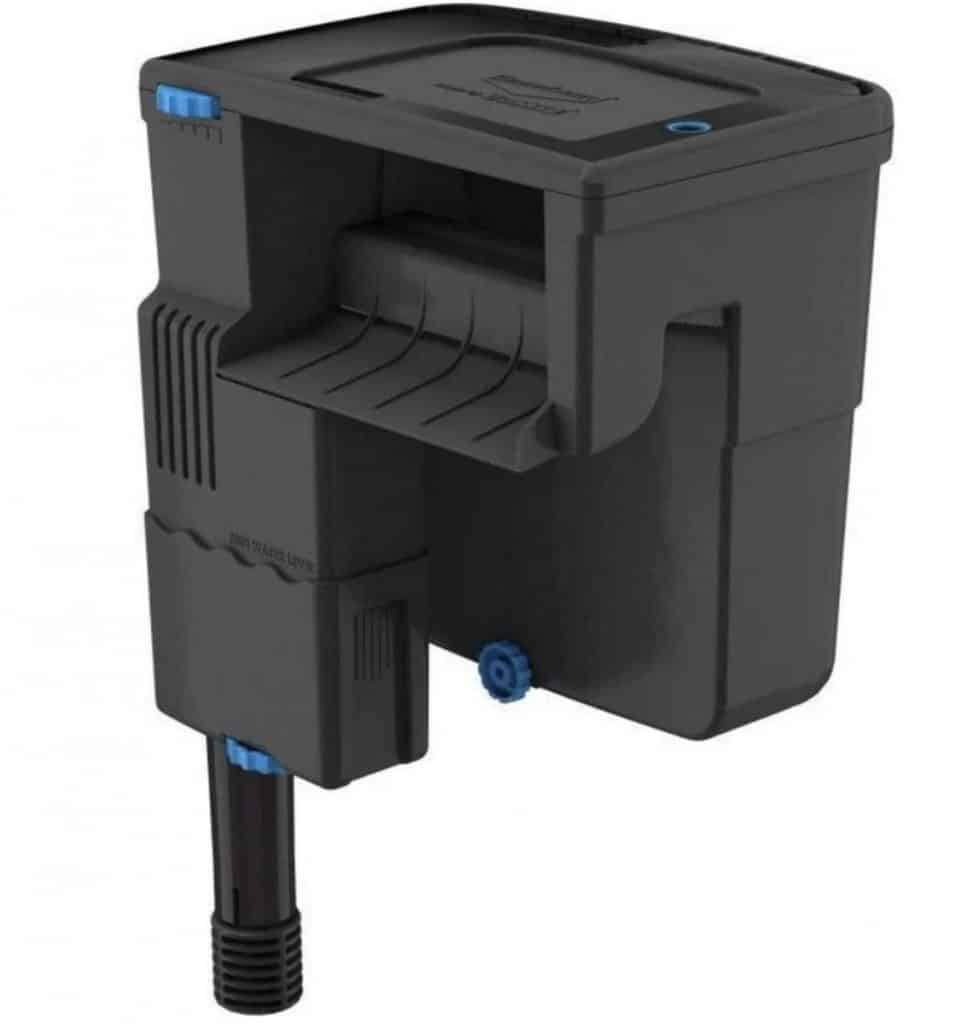 How often do you need to clean
This will depend on the type of fish you're keeping and how often you perform partial water changes.
Good water quality and a clean fish tank it not just about the filter you use. There are a number of reasons why your aquarium may not be as clean as it should be.
Some of the main reasons are:
Lack of water changes
Overfeeding
Direct sunlight
Overstocked with fish
The filter is too small
Once you have a good aquarium maintenance process in place then you can rely on your aquarium filter to do the rest and keep your water clear.
Tidal 35 filter parts
Like most things that involve water and have moving parts they do break down from time to time. Thankfully your Seachem Todal filter is built to last. Overwise Seachem would not be able to give you a 3 Year Warranty.
However, should something happen you can be reassured that spare parts are readily available and easy to change.
This will ensure you can keep you filter running for many years without worrying or paying again.
A number of main componants are avilable to replace from Seachems website or online stores. These include:
Impellers
Foam Inserts
Pumps
Bio-Media
Where to buy?
The complete range of Seachem Tidal Filters are available from Marine Depot and Amazon.
You can also see a list of suppliers on Seachems website. Many of the main aquarium stores and garden centres will stick them as they are a popular and reliable aquarium filter.
Conclusion: Tidal 35 Aquarium Filter
So, what do we really think of the Seachem hang on filter?
Well, It's well built, packed with some nice simple features like the heater holder. It may seem a silly thing to point out but having the heater clipped onto the side water water temperature dispersion better throughout the aquarium.
Then the pop-up indicator when it needs cleaning. Genius!
These little thing cost you no more than a filter without them. So, why would you not choose this one that has them all and is sensibly priced?

Latest posts by Carl Broadbent
(see all)