If you're like me and are addicted to watching aquarium videos on Youtube, then you probably know one or two of the biggest names on this Top 10 Aquarium YouTubers 2019 list.
But I'm pretty sure there are a few on this list that you have never heard of. Why am I so sure? Because I only found them whilst researching this article and I spend at least an hour a day on YouTube watching these videos.
We have kept this Top 10 Aquarium YouTubers list specifically for channels that are 100% aquatic whether that be Freshwater, Saltwater or Ponds, and Koi. We have a special mention at the bottom for one or two big names that have millions of subscribers, some more than our #1 Top Aquatic YouTuber in this list. However, they are not 100% aquatic focused and cover most pets. Therefore we have left them out of our Top 10 Aquatic YouTuber 2019 list.
A special mention before we start for my favorite Racheal O'Leary. She reminds me of myself sat in my fish room when I was younger surrounded by aquariums and simply talking about fish, living fish and breathing fishkeeping. We love her, go check her channel out and give us a shout out in the comments.
The Top 10 Aquatic YouTubers 2019 going on subscriber number count:
THE KING OF DIY 

PAUL CUFFARO

SOLID GOLD AQUATICS

AQUARIUM CO-OP

THE GREEN MACHINE

AQUA PROS

BRS TV

DUSTINSFISHTANKS

RACHEAL O'LEARY

CORALFISH12G
Please note these numbers and subscriber counts are changing daily and we cannot guarantee the accuracy. We update this list every 3 months and add newcomers to the list 
#10 Coralfish12g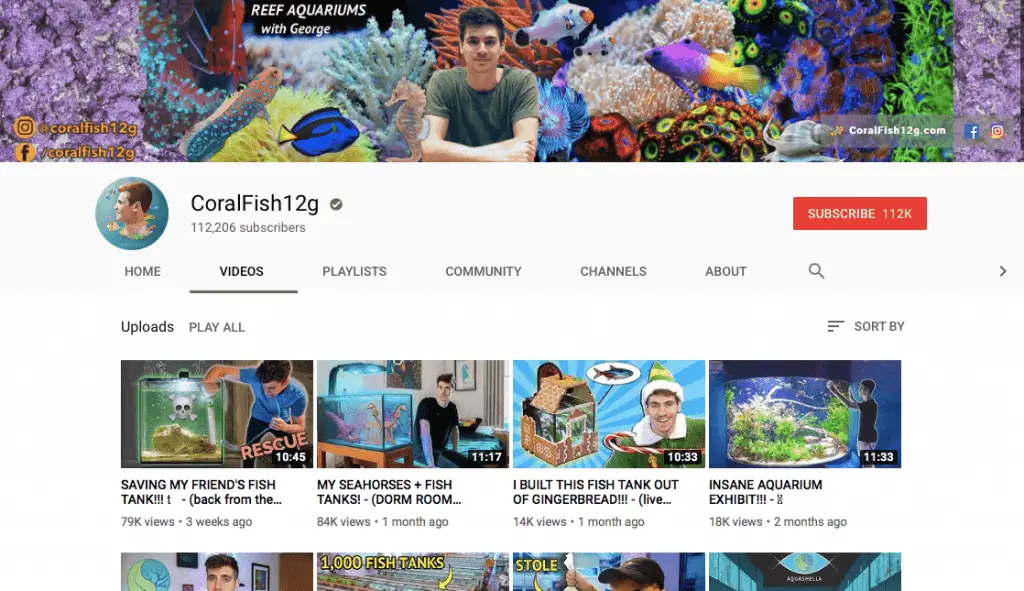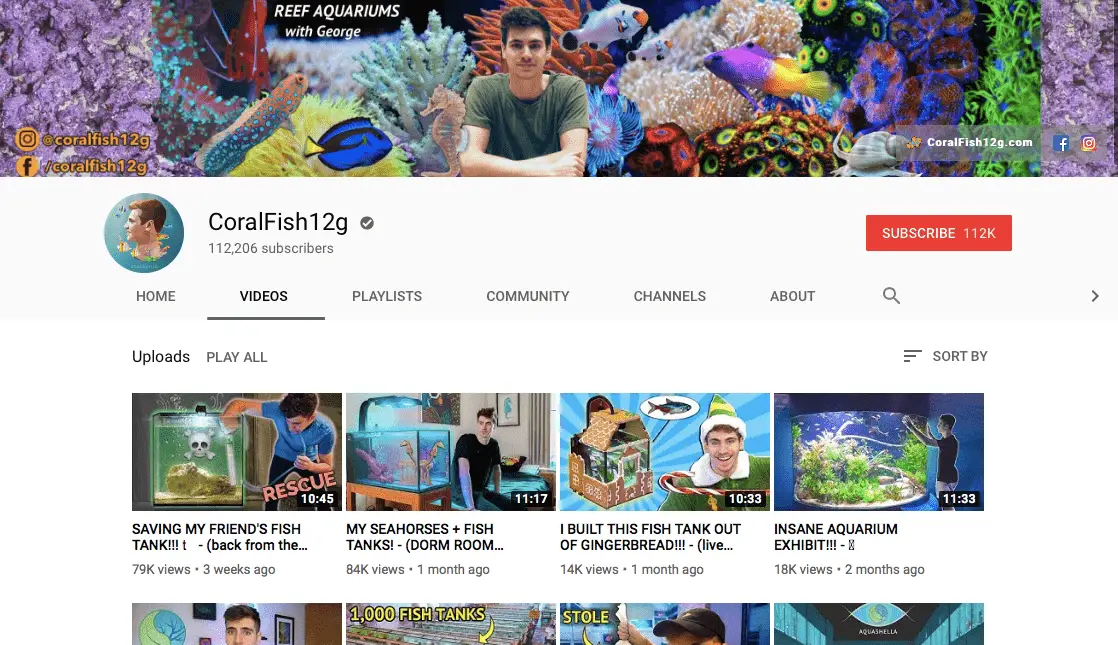 This is another one of my favorite channels to watch when I simply want to have fun, relax and learn some more about this hobby. George is a young man who is in college and even whilst staying in college accommodation he still produces some excellent content.
His videos are perfectly edited and some of his special episodes Like inside an abandoned aquarium are really fun. George is a breath of fresh air in this industry and despite his young age, he is very knowledgable.
Here's what George has to say about his channel:
" Hi, I'm George! In every CoralFish12g video, I do my best to bring you creative, informative, and fun reef aquarium videos! I currently am a full-time student-athlete at Lawrence University studying economics/business. I started this adventure almost 10 years ago when I set up my first saltwater tank as a 5th grader. My mission is to inspire as many people as I can to join and enjoy the hobby. I specifically want to encourage a younger generation to join the hobby, because it has taught me and given me so many amazing opportunities as a kid and young adult. Thanks for supporting CoralFish12g and for fueling my passion over all these years!"
YouTube Stats
Subscribers: 112,198
Views: 15,557,647
Started Youtube: Dec 30th, 2010
No of Videos: 229
Lives: US
Estimated Youtube earnings: £81 – £1.3K ( Info from Social Blade )
#9 RACHEAL O'LEARY

Rachel lives in York, PA where she maintains a basement fish room, a greenhouse, and an online business. She travels the world to lecture and educates people on her passion for all things aquatic- specializing in nano fish, hillstream species, and freshwater invertebrates as well as a special interest in monster primitive fish.
Racheal is one of our personal favorites due to the fact she is a true aquarist and lives for her hobby. She reminds me of myself when I was younger living and breathing fish day in day out. 
She is the co-author of the best selling Aquarium book 101 Best Freshwater Nano Species as well as a contributing author to Amazonas Magazine, and The Aquatic Gardener. For the past 3 years, she has put out frequent YouTube content to expand her educational efforts.
YouTube Stats
Subscribers: 112k
Views: 13,574,967
Started Youtube: March 17, 2006
No of Videos: 665
Lives: US
Estimated Youtube earnings: £90 – £1.4K Monthly ( Info from Social Blade )
#8 DUSTINSFISHTANKS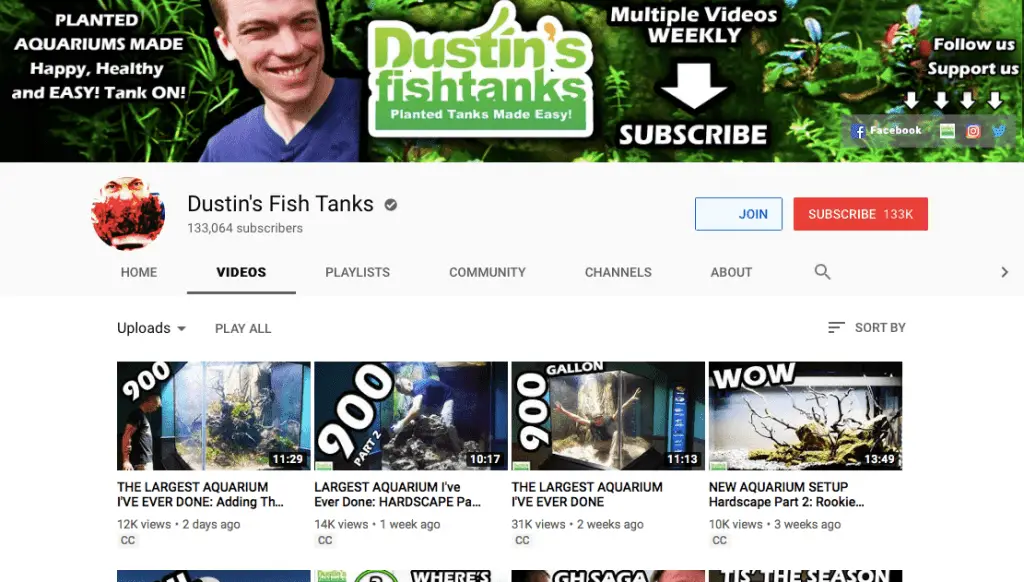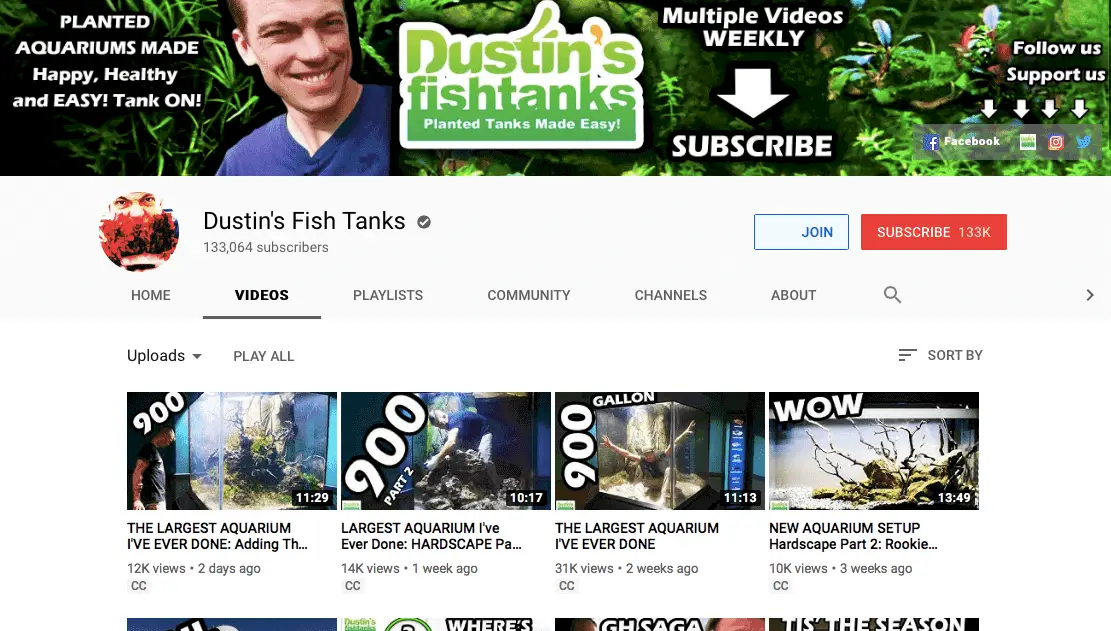 Aquarium Plants and planted fish tanks, Dustin'sFishTank covers it all. Dustin says " I love this channel and have a blast with the aquarium hobby. Dirt in my planted tanks for days. I believe that you don't have to spend a fortune or do a ton of work to have a killer planted tank. You just need to take the time and dirt your planted aquarium tank. This channel has been dedicated to me spreading my knowledge about keeping fish and planted aquarium tanks. I love it. People ask me all kinds of questions and I answer everything. Let me know what you want to know or what you want to see. I'll hook it up!"
Dustin's channel focuses on planted aquariums and he has a unique way of working and presenting youtube videos that have kept me hooked for hours.
YouTube Stats
Subscribers: 133,065
Views: 23,960,219
Started Youtube: Nov 26th 2009
No of Videos: 794
Lives: US
Estimated Youtube earnings: £52 – £830 ( Information from Social Blade)
#7 BRS TV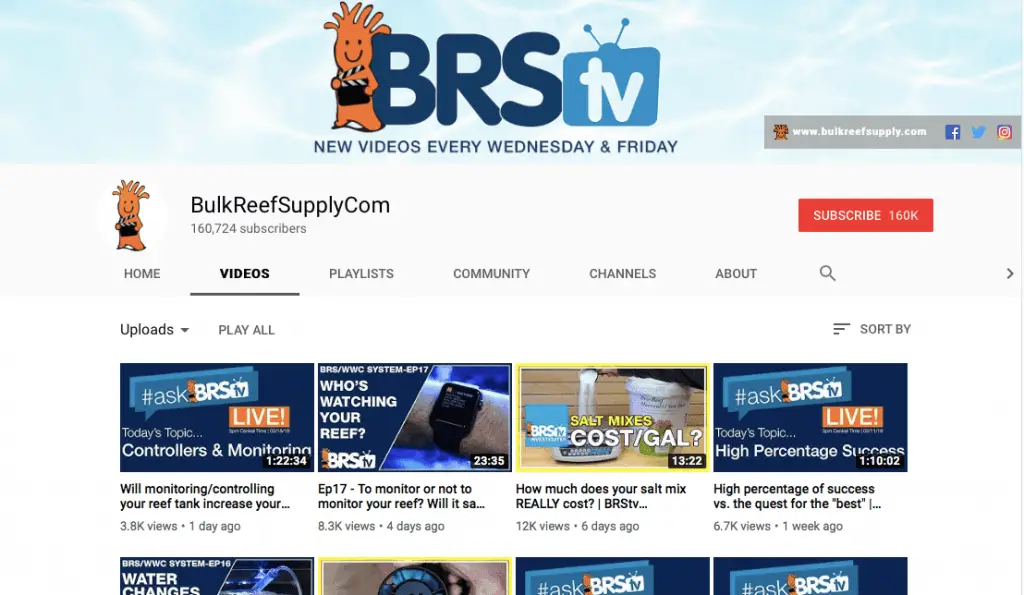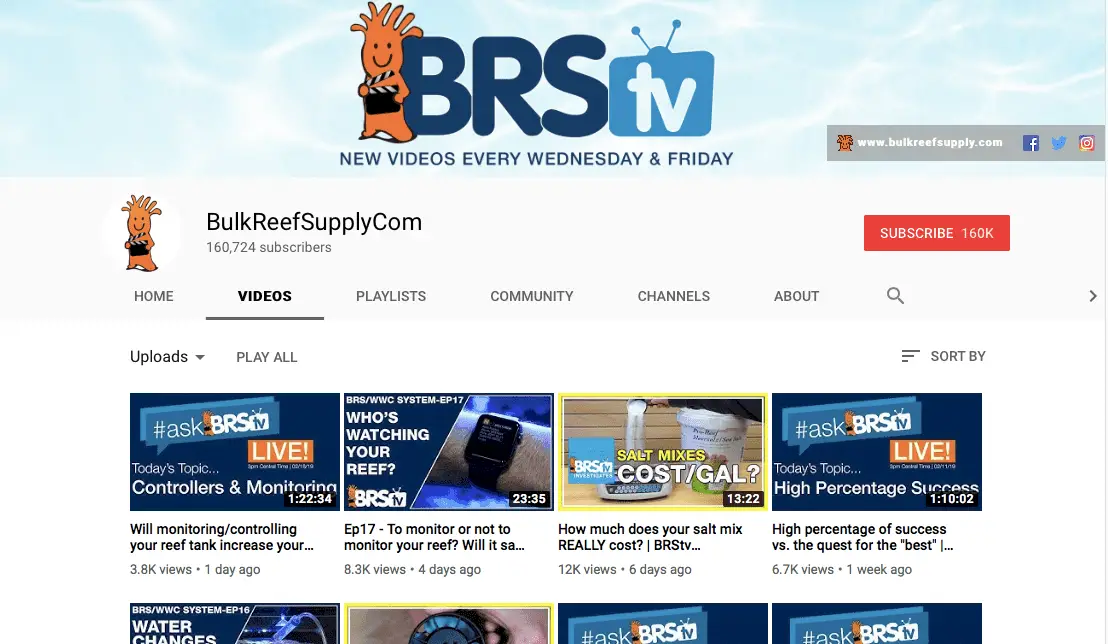 Here's what they say about their channel:
#6 AQUA PROS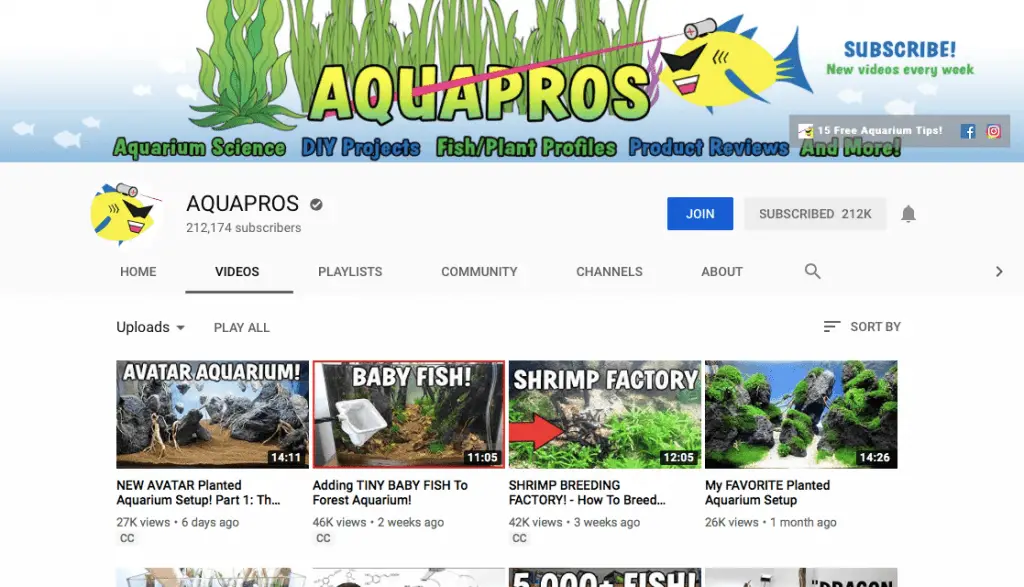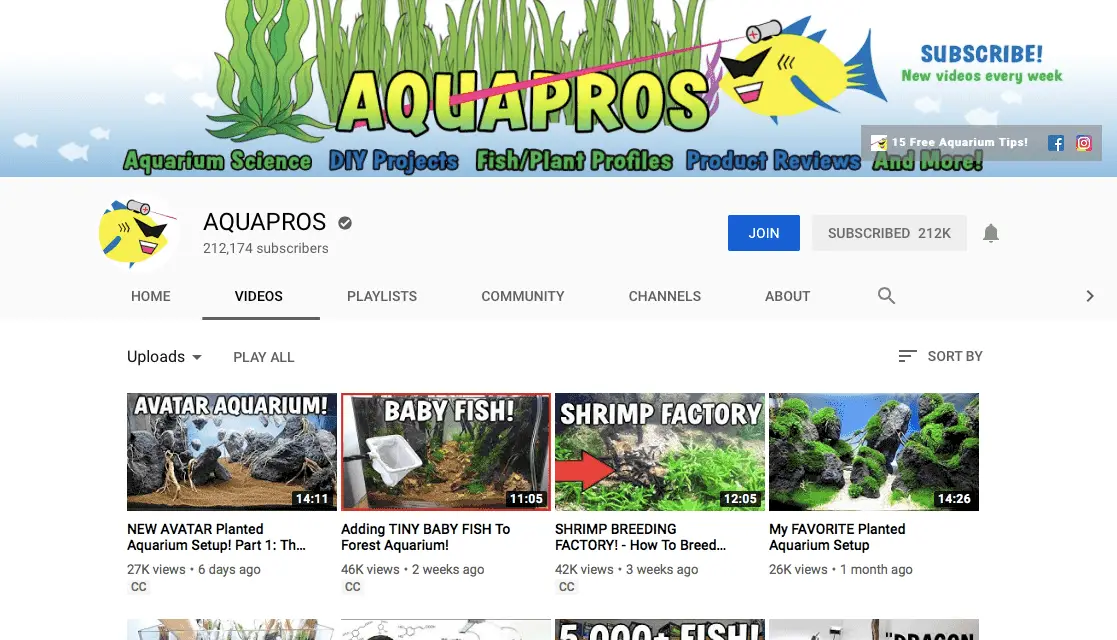 The first thing that strikes you about this channel is their fun thumbnails and logo. It looks like a fun channel from the first second you land on their page. But watch their videos and you'll also see how much they know about fish keeping and how much fun they input into the hobby. 
This is a very fast growing aquatic youtube channel and one to watch out for. 
Here's what AquaPros have to say about their channel.
" Hey, I'm Mike and I've been planting aquariums for the past 10 years. I recently graduated with an MS in Microbiology for studying the physiology of nitrifying bacteria. I chose this path in part because I love the ecology of planted aquariums. Here I share with you my knowledge of science applied to the planted aquarium, as well as the projects I've made over the years you can use on your planted aquariums. I try my best to upload 2 – 3 videos each week, 1 project or science video, a fish and plant profile and or a product review"
YouTube Stats
Subscribers: 212,197
Views: 27,034,161
Started Youtube: Aug 28th 2013
No of Videos: 260
Lives: US
Estimated Youtube earnings: £142 – £2.3K ( Information from Social Blade)
#5 THE GREEN MACHINE

This channel is 100% dedicated to aquascaping and planting aquariums. These guys are specialists in what they do and make planing aquariums an artform. Some of their aquascaped aquariums have featured in aquarium magazines and websites all around the world.
Here's what The Green Machine have to say about their channel:
"Welcome to the largest aquascaping video channel in the world! The Green Machine is the first and only 100% planted tank specialist in the UK and possibly Europe. People travel from all over the globe to visit our store. The Green Machine was founded by professional UK aquascaper James Findley in 2007 to bring the Nature Aquarium to the UK.. James designed The Green Machine to be a Nature Aquarium haven – an Aladdin's cave of aquascaping. The Green Machine is run by aquascaping enthusiasts, for aquascaping enthusiasts. Unlike other web shops The Green Machine has a real Nature Aquarium store that is full of beautiful Nature Aquarium displays of all sizes, so you can be truly inspired and get some hands-on, practical advice from true experts. We have helped thousands of people learn to aquascape and we are still counting… Our videos range from demonstrations to plant preparation tutorials and full-blown documentaries. We hope you can enjoy and learn from them!"
YouTube Stats
Subscribers: 213,990
Views: 21,076,684
Started Youtube: Feb 17th 2010
No of Videos: 58
Lives: GB
Estimated Youtube earnings: £56 – £897
#4 AQUARIUM CO-OP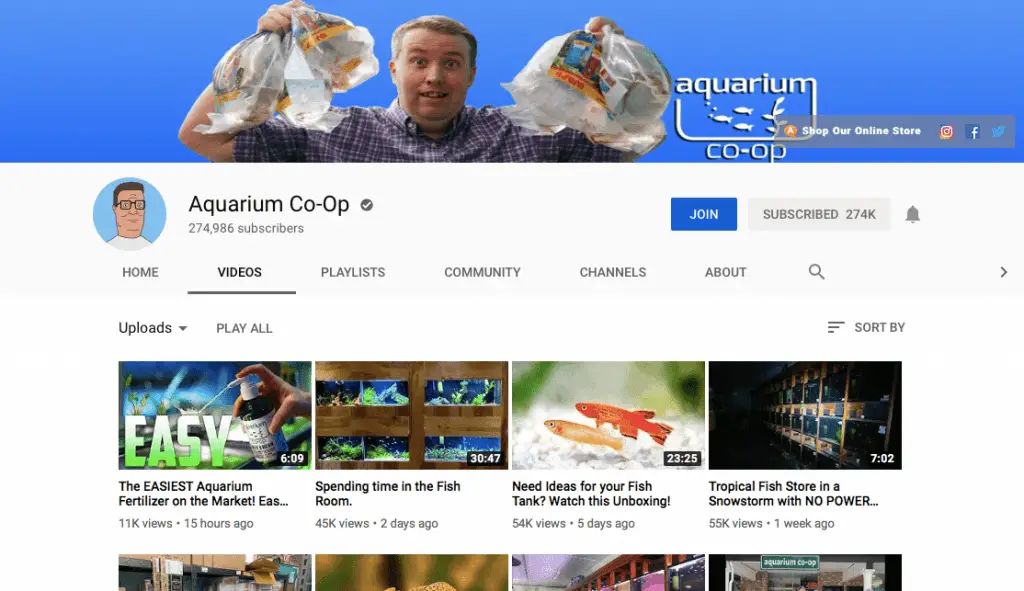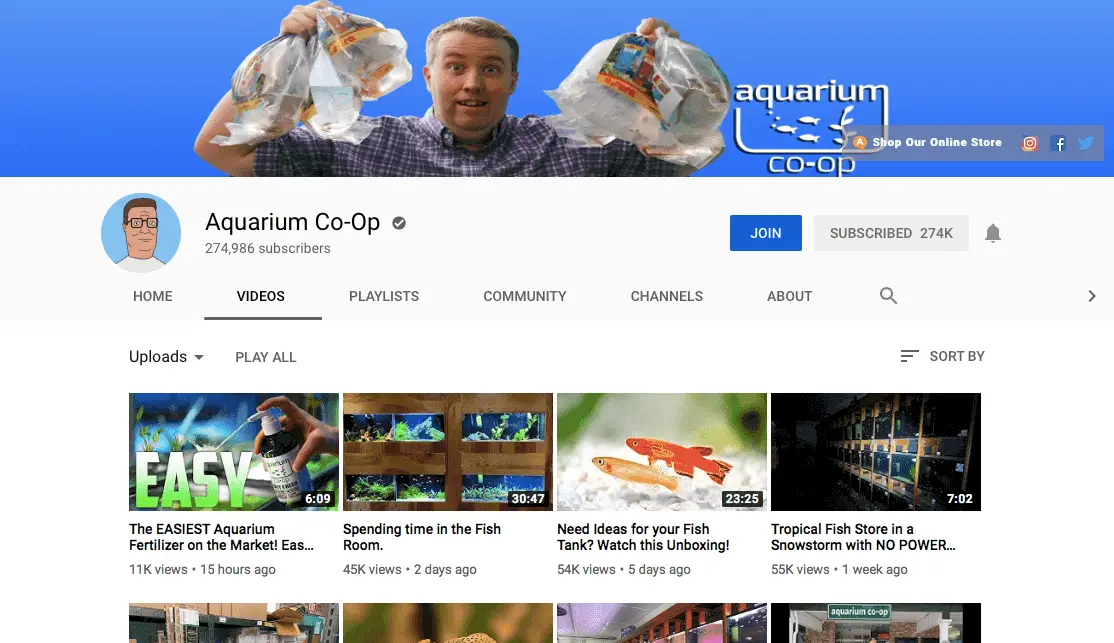 They have one member of the team that is very famous, Murphy the freshwater puffer fish. He is one of the stars of the show. 
Aquarium co-op is one of my most popular aquarium channels in the world and are instantly recognizable in the trade. They own and run an aquarium store and sell products online but their YouTube channel has become a major part in their business. They travel around the world talking about the hobby to beginners and experts and are in high demand. 
Here's what Aquarium co-op have to say about their channel:
" At Aquarium Co-Op we focus on your fish tank. Aquatic Plants, freshwater fish and in general Freshwater Aquarium are what we specialize in. We created this Aquarium Channel Aquariumcoop to talk about tropical fish. On our online store, we sell aquarium supplies but not aquarium fish. We will help you take your pet fish and turn it into an aquarium hobby. We bring you videos of freshwater fish from Peru, China, Japan, Germany etc"
YouTube Stats
Subscribers: 275,054
Views: 53,567,617
Started Youtube: Jan 15th 2013
No of Videos: 756
Lives: US
Estimated Youtube earnings: £556 – £8.9K ( Information from Social Blade)
#3 SOLID GOLD AQUATICS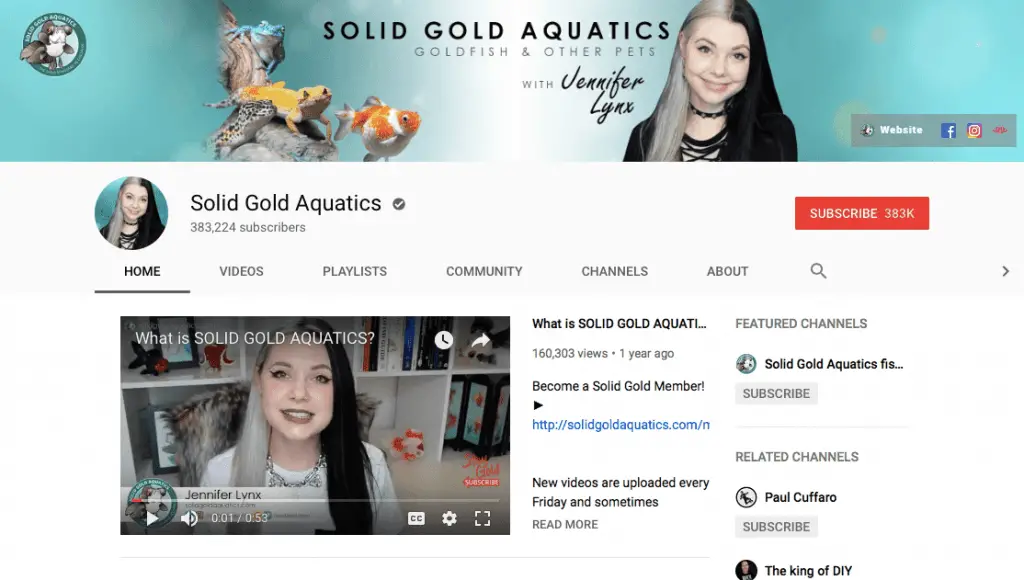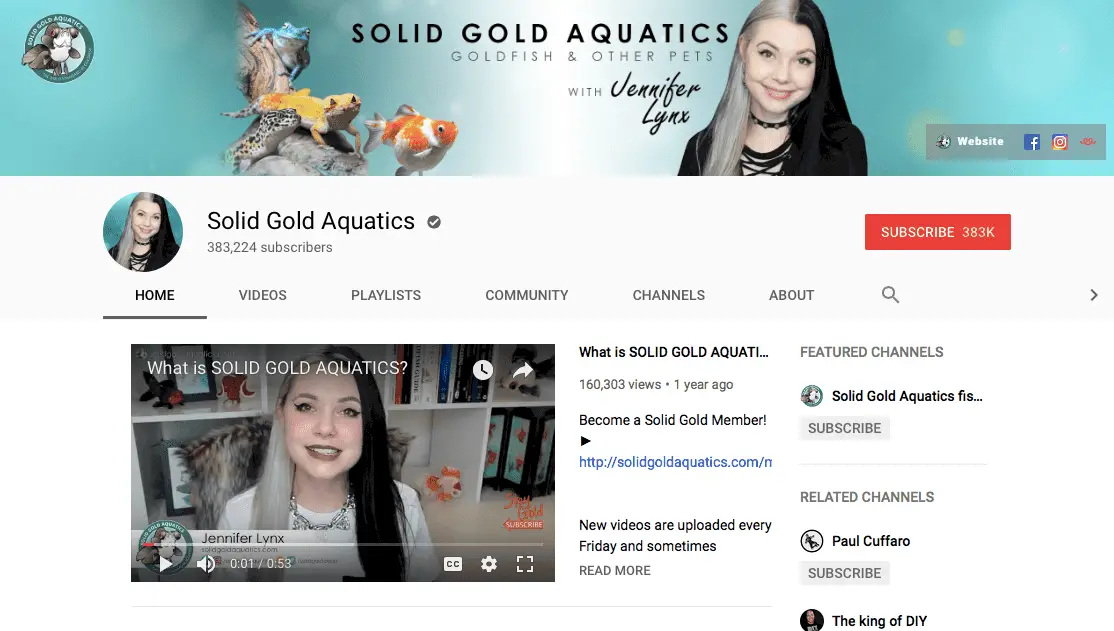 Jennifer specializes in coldwater fish and fancy goldfish but also covers over tropical fish as well. Her home has a bank of aquariums which she often features. She has gained a lot of followers for her soft calm voice and well-presented videos. Her knowledge is extensive in this area and she puts it across in a fun and friendly manner.
Here's what Jennifer had to say about her channel:
"I'm Jennifer Lynx and Solid Gold is about goldfish and all the other pets in my life – aquatic or not! Fancy goldfish have long been the main subject of my channel, but as an animal lover I have many other pets that I make videos about too. Here you'll find goldfish, discus, plecos, other aquarium fish, axolotls, poison dart frogs, leopard geckos, rabbits, cats, and more. Subscribe to see new videos about them every week!"
YouTube Stats
Subscribers: 383,245
Views: 47,865,707
Started Youtube: Jan 12th 2010
No of Videos: 412
Lives: US
Estimated Youtube earnings: £112 – £1.8K ( Information from Social Blade)
#2 PAUL CUFFARO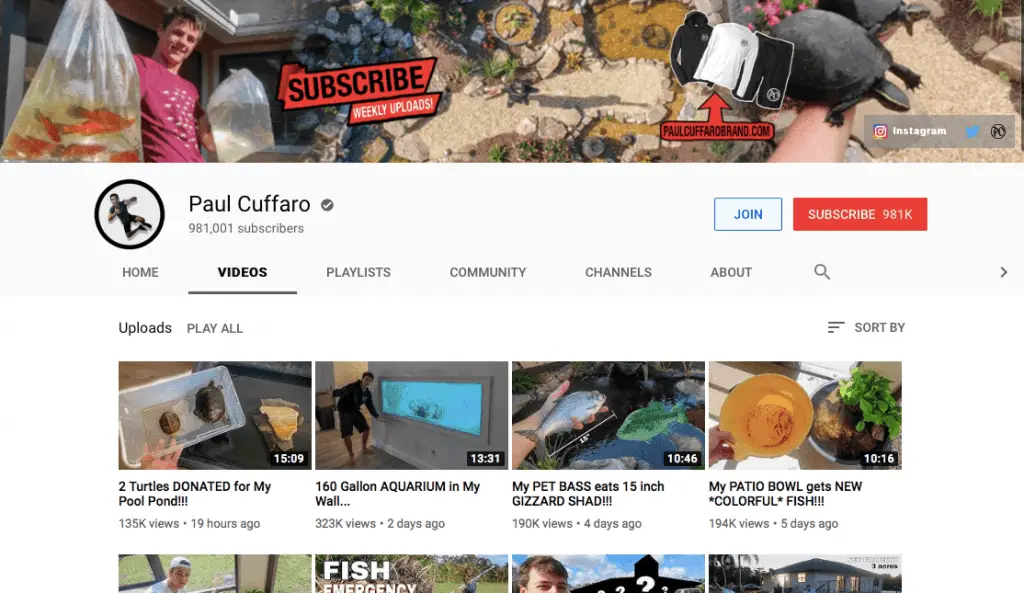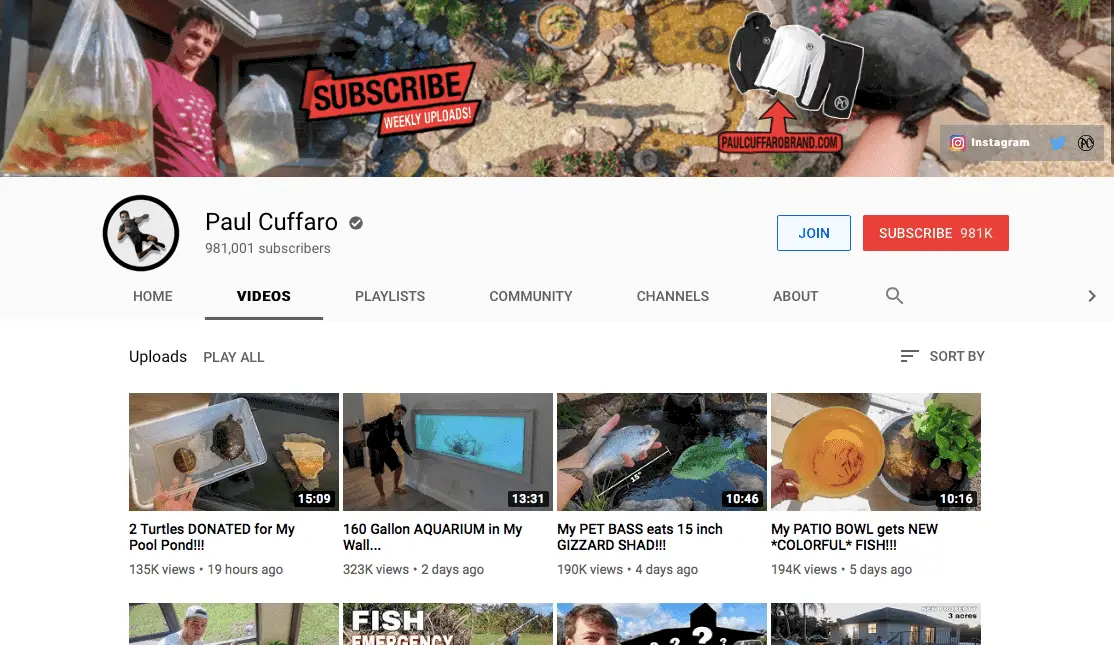 Paul Cuffaro is one of the newest aquarium YouTubers joining in 2014 but has fast become a big star with a massive following which is growing quickly.
With his friends and family, he adds fun and style to fishkeeping and makes some really attractive videos especially for younger people. His videos are professionally edited and he seems to have a great team behind him producing some great content. With nearly 1 million viewers Paul is quickly catching up to our number 1 aquarium YouTuber.
Here's what Paul says about his channel:
"I'm an 18-year-old kid living my dreams, filming and editing my life. I build my own ponds, fish, and Vlog, sharing every bit of knowledge with my viewers (known as the Cuffaro's) nearly EVERY DAY!"
YouTube Stats
Subscribers: 981,366
Views: 140,339,990
Started Youtube: Feb 17th 2014
No of Videos: 317
Lives: US
Estimated Youtube earnings: £1.7K – £27.6K ( Information from Social Blade)
#1 THE KING OF DIY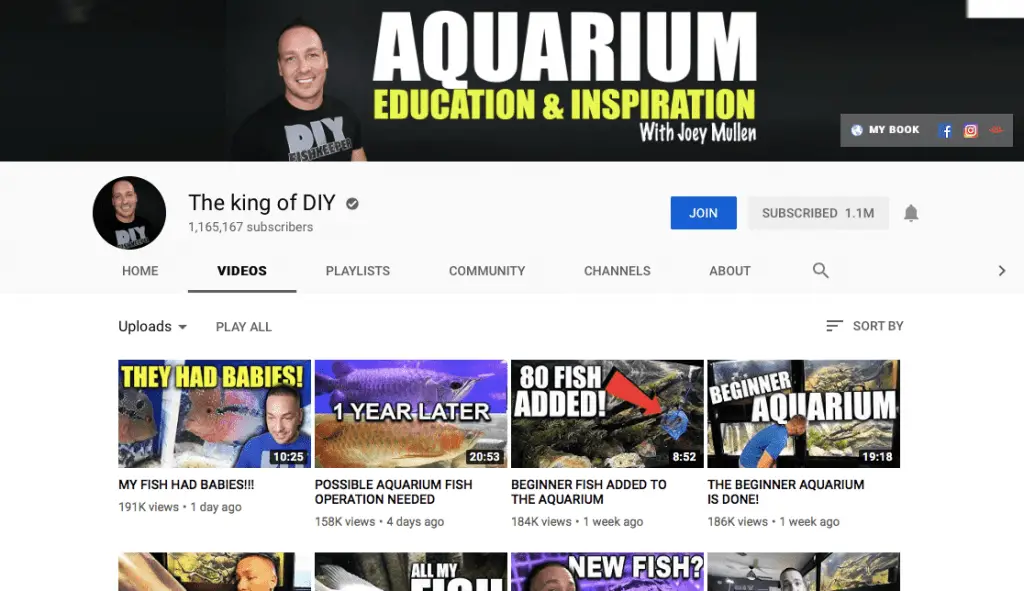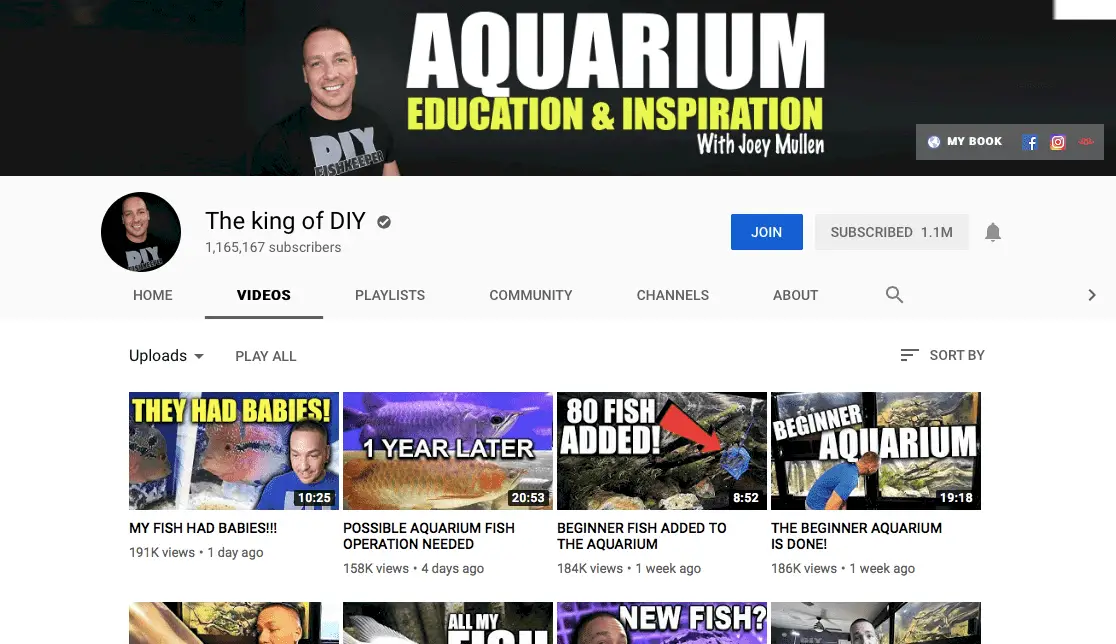 So, we come to the undisputed number 1 Youtuber in the world THE KING OF DIY. Despite the deceptive name, he is the king of fishkeeping ( NOT DIY)
Joey is a Youtube superstar and films most of his videos from his fish room in his own home. He has over 580 videos and some of the best aquarium content on Youtube. His knowledge of fish keeping is outstanding and his passion is infectious. His videos are simple and to the point and I have personally spent hours watching them.
He has some very personal videos on his channel and some even involve his children and he's the first to admit he has made some mistakes in the past but he is certainly making up for it now by helping millions of people enjoy this hobby we all love.
Here's what his channel description says:
" WELCOME TO MY AQUARIUM CHANNEL! Aquarium videos that will inspire and educate all levels of fish tank hobbyists! You may know me as Joey Mullen, the king of DIY, uarujoey or the DIY fishkeeper"
YouTube Stats
Subscribers: 1,165,282
Views: 219,472,815
Started Youtube: May 17th 2008
No of Videos: 586
Lives: US
Estimated Youtube earnings: £618 – £9.9K ( Information from Social Blade)
Bonus Spotlights-Newcomers to watch out for!
Our channel Fishkeeping Forever:
Steff j Pet lover, aquarium keeper & Youtube star:
Conclusion: Top 10 Aquarium Youtubers
The aquarium fish keeping hobby is such a diverse hobby that you can find thousands of aquatic YouTubers out there. All specializing in different areas of the hobby. There is so much to learn in this wonderful hobby that you can easily spend hours a day just searching for information on a fishkeeping topic. That's why we started our website, to help people just starting in the hobby find helpful information all in one place.
YouTube is the second biggest search engine behind Google and will soon be on a par in our opinion. Just think how far YouTube has come in the last 5 years.WOW, Amazing right?
Love YouTube or hate it, you can't deny that it is entertaining and there are lots of great fishkeeping videos on there ( including our own) to help you and entertain you.
Please let us know if we have missed any great aquarium YouTubers we might be able to add them to the next update in May.
Thanks for reading the Top 10 Aquatic YouTubers 2019.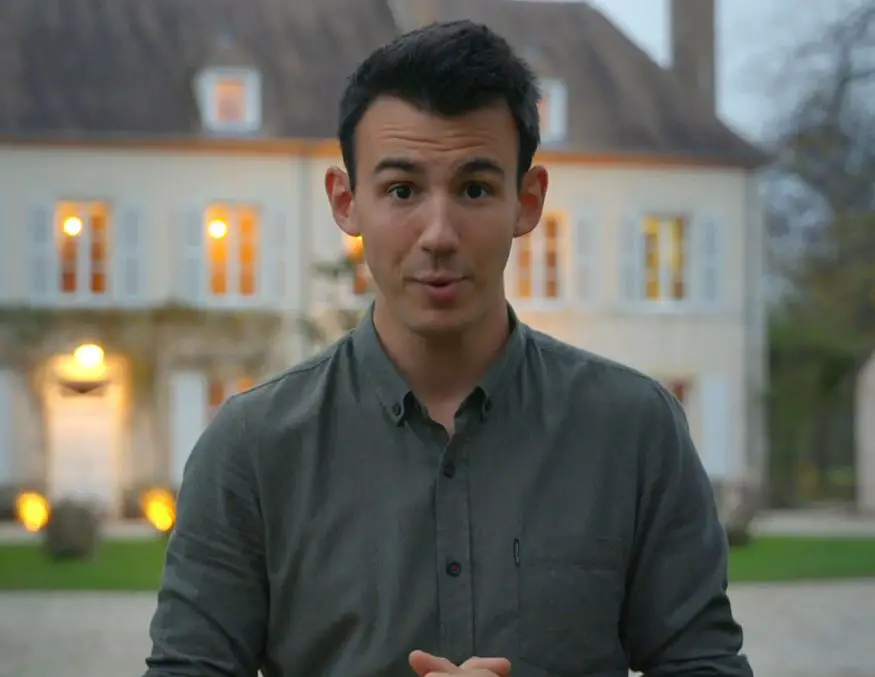 I have been working in the tropical fish industry for over 30 years now and I'm still learning. Everyday is a school day in this hobby. In my spare time I play golf very badly!