Whether you are a new aquarist or have been in the tropical fish business for years, you must have come across these vibrant little fellows. Guppy fish are especially well-known tropical fish since they are very easy to care for and look stunning. Generally, it does not take a lot of space which is why a small tank of around 10-15 Gallon will be fine to house a few Guppy fish.
What do guppies eat? Guppies eat a wide variety of foods but mostly eat dried flake foods. You should always provide your pet fish with the best quality foods and give them a variety in their diet. Live foods, frozen foods and also pellets can offer your guppy the best possible diet if used in conjunction with your everyday dried flake food.
$10.47
$16.13
in stock
9 new from $10.47
as of September 21, 2023 10:27 pm
$8.00
$18.49
in stock
3 new from $8.00
3 used from $7.60
as of September 21, 2023 10:27 pm
out of stock
as of September 21, 2023 10:27 pm
$3.99
$5.89
in stock
10 new from $2.29
as of September 21, 2023 10:27 pm
$10.95
$11.79
in stock
3 new from $10.90
as of September 21, 2023 10:27 pm
Last updated on September 21, 2023 10:27 pm
Guppy is the world's most widely distributed tropical fish on a similar number to Neon Tetras. It is colorful and easy to care for. This live-bearing freshwater tropical fish is friendly and adapts quickly to their new homes. Moreover, the best thing about guppies is that they are not fussy eaters. They can live with other species of tropical fish in a community aquarium.
Therefore, if you have developed a sudden urge to buy and own a new aquarium then you can't go far wrong with Guppies. Guppies can be easily taken care of, Moreover, they are beautiful, friendly and will get along with any other species you wish to keep. Since we have been highlighting numerous facts about Guppies, here is another one: they eat their own young! They breed relatively easily within a home aquarium. However, if you don't separate the young fry from their parents they are likely to be eaten.
As a matter of fact, to avoid their habitat from becoming too crowded, Guppies tend to eat their young. To control this, the aquarist can fill the tank with more plant materials as well as increase the size of their tank so that the babies can hide from their Guppy parents.
Although Guppies are not fussy fish, there are some things that you need to consider now that you have made your decision of becoming a pet owner. What do guppies eat? This is probably the first question that pops into one's head when getting a new fish.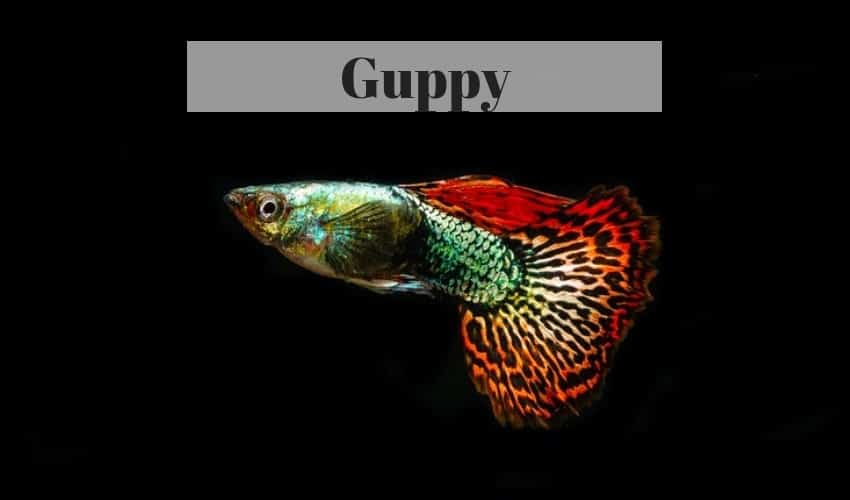 Here, are some of the food products reviews that will help you pick the best one for your Guppy.
1. Fancy Guppy- Hikari USA Tropical
The first on our list of the guppy food product is the one from Hikari Usa Tropical Fancy Guppy. There are many reasons why you should purchase this food item. Particularly, the best thing about this fish food is that before the release of this product, several studies and researches took place beforehand to come up with the ingredients that best met the requirements of the Guppy fish.
Furthermore, this food item aims to increase the health of guppies. There has been an increase in the growth rates of guppies that feed on Hikari Usa Tropical Fancy Guppy. It also builds fish's resistance to diseases and helps Guppies stay active and fresh.
One particularly admirable thing about Hikari Usa Tropical Fancy Guppy is that they provide good quality food for economical prices. Moreover, it can be consumed by other breeds as well. One does not have to purchase other food packs as Hikari Usa Tropical Fancy Guppy will suffice for more than one fish breed.
Pros
* Provides a healthy diet to guppy fish.
* A small bag of Hikari Usa Tropical Fancy Guppy will last for numerous days as the food content is fulfilling.
* Makes the guppies become more colorful.
* The food is not limited to guppies. Plattys, and Variatisis along with other breeds can enjoy it.
* Healthy food product helps guppies produces strong fry.
Cons
* The pallets sink quickly to the bottom; hence guppies are unable to eat it.
* The food content makes the water a little cloudy which requires constant cleaning.
* The expiration date is not visible on the pouch
Why is Hikari Usa food best for your guppies?
Hikari Usa Tropical Fancy Guppy provides you the best quality food on economical charges. To begin with, it is ideal for your aquarium as it will not only provide a healthy diet for guppies, but other breeds can also consume it. It will also provide a balanced diet to your fish as it contains active nutrients. Moreover, it contains ten essential amino acids, fats and unsaturated fatty acids which are essential for your fish to grow healthier and more colorful.
Guppies will nibble the pellets quickly as they are small. The size of the pellets is small and ideal which means other fish breeds can also consume it. Thereby, saving you the trouble of purchasing more than one product for your aquarium. With one pack you can ensure the health of every fish breed in your aquarium.
2. TetraMin Nutritionally Balanced Food for Tropical Fish
TetraMin food item is ideal for your top and mid-feeding tropical fish. It generally provides a nutritionally balanced diet for your fish which will help it remain healthy and active. Moreover, TetraMin food for Guppies and other tropical fish holds active nutrients that also include antioxidants which help develop healthy cells and are ideal for strong growth. When using for the first time, give the Guppy a small amount. So that you can test how much your fish can eat within two to three minutes.
Pros
* Provides a complete diet for your desired fish
* It will not get the aquarium water cloudy if used as directed on the pack
* Contains protein for growth of the fish
* Uniform size of every crisp
* Contains the right combination of food that promotes healthy bone formation
Cons
* TetraMin cannot be consumed by every breed of fish.
* Costly
* Creates a layer of oil on the water surface
Why is it best for you?
There are numerous reasons why TetraMin is good for your fish. For the most part, if you are breeding one or two kinds of fish then it's okay to use this product. Moreover, it contains antioxidants that keep the fish healthy. A little amount of TetraMin goes a long way. Furthermore, the food content will not pollute your water tank if fed in the right amount.
3. Wardley Fish Food
Made with no artificial colors, Wardley Fish Food will serve your fish right! The pallets are nicely designed which means a variety of fish can consume them. The pallets sink gradually which makes it ideal for bottom feeders such as loaches.
Additionally, it contains an ideal amount of protein which supports normal growth among fish. Moreover, the food content's aim is to provide the effectiveness of Vitamin C and antioxidants to the fishes. Vitamin C develops a healthy immune system which helps the fish fight diseases and stays strong.
Pros
* Contains no artificial color or dye
* It holds a stabilized form of Vitamin C
* You can feed the pallets with other food as well
Cons
* Not suitable for every fish breed
* In some cases, the product sinks to the bottom and comes back up after a few days. Thereby, polluting the water tank.
* The size of the pallet is too big
* Pricey
* The pallets get soft very quickly
* Some pallets are broken and pollute the tank by dissolving in the water.
Why is it best for you?
This fish food content can be consumed by top and mid-range feeders before it sinks to the bottom. In brief, the pallets are made with the finest ingredients that facilitate fish growth and provide a suitable diet. Also, the availability of Vitamin C supports a healthy immune system.
Conclusion: What do guppies eat?
Lastly, picking up the best food product for your Guppy is not rocket science. However, there are several factors that must be considered. Luckily, aquarists can find most of these benefits in Hikari Usa Tropical Fancy Guppy.
The best thing about Hikari Usa Tropical Fancy Guppy is that they are fit to be consumed by more than one type of fish breeds. Also, the pellets are small and crisp which means more than one type of breed can enjoy them. Hence, you won't have to worry about purchasing several food products for your fish.
Feeding your guppies the best fish food available will ensure they grow to their full potential size within 6 – 12 Months. Read our article explaining the growth rates and timescales for guppies.
Furthermore, Hikari Usa Tropical Fancy Guppy consists of healthy nutrients that promote the development of a good bone structure. The pellets are also rich in Vitamin C, antioxidants and amino acids that help the guppies and other breeds remain colorful. Moreover, Hikari Usa Tropical Fancy Guppy provides resistance to disease and helps improve breeding habits among fishes.
Do guppies make good pets? Read our article on this very topic.
In comparison, TetraMin and Wardley Fish Food cannot be consumed by all types of breeds which is a limitation. Plus, more than one type of fish food used in a single tank causes the water to clog super easily.
As mentioned before, guppies do not require a lot of attention. They are not fussy at all. So, when purchasing food for guppies there are only a few things that you must consider. Make sure the food is rich in nutrients, the pallets are small, crispy and do not sink to the bottom of the tank too fast. Therefore, Hikari Usa Tropical Fancy Guppy is the ideal pick. One good pack will go a long way. Feed your guppies this meal twice a day and witness your tiny fellows grow healthier and more colorful.

Here are some more great deals on fish food currently for sale on Amazon
(3 Pack) Hikari Usa Tropical Fancy Guppy For Pet Health, 0.77-Ounce Each
9 new from $10.47

as of September 21, 2023 10:27 pm
Features
Improves breeding habits, growth rates, overall health and resistance to disease
Pack of 3
TetraMin Tropical Flakes, Nutritionally Balanced Fish Food, 7.06-Ounce
3 new from $8.00
3 used from $7.60
Free shipping
as of September 21, 2023 10:27 pm
Features
TROPICAL FORMULATION: Highly digestible ingredients for use as staple food for your top- and mid-feeding tropical fish.
COMPLETE DIET: Nutritionally balanced for optimal health.
ACTIVE LIFE FORMULA: With added antioxidants for healthy cells, select proteins for growth and prebiotics for digestion.
CLEAR-WATER FORMULA: Won't cloud water when used as directed.
LESS WASTE: Feed two to three times daily, only as much as your fish can consume within three minutes.
Hartz Wardley Advanced Nutrition Perfect Protein Tropical Fish Food Small Pellets, 3-1/2-Ounce by HARTZ
 out of stock
as of September 21, 2023 10:27 pm
Features
Hartz Wardley Advanced Nutrition Perfect Protein Tropical Fish Food Small Pellets, 3-1/2-Ounce
Medium
Hikari First Bites Semi-Floating Fry Food for Pets, 0.35-Ounce
10 new from $2.29
Free shipping
as of September 21, 2023 10:27 pm
Features
Helps Fry Develop Superior Disease Resistance
Great For Livebearers And Egg layers
Rich In Highly Nutritious, Freshly Harvested Ingredients
Promotes proper feeding habits
Expect Rapid Growth Free Of Dietary Deformities Or Deficiencies
Cobalt | Ultra Guppy Nano Bits
3 new from $10.90
Free shipping
as of September 21, 2023 10:27 pm
Features
. 6 mm size pellet
Prebiotics and Probiotics
All Natural Ingredients
Color Enhancing
Less Waste-Cleaner Aquarium
[author title="About the Author"]

Latest posts by Carl Broadbent
(see all)