Aquariums come in all shapes and sizes these days and thankfully so do the lighting sources. Long gone are that days of trying to hang a fluorescent tube on the back of a tank dangerously close to the water and electrics.
Now, we have a wide variety of LED lights to choose from which are safer and cheaper to run. Less wattage but more light output and a better spectrum of light means they are perfect for growing plants and corals.
So which LED Aquarium light should you buy? Let's take a look at the Best aquarium LED lights
Quick Links below:
The best 7 Aquarium LED lights are :
Last updated on November 30, 2023 5:31 pm
Do you want to enhance your freshwater or saltwater marine aquarium with a purely natural glow? If yes, then add in the Full Spectrum LED Aquarium Light which comes in a diverse array of eleven sizes. To begin with, this light is equipped with three optional control modes that include Only Blue LED ON, ALL LED ON and Close. Moreover, the best part is that if one LED exhibits dysfunctional properties, the problem does not diffuse, or hinder the functioning of the remaining LEDs.
Furthermore, to mimic daylight and moonlight, the LEDs provide 16*Red, 8*Green, 62*Blue and 121*White.
This Aquarium light also includes two extendable brackets, a power supply, and a useful user manual to guide aquarists of all backgrounds.
Pros:
With this upgraded version, you gain access to five bright colored full spectrum LEDs (5730SMD) that allows for lustrous plant growth, increased aesthetic visuals and casts a brilliant burst of color on every aquatic plant placed inside the aquarium. (Customization of light functions)
Low Profile and adjustable: This highly economic purchase is flexible in nature in that it has extendable brackets, which basically means that it defines the one size fits all standard as it'll fit into different sized aquariums (180cm/72-inch 210cm/84inch).
The case material comprises an Aluminum alloy shell, thereby granting high durability status as it stays cooler for longer.
Unbelievably long product lifecycle i.e. 50,000 hours owing to High-Quality LEDs.
Small price to pay for sustainable, low energy dissipating yet still a highly efficient LED.
Can illuminate large gallon tanks with 44W power.
Easy to use as a switch is on the cord.
Cons:
It is not waterproof, and extenders lack secure setting on either side.
The light, fixture and LED toggle switch heat up enough to cause cracks.
The transformer has a short-lived survival rate.
There are no remotes and the cords may be too short (3ft).
WillsLed Aquarium Light is engineered and advertised to have a stress-free, portable, lightweight, easily dimmable product that can be placed in a 24-inch tank of fewer than 57 gallons.
It accurately emulates the elements of a natural marine ecosystem by incorporating traits of sunrises and sunsets. Furthermore, this environmental mimicry creates a synergetic condition whereby the photosynthesizing plants produce oxygen-rich aquariums. In addition to that, each light serves its own well-being promoting function; purple (430nm) promotes fish growth and sterilization, blue promotes coral health with increased Vitamin D3 uptake along with calcium and red (660nm) may lead to healthy fish growth. SPS and LPS thrive in this easily controllable light.
To keep the equilibrium at bay, there is a balance between both, PAR/Lumen Output and Coverage.
This highly eco-friendly light has quiet fans that dissipate heat, thus allowing for lower light turnover rates. Moreover, the energy saving lights only consume 113W each. Delivery on value for low-cost is a highly wise purchase.
Pros:
The provision of a perfect color ratio via advanced full spectrum including purple, white, blue, red, green (520nm) and bluish violet light assists the healthy development of aquatic plants and fish.
The product is very accommodating in that, they offer a one of a kind daisy chain which allows hooking up of 5 lights simultaneously without compromise.
They give a high level of customer service; 2 years of warranty along with 30-day return policy.
It provides a great light intensity of 165W.
It has a lifespan of more than 50,000 hours mainly because of the distinctively powerful cooling system that prevents lights from heating up by the control of convection currents.
The cool White (12000K) and Blue (450nm) Dimming Channels can independently be manipulated from 0-100%.
The 90-degree secondary optical crystal lens breaches waters depth and focuses stronger light, thereby delivering high illumination. Solid spectrum blending provided.
Cons:
There's a manual control hassle; the user will require a separate timer to control lighting.
It has a short power cable.
The hanging unit is hard to adjust as it lacks balance.
One cannot run blue light or white lights on a timer separately. No integrated timer.
Nano Reef Aquarium LED light caters mainly to hobbyists who want to look towards an inexpensive, intuitive item that meets and exceeds all basic requirements and is user-friendly. This light is beneficial, specifically for freshwater aquariums since it stimulates the growth and well-being of marine plants and animals.
The incandescent blue light lights up the tank and gives off the appearance of the natural sea all the while making the water transparent, clear and boldly sea-like. These lights have also been proven to stimulate absorption of coral calcium, synthetic Vitamin D3, accelerate growth in fish and plants and photosynthesis.
Pros:
It is specifically designed to propagate the growth of aquatic life. Produces more LUX Light at same Watt Power.
The design is like that of a surfboard, and it comes loaded with fashionable accessories
Reactive fans allow for dynamic temperature controls.
User-friendly and easy to function; installation takes one easy step. Using it is not rocket science as you simply need to touch to control the three dimmable LED Modes; pressing it for a long time adjusts the brightness, pressing it for a short time switches it on/off or changes the channel.
It illuminates the tank quite intensely given that it has top-rate, high-quality SMD LED lights that are equivalent to a natural marine ecosystem.
One can use it in freshwater, marine water and for aqua-plants.
Lightweight product; 0.35kg (10X5X3)
This LED light is compatible to smoothly operate with a timer.
No noise, good heat dissipation.
Cons:
The customer service compared to other products only comes with a 1-year warranty.
This tank light is only suitable for tank lengths of up to 10-16 inches.
The tank glass thickness should not exceed 6.5mm.
When it is secured to the glass the top of light sits in an angle that exposes LEDs out of the aquarium.
The touch system is prone to malfunctioning and becomes non-responsive.
Certain hobbyist may consider the blue light to be unnaturally blue or too intense.
Reports that in the RWB mode, no green LEDs function to balance out the red and blue LEDs, hence the light exhibits a purplish tint.
It does not work for hanged lid aquariums.
Contrary to what is advertised, the clip may not fit standard tank sizes. 
COODIA is a more affordable unit than most other LED Lights out there. It guarantees long lasting and bright lighting aquariums. They offer a variety of fixtures that cover 11-19-inch aquariums; some accommodate larger aquariums of 19-28-inches, 28-36-inches, and 37-45-inches all freshwater and seawater types.
Moreover, these neat fixtures can be controlled via a 2.4G remote control that boasts of over 16 different settings to be able to choose from by pressing color-coded buttons. Added on features like "fade" "strobe" and "smooth" is a unique attribute highlighted in this product. Therefore, it brings to the table an added level of control of transitions as the fixture moves through the cycle of its usual color spectrums. The remote can even work through a wall and the user may not need to directly point it at the light.
Pros:
This LED light comes with a very detailed instruction manual that can assist in hurdles that you may come across.
The LED light is low-profile and unobtrusive whilst at the same time delivering high-performance RGB LED bright light that is also energy saving.
It comes encased in a top-notch aluminum casing to efficiently regulate heat dissipation, preventing your light from heating up and burning out too quickly.
It is extremely easy to get going; simply mount it and plug it in.
7000k White color temperature availability promotes plant and marine life growth.
Despite being inexpensive, there are versatile color options.
The expandable brackets increase the flexible use of the product by easily modifying it to various demands.
Cons:
When compared to other brands, it only promises a lighting supply of 10,000 hours which is low.
The strobe light feature may be bothersome to some fish.
It provides no cycle or timer feature.
You can only set the fixture to one color at a time.
For all those novice aquarists or aquarists constrained to small tanks and limited spaces, the Hygger Aquarium Light clip-on is a Godsend. This LED light has been modified particularly to serve the function of a financially smart investment that is guaranteed to work for a huge range of aquariums.
Pros:
They manufactured a one of a kind modifiable gooseneck clamp that can be easily malleable to your desires. This item has proven itself to be thick and sturdy.
30 high-end LEDs that bring an unearthly shimmer to your tank.
They provide 9000K-11,000K stimulants that speed up photosynthesis and advocates a prosperous ecosystem within which marine life can adequately function and continue to survive.
The bulbs have a lifespan of 30,000 hours which is a hefty win considering the price.
Both on framed and frameless aquariums these LEDs are attached without a glitch and with a lot of added space saving. Two screws assist in latching on the equipment as securely as possible.
Highest illumination provided with 5730 LED bulbs (low energy expenditure): 30 LEDs output wattage is 13W and the 45 LED output wattage is 21W.
Despite long running times, the ultra-thin aluminum alloy shell confirms a smooth heat dissipation process.
Day and night mode perfectly copy natural daylight cycles, creating a healthy environment.
The blue and white LED lights are interchanging via the use of the switch on itself.
It is splash resistant due to its acrylic build, highly durable and the sleek design upgrades the ornamental value of the aquarium.
Cons:
The adapter is not waterproof hence requires cautious handling.
The blue and white lights cannot be set up on individual times.
There is no wired controller.
It is relatively not as bright as other LED Lights that are mentioned above.
Torchstar took into consideration the modern day demands of its users and brought forth an innovative, attentive, and minimalistic design that was both concise in appearance, and with its matte black appearance a fashionable add on to your home. The fixtures are accompanied by adjustable fitting suits that make it a highly versatile purchase at a very good price.
Pros:
It is an extremely compact and lightweight (1.1lb) which enhances the appeal as it reduces the struggle of installation and removal.
It reimburses the size with the ultra-bright light facility of 600lm. Regardless of the intense brightness, the actual energy consumption itself is very low 9W which means that the initial investment is cheap and in the long run it isn't too taxing on your wallet or electricity bill.
It has been granted the IP67 High-level waterproof rating, thus building the confidence that there will be peak performance delivery and negligible light leakage possibilities.
The state-of-the-art voltage converter grants secure operating of 30,000 hours. You won't need a replacement any time soon.
The light is rust-proof and corrosion-proof owing to the fact that they incorporated aluminum and ABS plastic material.
It is highly resistant to disruptions from vibrations and hydration of any sort.
Aluminum dye casting shell is an excellent conductor of thermal energy resulting in low heat generation which in turn reduces future repair costs.
It can be used with a timer.
2-year unlimited product warranty.
Cons:
The plastic trim may inhibit the appropriate fixing of the product.
Top of the lights does heat up a bit.
The width of the clip too narrow for some tanks
Although a little on the pricier end of the portfolio for freshwater and planted aquariums, Lominie comes with a multitude of features that meet the price expectations. Inculcated with an aluminum foundation, and a diameter of 2.7inches this suits 8-18-inch tanks (45cm). Moreover, for narrower tanks, they conform into a 60-degree optical lens from the 180-default option.
Pros:
Long cable length of 1.5M.
360-degree, rustproof Gooseneck clamp grants flexibility to the user. It won't scratch the tank and fits on thick glass aquariums of up to 0.8inch breadth.
A manual dimmer switch allows adjustment from 0-100% (suitable for low light and high light needing plants)
The 6500K white lights along with high CRI COB LED is an excellent growth stimulant via light equilibrium creation, high energy competency, and deep light penetration, lighting your tank up like a well-lit stadium.
Productive heat regulation is provided via ASTA 20 aquarium using aluminum cold forging.
No noise, no need for extra accessories and provides an extra lens at the same cost.
Cons:
It has a lower warranty than other mentioned on this list of only one year.
The dimmer switch is finicky and needs to be adjusted slowly. (Ranges quickly from 0-100, harder to get it to medium option)
Lacks detailed instructions for mastering the remote.
The freshwater version does not come with a remote.
Types of Lighting
Aquatic life quality has a symbiotic link to the quality of light, intensity and the spectrum of colors that it receives. Let's look at what type of lighting you'll need for your aquarium to provide the best lighting possible for your fish, plants, corals and invertebrates.
Light Emitting Diode:
LEDs emit light as exited subatomic particles pass through a semiconductor material i.e. electroluminescence. This requires relatively lower energy, producing a bright light that is both efficient and delivers on brightness for up to 50,000 hours. A diverse range of uses includes supplemental lighting or major lighting for aquatic tanks. (0.05-5W)
However, without proper ventilation, it may become prone to damage via heat.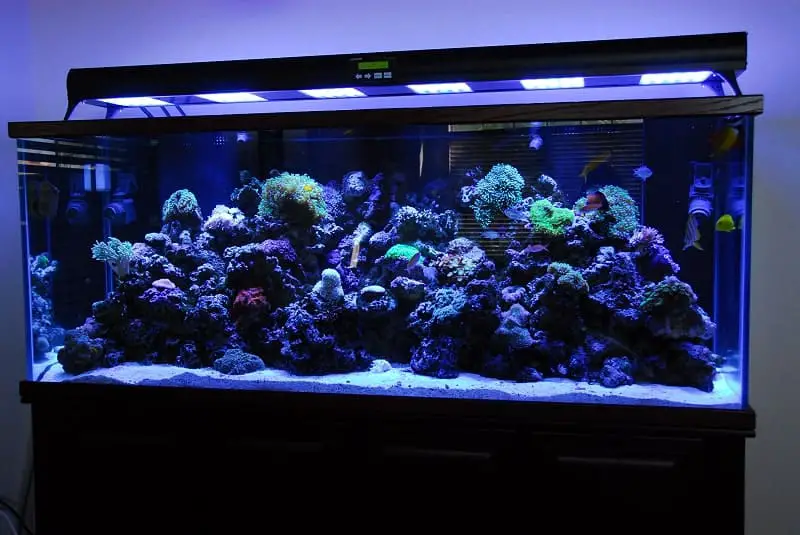 Benefits:
LEDs operate at extremely low running costs because the bulbs run at a minimal wattage. The perk is that this does not inhibit or reduce the illumination whatsoever. They take 80% less energy to operate. Energy cost savings in the long term are substantially large.
LED units also run at a very low heat margin. They possess the attributes of inbuilt heat sinks and fans that are great thermal regulators and excellent at dispersing heat. Inadvertently, this lowers the rate of evaporation in an aquarium tank as well.
LEDs possess an impeccably high-water depth penetration rate.
Unlike other lights, there are no chances of UV Radiation production.
As nature requires mobile setups, LEDs possess dimming traits that can be modified to suit the needs of marine life as desired. They can be programmed to imitate sunrise and sunset and integrates features of lunar cycles that can regulate your marine occupants.
Compared to traditional lighting LEDs last up to 6 years.
Standard Fluorescent:

(Fluorescent lights are outdated and ugly)
Presents a diverse array of color options and sizes. They are relatively cheap and efficient and remain at cool temperatures.  The bulbs last up to 6-18 months whilst generating 15-40W power. Furthermore, they can be placed within a fresh or saltwater community aquarium. However, they are not suitable for photosynthesizing plants or invertebrates.
Compact Fluorescent: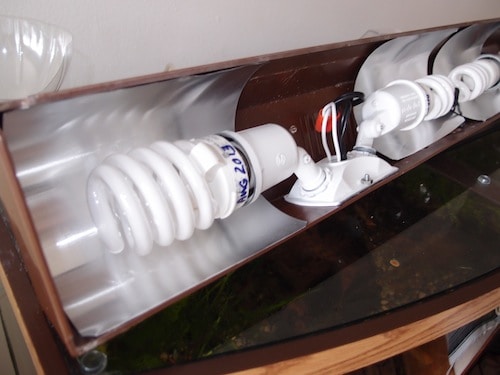 These function at 10-130W of power and last up to 4-18 months. Despite needing more chilling options due to the high heat production these possess a longer lifetime survival rate than standard fluorescent lighting. There are also numerous sizes from which to choose. They can be placed in freshwater where the reefs are less than 24 inches deep.
T-5 HO Fluorescent: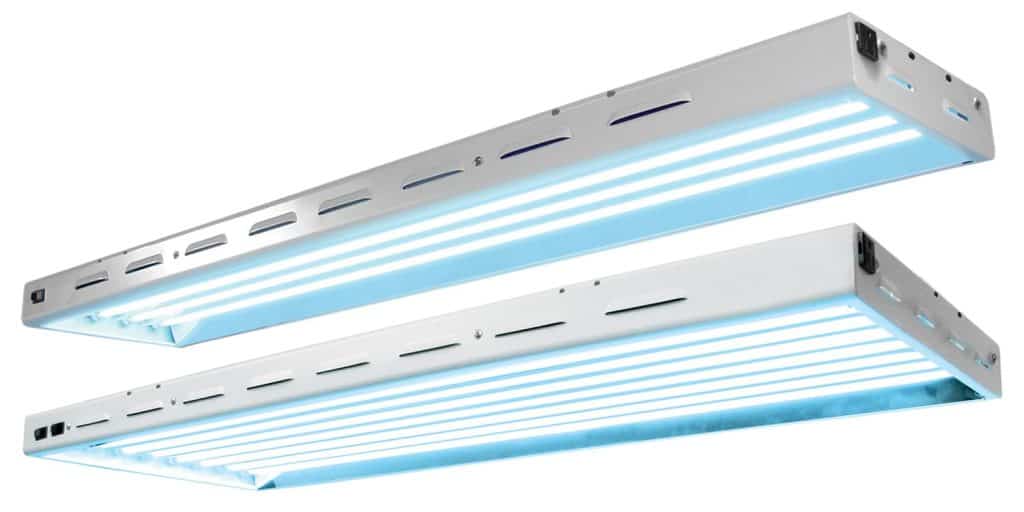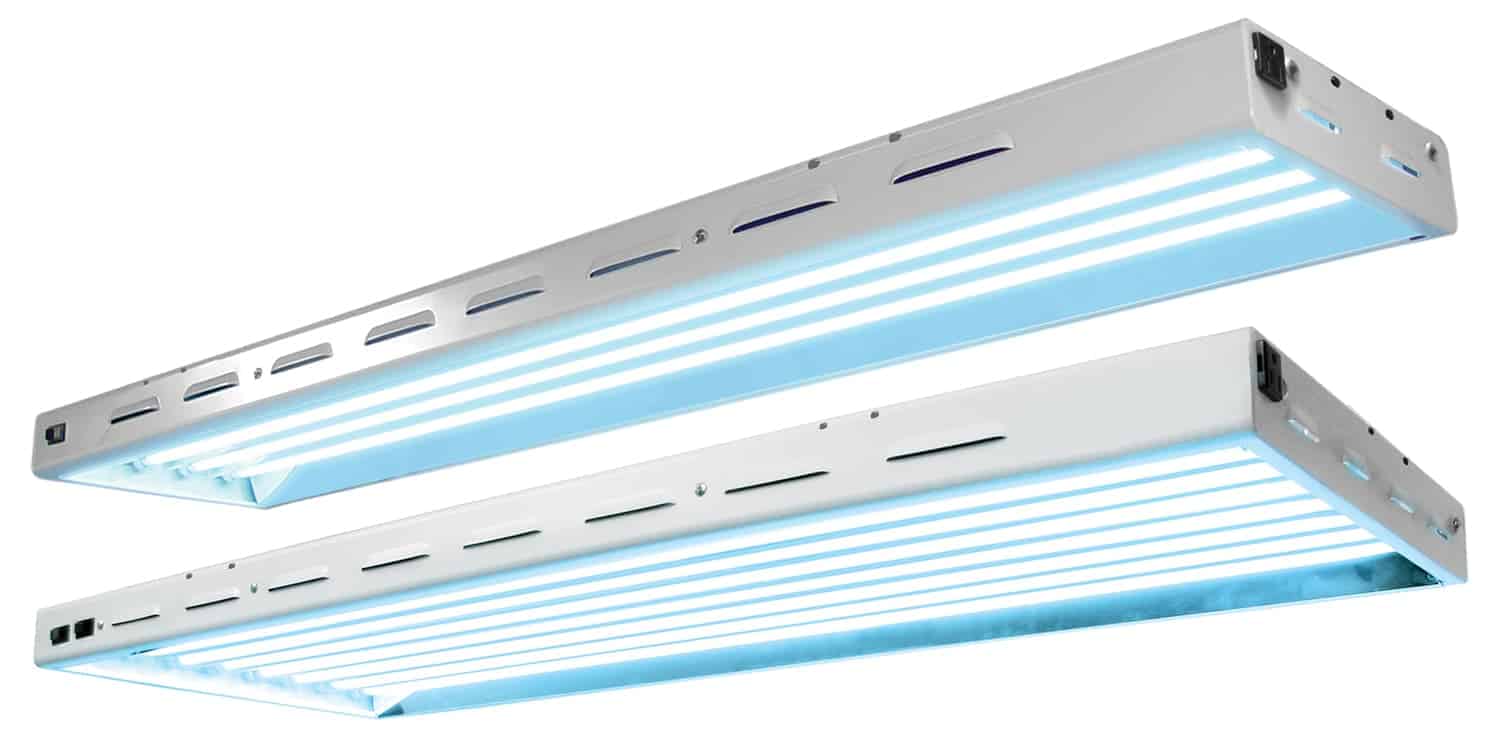 Perfect for reefs in freshwater less than 24 inches deep, these last up to 16-24 months granting them the status of high longevity. Provide high-intensity power of 24-54W whilst also being cool running.
VHO Fluorescent: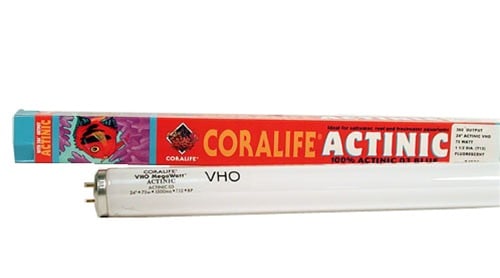 Compared to most, these require a higher chilling assistant due to being prone to heating up. At 10-130W these last up to 4-18 months in freshwater planted reefs less than 24 inches. These last longer than your run-of-the-mill fluorescent lights and once more you have a vast supply of choices to pick from.
Incandescent:
Your typical beginners' start-up kit should include the incandescent lighting system. It's predominantly used for small fish only as it fires off only 7-25W of power. This multi-colored inexpensive product will last you 2-4 months. The limitations, however, are numerous in that it heats up a lot, provides lower light intensity and has a narrow spectrum to offer.
Metal Halide: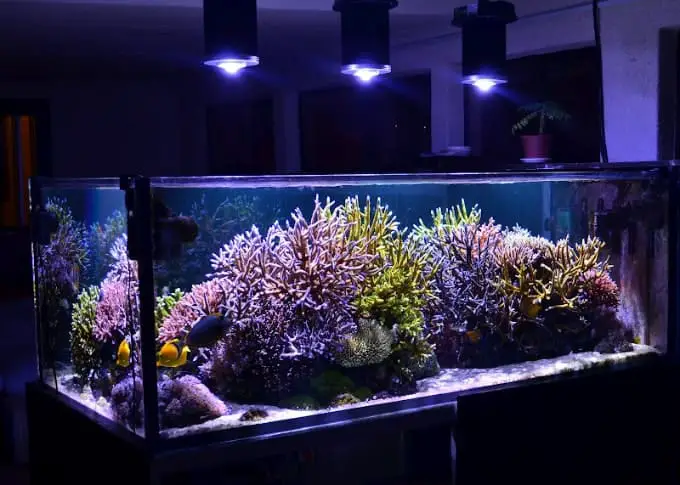 In tanks filled with photosynthetic corals and invertebrates and reefs of freshwater aquariums that surpass 24 inches, feel free to place metal halides. These function at 70-1000W of high power and last up to 6-18 months. Moreover, they provide the highest intensity, complemented with wide spectrum range availability. However, the only downside is the possibility of UV Radiation production and high heat.
Conclusion
Choosing the right LED aquarium light for your tank will involve a number of factors and not least the cost. It's true to say over the last couple of years LED aquarium lighting has come down in price. Now you can think about other contributing factors and not just the price.
If you're thinking of buying a fish tank for the first time we have a couple of helpful guides that will make buying an aquarium easier and once you have purchased it we have some helpful guides to help you maintain and run your aquarium successfully. Below are a few of our favorite guides.
We hope this guide: 7 best aquarium LED lights has given you some good information to enable you to make the right purchase and hopefully in the process we have saved you some time and money.
WillsLed Newest 165W LED Aquarium Light Full Spectrum Dimmable Lighting Lamp for Coral Reef Fish Tank Freshwater & Saltwater
as of November 30, 2023 5:31 pm
Features
【HIGH PAR VALUE 】- Scientifically engineered to keep the PAR/Lumen Output and Coverage balanced. The PAR Value can reach 858 at 24" height while others just 377. Perfect fit for depth 24" tank. Fit for less than 57 gallon. Max coverage area: 36"*36"*36". Suggest distance above water surface: 3-5inches.
【ADVANCED FULL SPECTRUM】 - Includes Red, Blue, Purple, White, Green and Bluish Violet Light, perfect full spectrum layout that can promote photosynthesis of aquatic plants to provide enough oxygen for aquarium creatures, make your aquarium growing healthily. Red light can promote healthy growth of fish; Blue light can promote the amount of Vitamins D3, which will help coral absorb Calcium and make the coral healthy growth; Purple light can be used to sterilize and protect fish growth.
【2 DIMMING CHANNELS】 - Both Blue Channel and White Channel can be adjusted uniformly from 0%-100% to meet different needs of your corals, reef and fish (freshwater & saltwater), which promotes the growth of any SPS and LPS flourished under it. You can turn on the blue and white channel at the same time, or turn them on separately, these two channels are controlled independently.
【SECONDARY OPTICAL CRYSTAL LENS】 - 90° crystal lens thereby to penetrate the depth of water, make the water more brighter and clearer, providing optimal lighting environment, beautify your aquarium. The difference of us is the daisy chain design, you can use the power cord which in the original package to connect no more than 5 lights together at the same time.
【BEST SERVICE】 - 1 year warranty guarantee. If you have any questions, please feel free to contact us, we will provide you with complete customer satisfaction.
Nano Type-R2 Led Light for Saltwater/Reef Tanks
 out of stock
as of November 30, 2023 5:31 pm
Features
Includes IR remote control made to work within 12 inches of the light for Storm Mode and Dimming
Power: 11W
Color Temp for white LED: 12, 000K
Wave length (actinic): 450-465nm
Lumens: 790Lm
COODIA Aquarium Hood Lighting Color Changing Remote Controlled Dimmable RGBW LED Light for Aquarium/Fish Tank, Extendable (for Fresh and Salt Water)
as of November 30, 2023 5:31 pm
Features
Multiple colors and multiple lighting modes.This light is beneficial to grow plants.
With extendable bracket to adjust the length to fit your fish tank,fits tank 30cm--50cm in length
Dedicated and professional power supply design, more energy-efficient,over 10000 hours lifespan
Hygger Blue White LED Aquarium Lights Clip on Fish Tank Lamp Lighting for Saltwater Freshwater with Gooseneck Clamp 13-watt
1 used from $25.66
Free shipping
as of November 30, 2023 5:31 pm
Features
✔ SUPER BRIGHT LED FISH TANK LIGHT -- Premium 30 LED in total to produce amazing shimmer effect to your aquarium and emit enough bright light for a healthy and growth environment for your fish and other inhabitant. 13W led fish tank light is recommend for 5-10 gallon tank.
✔ TWO LIGHTING MODES -- White and blue LED for daylight, blue LED for nightlight.
✔ SLEEK DESIGN -- Ultra-thin aluminium alloy and plastic shell ensures excellent heat dissipation, while acrylic casing is SPLASH RESISTANT and safe to use. Update version: we do some changes on clip, so it fits for most rim and rimless tank thickness up to 0.9 inch
✔ FLEXIBLE GOOSENECK CLAMP – Adjustable clamp allows for flexibility in fitting varied angle and position by gently turn the soft arm of the lamp.
✔ WIDE APPLICATION – Hygger led aquarium light is ideal for freshwater or saltwater aquariums and aquatic plants.
TORCHSTAR LED Aquarium Light, 600lm Ultra Bright Fish Tank Light with Adjustable Clip, IP67 Waterproof Rating, for Freshwater Aquarium Plants, Indoor Water Garden, Pack of 2
as of November 30, 2023 5:31 pm
Features
Super bright - 400lm bright LED light bar provides sufficient light for daily lighting. 5W low energy consumption, cut down much of your electricity bill
Designed with Adjustable Clamp - Great for water plants and decorating in various scenarios such as the fish tank, aquarium, tabletop, indoor water garden, houseplants tanks, etc
Better Performance - IP65 waterproof rating and tightly sealed light body. 30,000hrs service lifespan largely reduces re-lamping frequency
Tailored to You - Compact and lightweight design, easy to install or remove. The simple and beautiful look can also act as a good decoration
Hassle-free Warranty: Covered by our 2-year unlimited product warranty, your satisfaction is 100% guaranteed. Please set your heart at rest
Lominie LED Aquarium Light, Asta 20 Nano Dimmable Planted Tank Lights 6500K with Gooseneck for Plant Freshwater Aquarium Fish Tank Refugium (Planted Version)
as of November 30, 2023 5:31 pm
Features
ADJUSTMENT SYSTERM: Manual dimmer switch to dim the light from 0% to max. 360° adjustable rustproof gooseneck, the clamp is wide enough for 25mm thick glass, plastic screws won't scratch the tank glass
SUPERIOR CRI: COB LED provides equally-distributed illumination, strong penetrability, energy efficient and slim body to produce amazing illumination effect for planted tank.
SOLID ALUMINUM HOUSING: Diameter 2.7 inches/7.0cm, suitable for 8"~18"(45 cm) long tank. Default 180 optical lens, plus an optional 60 degree lens for narrower tank; Excellent for freshwater and planted aquarium setups.
HEAT DISSIPATION: Asta 20 aquarium led lamp uses quality aluminum cold forging heat sink, efficient cooling system to extend the lifespan of the LEDs.
CUSTOMER SERVICE: 12 months long-time friendly service for any trouble of our lights. Welcome to ask any questions of light, we will do our best to help you.
KZKR Upgraded Aquarium LED Light Full Spectrum 36"-48" Hood Lamp for Freshwater Marine Plant Multi-Color Decorations Light 90cm - 120cm
1 used from $44.16
Free shipping
as of November 30, 2023 5:31 pm
Features
Full spectrum LEDs aquarium light, bring more natural light to your fish and plant. 3 optional control modes: All LEDs On / Only Blue LEDs On / Close.
Super bright 5730SMD. High-quality LEDs for low energy dissipation. Aluminum case for faster cooling to keep long service life.
Suitable Tank Length: 90cm/ 36inch- 120cm/ 48inch. With extendable bracket to fits your tank. Lumen: 4515. Power: 31.5- 32W.
This light is not waterproof, please don't put it into the water.
Package include: 1x LED Aquarium Light, 2x Extendable Brackets, 1 x Power Supply. We will check the packaging carefully before shipping, avoid the damage to the light during transit.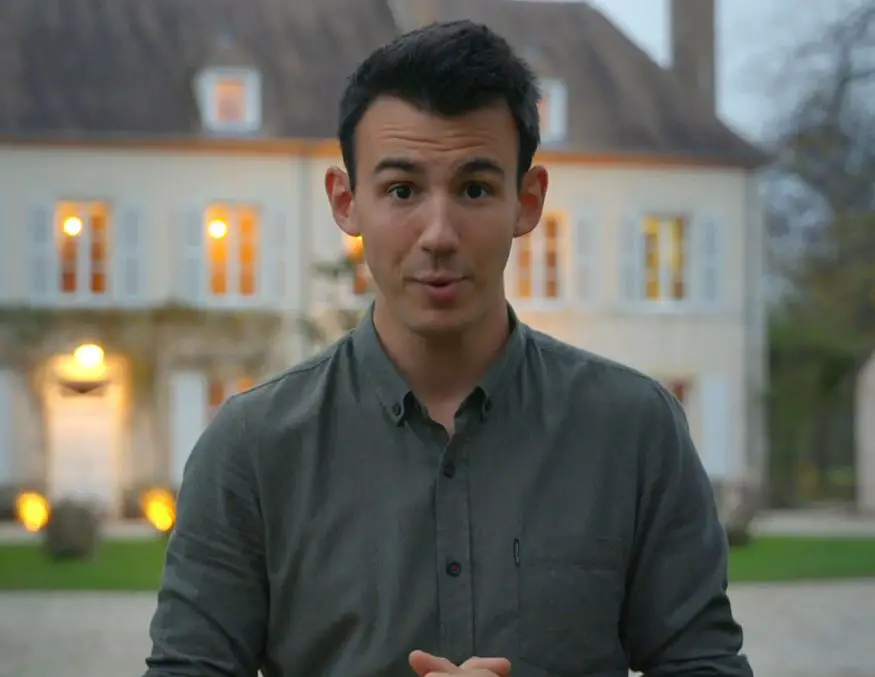 I have been working in the tropical fish industry for over 30 years now and I'm still learning. Everyday is a school day in this hobby. In my spare time I play golf very badly!