When it comes to decorating your aquarium the choices are endless. However, In this review of the Best Fish Tank Ornaments for kids aquariums we'll have a bit of fun.
You can go for the natural planted look, which even has its own name 'Aquascaping'. This is where you make your aquarium look like a picture or scene like a forest or a waterfall.
Then you can go for the riverbed look – full of driftwood, large plants as well as floating plants. These types of decoration can also provide the perfect soft water conditions needed for certain tropical fish.
But for a child's aquarium, you can have a bit more fun and take the decoration to the next level and add the fun factor. There are even aquariums (and fish) that glow in the dark!
Quick Peek at the best Kids Aquarium Ornaments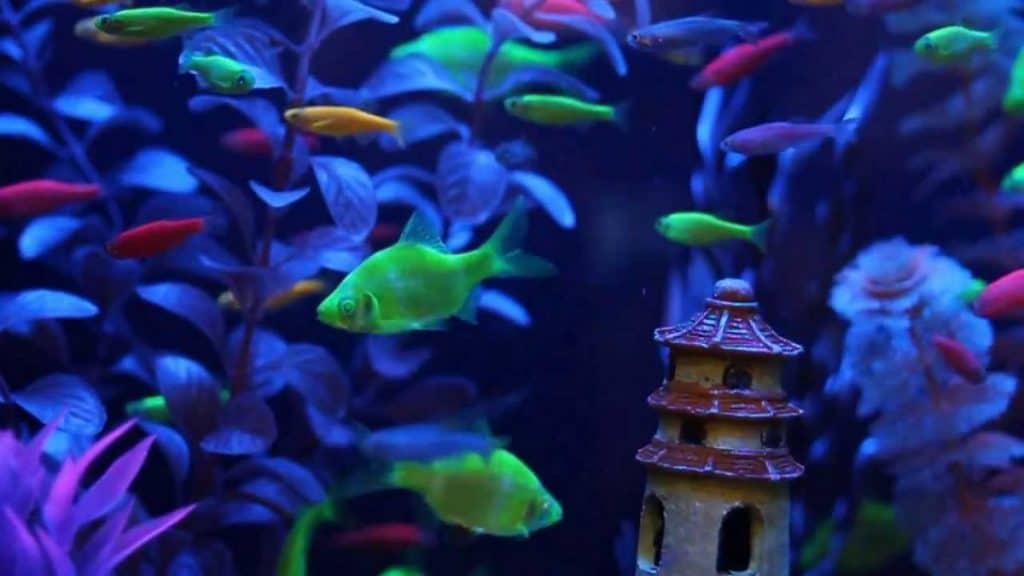 Everyone has seen the bubbling sunken ship or the dancing skeleton in a fish tank at some point right?
These types of ornaments help kids interact with their aquariums, which keeps them interested and teaches them how to care for pets in general.
Many people have different opinions on what type of decor should be in a fish tank. The choice, of course, is entirely yours and it all comes down to personal preference.
It has to be said that live plants and driftwoods add that extra beneficial factor over plastic plants and sunken pirate ships but they have their place too by adding extra oxygen which is vital for your fish's health.
Let's have a look at some of the Best Fish Tank Ornaments
Do you need any equipment to work fish tank ornaments?
Some moving aquarium ornaments will require an air pump to run them as they use bubbles to make the ornaments move.
We suggest a small, quiet air pump that will be suitable for a child's bedroom, one that won't keep them awake at night with the noise. We have reviewed many different types of quiet air pumps and you can read the results here. If you are in a hurry and simply want a small quiet air pump we recommend the Tetra Whisper.
Are plastic Fish Tank Ornaments toxic to fish?
If you purchase an ornament specially designed for a fish tank, then the paints and plastics used should be suitable for aquariums and will not be toxic to fish.
Don't ever be tempted to add any type of ornament that hasn't been specially designed and made for aquarium use. These can release toxins from the paint that can quicky kill your fish.
Fish will nip at the ornaments in search of food and this is where the harm occurs. They nip away at the paint and plastic, which can then release the toxins into the water and filter systems and be harmful to your fish.
If you suspect that you have water issues from using something in your tank, you must do a large water change as soon as possible so as to remove as much of the harmful toxins quickly. Don't change all the water as you will remove too much of the good bacteria. We would suggest about 75% water change in an emergency case.
Can you use any type of wood in an aquarium?
Many of the woods found in your local pet store have been treated, so they are okay to add to your fish tank. You can't however,  just add any un-treated wood into your aquarium. This can alter the chemistry of the water in your tank. Driftwood makes a good addition to an aquarium, but you can't just add any driftwood found on the beach or wood from your local forest without it being treated.
To be safe, we would simply recommend buying driftwood that is prepared especially for aquarium use. It's inexpensive and easy to add to your tank. there's no preparation needed. If you want to see how hard it is to prepare a piece of wood for an aquarium, just pick up some driftwood from the beach and soak it in a large tub of water for a few days.
Firstly, it won't sink and it will take around 3-4 days to finally soak up enough water to make it sink. Secondly, it will turn the water in the tub brown! This is not what you want your aquarium to look like. Here's a link to some great driftwood specially prepared for aquarium use.
Can you use any rocks in a fish tank?
Picking some lovely stones from your garden or the beach can seem like a money saving idea – but it comes with some risks attached.
Many rocks and stones contain calcium which can change and alter the pH levels in your aquarium to such a level that it becomes harmful for your fish. There are two ways to test if the rocks, stones or gravel is suitable for aquarium use.
You can test the rocks that you'd like to use in your aquarium by placing a few drops of vinegar on the rocks. If the vinegar (a base substance) fizzes don't use it, as the reaction you are seeing indicates that the stones contain calcium.
The second method is to place the washed stones in a bucket of water from your aquarium. Test the pH and hardness, and then let the water sit for a few days then test the pH levels again. If there is a significant change, the rocks or gravel are likely to cause problems if used in your aquarium.
A safer way is to buy rocks and stones which have been selected and tested for aquarium use from your local pet store. I understand these can seem expensive for a few old rocks, but it can be money well spent.
Conclusion: Best Fish Tank Ornaments
How you decorate your aquarium is up to you and there will always be people who argue for and against having plastic ornaments in a fish tank. As long as the ones you choose are suitable, then you are doing nothing wrong and why shouldn't you enjoy your fish tanks and have some fun!
Don't cut costs and try to make your own or use unsuitable/untested ornaments that can put the lives of your pet fish at risk. That we don't agree with!
[author title="About the Author"]