Aquarium Air Pumps- 9 Quietest Fish Tank Air Pumps Reviewed
The majority of beginners guides to setting up an aquarium will not include the humble air pump. This is because they are not actually an essential piece of equipment needed to run a successful fish tank. Read on, however, and you will see why they are something that you should consider using one of the quietest air pumps you can find. 
Fish need to breathe, a simple but true fact and that they need the water in their aquariums to be oxygenated to do this. The reason many fish tanks don't have an air pump is that the filters help with this due to the movement of the water they create which oxygenates the water without the need of an air pump. However, you really cannot have too much oxygenation, in fact, the more the merrier your fish will be, and this is where an air pump comes in. These, handy little pieces of equipment oxygenate.
The general train of thought is that by creating bubbles in your aquarium the air pump oxygenates the water. This, perhaps surprisingly, is not the case. Air pumps work by causing the surface area water to move, creating more contact with the air. And the more contact the air has with the water the more it will become oxygenated.
Whats the 9 quietest air pumps for fish tanks?
We will go into more detail shortly as to what makes these quiet air pumps better than the rest and worth a look if you're thinking of setting up a small fish tank.
There are two ways in which you can use the air pump within your aquarium but both work on the same principle. The air pump is plugged into the electricity and a tube attached that goes into the water. From here the choice is yours, you can simply attach an air stone to the tubing and bury it into the substrate or attach a specially made ornament.
Air stones come in various sizes from around a centimeter to many inches in length. They allow you to either have one concentrated area of bubbling, or a curtain of bubbles which could stretch right across your aquarium. The more spread out the bubbles are, the better the water movement will be that is created. Tip: adding a colored light strip to a curtain of bubbles can make them look incredibly impressive and dramatic.
However, it would be prudent to note that not all fish enjoy the bubbles in your fish tank created by air stones so for them a small concentrated area is better. For those fish that do enjoy them, and you'll know if they do as they will swim through them like crazy, knock yourself out, and bubble away to your heart's content.
Air pump ornaments work on the basis of the force of the bubbles or the bubbles themselves creating a certain look. The most popular air pump ornaments are generally ones such as clams, treasure chests, and other items that open. They work by having an opening and closing valve allowing water through and then stopping it alternatively to create the open and close feature.
Other fish tank ornamentals you can create include waterfalls and volcanoes. The volcanoes, for example, shoot bubbles from their core making them look like they are erupting. The waterfalls are generally a little more elaborate, generally requiring two air pumps and sand to create the illusion of water falling down the rocks.
One of the most popular ways to filter a small fish tank is an undergravel filter, these are sheets of plastic with holes all across the base. They have a tube at one end and often both ends depending on the size of the aquarium where you place your air stone attached to one of the quietest air pump you can find.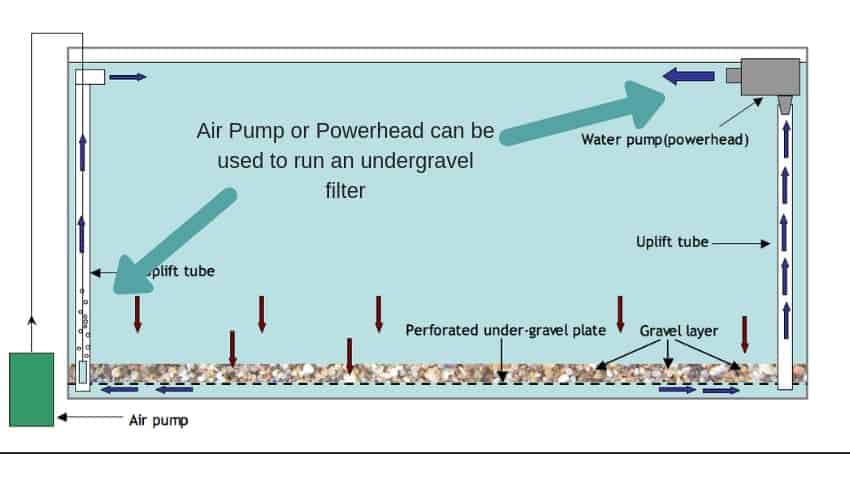 The bubble rise up the tube and cause a vacuum and pressure which pulls the water and dirt down through the gravel. The dirt is then trapped and is broken down biologically over time. A simple but very effective way to clean a small fish tank and one of the best and most natural ways to filter a small fish tank.
Remember, no matter what filter or air pump you use, you will always need to carry out regular water changes to remove harmful nitrates and phosphates which build up over time.
9 Quietest air pumps
Tetra Whisper Air Pump, For 20 to 40 Gallon Aquariums
2 new from $10.99
Free shipping
as of December 5, 2023 11:26 am
Features
POWERFUL Tetra Whisper Air Pump provides dependable airflow to your aquarium
QUIET Patented dome shape suspended motor and sound-dampening chambers for quiet operation
ELIMINATES VIBRATION Designed with a wide footprint and rubber feet
AVAILABLE SIZES Select the proper size for your tank – 10 20 and 40-gallon pumps have single air outlets 60 and 100-gallon pumps feature dual outlets
Fluval Q2 Air Pump, 3 Pack
 out of stock
as of December 5, 2023 11:26 am
Features
| | |
| --- | --- |
| Binding | Misc. |
| Brand | Fluval |
| EAN | 0015561011655 |
| EAN List | EAN List Element: 0015561011655 |
| Item Dimensions | Weight: 718 |
| Label | Hagen |
| Manufacturer | Hagen |
| Package Dimensions | Height: 600; Length: 1200; Weight: 718; Width: 900 |
| Package Quantity | 3 |
| Product Group | Pet Products |
| Product Type Name | PET_SUPPLIES |
| Publisher | Hagen |
| Studio | Hagen |
| Title | Fluval Q2 Air Pump, 3 Pack |
| UPC | 015561011655 |
| UPC List | UPC List Element: 015561011655 |
Aqueon Quiet Flow 20 Aquarium Air Pump, 11-20 Gallons
14 new from $13.54
Free shipping
as of December 5, 2023 11:26 am
Features
Contemporary, upright design
Rubberized base lessens residual pump noise
Each air pump includes replaceable check valve, diaphragm and dust filter pad
Single vertical hose outlet for keeping hose kink-free
Fits aquarium size 11-20 gallons
Mylivell Aquarium Air Pump Ultra Silent High Energy Saving Oxygen Air Pump Aquarium for Fish Tank with Air Stone and Silicone Tube (White Black)
as of December 5, 2023 11:26 am
Features
♥ MORE SILENT - Our air pump is just driven by a thin piezoelectric ceramic plate, totally different from traditional electromagnetic air pump, No EMI, No motor, No shaft, No other troublesome mechanisms, which makes it super compact, quieter, light weight and long service life.
♥ STABLE PERFORMANCE - Oxygen air pump is stable performance, is ideal for small and medium-sized fish tank plus oxygen. It is also perfectly suitable for using at all kinds of high-grade aquarium, aquaculture oxygenation or spout decoration.
♥ HIGH-EFFICIENCY - This air pump is very efficient in a fish tank up to 40 gal, with long service life, has the most power of Hpumps. Suitable for fish tanks contain 500MM Water Depth.
♥ PRACTICAL DESIGN AND EASY TO USE - Aquarium air pump is small and light weight, portable and space saving. Very easy to install, connecting air stone and air tube with pump outlet, then immerse air stone into tank.
♥ STRONG AIR STONE - Air pump with an air stone, producing a lot of bubbles which your betta loves (as do most fish), adding extra oxygen. A great mother's day gift.
Hydrofarm Active Aqua Air Pump, 4 Outlets, 6W, 15 L/min
17 new from $28.95
5 used from $25.12
Free shipping
as of December 5, 2023 11:26 am
Features
Super silent with multi-level muffler
Special artificial rubber to keep a steady air flow output and pressure that can be Adjusted freely
Low power consumption
240-Gph, maximum amperage is 0. 08 and maximum decibels is 45
6-Watts, 15 litters per minute
COLLAR Quiet Aquarium Air Pump - Fish Tank Air Pump - Fish Oxygen Air Pump Accessories Silicone Tubing Air Stone Aquarium Kit - for Aquarium up to 26 Gallons by Apump Plus - 1 Outlet USA
as of December 5, 2023 11:26 am
Features
Quiet Aquarium air pump aPUMP - the most silent and smallest quiet air pump in the world
AIR PUMP AQUARIUM KIT - the fish tank air pump is completed with air pump accessories: 4,9 ft air pump tubing and airstone
HI-TECH PIEZOCERAMIC DIAPHRAGM. And now the fish tank air pump saturates water with oxygen quieter than other one
COOL! IT IS NOT VISIBLE AND AUDIBLE! Great design - aquarium air pump is so small. It can be fixed to the wall of an aquarium
QUIET AIR PUMP is the best source of oxygen in an aquarium up to 26 gallons. aPUMP DOES NOT WORK WELL TO CREATE BUBBLE WALL
Pawfly 7 W 254 GPH Commercial Air Pump 4 Outlets Manifold Quiet Oxygen Aerator Pump for Aquarium Pond
as of December 5, 2023 11:26 am
Features
Lots of Air: Deliver 254 gallon per hour air for fish breath or root growth with 7-watt low power consumption. Max Pressure: 0.025 MPa
Super Silent: Extremely quiet operation with multi-level internal muffler. Shockproof rubber pads help reduce noise and keep it steady. Please put the pump in a cabinet or under a proctective cover when used outdoors.
Running 24/7: High/Low switch to choose from. Low air flow with minimal noise, allow you to run it in the living room 24/7 without annoying sound.
Durability: Special artificial rubber diaphragm ensures longer operation life and steady air flow output with minimal vibration.
4 Outlet Port: Includes 4 outlet divider to manually control the air flow, perfect for aerate 4 of sponge filters or air stones at once
EHEIM Air Pump 100 W/Diffuser
6 new from $40.68

as of December 5, 2023 11:26 am
Features
Air pump
Eheim
30 gal
Item Package Weight: 1.0
Hygger Quiet High Output 10W Aquarium Air Pump, Premium Oxygen Pump Air Aerator Pump for Fish Tank 30-600 Gallon, 2 Air Outlets (4mm), 250GPH, 100-120V, 0.03MPa (Black)
as of December 5, 2023 11:26 am
Features
POWER & VOLTAGE: US plug, 10W, 100-120V, a very powerful aquarium air pump. Please note it need voltage converter if use the pump in high voltage (>120V) countries. In cold winter (Temp
SUPER QUIET: we use bearingless motor in the air pump, it works through magnetic bearings, which is least vibration and low noise. We also adopt extra vibration and noise reduction ways on the pump to reduce the noise to the least, less than 35db, just half as loud as a microwave oven
AQUARIUM FISH TANK SIZE: the air pump is perfect for large fish tank 30 to 600 gallon. One air pump can work for 1 or more fish tanks. Please note it dosen't suit for small size fish tank
HIGH OUTPUT: this oxygen pump with 2 air outlets & compatible with 4mm air tube, the air flow rate is 250GPH (16L/min), the pressure is 0.03MPa. The air flow of this pump is not adjustable
HIGH QUALITY: Hygger air pump has longer service life. If you need replace parts,you can buy the replacement diaphragms at ASIN B07RKZYPDT.
Conclusion: 9 Quietest fish tank air pumps.
As responsible pet owners, we are obligated to give our fish the best possible conditions to live in. We also need to be able to enjoy our fish tanks without the noise of an air pump driving us mad all night. So by buying one of the quietest air pumps on the market you're not only providing a better environment for your fish to live in but you're also getting a better fishkeeping experience.
Another thing you'll need if you're planning to keep tropical fish is an aquarium heater with built-in thermostat to regular the water temperature. Read our full review of the best aquarium heaters.
Fish tanks children's bedroom have become very popular over the past few years. They offer a wide range of benefits like teaching your child to care for living creatures, responsibility, and they also have a calming effect helping your child to sleep better. However, if the air pump is noisy it can have the reverse effect so ensure you buy a quiet air pump like one of the ones above.
If you're looking for a great first starter fish tank you can go wrong with the Marineland Portrait Glass LED Aquarium. This perfect starter fish tank has all the lights and filters built in and makes a great 5 Gallon starter fish tank perfect for Children's bedrooms. My son has one and loves it!
If you're thinking of buying your first fish tank you might want to read our complete guide to starting an aquarium- Starting a fish tank for beginners. 
[author title="About the Author"]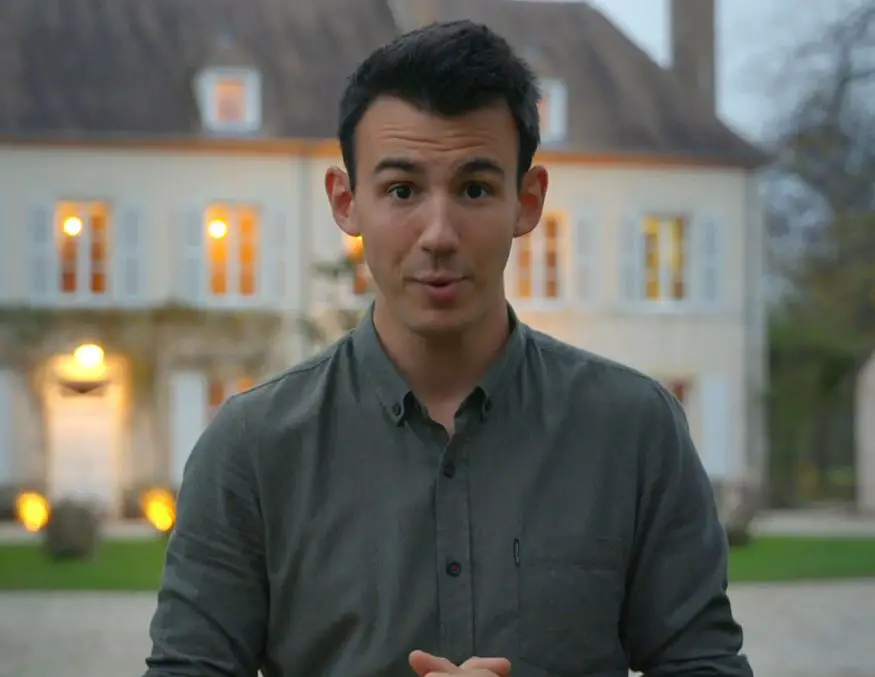 I have been working in the tropical fish industry for over 30 years now and I'm still learning. Everyday is a school day in this hobby. In my spare time I play golf very badly!