Whether you already have a saltwater aquarium or are planning to keep one, you will know that, above anything, they require the correct levels of salt. A feat that can be difficult to achieve, especially since you have to mix the salt into their water for yourself.
We recently set out to find the best hydrometer for saltwater aquariums – read on to see the results!
Simply knowing that you have got the right amount of salt can be difficult to judge, and this is where a hydrometer comes into play as they can really help.
So, in this vein, and for this very reason, we have chosen and tested a select few in the hopes that it will help you decide which is the best hydrometer for you.
In a hurry? Click here to see a selection of Saltwater Hydrometers and how online shoppers rated them.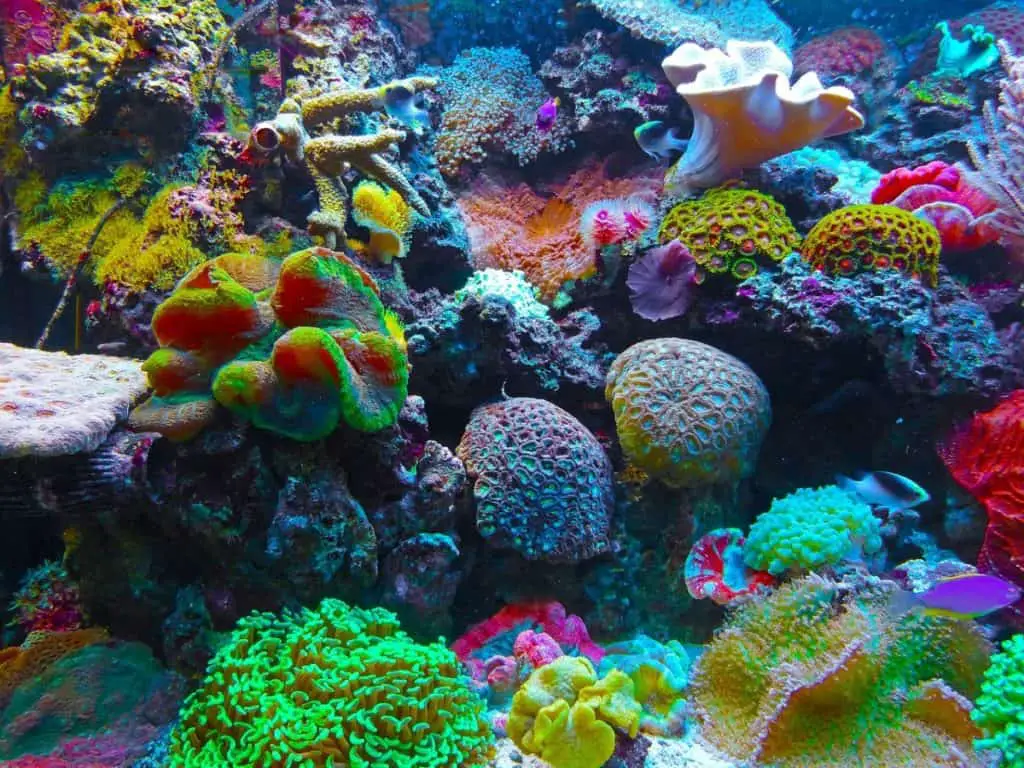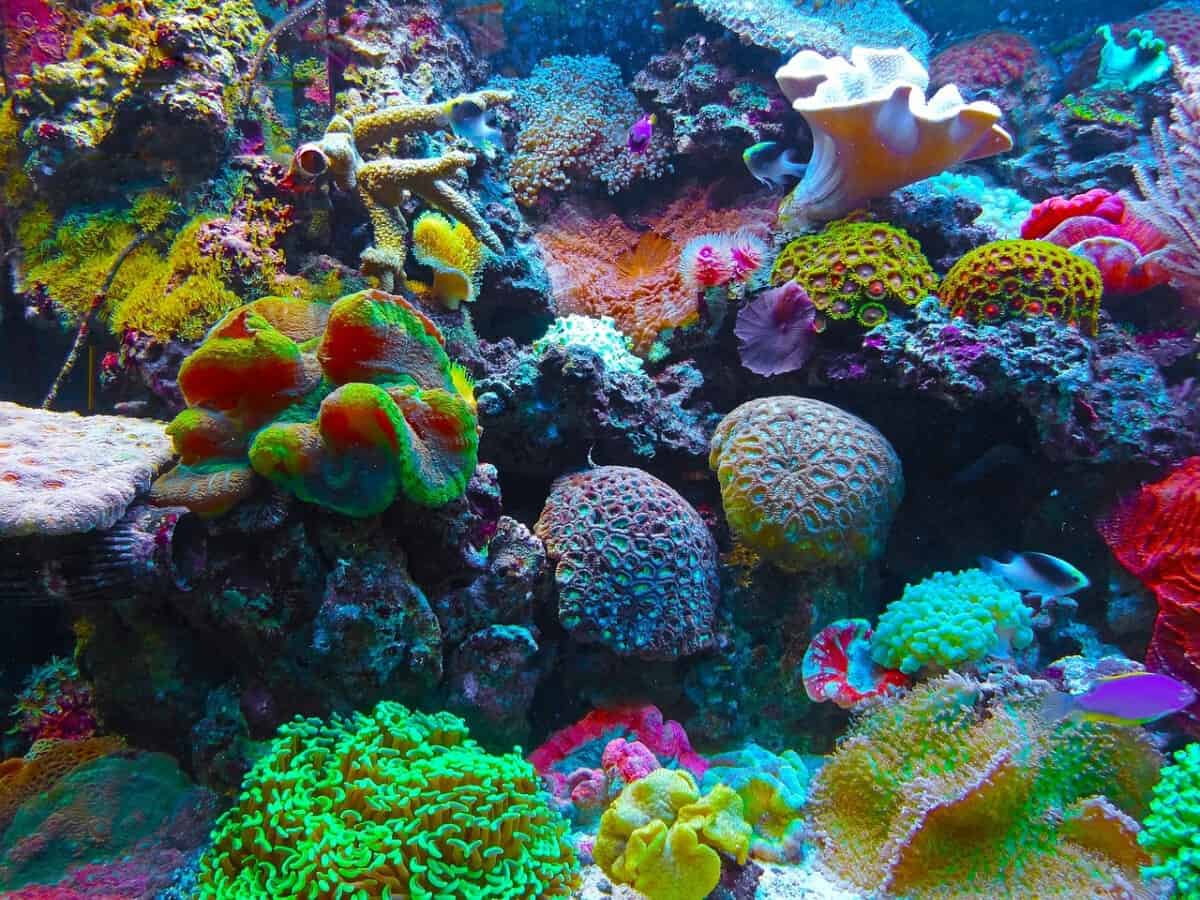 $9.99
in stock
as of October 4, 2023 2:27 am
$35.99
$43.85
in stock
1 used from $10.52
as of October 4, 2023 2:27 am
$7.22
$8.27
in stock
6 new from $7.22
1 used from $0.99
as of October 4, 2023 2:27 am
$11.95
$13.65
in stock
10 new from $9.99
1 used from $9.99
as of October 4, 2023 2:27 am
$8.23
in stock
5 new from $8.22
as of October 4, 2023 2:27 am
Last updated on October 4, 2023 2:27 am
What Is A Hydrometer?
A hydrometer is a tool that you use for measuring the specific gravity/salinity of a liquid, based on buoyancy. They traditionally consist of a sealed hollow tube with a wider bottom for buoyancy and a narrow stem marked with graduations for measuring.
Hydrometers are used to measure the density of various different liquids including alcoholic spirits, milk, and of course, saltwater.
Why Do You Need A Hydrometer?
As you may already know, saltwater aquariums can be quite hard work to get right, and you will have to spend a lot of time doing so. This includes the frequent and fairly large task of mixing your saltwater correctly.
It is an activity that is of the utmost importance and you really won't want to get it wrong.
Making mistakes in the mixing of your saltwater can be extremely detrimental to your tank's inhabitants. Salinity levels that are too high or too low will have a negative effect on your fish.
Stress is the most likely result of getting things wrong, which could, in turn, lead to illness, and perhaps even death.
For the above reasons, it is essential that we measure the salinity in our aquariums water. It needs to be correct and to ensure that this is the case a hydrometer is needed.
Best Hydrometers For Saltwater Aquariums
Boxtech Aquarium Marine Test Sea Saltwater Hydrometer Reef - Ocean Hydrometer Salinity Meter - for Fish Tank Water Salinity Specific Gravity Test
as of October 4, 2023 2:27 am
Features
Safe Material:Made of plastic,aquarium clear Automatic Accurate Readable SaltWater Hydrometer.
Durable Clear Acrylic:Accurate, durable, and easy to read your marine aquarium's salt level and specific gravity,Small and waterproof.if the specific gravity between 1.000 - 1.019,show that the specific gravity is small;if the specific gravity between 1.020 - 1.023,show that the specific gravity is nomal;if the specific gravity between 1.024 - 1.030,show that the specific gravity is big;
Clearly Safe Zone Indicated:Includes solinity and specific grovity scales.The outside rang of scale indicates salinity(PPT).The inside range of scale indicates gravity.And with safe zone clearly indicated.Range of use: 0-40 degrees (1.000-1.030).If the salinity ppt between 32 - 40,show that the salinity hydrometer is high;If the salinity ppt between 27 - 31,show that the salinity hydrometer is normal; If the salinity ppt between 0 - 26,show that the salinity hydrometer is light.
Wide Usage:Fit for brackish and marine aquariums.Perfect for testing both salinity and specific gravity of your brackish and marine tank.Includes solinity and specific grovity scales.Suitable for fresh water and sea water.
Easy to Read and Use:The easy-to-read swing-arm pointer and extra wide stable base provide an accurate test result.
Boxtech Aquarium Marine Test Sea Saltwater Hydrometer
I had been worried when I ordered the Boxtech hydrometer that it appeared (from the picture) to be a very simplistic and not particularly sturdy piece of equipment. I was wrong on one count!
The Boxtech hydrometer, which is constructed of plastic, is a sturdy and well-made item. It is, however, on the small side but everything you need to do can be clearly read. It has both salinity and a specific gravity scale and comes with a handy plastic stick to blow any restricting bubbles away.
On the subject of simplicity, the Boxtech hydrometer, I found it to be incredibly easy to use. Simply fill the unit to the wavy water line, place it on a flat surface, and read.
The reading itself, well it wasn't 100% accurate when tested alongside a refractometer. However, it was close enough for the saltwater to pose no problems.
H-B DURAC B61809-0000 Salt Brine Hydrometer; 0/100 Percent by Saturation
1 used from $10.52
Free shipping
as of October 4, 2023 2:27 am
Features
Used for measuring sodium chloride saturation of salt brines in various industries including food, fishing, and transportation
Range: 0 to 100% by saturation; Divisions: 1%; Accuracy: ±1%; Length: 280 mm (11")
Individually serialized; Lead free ballast and glass
Temperature standardization: 60°F (15°C)
Packaged with a multi-language (English, French, German, Italian, Portuguese, and Spanish) Statement of Accuracy indicating accuracy traceable to NIST
H-B DURAC B61809-0000 Brine Hydrometer; 0/100 By Saturation
The first thing I noticed on unpackaging this hydrometer was just how delicate it felt. This, perhaps, was in my imagination, however, as I always feel the need to take more care with items made of glass.
On the plus side, there is no need for any calibration with this hydrometer, and it is very simple to use. Just simply float it in your saltwater solution and read the percentage saturation.
Following use, you will need to ensure that you clean and store this unit correctly. Any salt left on it will greatly interfere with the accuracy of your reading and storing haphazardly is asking for breakage.
Coralife Energy Savers ACLAF877 Deep Six Hydrometer
6 new from $7.22
1 used from $0.99
Free shipping
as of October 4, 2023 2:27 am
Features
Included components: All Components included in Picture and Description
Cora life is one of the markets leading manufacturers of premium aquarium products
Cora life's Hydrometer takes a true water sample at six inch depth
Easy to read and accurate, this specific gravity meter is designed to give temperature-corrected readings in warm water aquariums
Coralife is one of the market's leading manufacturers of premium aquarium products
Coralife Energy Savers ACLAF877 Deep Six Hydrometer
The first thing to say regarding this hydrometer is that the recommended 'seasoning' really is vital. I, for one, found that when I skipped this step in using it, the results were far from accurate. Smacking the bottom, albeit gently, against a surface should also not be forgotten.
During my first few uses of this hydrometer, I found myself becoming more and more frustrated. I was getting bubbles stuck to the swinging arm on every use, preventing an accurate reading.
I soon figured out, however, that this unit has a small water inlet trough that runs down the side. Use this and the flow of water slows, resulting in no bubbles every time.
Full Range Hydrometer
10 new from $9.99
1 used from $9.99
Free shipping
as of October 4, 2023 2:27 am
Full Range Hydrometer
By the time I tested this hydrometer, I have to admit, I was beginning to fall in love with the simplicity and ease of use of these items, and this one wasn't any different. You simply fill it up, take the reading, rinse it out.
Delivering full-range salinity and specific gravity readings, this hydrometer is suitable for all. It also delivered highly precise results being only +/- 1-2 difference from my refractometer.
The Full Range hydrometer is made of durable plastic with easy to read markings. Though I have only used it a few times thus far, it feels like an item I will have for a long time.
Aquarium Equip Dr. Marine Glass Saltwater Hydrometer Thermometer Reef Soft Coral
5 new from $8.22
Free shipping
as of October 4, 2023 2:27 am
Features
Ensures proper gravity of aquarium water. Easy to use.
Ensures all water has the same salinity within aquarium
Green indicators are ideal range of water temperature and specific gravity for most salt water / marine aquariums.
Measure both Temperature and Specific Gravity of the water.
SIZE:19.2CM(7.5"). Glass Hydrometer; Measures Celsius and Fahrenheit
Aquarium Equip Dr. Marine Glass Saltwater Hydrometer
The second floating hydrometer I tested – the Dr. Marine – it felt sturdy for a glass piece of equipment. I did notice, however, that the markings were small and difficult to read. It does make up for this a little by having a green indicator band where the ideal range of specific gravity is, making things a little easier.
On using this hydrometer I found it to be the least accurate of all the ones I tested. This, however, was not of too much concern as it was not inaccurate enough to be a danger. It was, nonetheless, far more fragile than I had first thought, and after time the paper inside the glass began to slip down.
Hydrometer VS Refractometer
A hydrometer is not your only option when it comes to checking the specific gravity of your saltwater. You could also use a refractometer which does the same job but in a different way.
Both have their pro's and both have their con's as you will see below. We will leave it up to you which one you choose to measure your saltwater specific gravity.
Refractometer
Pros
Incredible accuracy
High-quality build
Easy to clean
Cons
Needs to be calibrated often
Needs good light
Can be expensive
Hydrometer
Pros
Easy to operate
Inexpensive
Easy to read
Cons
Not always accurate
No temperature adjusting
Parts can degrade over time
How To Use A Hydrometer
There are two different types of hydrometers, both of which have different instructions for use.
Swing Arm Hydrometer
The more popular of the two hydrometers, the swing arm, is inexpensive, and commonly found in most aquatic stores. You simply fill it up by dunking it into your aquarium and then placing it on a surface that is level. The needle inside will then rise according to the salinity in your water, giving you a reading.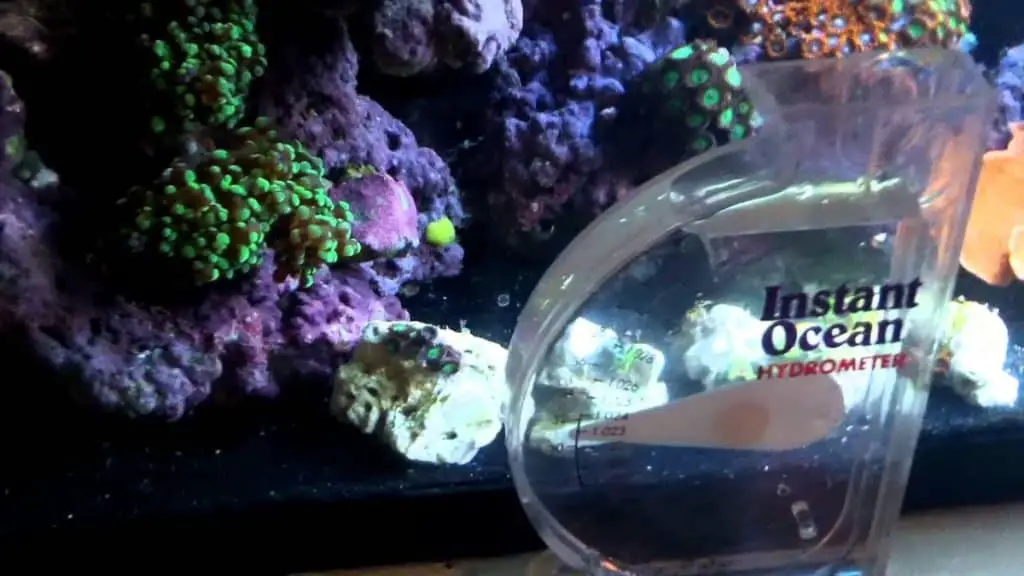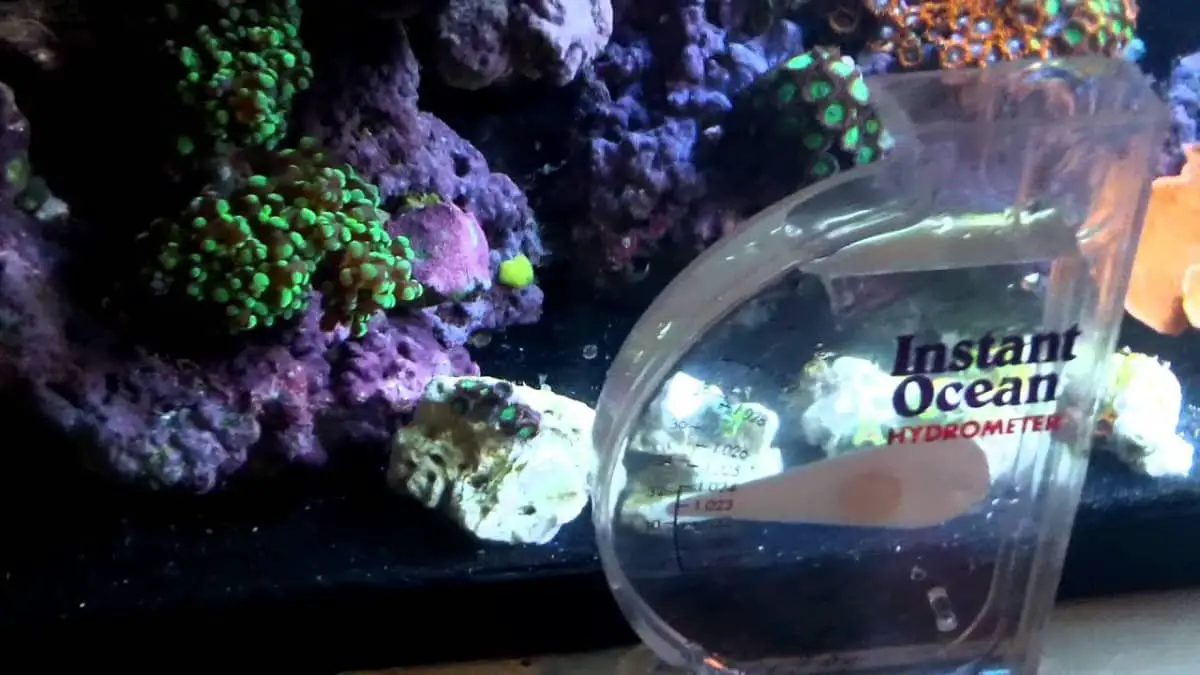 Floating Hydrometer
Resembling a thermometer, a floating hydrometer works differently to the swing arm type. Simply place the floating type into your saltwater aquarium, and it will float according to the salinity.
How well the hydrometer floats will show if you have too much or too little salt. Floats too high, you need less salt, and sinks you need more.
Please note that before the first use of a new hydrometer you may require to season it for twenty-four hours. Seasoning is soaking your new unit in salty water for twenty-four hours before you use it.
What Is Specific Gravity And What Should It Be In A Saltwater Aquarium
Specific Gravity (SG) is the ratio of the density of any substance to the density of another substance taken as standard. In the case of aquariums, water is the standard as it is for all liquids and solids, whilst hydrogen or air, just for your info, are the standards for gas.
The best is best to aim for a specific gravity (SG) in your aquarium similar to that of natural seawater. This would equate to an SG of around 1.026 or 35 grams salinity per litre.
It should be noted, however, that SG can vary from ocean to ocean and hence fish species to fish species. You should always check out a species requirements before adding them to any aquarium that may, or may not, have a suitable SG.
What To Look For When Buying A Hydrometer For Your Aquarium
The most important thing to look out for when choosing a hydrometer is that it can definitely be used to measure salinity. There is a wide range of hydrometers out there on the market and not all will be fit for purpose.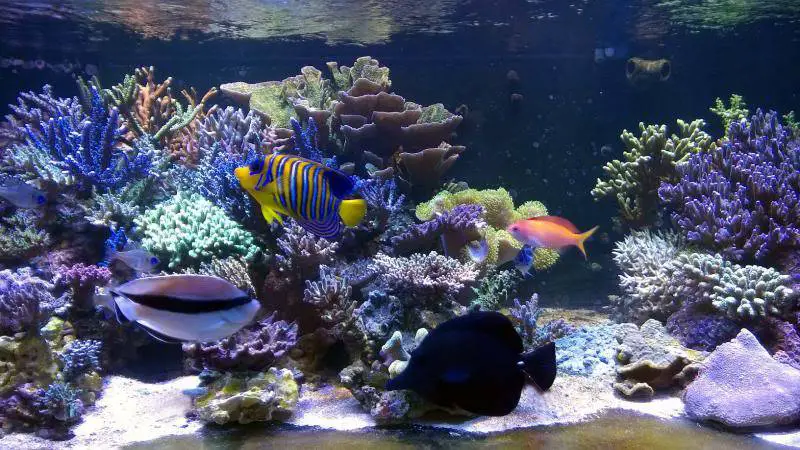 Storing & Cleaning Your Hydrometer
All hydrometers, but especially the swing arm type, need to be kept clean in order to maintain their accuracy. This is due to salt crystals building up on the needle arm and weighing it down causing inaccurate readings.
To keep your hydrometer clean you should rinse it in fresh, clean water after every use to stop the salt from your aquarium water accumulating. If it is too late for that and your hydrometer has become crusty do not despair.
Crustiness can be removed easily by soaking in vinegar for 30 minutes. Please note, however, the whole hydrometer should be covered, so may need weighting down to stop it from floating.
You should store your hydrometer somewhere dry and safe from becoming damaged. This is especially true if you choose a floating hydrometer as they are typically made from fragile glass.
Where To Buy The Best Saltwater Hydrometer
Hydrometers are available through a wide range of sources including your local aquarium stores and online. Websites such as Amazon.com and Chewy.com are exceptional places to shop for them as they have such a varied range.
Recap: Top 5 Hydrometers For Saltwater Aquariums
F.A.Q
How accurate is a hydrometer? When used correctly, prepared correctly, and cleaned correctly, a hydrometer is reasonably accurate.
What does a hydrometer measure in a saltwater tank? The salinity of your saltwater in either specific gravity (SG) or salinity parts per thousand (PPT).
Which is more accurate, a refractometer or a hydrometer? It is generally accepted that a refractometer is more accurate.
What is the formula of seawater? Seawater doesn't have one chemical formula as it is a solution. It is made up of NACL (salt) and H2O (water).
Conclusion: Best Saltwater Hydrometers
Normally, at this point, I would choose the winning item from the ones that I had tested. However, with the hydrometer, there is no clear winner, other than a personal one based on ease of reading the results for the swinging arm thermometer.
Otherwise, I found them all pretty much equal as a useful, easy to use, if not entirely accurate, piece of saltwater aquarium equipment.
Related Posts

Latest posts by Carl Broadbent
(see all)