Aquascaping, as you may well know, is the art of arranging aquatic plants, rocks, stones, and driftwood in a manner that is aesthetically pleasing. Put simply, it is underwater gardening.
But without the right tools, it's very difficult to create these amazing underwater scenes. In this Best Aquascaping Tools blog, we'll show you which ones to use.
It can be done in a variety of styles such as Dutch, Japanese, Iwagumi, Natural, and Jungle, and typically includes fish as well as plants.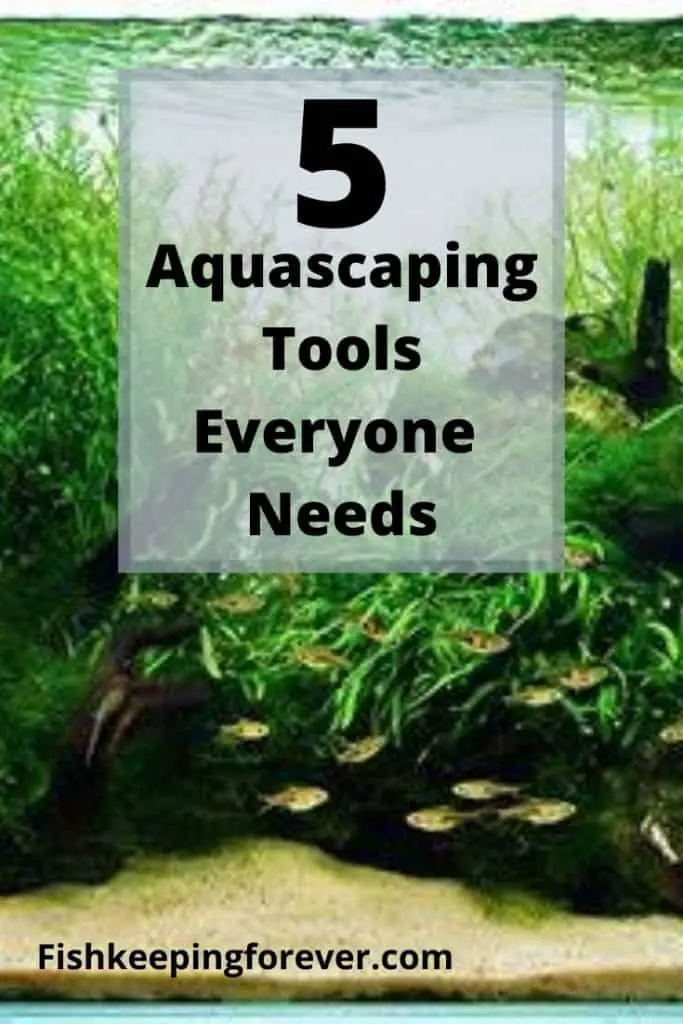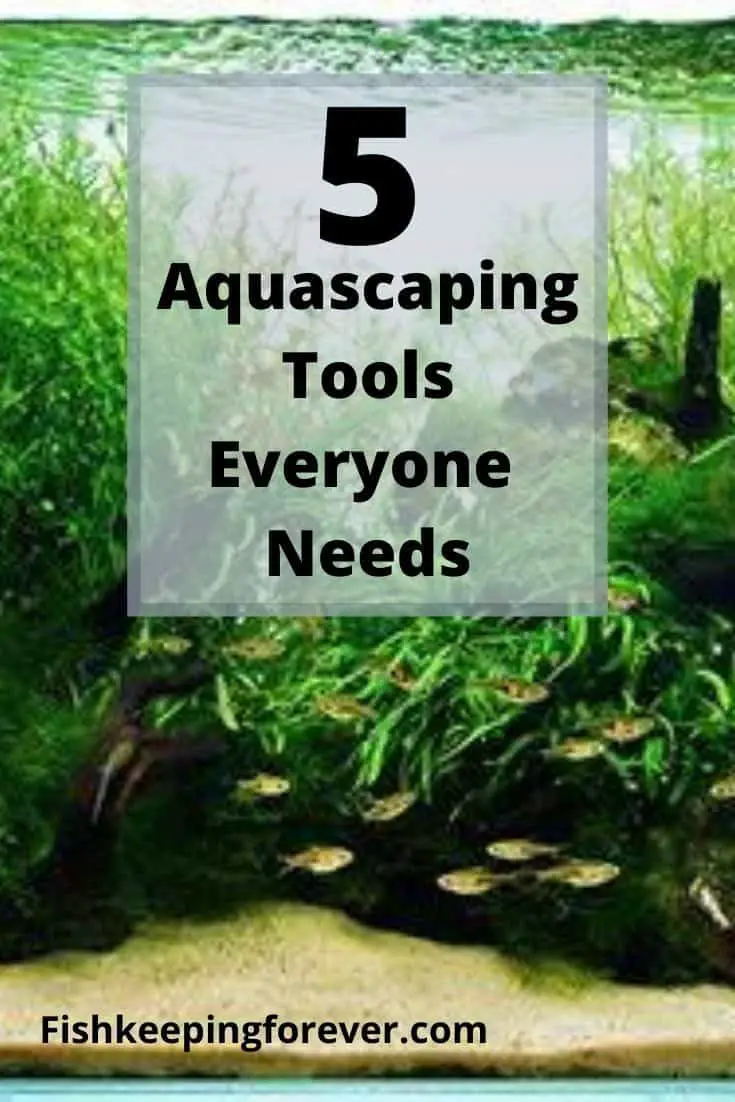 As well as being aesthetically pleasing to the eye, aquascaping also enriches the fish's lives in your aquarium. You see, plants filter water and gather some particulate matter, as well as absorbing the carbon dioxide released by your aquarium's inhabitants.
By way of a 'thank you' plants, in turn, give off oxygen for your fish to breathe. They also use the fish's waste to help fertilize themselves once it breaks down. However, whilst having plants is always a good thing and can limit the amount of maintenance you need to do, it cannot stop the need for it completely.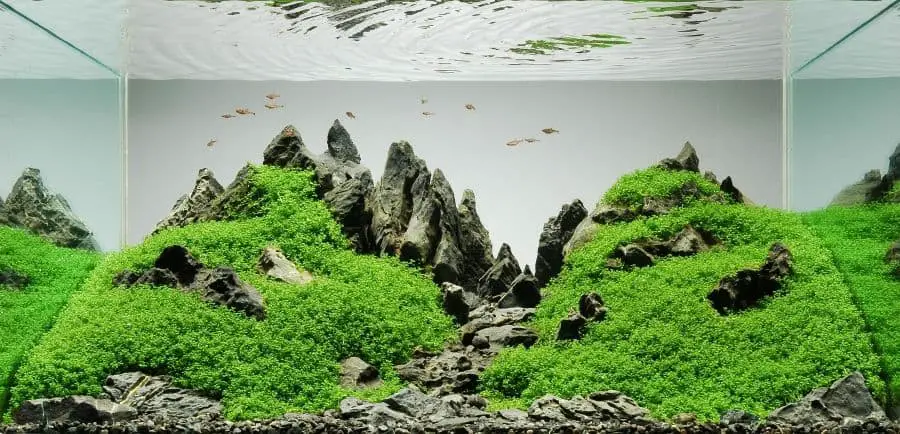 Top Five Aquascaping Tools
In order to perform maintenance on an aquascaped aquarium, you will need the help of certain tools. Here, we have listed the top five that you will find the most useful and help you keep your aquascaping tip top.
1. Tongs
Tongs are a fabulous tool to use when planting new aquatic shrubs and picking up smaller items from within your aquarium. They are generally fairly extensive in length or can be expanded for deeper aquariums.
To avoid rusting, most aquascaping tongs are made of stainless steel. You can also get them in a lighter weight plastic. Be aware, however, that plastic is nowhere near as sturdy as stainless steel and may break if required to perform more than light tasks.
Some tongs also come with a cutting tool attachment which can save you money if you are on a budget. However, we recommend you also buy some scissors, covered below, to ensure you have the right sizes.
Prices for aquascaping tongs range from $8 to $30.
2. Scissors
Scissors will help you with cutting off any dead plant leaves or stray branches you may need to remove. They come in a curved or straight blade option. There is a variety of brands offering multiple lengths from 6 to 24 inches.
Commonly, aquascaping scissors are made from stainless steel and precision cut. They are not recommended for use with any material other than aquatic plants. Using them for cutting other materials will dull the scissor's blades leading to damage, potentially even the killing of plants.
You should be warned that aquascaping scissors are incredibly sharp and should only be used with supervision by young aquarists. Scissors can also be purchased as part of an aquascaping set but doing so limits the size choices that you will be able to choose from.
Prices for aquascaping scissors start at around $8 rising to $80.


3. Gloves
At the very least, purchasing a pair of aquascaping gloves will protect your arm or shirt sleeve from getting soaking wet – especially in deeper aquariums. They do, however, serve a more important function in that they provide safety.
Aquascaping gloves can protect you from sustaining infections from your aquarium water. That is not to mention protecting your flesh from bites from feisty inhabitants. In reverse, it can also protect your aquarium from any pollutants that may be on your skin. This could be something as simple as fragrances in soap or ingredients in skin medications you are using.
Aquascaping gloves come in a variety of lengths from 20 to 28 inches. They are made to be one-size-fits-all and are usually allergen-free. Prices for these can range from $5 to $25.
4. Algae Scraper
The truth is algae is an annoyance in any aquarium, not just aquascaped ones. For this reason, over time, specialized tools have been created by many manufacturers specifically to deal with this pest!
Generally, an algae scraper comes in two forms. One with an extendable handle and one with a magnet. Both of these are great for any size aquarium and will remove all algae easily. You simply move the algae scraper over the glass and it will be removed. Large build-ups may, in turn, fall into your tank but can be easily removed by a siphon.
Prices for an algae scraper will run from $5 to $30.
5. Siphons
Just like an algae scraper, a siphon is an aquarium must-have. They remove uneaten food, along with fish and plant waste, and aid in water changes. There are many styles and sizes available for you to choose from but just two have proven to be incredibly popular.
The first popular option in siphons is the simple flexible tube with a nozzle. This you submerge into your aquarium until there are no bubbles in the tubing. Then you place one end into a bucket and the other to the bottom of your aquarium. Water then flows out along with any waste until you stop it by lifting out the end in the aquarium. You should be warned, however, that ornamental fish and shrimp can be sucked up if you are not careful unless you make a simple modification. Nylon over the nozzle is all that you need to prevent accidental sucking.
The second siphon option hooks up to the water faucet of your sink. They have a switch that will adjust from either siphon or filling up your tank and water flow can be controlled. Not every hookup siphon will fit every faucet but you can purchase adapters separately. These are definitely the easiest and fastest way to perform water changes and cleaning but come with a heftier price tag.
Siphon prices range from around $10 for a simple product to $40 upwards for a hookup.
Complete Aquascaping Tool Kit
You could simply buy a complete Aquascaping Tool Kit that gives you all the specialist tools you need and will save you money.
UEETEK Aquarium Tools Kit 5 in 1 Stainless Steel Fish Tank Aquatic Plant Tweezers Scissor Spatula Sets
2 new from $18.99
Free shipping
as of September 20, 2023 5:30 pm
Features
5 in 1 Aquarium Tools Kits - Professional aquarium plant fish tank tools set, including straight scissors, curved scissors, straight tweezers, bent tweezers and substrate spatula. Suitable for planting small or thin water plants.
Superior Stainless Steel Material - Aquatic plant kits is made of high quality stainless steel with excellent flexibility and not easy to get rusty and corrosive. Warm tips: please rinse and dry them after each use to make sure that them will last for longer time.
Anti-slip & Ergonomic Design - Both the straight and curved tweezer has serrated tips which will help grip stuff tightly without ever slipping off. Ergonomic design provides comfortable grips on your fingers, it allows precision plant trimming and maintenance easily.
Multi-functional Aquascaping Tools - These tools are perfect for pruning and removing the withered or decaying aquatic plants. Suitable for all types of aquarium plants, substrate, gravel, and any decorations.
Aquarium Starter Kits - It serves as the best utensil for those expertise water plants cultivators in the caring of young aquarium plants. It won't hurt the plant's cross-section, effectively reducing the plants that damages because of the false pruning make your life in aquarium easier.
Conclusion: Best Aquascaping Tools Every Aquarist Should Use
There are undoubtedly many more products that you could invest in to help with aquascaping. However, many of them are unnecessary and just additional expenses that you may not be able to afford.
The five we have listed really are all the essentials that you will need to produce beautiful aquascaping. That, apart from fish, decor, and plants of course of which there is an abundance to choose from!

Latest posts by Carl Broadbent
(see all)