Best Heaters For Nano Aquariums was a project we undertook recently. When it comes to choosing the best heaters for nano aquariums the choice isn't always clear. You see, small aquariums not only require lower heat outputs but can also need a small or compact design. This is due to many smaller aquariums coming in weird but wonderful shapes. Shapes that your normal every day heater just won't fit.
With this in mind we have reviewed a wide range of nano aquarium heaters so you don't have to, and here for your perusal are the best 5 heaters for nano aquariums we could find.
Quick Peek at the Top 5 Nano Aquarium Heaters
Hydor Submersible Glass Aquarium Heater
FREESEA Aquarium Fish Tank Submersible Heater
NICREW Mini Preset Aquarium Heater
Aqueon Mini Heater
Tetra HT Submersible Aquarium Heater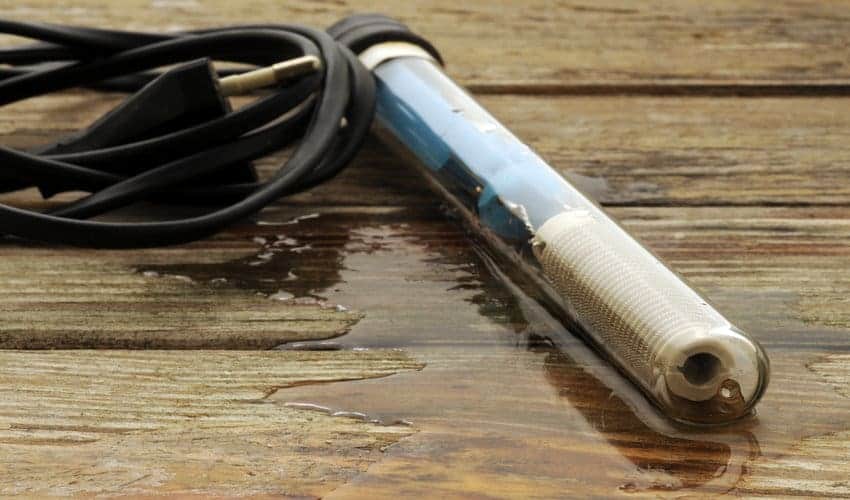 What's Different About A Nano Aquarium Heater?
The first and most major difference between small aquarium heaters and standard aquarium size heater is that they are designed specifically to fit into the small and awkward spaces of a nano tank. They are also sometimes of a lot lower wattage, starting at around five, and constructed of plastic rather than glass.
What To Consider When Choosing A Heater For A Nano Aquarium
There are several things to take into consideration when choosing the best heaters for nano aquariums such as:
How much space do you have in the aquarium for the heater?
Do you want a submersible or external heater?
Do you need a heater with temperature control and thermostat?
Do you want plastic or glass?


Top 5 Nano Aquarium Heaters
5. Hydor Submersible Glass Aquarium Heater
Hydor 150W Submersible Glass Aquarium Heater - Original Theo
2 new from $33.75
1 used from $27.00
Free shipping
as of November 29, 2020 2:26 pm
Features
High resistance - the first shatter proof heater
Shock resistant
Position vertical, horizontal and completely submerged
Graduated scale for precise maintenance of set temperature
No damage in case of running dry
Our thoughts…
Suitable for aquariums of 5 gallons or less the Hydor submersible is a reliable and shatterproof choice. It is small in size, which a 5-gallon nano tank needs. If you can't hide it, it doesn't look very attractive. It is also a little on the pricey side but worth it for the reliability.
4. FREESEA Aquarium Fish Tank Submersible Heater
FREESEA Aquarium Heater Fish Tank Submersible Heater (50W/75W/100W) with LED Temperature Display (300Watt for 35-50 Gallon Tank)
1 new from $27.99
Free shipping
as of November 29, 2020 2:26 pm
Features
| | |
| --- | --- |
| Size | 300Watt for 35-50 gallon tank |
Our thoughts…
Suitable for up to 10 gallons, the FREESEA submersible heater is ideal for most small aquariums. It can be easily adjusted in temperature using one button. Furthermore, due to its size and shape can be hidden easily by decor. It cannot, however, be taken out of the water whilst switched on without damaging it. There is an exposed coil at the back that could harm fish if they can swim to it.
3. NICREW Mini Preset Aquarium Heater
NICREW Submersible Mini Aquarium Heater, Aquatic Turtle Heater with Intelligent LED Temperature Display, 25W Small Fish Tank Heater
as of November 29, 2020 2:26 pm
Features
Precise temperature adjustment from 68℉ to 94℉
Convenient and secure design will automatically shut off if heater is no longer properly submerged, preventing damage
LED temperature display allows easy visual confirmation of heater operation
External controller allows easy and safe temperature adjustment outside
Fully submersible heaters for aquariums up to 5G
Our thoughts…
Despite hearing reports that this heater had gone faulty after a few months I really liked it. It was easy to set up, had an indicator light to tell you when it was on, and looked fairly stylish in my aquarium. It was, however, limiting as I could only keep species that thrive at 78F, but for me, this wasn't a problem as I used it for a Betta.
2. Aqueon Mini Heater
Aqueon Mini Heater, 10W (100106193)
$18.99
$

8.69
out of stock
21 new from $8.69
3 used from $7.65
Free shipping
as of November 29, 2020 2:26 pm
Features
Fish tank heater is fully submersible in a compact size
Aquarium heater is shatterproof
Ideal for desktop aquariums up to 5 gallons
Always turn off before removing water to avoid heater damage
90 Day warranty
Our thoughts…
As I do not keep fish in anything smaller than 3 gallons I tested this heater in a simple vase with 2 gallons of water. It fit nicely, didn't look too obtrusive and certainly did the job. I had trouble, however, getting the suction cups to hold this heater on the side of the vase, but that could have been the shape, so ended up leaving it just dangling.
We would never recommend ever keeping fish in such a small aquarium/bowl which this aquarium heater is aimed at. However, it did work as a small aquarium heater as per the instructions and description.
1. Tetra HT Submersible Aquarium Heater
EHEIM Jager Aquarium Thermostat Heater 300W
8 new from $25.99
4 used from $21.68
Free shipping
as of November 29, 2020 2:26 pm
Features
Fully submersible
Thermo safey control protects against running dry
Will automatically turn off when water level dips too low
TruTemp dial recalibrates the heater for precise temperature regulation
Made of shock resistant and shatter proof glass for fresh or marine water
Our thoughts…
I absolutely loved this heater and when my own need replacing will certainly be purchasing this brand. Not only did it perform well, but it looked good and fit into my aquariums with ease. It heated the water quickly and maintained the set temperature with accuracy and ease. This was definitely the top performer in our quest to find the best heaters for nano aquariums in the range of 1 to 10 gallon tanks.
Tips For Choosing A Small Aquarium Heater
Follow the basic rule of thumb on the heater size (wattage) needed.
Ensure that the heater you choose can be set at the correct temperature for the fish you are keeping.
Only select glass if you are sure it won't get broken.
Be sure that the heater will fit inside your tank.
Consider an external heater for really small tanks.
Avoid heaters with no thermostat.
Unusually Shaped Aquariums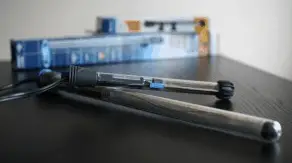 Although unusually shaped aquariums come in many sizes it is fairly easy to fit a heater into the larger ones. The small ones, however, are a different story and the task of selecting a heater can become a difficult one. This is why in recent years many heater manufacturers have started to create a 'mini' range. Specially sized heaters, usually very compact and designed to fit into even the smallest and most awkward of spaces.
Do Nano & Small Aquarium Heaters Have A Thermostat?
Most do, but there are also some that don't. Check before you buy really is the best advice here if you don't want a boiled fish! If you do choose to use a heater with no thermostat ensure you have a thermometer to hand. Check on the temperature of your aquarium regularly!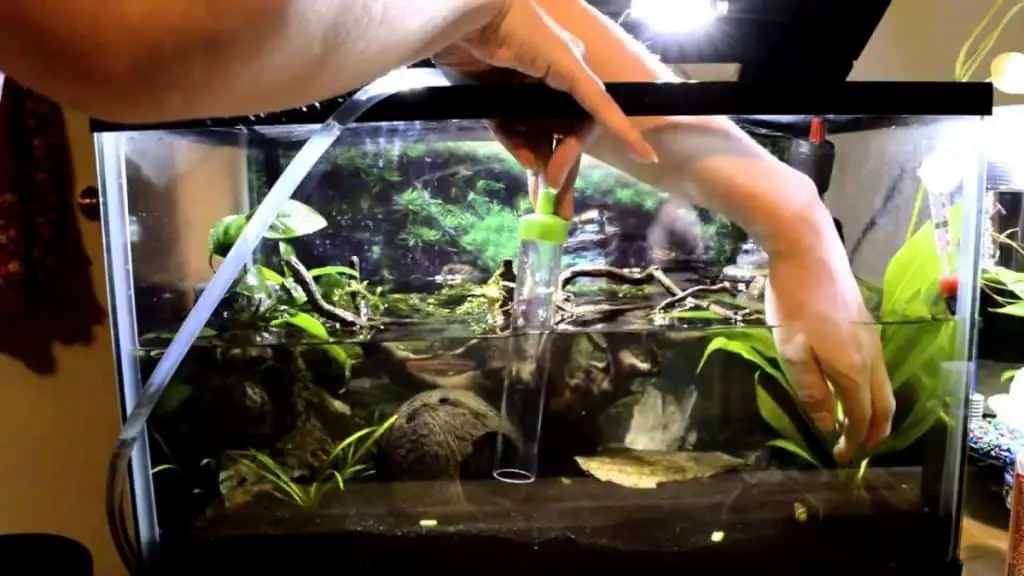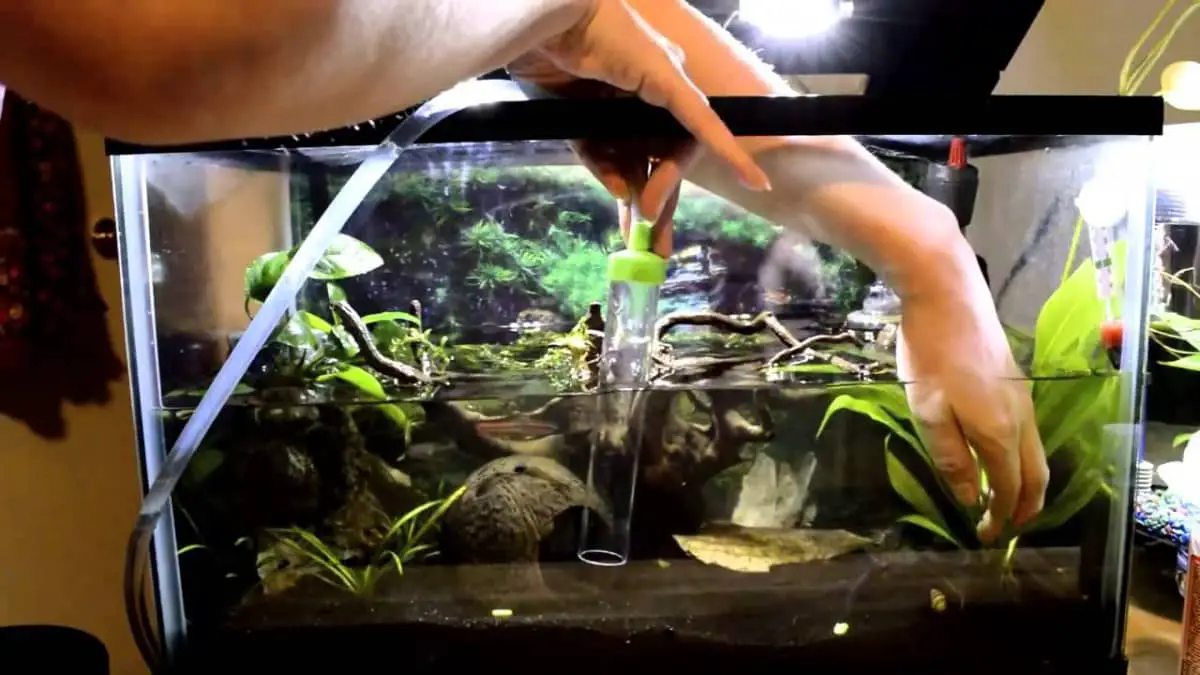 Submersible VS External Heaters
Hands down, a submersible heater is the best option providing you have the room for one. This is due to the simple fact that external ones are very rarely efficient enough and do not provide adequate heat.
What Size Heater Will You Need?
The size of the heater you will need is based on the water volume of your aquarium. As a general rule of thumb, 5 watts per gallon is recommended with the heater set to the temperature you want.
| Tank Size | Heater Wattage |
| --- | --- |
| 1.0 Gallons | 5W |
| 2.5 Gallons | 10W |
| 3-3.5 Gallons | 15W |
| 4 Gallons | 20W |
| 5 Gallons | 25W |
| 5-10 Gallons | 50W |
F.A.Q
What is the smallest aquarium heater? The smallest are usually designed to fit and heat aquariums of 1 to 5 gallons.
Do I need a heater for a 1-gallon tank? Yes, if you are keeping a tropical fish in it. However, we do not recommend aquariums under 3 gallons for keeping live fish.
Can I use a big heater in a small tank? Yes, as long as it has a thermostat that will turn it off when the desired temperature is reached.
Can fish die if the water is too cold? Absolutely. They will become lethargic, stop eating, contract diseases, and more than likely die.
Are aquarium heaters safe? Yes, if you take the correct precautions. Heaters should be turned off during maintenance and water changes, and always fully submerged.
Recap: Best Nano Aquarium Heaters Tested
Last updated on November 29, 2020 2:26 pm
Conclusion: Best Heaters For Small or Nano Aquariums
It should come as no surprise that the winner of our best heaters for nano aquariums is the Tetra HT submersible heater. This is due to its efficiency, looks, accuracy, and price. I trusted this heater and could leave it to its own devices knowing that it wouldn't let me down.

Latest posts by Carl Broadbent
(see all)