If you are looking to purchase a filter for your aquarium, which I suspect you are if you're reading this, then you will most certainly have come across the brand Fluval and its family of aquatic products including their amazing FX4 and FX6 filters. They are highly regarded as being one of the best within the aquatic community and outsell most other brand names by miles.
The reason for Fluval's popularity is that undoubtedly over the years, since 1982, they have produced nothing but quality, competent, dependable and simply designed products. The FX6, for example, is a great representation of this, and probably the best well known.
Mentioning the FX6 brings us very neatly to the filter we are going to review, the FX4, which was designed to bridge a gap between the aforementioned and the 406. It is affectionately referred to by Fluval as the FX6's baby brother, but the question has to be can it live up to its older sibling?


Could The FX4 Live Up To Expectation?
If other performance reports that we came across were to be believed then absolutely the FX4 was going to be every bit as impressive as we found the FX6 to be in our review of it. However, we absolutely wanted to test this product for ourselves and we started off by looking closer at its specifications and features.
FX4 Specifications & FX6 comparison
MODEL
FLUVAL FX4
FLUVAL FX5
Aquarium Capacity
250 US Gal
(1,000 L)
400 US Gal
(1,500 L)
Pump Output
700 US Gal/h
(2,650 L/h)
925 US Gal/h
(3,500 l/h)
Mechanical Area
(foam)
217 in2
(1,400 cm2)
325.5 in2
(2,100 cm2)
Biological Volume
1 US Gal
(3.91 L)
1.5 US Gal
(5.9 L)
Filtration Volume
3.7 US Gal
(14 L)
5.28 US Gal
(20 L)
Filter Circulation
450 US Gal/h
(1,700 L/h)
563 US Gal/h
(2,130 L/h)
Head height
(max.)
6.9ft
(2.1 m)
10.8ft
(3.3 m)
Wattage
(120V/60Hz)
30 W
43 W
Wattage
(230-240V/50Hz)
30 W
41 W
Dimensions
(L x W x H)
15.75 x 15.75 x 16.5"
(40 x 40 x 42 cm)
15.75 x 15.75 x 20.8"
(40 x 40 x 53 cm)
FX4 Features
Multistage filter pump
Smart technology
Self-priming
Removable and stackable media baskets
Filter media included FREE
Aqua-stop valves
Anticlog telescopic strainer
Multi-directional output nozzles
Utility valve with drain hose
Compact 16.5-inch design
Suitable for fresh and saltwater aquariums
First Impressions
On unpacking the FX4 we were pleasantly surprised to find a professional and appealing high-quality product within the box. It had a shiny exterior, was robust and heavy-duty but still felt lightweight. It would clearly, at only 16.5 inches high, fit into most aquarium cabinets out there with ease, we were at first glance impressed.
What Exactly Was In The Box?
Filter canister
Rubber hosing
Rim connectors, clips, and suction cups
Intake stem
Output nozzle
Lid fasteners
Utility valve and hosing
Drain cap
Pump unit (motor) and power cord
Rubber feet
Media baskets
1/2 media baskets
Filter lid and accessories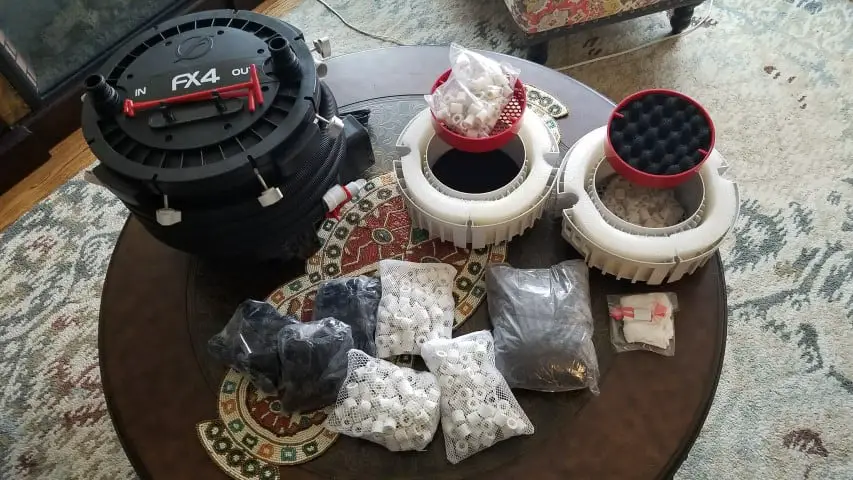 How To Set Up What Is In The Box
We could at this point go through a step-by-step instruction process for setting the FX4 canister up. However, we found that the instructions provided were incredibly simple to follow and that it would be insulting to your intelligence to assume you won't be able to follow them.
What we will advise, however, is that you ensure all connections are secure and tight to avoid any potential leaks. And that you wash the media included before placing it in the canister.
Once set up, getting this canister filter running is incredibly easy too. Simply fill it with water, plug into your electrical outlet and wait for it to self-prime and run.
Tip: Stay close by on first setting this canister filter running to ensure there are no leaks!
How Did The FX4 Perform?
We ran the FX4 on an aquarium towards the top end of its 250-gallon capacity and it gave us, we have to say, a five-star performance. The multi-stage filtration dealt with all debris and dirt that the aquarium threw at it, and the flow rate and multi-directional nozzles ensured the filtered water was powerfully and evenly distributed. It kept our aquarium clean and healthy, and in turn, the fish inhabitants too. What more could you ask?
Additional Great Features
Since you asked, well, the Fluval FX4 has some great additional features that make this canister filter stand head and shoulders above most others you could compare it with. These are on top of the already mentioned multi-stage filtration, chemical, biological, and mechanical, and the fantastic multi-directional nozzles.
Smart Pump
This innovative technology is definitely a point of interest for anyone considering the Fluval FX4. It is a design feature with the purpose of monitoring and optimizing the canister filters pump performance. It achieves this by ensuring the impeller and pump speed is maintained so as to give optimal flow rate at all times.
It is also noteworthy that the smart pump will pause every twelve hours to allow any air that may have become trapped to escape. Trapped air can interfere with the performance and flow rate of your canister filter so this is a handy feature to have.
Self-Priming
There is probably nothing more annoying than having to prime a canister filter after every bit of routine maintenance has been performed on it. All that pumping and hoping that you have primed it enough times for the filtration to begin!
With the FX4, however, all that pumping is a thing of the past as this filter is self-priming. Simply fill up the canister with water that has been treated and then plug it in. The Fluval FX4 will pause for a couple of minutes to expel trapped air before it starts filtering.
Aqua-Stop Valves
With the Fluval FX4, the need for towels to mop up large spills and mess is also a thing of the past thanks to the clever inclusion of aqua-stop valves. These simple, but highly effective, little levers turn the water flow from the aquarium to filter on and off. This means you can separate the hose and do maintenance without worrying about water spilling onto the floor.
Speaking of maintenance the Fluval FX4 also comes with a purge valve (avoid spills), easily removable media baskets, and a handy monthly indicator to remind you it is time for this canister filter to receive some TLC.
Quiet Operation
When choosing a canister filter it is always a concern that they will be noisy due to being external. After all, there is something rather irritating about sitting in a room with the constant moan or loud hum whilst you're trying to relax. However, with the Fluval FX4, this again is something you need not worry about as they are virtually silent.
The use of precise engineering has helped Fluval to create the quietest of motors that allow you to enjoy your aquarium and downtime without irritating noise. This is also aided by the use of larger rubber feet which stop vibration noise from occurring too.


The Verdict – Fluval FX4 Filter
No thought or consideration is really needed here, straight up the Fluval FX4 is definitely a canister filter you should seriously consider buying. It will, after all, keep your aquarium clean and healthy, make for easier maintenance, and it will do these things virtually silently. However, it is worth mentioning that at around $280 this canister filter is a pricey selection, but what's that they say? Oh yeah, of course, nothing good comes for free!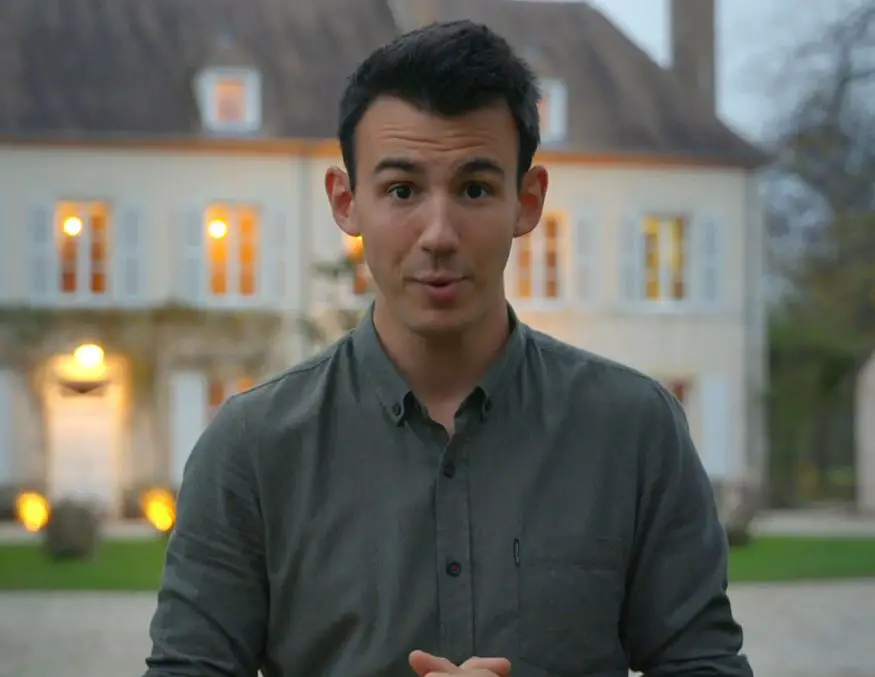 I have been working in the tropical fish industry for over 30 years now and I'm still learning. Everyday is a school day in this hobby. In my spare time I play golf very badly!